Art
'A Poem of Life, Love and Death': A major retrospective at the Musée d'Orsay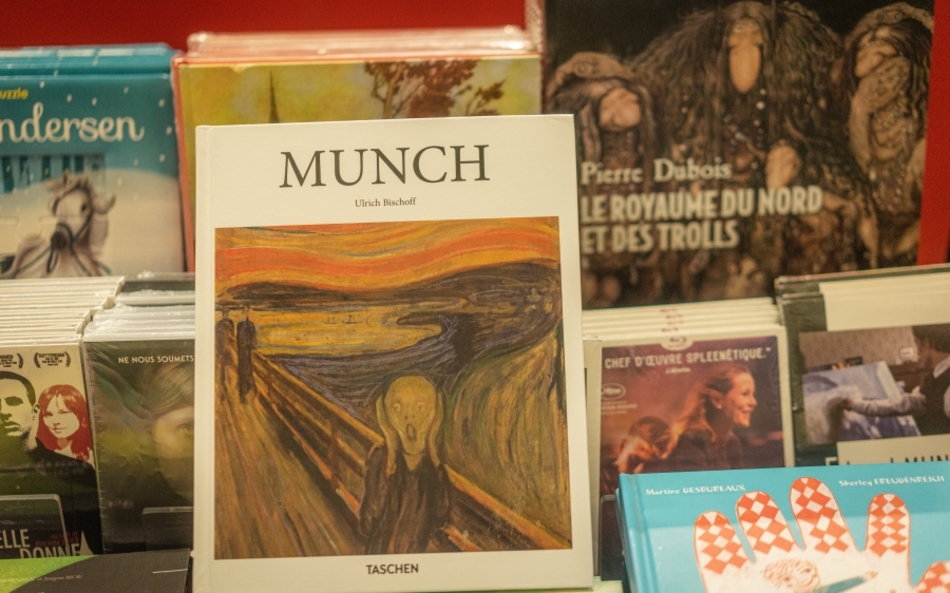 Organised in collaboration with the Munch Museum in Oslo, a major retrospective titled 'Edvard Munch. Un poème de vie, d'amour, et de mort' ('Edvard Munch, A Poem of Life, Love and Death') at the Musée d'Orsay in Paris tracks how the Norwegian expressionist artist explored themes like life, death and obsession.
This is Munch's first comprehensive exhibition since the shows 'Munch et la France' (Musée d'Orsay, 1991), and 'Edvard Munch, l'œil moderne' (Centre Pompidou, 2011), to feature so many works. There are about a hundred works on display, including paintings, drawings, prints, etched blocs, and photographic works.
Before you visit the show, discover how his tumultuous life inspired his paintings.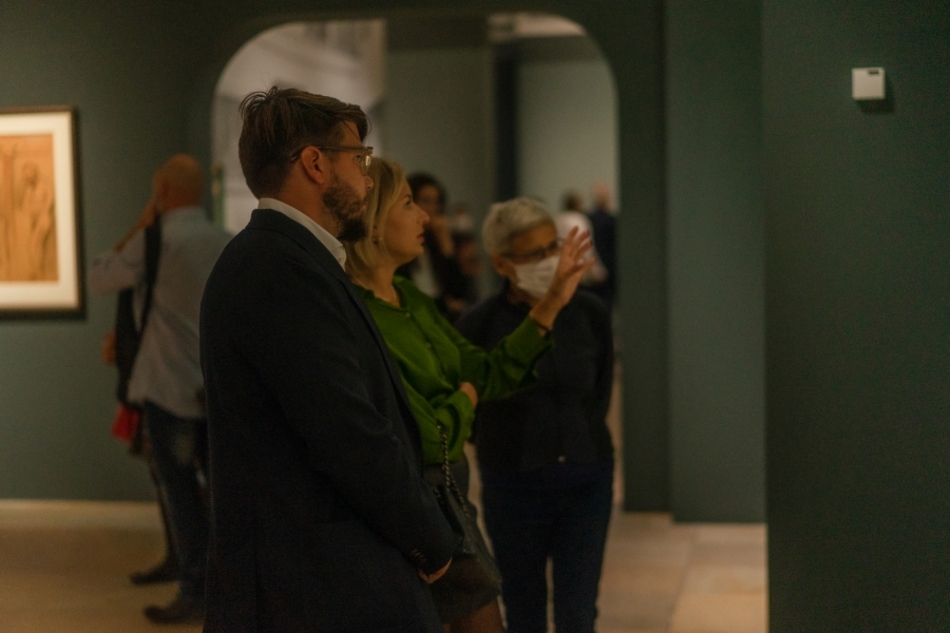 Entering the art world
Norwegian expressionist artist Edvard Munch (1863-1944) was one of the most important modern artists. Mostly known for 'The Scream' (1893), he is associated with extremely poignant, emotionally expressive paintings, full of mystical symbols, which reflect on death and loneliness. But Munch's art is also about the thirst for life. As he once said, his paintings were like diaries in which he expressed what he had seen and felt.
Edvard Munch was born in a humble family, though his uncle Peter Andreas Munch was a famous historian, and his father Christian Munch was a medical officer. Much showed an avid interest in art from a young age, but only decided to study art in 1881. After giving up college, to the great disappointment of his father, he enrolled at the Royal School of Art and Design in today's Oslo.
One of Munch's first publicly presented paintings, 'The Sick Girl' (1896), at the Salon d'Automne of Christiania (now Oslo), was poorly received by critics, who claimed the artist was exhibiting an unfinished piece. The painting had to do with the artist's sister Sophie dying of tuberculosis in 1877, following their mother's death some years earlier.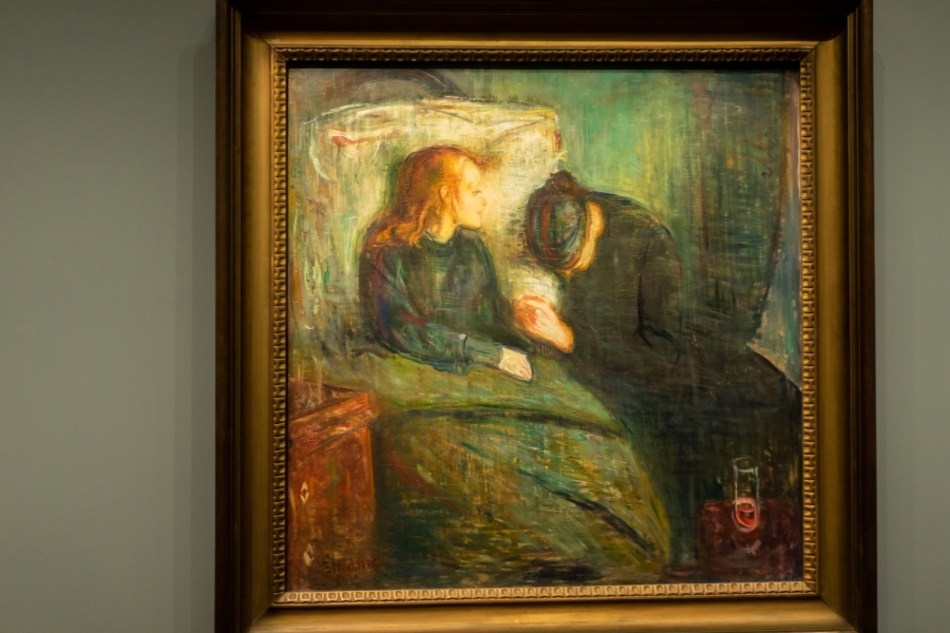 In 1892, Munch's exhibition in Berlin also caused a scandal and was closed after just a week. However, the artist was somewhat optimistic about that, since he believed scandals could sometimes lead to artists becoming more well-known. And he was right: During the years he spent in Europe, he got acquainted with radical and mystical movements, famous artists and, of course, a bohemian lifestyle. Dark moods, mysticism, fatal love and religious attributes became the main symbols of his art.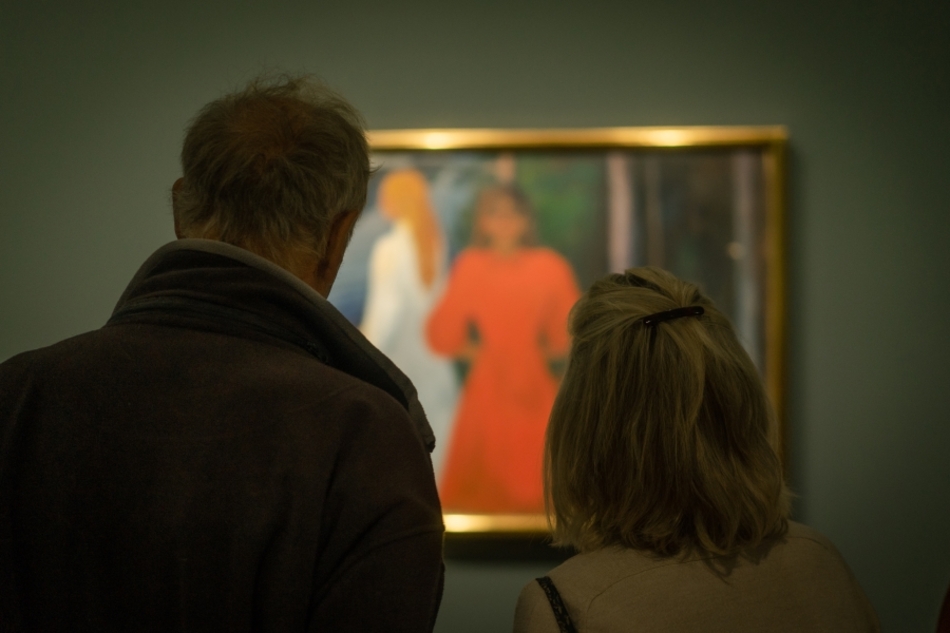 A tumultuous love life
Munch's personal life was anything but blissful. While he never married, he did embark on passionate romances, and his first love affair was with a married woman called Milly Thaulow. During their secret relationship, Munch suffered from rejection and obsession, and this painful period influenced his whole life and art. His continuous suffering was reflected in his powerful series of paintings and lithographs, 'Jealousy' and 'Separation', which are both on display at the exhibition.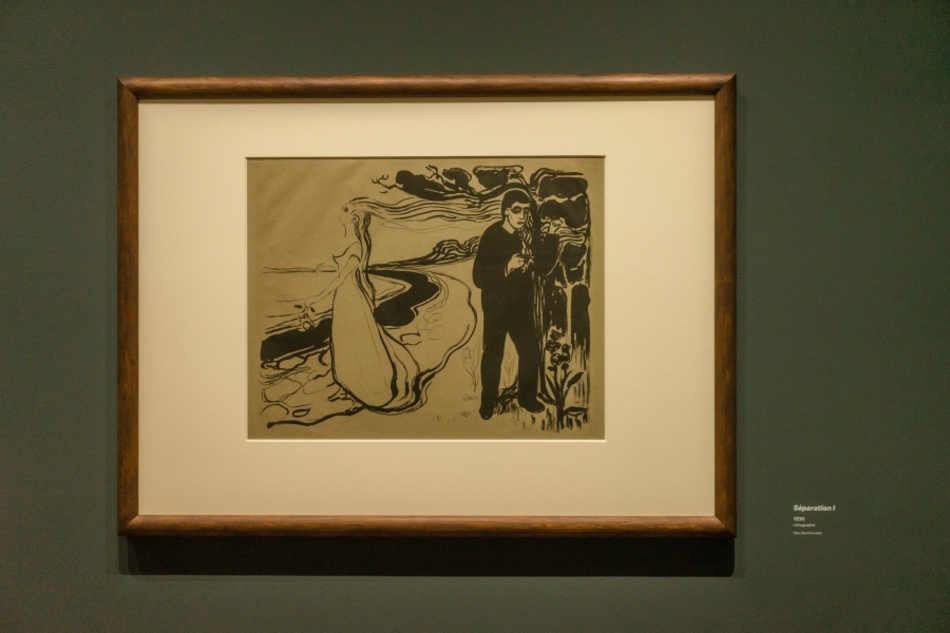 Munch was a master printmaker, and an important part of the Musée d'Orsay exhibition is devoted to his lithographs, such as the series 'The Kiss' (various techniques, 1894-1897). Undoubtedly a highlight of the exhibition, love is expressed through the faces and the bodies of two lovers merging to become one.
The most painful and disturbing romance Munch experienced was with his fiancé Tulla Larsen. During their last encounter, he was wounded by a pistol in his left middle finger. Since neither Munch nor Tulla gave any valid explanation for this incident, we can only guess what happened between them.
Article slider: "1: 'A Poem of Life, Love and Death': A major retrospective at the Musée d'Orsay"
Poem of life, love, and death
Despite Munch's painful romances, encounters with death, and mental illness, he was convinced that death was always related to life, and therefore love. Life and joy were expressed in his paintings and for Munch, everything around him was a cycle of life, death and love.
His famous 'Frieze of Life', a series of paintings created in the 1890s, most vividly reflected this notion of a cycle, and take centre stage at the Musée d'Orsay exhibition, which was conceived in a non-chronological way. Most of Munch's paintings and etchings from the 1980s and the beginning of the 20th century are part of 'The Frieze', where, as Guillaume Morel describes, control, jealousy, mourning, anxiety, loneliness, dialogue with love, joy.
'Edvard Munch. Un poème de vie, d'amour, et de mort' - Musée d'Orsay
1, rue de la Légion d'Honneur 75007 Paris
September 20, 2022 - January 22, 2023
Parallel to the exhibition, the Galerie Poggi in Paris is presenting a major exhibition devoted to Edvard Munch and Anna-Eva Bergman — an opportunity to marvel at works by two famous Norwegian artists, shown together here for the first time.
'Une Cosmologie de l'Art' - Galerie Poggi
2 Rue Beaubourg, 75004 Paris, France
September 17 – November 5, 2022
Photo Credits: Olia Kolendo, © Art de Vivre
Inspire our community
A global community of enthusiastic and curious ones. Diverse voices. Subscribe for free to share your vision and enhance our art-filled world.


To leave a comment you must
sign in