Art
Review: Aristide Maillol's search for harmony at the Musée d'Orsay
Since the «Hommage à Maillol» exhibit at Musée d'Art Moderne de Paris in 1961 for the centenary of the French artist's birth, Aristide Maillol (1861-1944) has not received a single major retrospective.
After almost 60 years now, another Parisian museum, Musée d'Orsay, presents Maillol's entire career in one exhibition. It focuses on his search for timeless harmony which marked the birth of modernity at the beginning of the 21st Century.
The Art de Vivre team invites you to spend a wonderful day in the very heart of Paris, where you can witness the exhibit till 21 August 2022. Walk right from the Louvre - into the Jardin du Carrousel, where Maillol's muse Dina Vierny has placed his 20 beautiful sculptures. Once you cross Pont Royal, you will find yourself on Quai Anatole France which leads to Musée d'Orsay. Here, you can find the retrospective of Maillol, with almost 200 works by the artist waiting for you.
Before visiting the museum, read a brief review of this must-see exhibition during the summer of 2022!
Sculptures of Aristide Maillol
The exhibition begins with two famous Maillol sculptures called "Méditerranée". The first one was made in 1905 and was commissioned by Count Harry Kessler, a German collector and Maillol's patron. The second piece was commissioned by the French government almost 20 years later. In 1905, at the famous Salon d'Automne in Paris, the original plaster of "Méditerranée", at the time titled "Femme" (Woman), caused a sensation and marked the beginning of Maillol's successful career.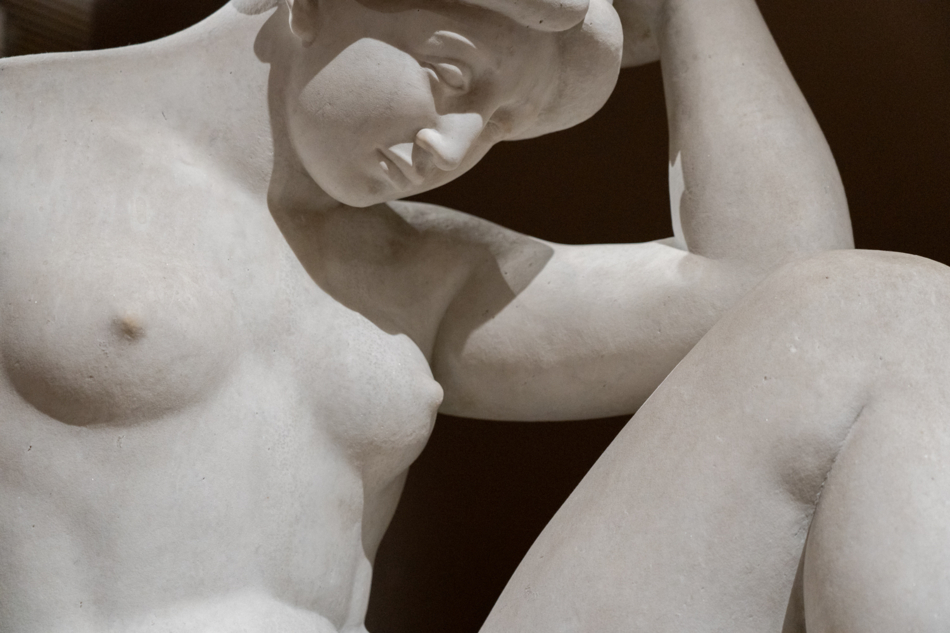 It would not be wrong to call him one of the rebels of late 19th - early 20th Centuries art. Born in Banyuls-sur-Mer, Roussillon (Pyrénées-Orientales), Maillol grew up with rich, centuries-old Mediterranean traditions and the beauty of southern nature. While classicism of French traditions has undoubtedly influenced the artist, his Mediterranean origins allowed him to create a different imagery and interpretation of nature and the human body.
Maillol stood against the established standards and the work of his famous compatriot Auguste Rodin. He developed his understanding of harmony which was based, as we see in his "Méditerranée" and "L'Hommage à Cézanne" (1912), on simplification of form, femininity and naturalness of the female body. Although Maillol's figures are always caught in some kind of motion, their flexible form displays monumental grace and harmony. In his work, Maillol is not interested in the subject: he concentrates on the pure form over which the light glides. The light is an essential element in Maillol's work, and this is, without doubt, his great innovation.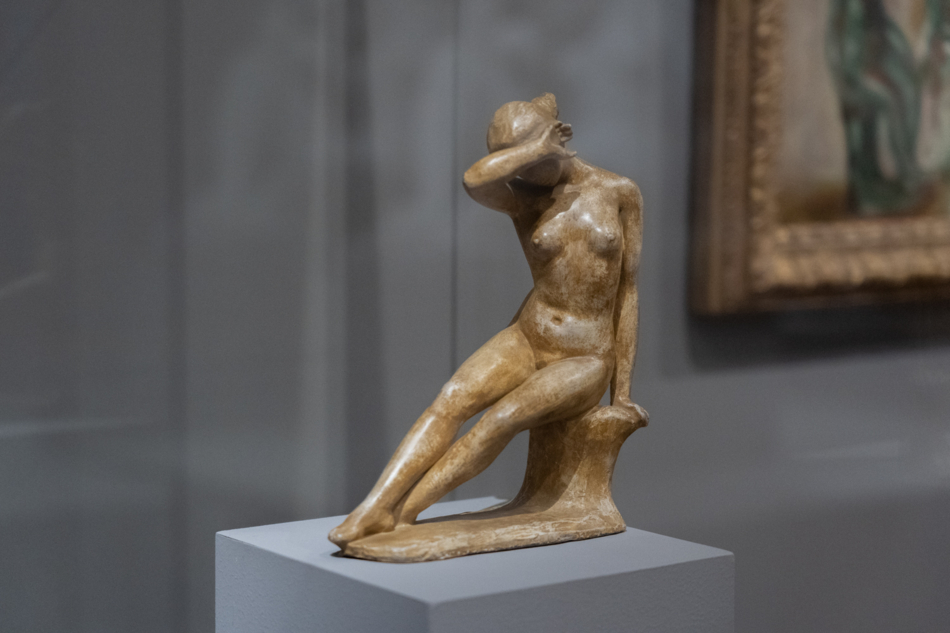 Aristide Maillol is a famous painter or sculptor
Aristide Maillol is known primarily as one of the greatest sculptors, but did you know that the roots of his "Méditerrannée" can be found in his painted and embroidered works? At the beginning of his artistic career, Maillol considered devoting himself to painting and not sculpting.
One of the best parts of this exhibition at the Musée d'Orsay is the presentation of the beginnings of Maillol's painter artistic career – a fascinating but still little-known period during which the artist explored painting, ceramics, embroidery, and ornament. Right from college, Maillol showed his talent for drawing. Later, around 1889, during his studies at the Ecole des Beaux-Arts in Paris, he discovered the work of Paul Gauguin and was impressed by the simplification of forms in works by the French post-impressionist. For Maillol, this encounter played an essential role in the development of his approach to sculpture.
In Paris, the young artist frequented the Louvre and the Musée de Cluny, where he discovered medieval tapestry. This form of art became his great passion. Back in his native town, Banyuls-sur-Mer, he set up a workshop which operated from 1890 to 1904 and recruited workers who executed the embroidery from his cartoons.
Information:
"Aristide Maillol (1981-1944). La quête de l'harmonie" Musée d'Orsay, April 12 – August 21, 2022.
Entrance from the forecourt, esplanade Valerie Giscard d'Estaing 75007 Paris
Open every day except Monday, from 9:30 am to 6 pm, Thursday until 9:45 pm
Inspire our community
A global community of enthusiastic and curious ones. Diverse voices. Subscribe for free to share your vision and enhance our art-filled world.


To leave a comment you must
sign in