Events
Art Basel 2022: Five sublime works
The post-pandemic year 2022 marks the return of in-person cultural events, especially in Europe. On 13 June, the most important international contemporary art fair - Art Basel - finally opened its doors in Basel, Switzerland. After the 2021 edition, which was postponed until September, and the May version of Art Basel in Hong Kong being marked by Covid restrictions, the present edition of the fair has become a long-awaited celebration for the art world. Here at Messeplatz, in the beautiful building designed by Swiss architects Herzog and de Meuron, pieces by great masters are presented alongside those created by emerging artists, and renowned gallery directors meet with collectors coming from all over the world. Prices here go up to $40 million (on June 14, the emblematic sculpture "Spider" by Louise Bourgeois was sold for this price by Hauser & Wirth).
For the past 20 years, the global art world has been meeting at Basel in June. Like many art lovers, our editor, who is an art historian and specialist in contemporary art, traveled across Europe by train to attend the opening of the famous art fair. In this article, we invite you to discover our selection of the best (in our opinion) works presented at Art Basel 2022 in Basel.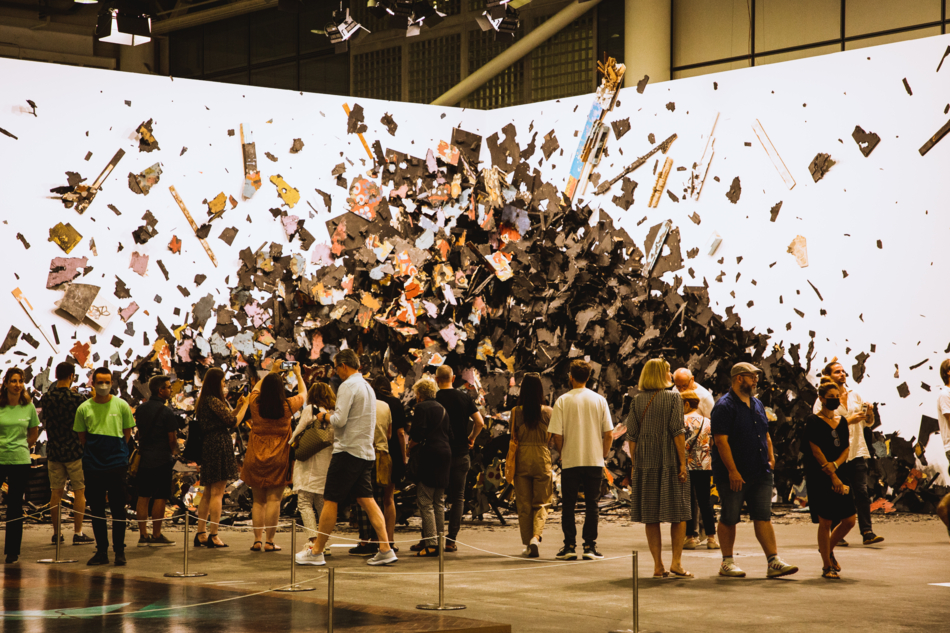 Jacques Villeglé "What matters in a technique is not to control it", 2022
The last six months in the art world have been profoundly marked by the passing of some great artists to whom Art Basel pays tribute. A week before the opening of the fair, the French artist Jacques Villeglé, who is one of the originators of the Nouveau Réalisme movement and the founding father of graffiti, died in Paris at the age of 96. Villeglé developed his visual language, the "Socio-Political Alphabet", from signs that he found in urban space, and which he transformed into messages that were at once philosophical, poetic and humorous. For the Unlimited section of Art Basel 2022, Villeglé chose the sentence of the artist Jean Dubuffet, "What matters in a technique is not to control it", and reproduced it in the form of a monumental painting that viewers are invited to decipher.
Hermann Nitsch "Schüttbild", 1997
In its spectacular exhibition in booth A8, alongside Rothko, Picasso, and Warhol, Pace Gallery presents Hermann Nitsch - the master of Viennese Actionism, who died in April at the age of 83. One of the leading figures in performance art, Nitsch developed a branch of this artistic practice that lies at the intersection of art and ritualism, and in which the human body is the center of the work and its material. In his performances, which he designed as "Theater of Orgies and Mysteries", Nitsch utilized the human body, blood and excrement of slaughtered animals, in order to reproduce religious and mystical rituals, and to achieve a kind of existential experience. Even though Nitsch is best known for his performance works, he also created abstract paintings using his favored materials. At this year's fair in Basel, Pace Gallery presented Nitsch's magnificent paintings from the 1960s and 1990s.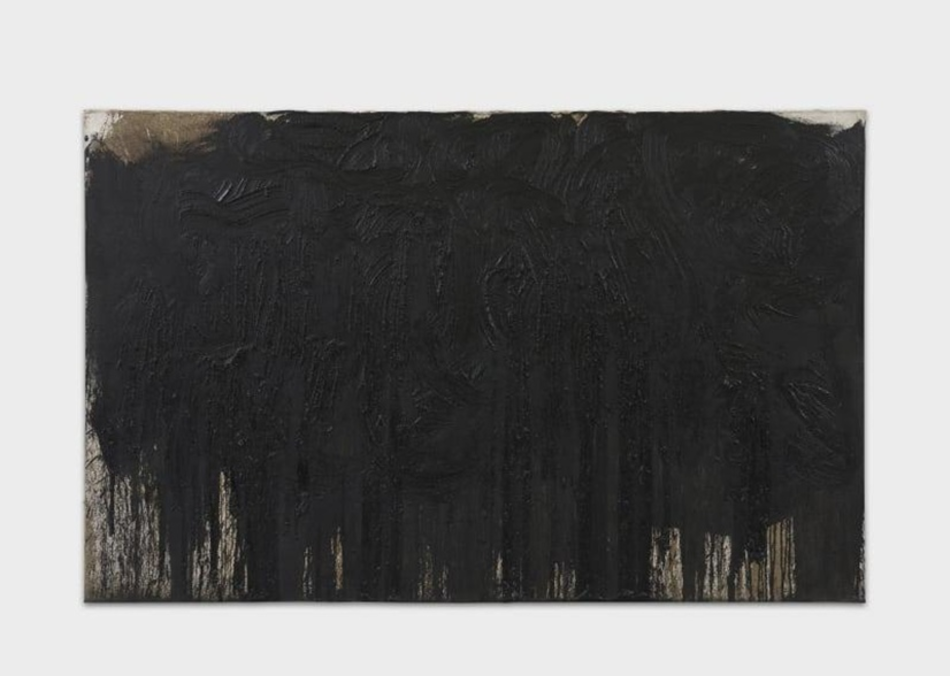 Lawrence Weiner "Out of Sight", 2021
The central work of Art Basel 2022 is a public participatory floor installation "Out of Sight" by the great American artist Lawrence Weiner, who is a pioneer of conceptual art. Weiner passed away in December 2021 at the age of 79. Exhibited at the entrance of Art Basel, across the Messeplatz, "Out of Sight" is an expanded version of the children's game modeled after hopscotch that Weiner created in 2016. Produced this time in English, French, Italian, and German, the installation invites visitors to the fair as well as ordinary passers-by to realize a physical and mental journey along one of the paths which are coloured blue, green, red and black. Each of Weiner's hopscotch is composed of positive messages, such as "hope for the best'', which we all probably need today. Step by step, walking alongside the hopscotch, we not only make "the journey of self-discovery and self-empowerment ", but also become co-creators of this installation in homage to the artist.
It is also imperative that we mention that this installation also exists in digital space. A website has been created and can be accessed by scanning a QR code on the posters distributed at Messeplatz during the fair. We strongly recommend discovering the site and listening to the voice of this legendary artist.
Placed at the entrance to the fair, "Out of Sight" also celebrates the physical return of its visitors, the joy of interaction and real conversations, and marks an important axis of this edition – the participative works in the Unlimited section, in which viewers are invited to enter, to walk. These works include Rebecca Horn's "Bee's Planetary Map" 1998 (Sean Kelly, Galerie Thomas Schulte), Michelangelo Pistoletto's Porte Uffizi (2003) (LGDR, Galleria Continua), and "25 Cedar Solid - 25 Cedar Scatter" (1992) by the great master of minimalism Carl Andre (Konrad Fischer Galerie).
Bruce Nauman "Pair of Hands", 1996
Parallel with the current exhibition of Bruce Nauman in the Berlin space of Konrad Fischer Galerie, this German gallery at Art Basel presents an exceptional work by Nauman which is entitled "Pair of Hands" (1996). This sculpture is a piece of the "Fifteen Pairs of Hands" series, of which two works are presented these days in Konrad Fischer Galerie in Berlin. A pioneer of conceptual art, video art and performance, the American artist Bruce Nauman uses his body, and in particular his hands, as the essential material for his practice. In these white bronze sculptures of hands frozen in various positions, each pair performs unique gestures, interacts with each other and impresses us with its touching and poignant realism.
If you visit the German capital, we recommend you to attend a current solo exhibition of Nauman's work at the Konrad Fischer Galerie, which has held 18 solo exhibitions devoted to the artist since 1968. The focus of this exhibition is a new video installation by Nauman entitled "Practice" (2021). In this video performance, the camera alternately shows the artist's left and right hands moving slowly across an old wooden table: this repetitive gesture, which seems endless, creates a space of meditation.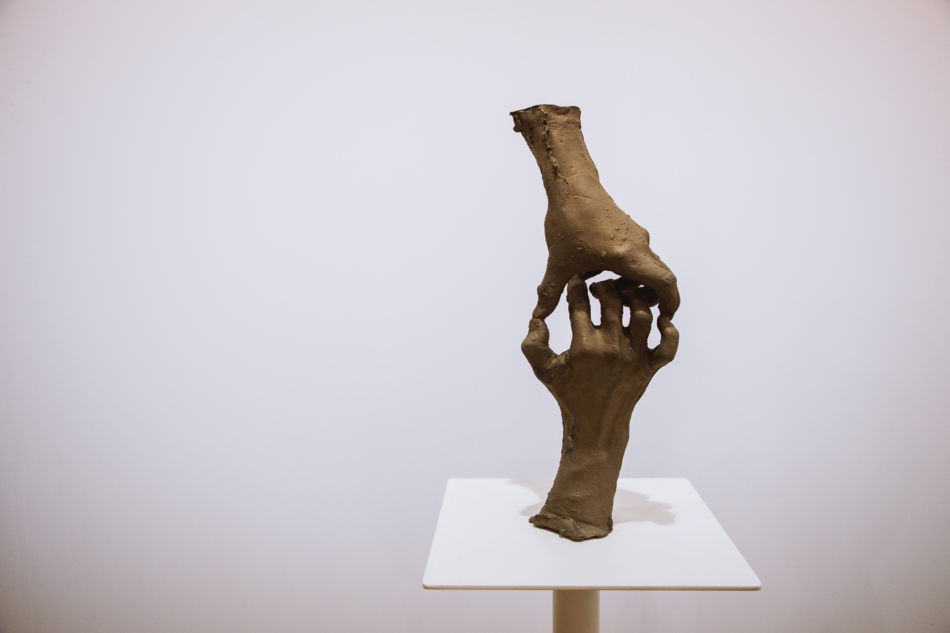 Georg Baselitz "Mann im Bett", 1982
If we could name the finest artist of Art Basel 2022, it would undoubtedly be Georg Baselitz. We believe that this is the result of his first and successful retrospective exhibition at the Center Pompidou in Paris, which ran from 20 October 2021 to 7 March 2022. It is to Baselitz, the famous German artist, that Thaddaeus Ropac devotes an important part of his exhibition in Basel. Here you can see, among other works, his monumental "Mann im Bett" (Man in Bed) 1982, which was previously exhibited at the Center Pompidou.
Other renowned galleries such as Daniel Blau and Skarsedt also presented Baselitz's works in their booths at Art Basel.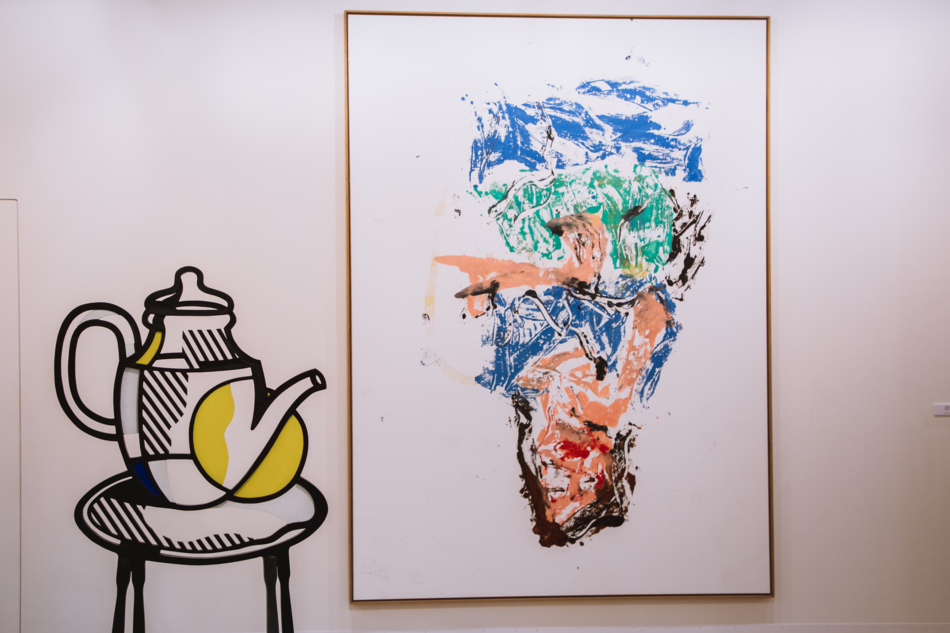 Photo Credits: Uliana Tschan, © Art de Vivre
Inspire our community
A global community of enthusiastic and curious ones. Diverse voices. Subscribe for free to share your vision and enhance our art-filled world.


To leave a comment you must
sign in