Lifestyle
Christmas decorations around the world
Putting up Christmas trees is a centuries-old tradition. Every country has its own approach to decorating them, with many cultures striving to preserve their ancestors' heritage.
The tradition of decorating Christmas trees started in 16th-century Europe, in Germany, and in modern-day Latvia and Estonia. The 16th century German Protestant reformer Martin Luther was the first to decorate an evergreen pine tree with candles. From then on, the tradition of decorating trees for Christmas spread throughout Europe.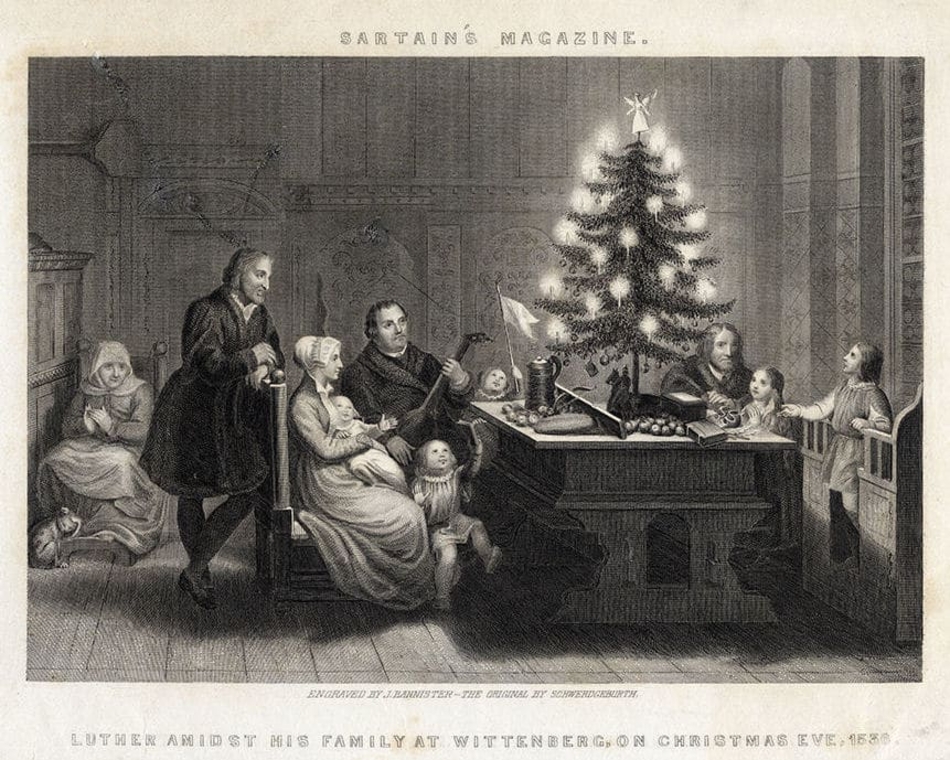 In the past and during pagan times, people from all over the world saw evergreen plants, and especially pine trees, as a symbol of eternal life and rebirth, or as a tree of life. Today, however, pine trees are strongly associated with Christmas celebrations.
As Christmas and the New Year approach, evergreen pine trees with whimsical decorations light up in almost every corner of the world. Here we explore some of the Christmas decor traditions of Georgia, Ukraine and Lithuania.
Georgia: A spiritual celebration to mark new beginnings
Christmas is a special time in Georgia and one of the most celebrated events in the country. It's a time of special gatherings, parties, and delicious meals, and of course, its cities are covered with colourful decorations.
But Georgia is a fascinating destination if you're curious to see unusual Christmas trees you won't find anywhere else. Here, people make Chichilaki, a tree made from dried hazelnut or walnut branches. Its curly branches are shaved from the main branch to form a tree, and the custom originates from the western part of Georgia, Guria, and Samegrelo, near the Balck Sea.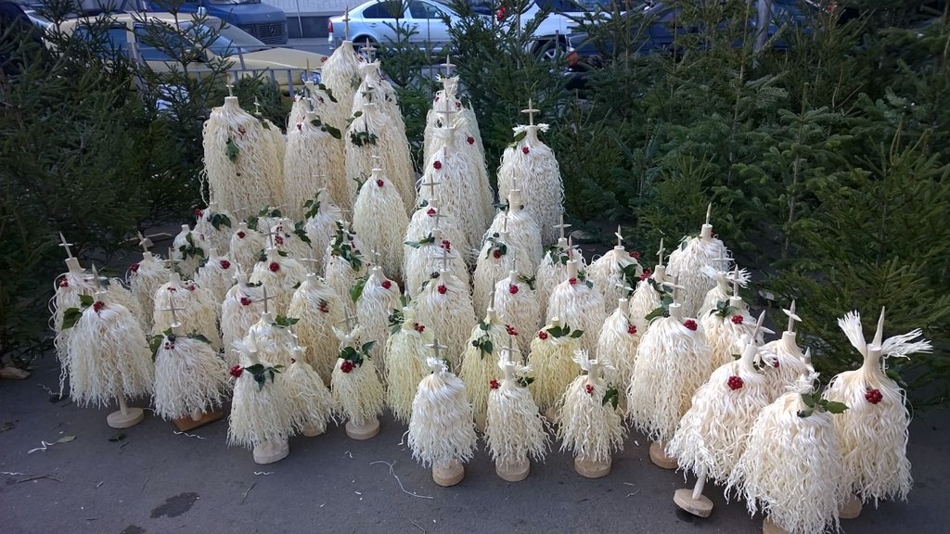 The size of Chichilaki can vary from three to 20 cm and is white in colour and is usually decorated with dried fruits and pomegranates. Chichilaki is handmade, and many families make them.
The tradition is also associated with Saint Basil, who visits homes with gifts in the same way Santa Claus does. The branches of Chichilaki are said to be a metaphor for his beard. Chichilaki has a long history and is really meaningful for Georgian people. It's believed to represent a tree of life and symbolise hope. From December to the Georgian Orthodox Epiphany day, on January 19, the tree adorns the houses of many Georgian families.
On January 19, Chichilaki is burnt in a ceremony. This tradition has a spiritual meaning and marks the beginning of the new year while leaving the troubles of the last one in the past. The traditional and spiritual connotations give Chichilaki more than a decorative value and turn it into a symbol of new beginnings.
Ukraine: Wheat as a symbol for a good harvest
Ukraine's history and traditions inspire its Christmas decorations and the custom of decorating Christmas trees is no exception. During pagan times, Ukrainian people decorated trees since they believed that spirits lived inside them. Trees often were covered in beautiful ribbons and different adornments.
After converting to Christianity, Ukrainians started adopting Christian traditions, and later they followed up with the custom of decorating Christmas trees. However, families still keep the relic of the past as one of the most significant attributes of every Ukrainian Christmas: Didukh.
Didukh is made from a sheaf of wheat. Multiple pieces of wheat are tied together to create a beautiful bouquet, symbolising the year's great harvest. The word "Didukh '' means "Grandfather" in old Slavic languages. It translates as "ancestor spirit" that reflects the connection of people, ancestors, and nature, which is always protected by the wise spirit of the household.
Similarly to the Georgian Chichilaki, Didukh was burnt on January 19. The ritual also has a spiritual meaning since it is believed to invite the ancestor spirits to home. After Epiphany day, spirits have to leave the household. Therefore, Didukh is burnt, and their ancestors go back to the spirit world.
Nowadays, the tradition continues alongside the modern Christmas tree, symbolising the connection between past and present and the bond between our ancestors and us.
Lithuania: A winter wonderland with sweet memories
Lithuania has always been a front-runner when it comes to Christmas tree decorations. Over the past decade, its capital, Vilnius, has boasted the best Christmas trees in Europe. The country never fails to mesmerise with unique decorations that masterfully combine extravagance and creativity. From symbolising chess games to taking modern inspiration, Lithuania knows how to push boundaries at Christmas.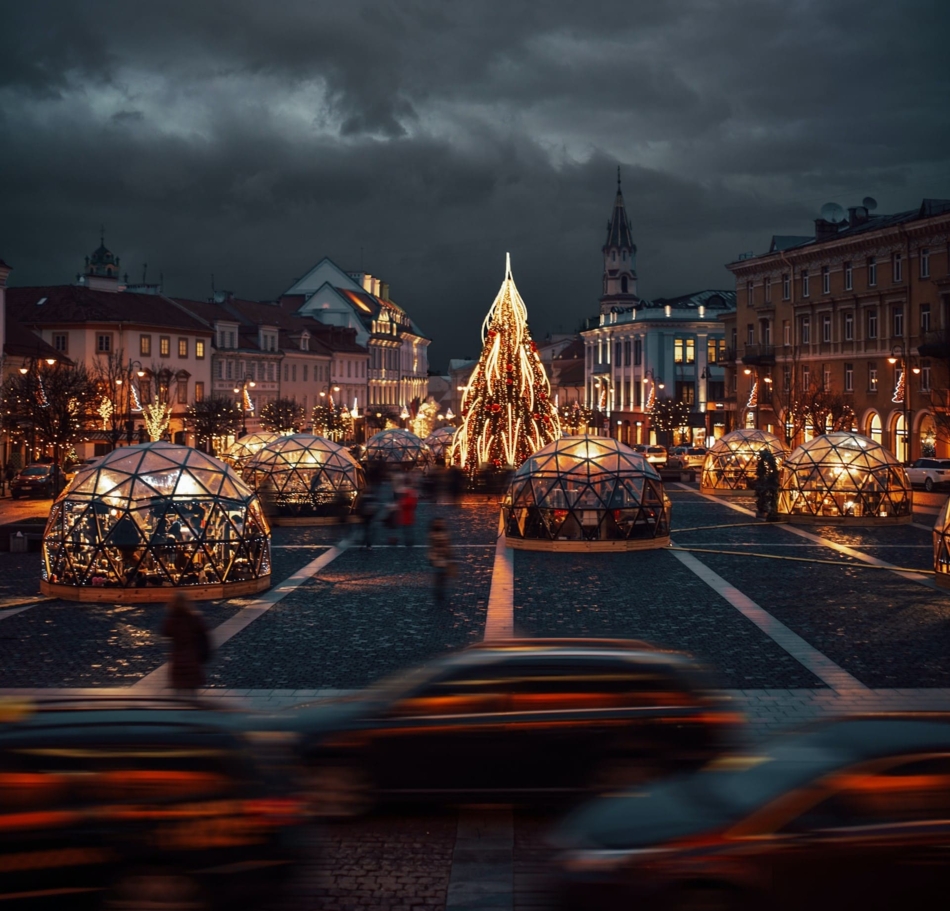 This year, the Vilnius Christmas tree is devoted to the beauty of nature in winter and follows the patterns of snowflakes. It's a logical topic for a country that looks like a winter wonderland during the Christmas season, and it promises visitors the most magical experience.
In the past, many Lithuanian families used to cut actual pine trees and bring them home and decorate their Christmas trees with colourful symbols. But one of their traditions is to put sweets on the tree. Family members would decorate it together, and later, children would enjoy the sweets hanging off the tree. This was a time for everyone to bond and still remains a sweet childhood memory for many Lithuanians.
Lithuania displays some of the most wonderful and unique decorations at Christmas. However, in their homes, Christmas trees still carry the essence of warmth and cosiness, sometimes mimicking the old, sweet traditions and memories.
A common thread: A sense of unity
The stories of these three counties are just a sneak peek into Christmas decorations in different parts of the world. Vivid and colourful decorations spring up in every corner of the globe at this time of the year, from the United States to the United Arab Emirates, emanating a sense of unity and togetherness.
The Christmas tree is a big part of this season's celebrations, but it's also about unwinding and letting your imagination run wild. So don't miss our Christmas Story about Simon the squirrel — which you can read on your own or with the little ones.
Credits for the Main photo: © Annie Spratt on Unsplash
Inspire our community
A global community of enthusiastic and curious ones. Diverse voices. Subscribe for free to share your vision and enhance our art-filled world.


To leave a comment you must
sign in