Lifestyle
Christmas episodes of the best TV shows
If you're an avid TV buff, you probably tend to find yourself watching the same classic shows over and over again. It's especially comforting to watch your favourite TV shows during the Christmas season, even if you already know the entire dialogues by heart.
From Friends to Gilmore Girls, here is our selection of Christmas episodes of some of the best TV shows to watch (or re-watch) over the holidays.
1.Seinfeld: 'The Red Dot' (1991)
'The Red Dot' is the 12th episode of the third season of Seinfeld. George (Jason Alexander) and Elaine (Julia Louis-Dreyfus) work at the same publishing house. As a thank you for getting him this job, George offers Elaine a cashmere sweater with a tiny red dot on it, hoping she will never notice. And she doesn't — until Kramer points it out. Because of the $85 marked-down jumper, people lose their jobs, "fall off the wagon" and lose faith in one another. It is a classic Seinfeld episode — funny and messy, with one too many twists.
2.Friends: 'The One with the Holiday Armadillo' (2000)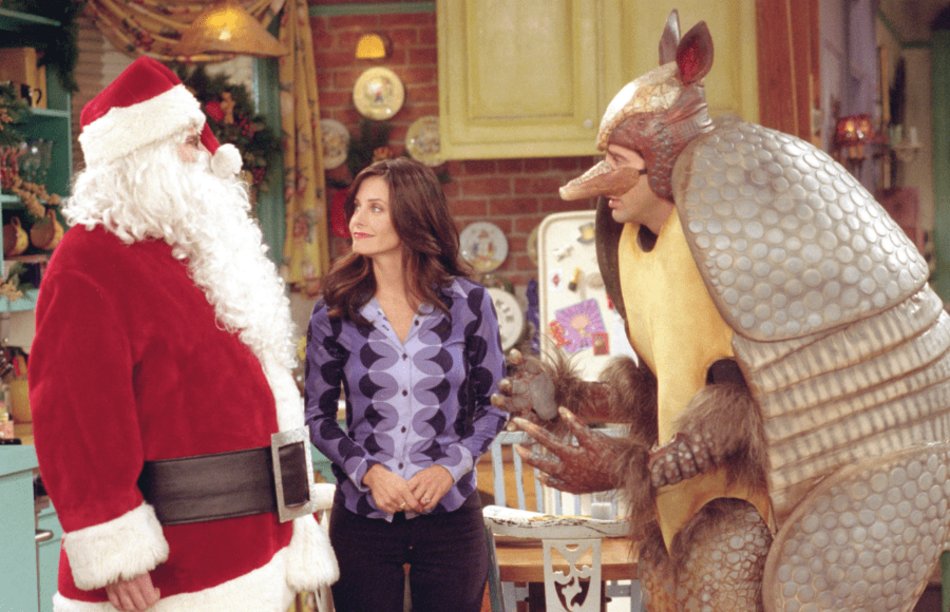 'The One with the Holiday Armadillo' is the 10th episode of the 7th season of Friends. Phoebe is staying at Monica and Chandler's while Rachel is staying at Joey's due to fire damage at Phoebe's place. For the first time this Christmas, Ross has Ben for the holidays and decides to celebrate Hanukkah to teach Ben about their Jewish heritage. When he breaks the news of Santa not coming for Christmas to Ben, Ben gets upset, taking it as a punishment. Ross is crushed by the idea of his son getting upset over this, so he calls the gang to find a Santa suit. In the meantime, he still wants to teach Ben about Hanukkah, so he dresses up as an armadillo, the only costume he can find at the costume shop and introduces the Holiday Armadillo — as Santa's good friend from Texas! They connect as the Holiday Armadillo shares the meaning of Hanukkah, the Festival of Lights.
Chandler surprises everyone when he turns up dressed up as Santa, and as if there were not enough surprises, Joey turns up as Superman at the lecture about the Festival of Lights. It's a Christmas Ben will never forget and an episode as sweet as it gets.
3.Gilmore Girls: 'Forgiveness and Stuff' (2000)
'Forgiveness and Stuff', is the tenth episode of the first season and Gilmore Girls' first Christmas-themed episode.
While helping the town's Christmas pageant, Rory spends the night with Dean, which makes Lorelai angry at Rory. Richard and Emily host a Christmas dinner with their friends and expect Lorelai and Rory to be there too. The tension between Lorelai and Rory grows bigger. On top of all that, Lorelai cannot take the day off work but suggests they arrive at the Christmas dinner no later than 8 pm.
Emily, thinking that Lorelai is being difficult as usual, tells her off, and suggests that Rory should come alone. Meanwhile, Dean smoothens everything out with Lorelai.
While enjoying her Santa burger made by sweet Luke in an attempt to please her on this lonely Christmas night, Lorelai learns that her father has been rushed into hospital.
The scenes where the Gilmore women go and talk to Richard on his hospital bed are among the most heartwarming scenes of the show.
Regardless of how different each Gilmore women are, they all show their love and affection towards one another and to Richard in their own way.
4.How I Met Your Mother: 'How Lily Stole Christmas' (2006)
'How Lily Stole Christmas' is the 11th episode of the second season of How I Met Your Mother. Following the divorce and new relationships of his parents, Ted decides to spend Christmas in New York City with the gang. As Marshall is still in law school, he has a big deadline coming up and Lily wants to decorate the house to reward Marshall's efforts and to create an atmosphere similar to what he would have back at home with his parents. While the boys are out, Lily finds an old-answering machine with some unanswered messages and hears Ted calling her "a very, very bad word" rhyming with "grinch." In a fit of rage, Lily cleans up all the decorations in her small apartment.
Ted goes to Lily's apartment with a half-apology just to bring her back to their apartment so that she would decorate it again for Marshall's sake. Lily doesn't accept the apology and things escalate, leading Ted to spend Christmas with his sister's over-religious family. When it's time to open the presents, Lily is overwhelmed by Marshall's gift which is something she has always dreamed of but never mentioned to anyone but Ted. Understanding the true meaning of Christmas, the gang goes to Ted's sister's house to bring Ted home.
What's so sweet and special about this episode is that it reminds us that even when we're away from our family, our true friends are always there for us.
5. The Office (US): 'Christmas Party' (2006)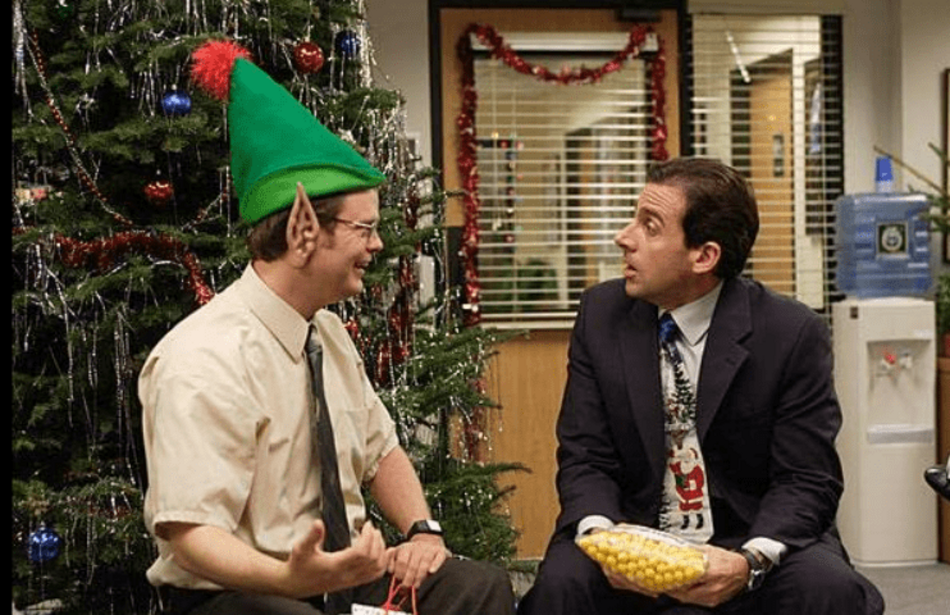 'Christmas Party' is the tenth episode of the second season of The Office (US). The party planning committee holds a 'Secret Santa' gift exchange for the whole office and Jim ends up with Pam's name. He puts in a lot of effort to find the perfect gift for under $20.
Michael buys an overpriced gift (an iPod) to impress but receives a pair of handmade oven mitts. Since he is gifted an "inferior" gift after spending so much money himself, Michael orders everyone to swap gifts. Pam swaps Jim's gift with the iPod and all hell breaks loose: Everyone is either disappointed or angry, so Michael tries to calm everyone down with alcohol. This episode shows that the price tag of a gift doesn't matter: What matters is that the gift is thoughtful.
6. Parks and Recreation: 'Ron and Diane'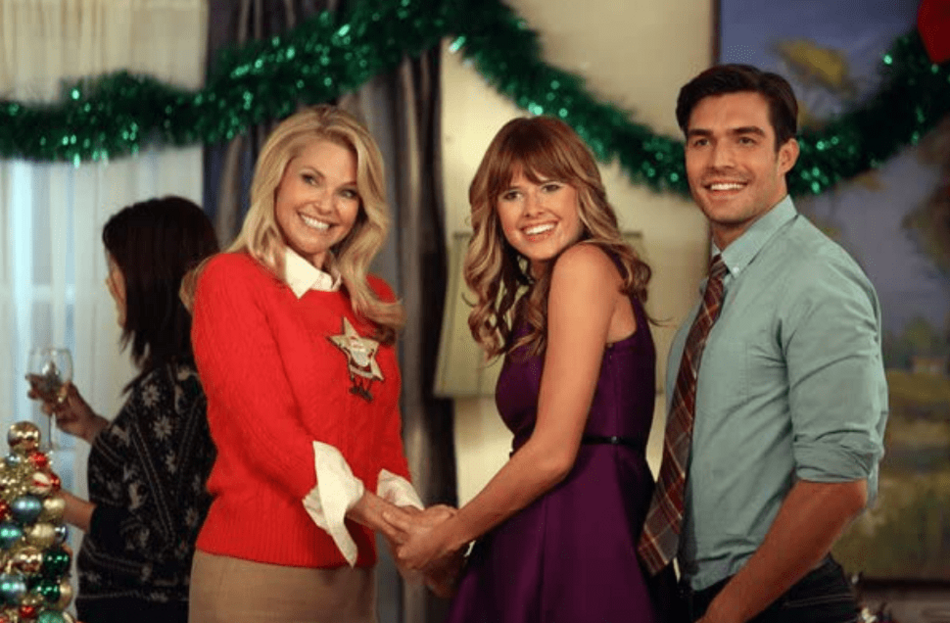 'Ron and Diane' is the ninth episode of the fifth season of Parks and Recreation. After years of working with wood, it finally pays off and Ron is nominated for an award. He desperately wants to participate in the event and flaunt his new girlfriend.
When Leslie hears about the award ceremony, she invites herself too. Meanwhile, the rest of the gang comes clean with Ann Perkins about their annual sacred event. During the whole year, they put a dollar in a box every time Jerry does something stupid and at the end of the year, they treat themselves to that money without inviting Jerry. Ann confronts them about their bullying and mockery of Jerry. On their way to dinner, they pass by Jerry's house only to see that Jerry hosts the best Christmas party on the block. Jerry and his family invite everyone in even though they are never nice to him.
Meanwhile, at the award ceremony, Ron is overjoyed with the praise he receives. Diane is proud of him but Leslie gives them unsolicited advice about their relationship. Ron's ex-wife crashes the event, Diane accepts that she is intimated by the close relationship Ron and Leslie have, and Ron calls Leslie "his wonderful loyal friend" which is a show of emotion Ron rarely has for anyone. It's a chaotic but sweet episode with Jerry being the bigger man, Ron not being afraid of showing his emotions and Leslie putting herself at risk to save Ron's special day.
7.The Big Bang Theory "The Clean Room Infiltration" (2014)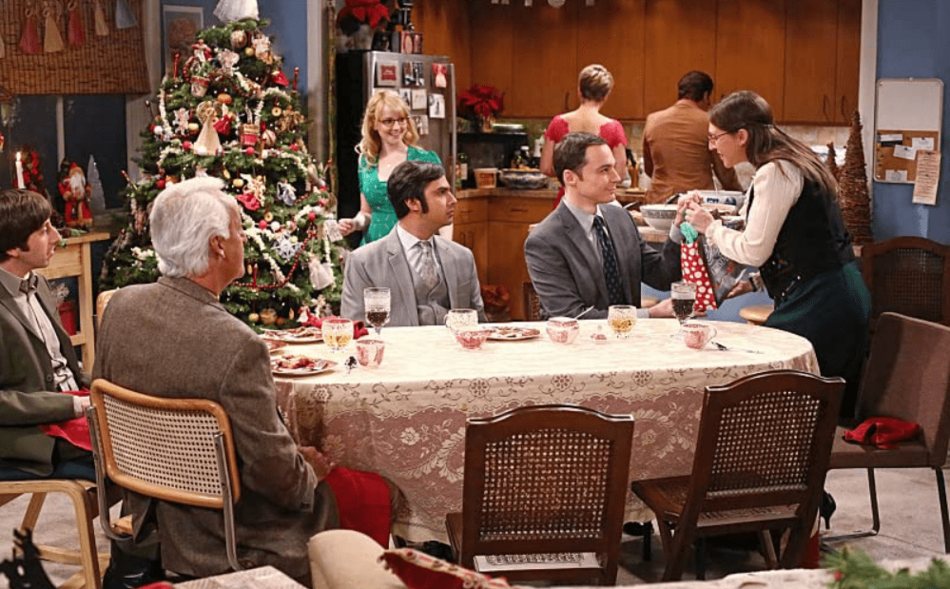 'The Clean Room Infiltration' is the 11th episode of the eighth season of The Big Bang Theory. Amy hosts a Christmas dinner for the first time in her apartment and invites everyone in. But the theme of her dinner is Victorian English Christmas Eve, so the games and entertainment she comes up with are a tad boring for Raj's taste. Meanwhile, Leonard and Howard are carrying out an experiment at the university's cleanroom where Howard lets a pigeon fly in. They are stuck at the university until they can find a solution to their bird problem while Sheldon's heinous attempt to surprise Amy with a gift backfires. Amy gives her gift to Sheldon even though they both agreed not to exchange gifts. Sheldon's reaction to Amy's gift is the best part about this episode. It is so sincere you can see this happening at a Christmas dinner with your own friends who are difficult to find gifts for.
8.Brooklyn Nine-Nine: 'Yippie Kayak' (2015)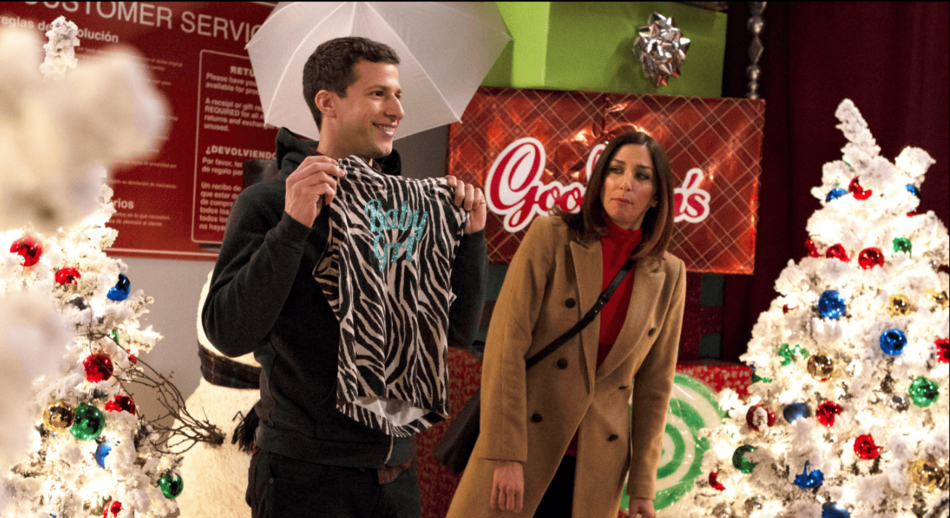 'Yippie Kayak' is the tenth episode of the third season of Brooklyn Nine-Nine. Christmas is just around the corner and Jake realizes he forgot to get a gift for Charles, his best friend. He asks for Gina's help as she knows everything that's going on in the precinct and they decide to go to a shopping mall only to get shut down by security.
Charles tags along thinking the gift hunt is actually for Amy and that he might be able to help Jake find the perfect gift. They get into the shopping mall by following Gina's instructions and realize that they got caught in the middle of a robbery. Neither Jake nor Charles have their guns and they can't fight the thieves by themselves but this doesn't stop Jake from living his real-life Die Hard fantasy. Jake and Charles take out the thieves one by one while outside, Terry is fighting the Vulture's incompetent strategy. Everything works out as it should, Charles misuses the catchphrase, and Jake comes clean to him about the gift. The episode tackles Christmas both from a family point of view with a depiction of Terry and his family, and from a friendship point of view as all characters do their best for their friend.
9.New Girl 'Christmas Eve Eve' (2016)
'Christmas Eve Eve' is the 10th episode of the sixth season of New Girl. Jess is overjoyed by this year's Secret Santa and is in charge of organizing it but no one else seems to think it is a big deal. Nick decides to do his bar's taxes on Christmas Eve as his girlfriend is miles away. Winston's perfect gift for Cece doesn't arrive on time which drives him crazy. It gets quite hectic, as they forget about Jess during Secret Santa after she has planned a great night and flown Nick's girlfriend over as a gift to him. She is devastated, but in the end, they make it up for it. It's a fun, heartfelt, hectic and memorable episode, worth watching over and over again.
10. Superstore: 'Christmas Eve' (2017)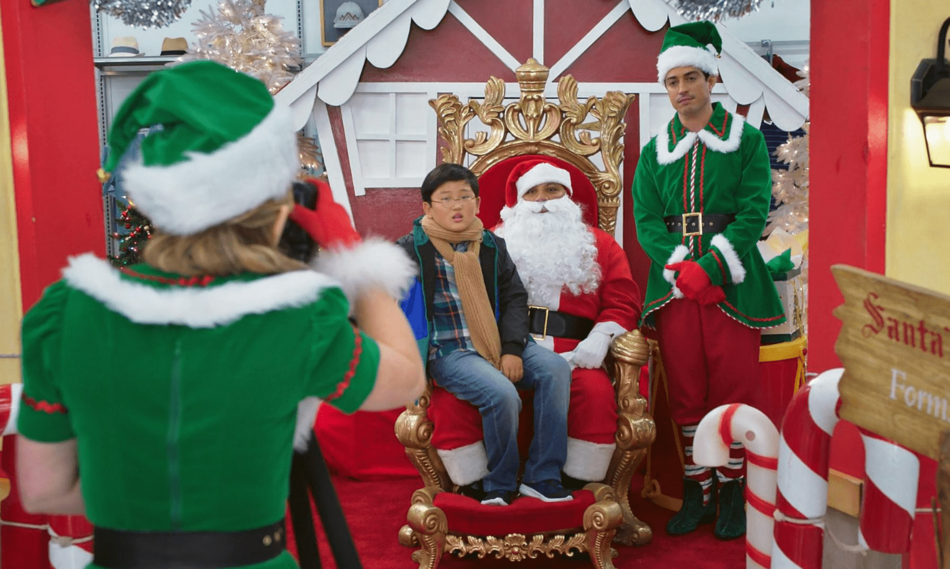 'Christmas Eve' is the seventh episode of the third season of Superstore. As it's a religious holiday, Glenn attempts to put a nativity scene in the shop but Dina destroys it. Mateo then tells Glenn that Christmas is an over-the-top affair, but Glenn disagrees.
Glenn tries to change Mateo's mind while Amy tries to show her colleagues her crazier side. She tells stories from high school to prove her point which no one believes and as a witness, she calls her ex-husband only to find out that he's spending the holidays with a woman he has just started seeing. When their overwhelming loneliness is mixed with alcohol, Amy, Dina and Cheyenne start acting crazy. Meanwhile, roommate colleagues Garrett and Jonah are arguing about their daily annoying habits.
This episode is a great example of what the Christmas party atmosphere can be like in the workplace, serving as a warning to viewers to be a little cautious about their company's Christmas parties. The strong bond between the female characters, who always have each other's back, makes this a sweet, must-watch episode.
For more Christmas inspiration, subscribe to our advent calendar where you can discover our gift guides and books to read during the festive season.
Credits for the Main photo: © IMDB - The Clean Room Infiltration (2014) Mayim Bialik, Kaley Cuoco, Johnny Galecki, Brian George, Simon Helberg, Jim Parsons, Melissa Rauch, and Kunal Nayyar in The Big Bang Theory (2007)
Inspire our community
A global community of enthusiastic and curious ones. Diverse voices. Subscribe for free to share your vision and enhance our art-filled world.


To leave a comment you must
sign in