Insight
Emma Capron, curator at London's National Gallery, on 'The Ugly Duchess'
Running until June 11, an exhibition at London's National Gallery invites viewers to reexamine the enigmatic 1513 artwork 'An Old Woman' by Flemish artist Quinten Massys.
Emma Capron, Associate Curator (Renaissance Painting) at the National Gallery, tells us about the importance of 'An Old Woman' in shedding light on the Renaissance perception of women, why it was important to reunite this work with 'An Old Man', and how the show leads us to question the currency still placed on women's youth and appearance today.
Can you tell us how you came to specialise in Renaissance painting and how the idea for the exhibition, 'The Ugly Duchess: Beauty and Satire in the Renaissance', came about?
I fell in love with the Renaissance on a trip to Florence as an 18-year-old. After that there was no going back. Although I ended up specialising in Netherlandish rather than Italian art, I always stayed focused on this period of incredible intellectual vibrancy and artistic achievements.
Although we associate the Renaissance with timeless beauty, it's also a period obsessed with it very opposite, as epitomised by Quinten Massys's formidable 'Old Woman', better known as 'The Ugly Duchess'. The idea for the exhibition was to shed new light on this familiar face. Despite being one of the National Gallery's most famous paintings and an enduring visitors' favourite, the painting has remained tied to the world of fairy tale after it inspired John Tenniel's much-loved illustrations for Lewis Carroll's Alice's Adventures in Wonderland (1865). The exhibition aimed to move away from this and focus on the painting's vibrant Renaissance context, foregrounding its status as a pioneering work of satirical painting. Another great ambition of the exhibition was to display, for the first time ever, 'The Ugly Duchess' along with the drawings of grotesque heads by Leonardo da Vinci.
What does Quinten Massys' 1513 'An Old Woman' ('The Ugly Duchess'), one of the highlights of the show, tell us about how women were perceived in the Renaissance?
'The Ugly Duchess' reveals the deeply ambivalent views cast on women, age, and normative beauty during the Renaissance. It shows us an old woman with exaggerated features – snub nose, toothless mouth, wrinkled skin, hairy mole – clad in a flamboyant and provocative outfit. She brazenly departs from all the ideals of beauty, youth and propriety then expected from her gender. Viewers are invited to laugh at her pretension and self-delusion, with the message that past a certain age, a woman's desire to seduce is indecorous and ridicule.
Beyond the obvious misogyny however, I think there is something radical and exciting about The Ugly Duchess's rule-breaking: as viewers, we experience an undeniable joy in beholding her trample beauty standards, social conventions, and gender expectations. We laugh at her, but perhaps also with her, at all the norms she contravenes. The image's enduring power perhaps lies in this freedom and irreverence.
What makes this work stand out from other works created during this period? Are there any metaphors or symbols, such as the flower she is holding in her hand, that you can tell us about?
It is hard to overstate how novel this work would have been at the time when it was created, during the second decade of the sixteenth century. Humorous subjects were ubiquitous throughout the Middle Ages, but they remained confined to the sidelines of representations, such as the margins of manuscripts. In secular painting, 'The Ugly Duchess' provides one of the earliest surviving examples of the grotesque taking centre stage on such an imposing scale and with such refined execution.
Several clues allow us to make sense of the woman's appearance and gesture. Her horned headdress, for instance, would have been very old-fashioned by the 1510s, hinting at her age and making her an object of ridicule. Such headgear had also become by that time an iconographic shorthand for female vanity and evil – the horns of such headdresses were frequently compared to those of the devil. The woman holds a droopy rosebud, mimicking engagement portraits in which sitters were commonly shown holding carnations as symbols of marital fidelity. By contrast, roses like the old woman's had sexual connotations, hinting at her lustful intent.
Some experts say the subject portrayed by Massys was a woman suffering from a form of Paget's disease. Do you agree?
Several conditions have been ascribed to 'The Ugly Duchess' over the years, including Paget's disease, a rare illness causing bone hypertrophy. A particularly advanced stage of the disease could perhaps result in such atypical features. This would fit with the morbid, voyeuristic fascination some early modern painters had with disability and non-normative bodies.
However, I think that we need to remain cautious about drawing firm conclusions: diagnoses established on the basis of a painting are fraught from a medical standpoint, and they also tend to overlook the contingencies of style, confining painters to the literal replication of the realities around them and underplaying their power of invention. Rather than the portrayal of a pathology, I believe 'The Ugly Duchess' is probably best understood as a fanciful exploration of the comic, expressive and subversive potential of distorting the human face.
This work is reunited in the exhibition with 'An Old Man'. Why was it important to reunite these paintings?
Because Massys did not conceive 'The Ugly Duchess' on her own but as one half of a pair, and one does not get the whole story when one sees her on her own. The reunion of the painting with its pendant, An Old Man (enabled by a generous loan from a private collection), forms the very heart of the exhibition. It is even more exciting that this is only the second time they have been shown together since they were split in the 17th-century. Only when seen in tandem can you make sense of her attire and gesture: the reason she has put on this showy and revealing garment is to seduce the old man. She presents him with a rosebud. His raised hand seems to indicate refusal. This heightens her ridicule. With these panels, Massys parodied the double portraits of spouses, an established and stately genre by that date. Usually men would be shown on the proper right (the viewer's left) as a sign of their preeminent status. Tellingly, The Ugly Duchess upsets this convention and claims the place of men.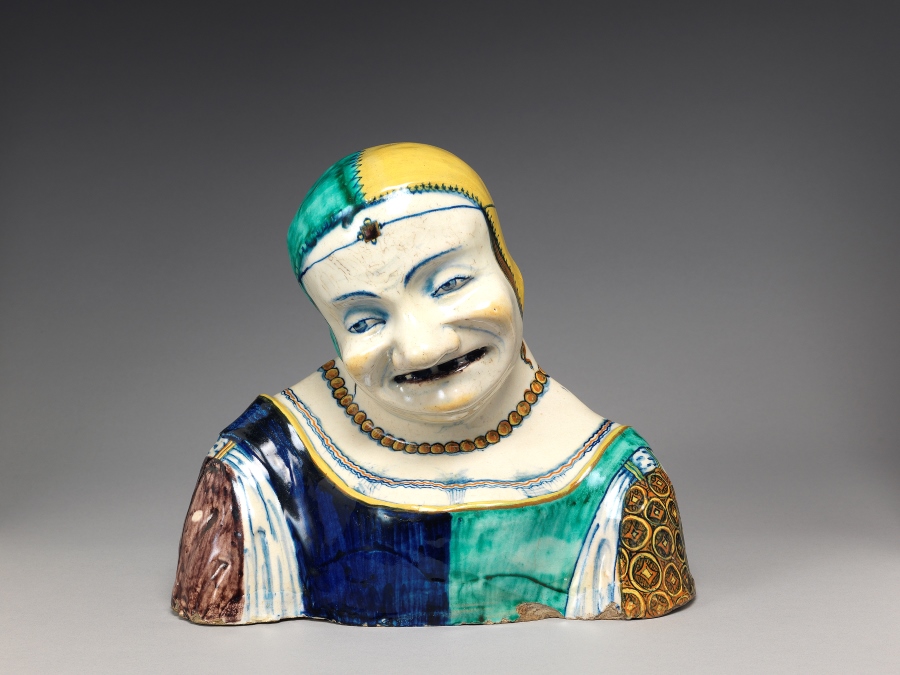 Other works on display include 'Bust of an Old Woman' and Albrecht Dürer's 'Witch Riding Backwards on a Goat'. Can you explain why you selected these works in particular?
These works were included in the exhibition because they demonstrate how old women were both derided and vilified during the Renaissance. The bust parodies the tradition of featuring belle donne (beautiful women) in Italian maiolica. The artist subverted the vibrant colours typical of the medium to make the woman's attire look garish and her complexion sickly. Similar objects are documented at Italian courts during the Renaissance, where they probably served as entertainment. This maiolica bust shows that old women were the frequent target of Renaissance jokes, but they could also be depicted as powerful, fearsome entities. Perhaps the most iconic representations of such depictions is Dürer's engraving 'A Witch riding Backwards on a Goat'. It is the earliest known depiction of the witch as a hag, and it marks a turning point in the demonisation of older women during the Renaissance, so it felt fundamental to include it in the show. The witch's defiance of gender and moral hierarchies recalls that of 'The Ugly Duchess'.
How has the portrayal of women changed since the late 15th- and early 16th-century? How has it shaped the way we see women today?
That is for our visitors to ponder about, but unfortunately, I fear attitudes toward older women have not changed as much as we would like to think since Massys's days. Disparaging comments on women's use of cosmetics, plastic surgery, or fashion to conceal the effects of time are still rife today. Images like 'The Ugly Duchess' have certainly contributed to entrenching such negative views of elderly women.
At the same time, 'The Ugly Duchess' confronts us with a defiant older body that refuses to conform, that will neither be removed from sight nor contained. In that sense, it is a celebration of sorts, and the painting can be seen to resonate with current efforts to challenge traditional canons of beauty and invite visitors to question the currency still placed on women's youth and appearance today.
What is your favourite work featured in this show?
I find the exquisitely carved German statuette 'A Seated Old Woman' profoundly moving. It shows a frail, vulnerable, and shivering figure crossing her arms to hide her nakedness. The sculptor carefully and uncompromisingly inventoried the ravages of time on her body: creased skin, stretched belly, pendulous breasts, and protruding ribs. Here we leave the world of satire and the grotesque for a more poignant and empathetic reflection on the passing of time.
Don't miss this rare opportunity to witness the reunion of 'The Ugly Duchess' with 'An Old Man' at the National Gallery. And as an Art de Vivre subscriber, delve into other extraordinary exhibitions too, such as Yayoi Kusama's Infinity Mirror Rooms.
Сredits for the Main photo: Emma Capron - © The National Gallery, London
Inspire our community
A global community of enthusiastic and curious ones. Diverse voices. Subscribe for free to share your vision and enhance our art-filled world.


To leave a comment you must
sign in