Insight
First Sunshine: Julien Fournie's new Haute Couture collection
The courageous French designer Julien Fournie presented his new collection at Paris' 8th arrondissement on Tuesday. Described by the fashion house as "a tribute to women freed from constraints, and designed to magnify their nature and simply celebrate the joy of partying in the open air in summertime," it left onlookers in awe and transported them to a lavish pool party.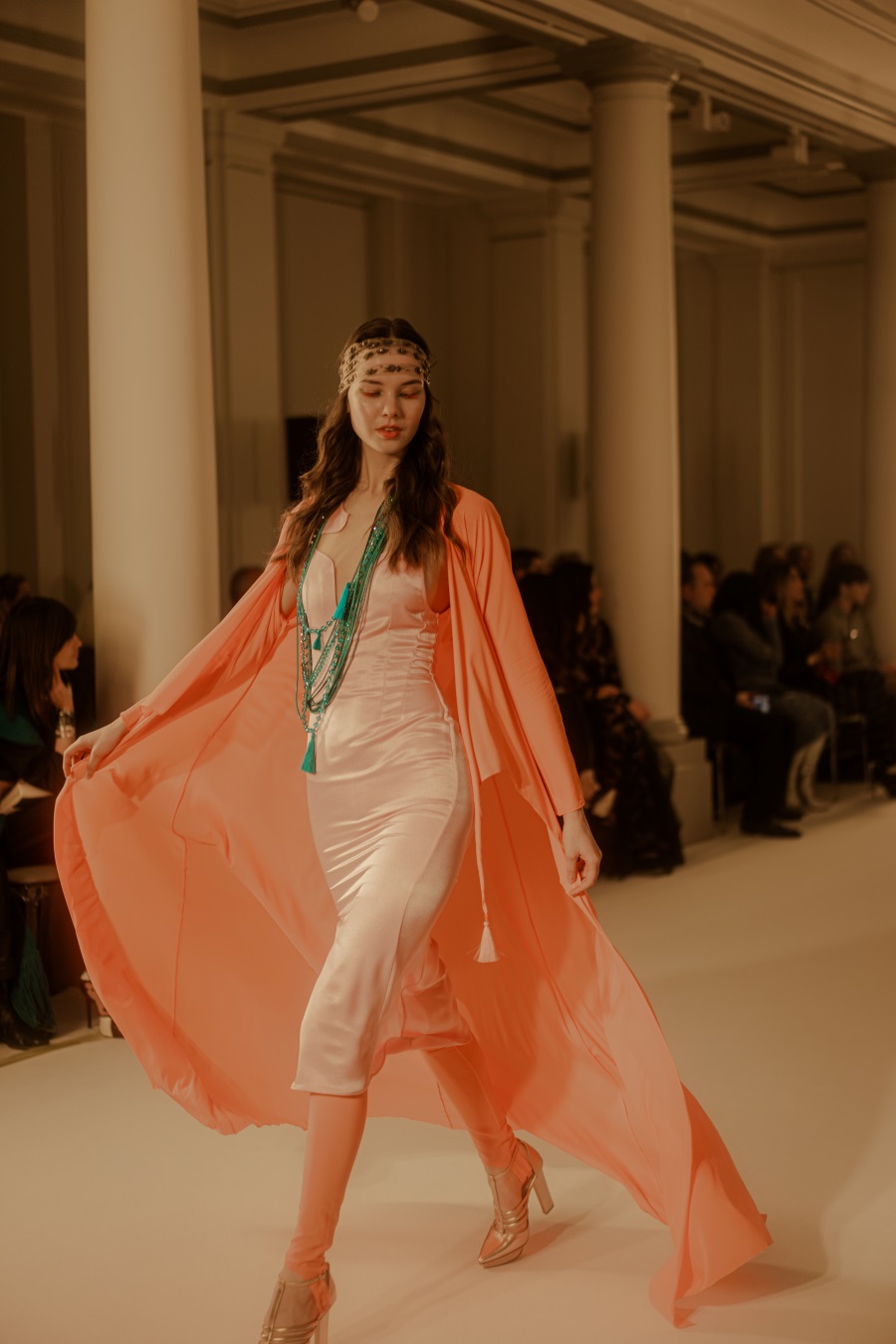 Overwhelmed with emotion, we were immersed in a joyous, relaxed ambiance, everyone beaming throughout the show. The music gave the event a festive tone, with two Weyes Blood tunes kicking off the show. "Sitting at this party, wondering if anyone knows me, really sees who I am," the line from one of the songs blared over the speakers as the elegant models walked the runway under the bright "sunshine" of the spotlights. It was if they were taking a morning stroll by the sea, transporting all the show's guests from a cold January morning to a warm summer party.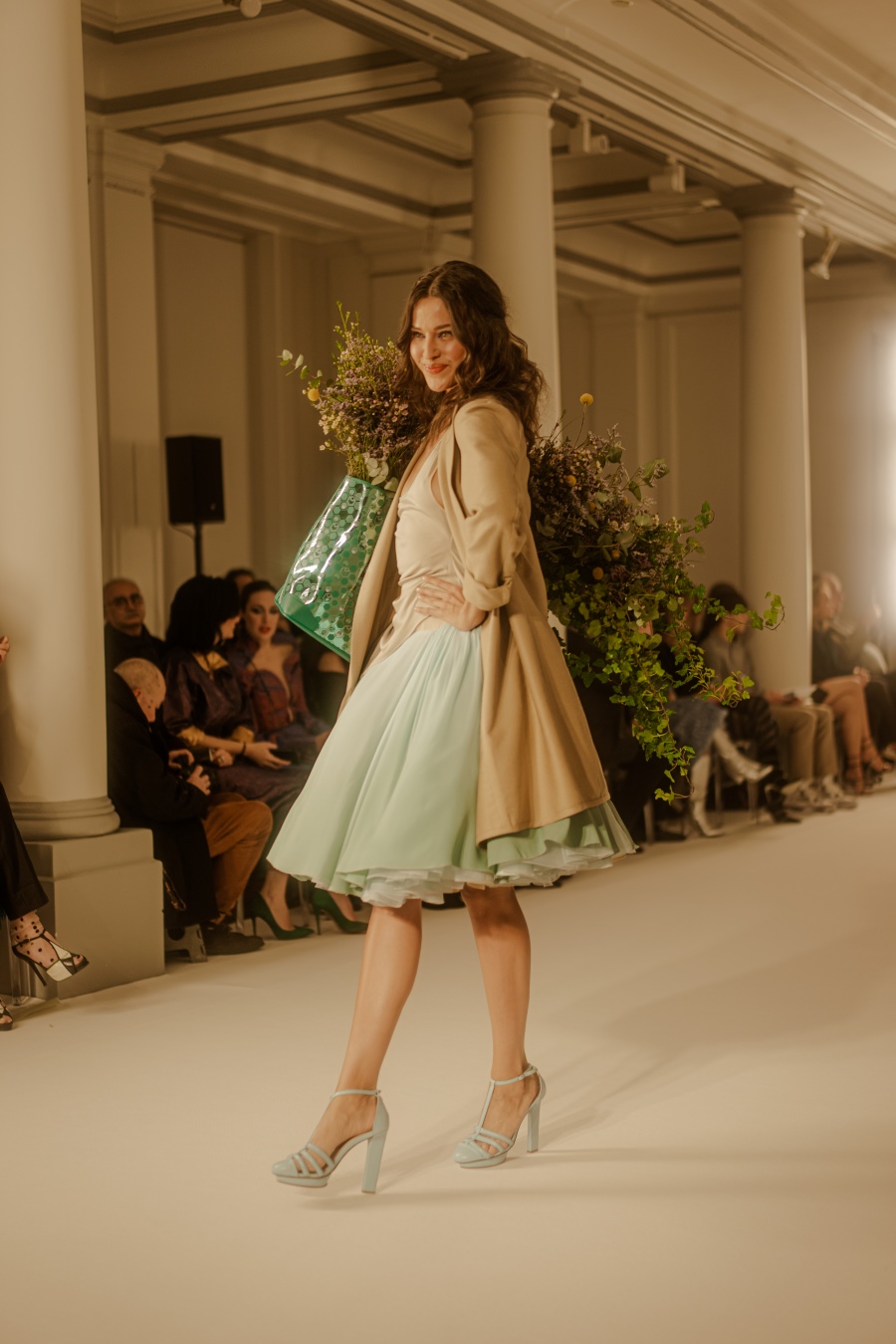 One model strutted down wearing a stunning wide-cut milk-coloured jumpsuit featuring gold embroidery lines. Several other models strode down the catwalk holding giant, lush bouquets of wildflowers. You could almost feel the seaside breeze as they stormed by in their translucent, pastel-coloured outfits. Celebrating the earth and the environment, the sea and its magic, they were finally free.
Each of these outfits seemed designed to dazzle at a summertime party, perhaps inspired by 20s pool parties at a wealthy villa and 70s open air boho festivals.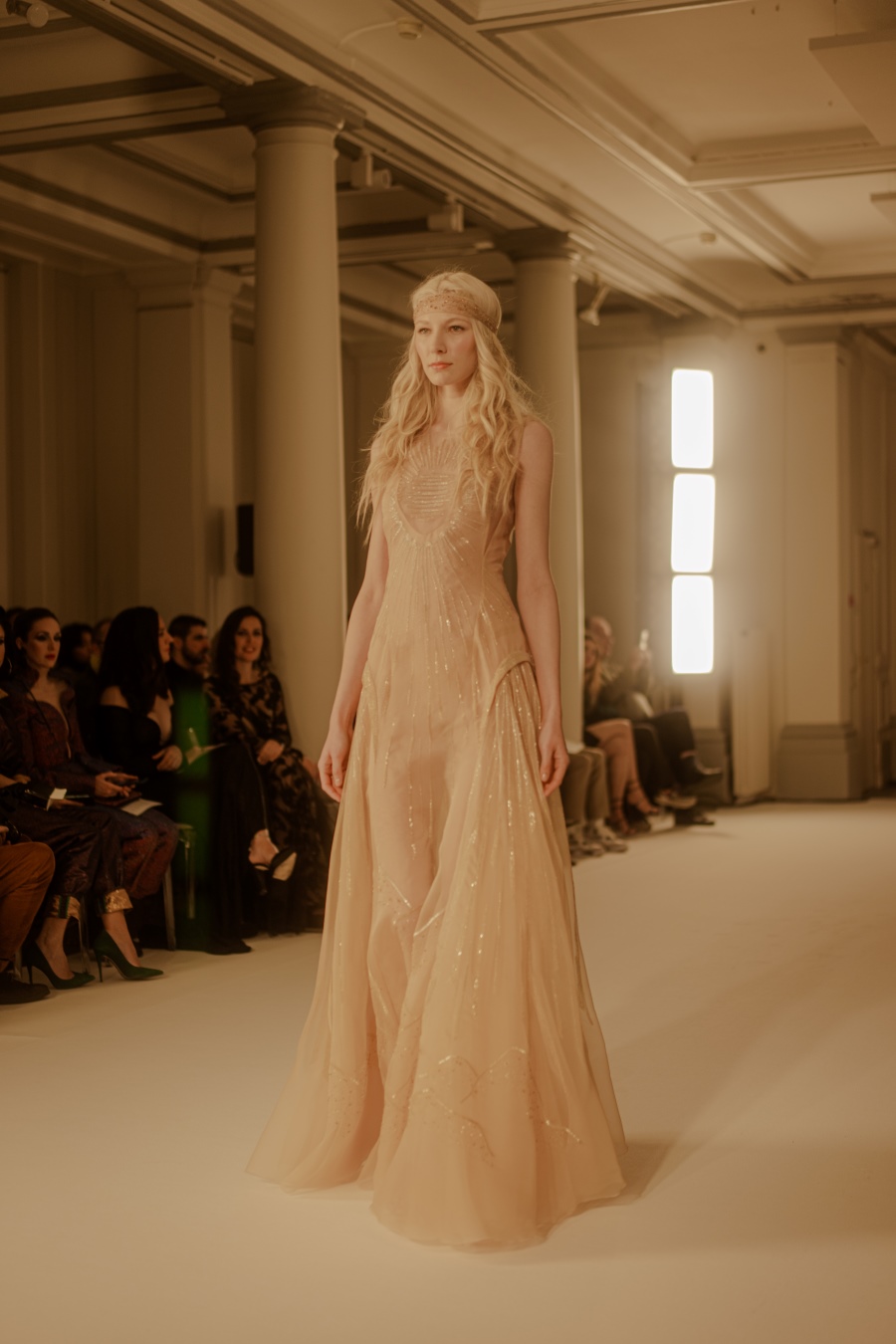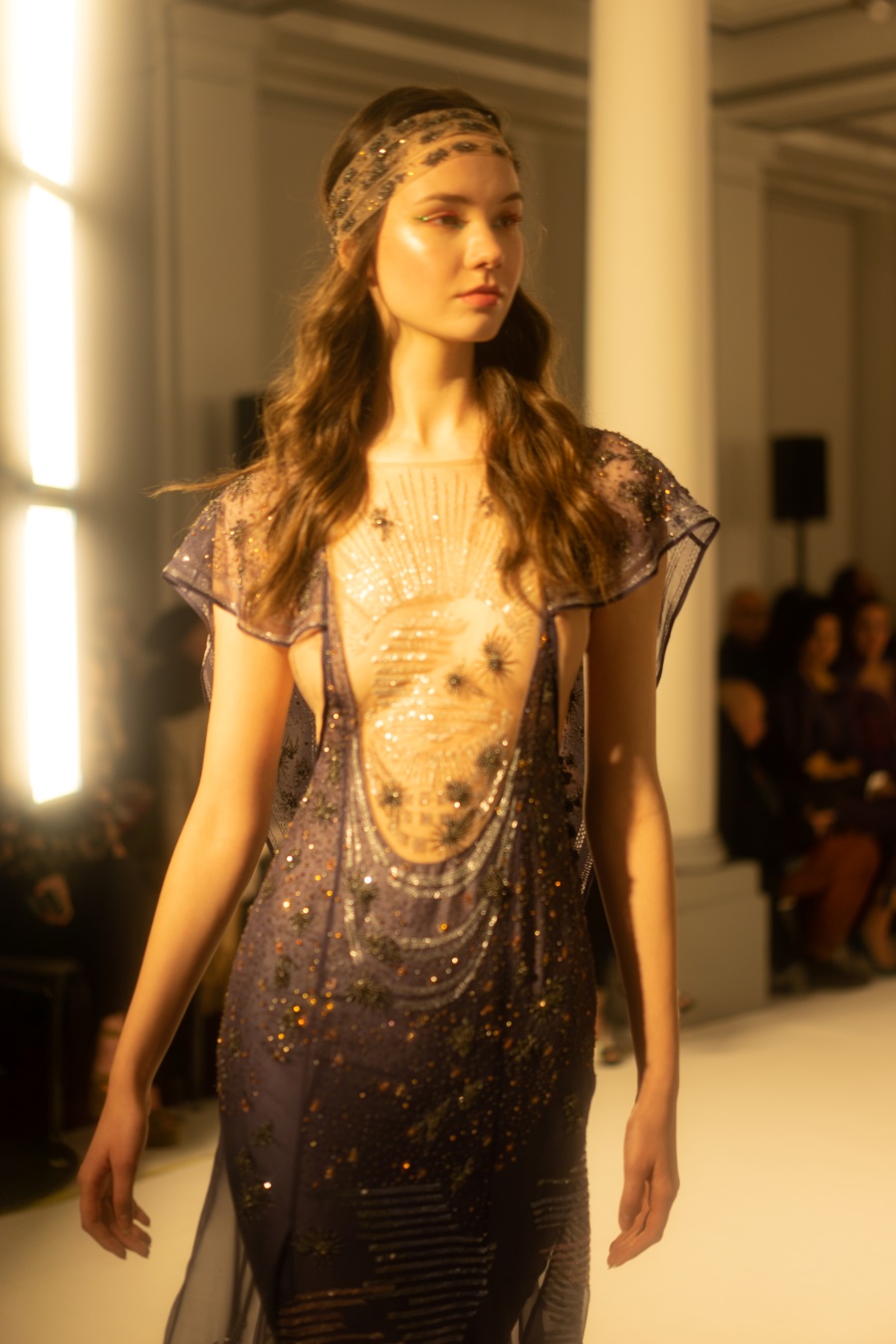 Sublime craftsmanship
The last three dresses were a meditation on dawn, zenith, and dusk: A delicate pink dress, a sand-coloured dress decorated with rays of the scorching midday sun on the chest and the outlines of mountains on the hem, and, finally, my favourite one: a dusty blue dress perfect for an evening outing. There are no words to describe the sublime craftsmanship of the embroidery of these outfits.
Finally, the most magical and nosalgic tune of all time played: a tune from Disney's dreamy Cinderella, and the most gorgeous wedding dress was unveiled, created with triple silk organza with the finest craftsmanship and needlework and embellished with bows.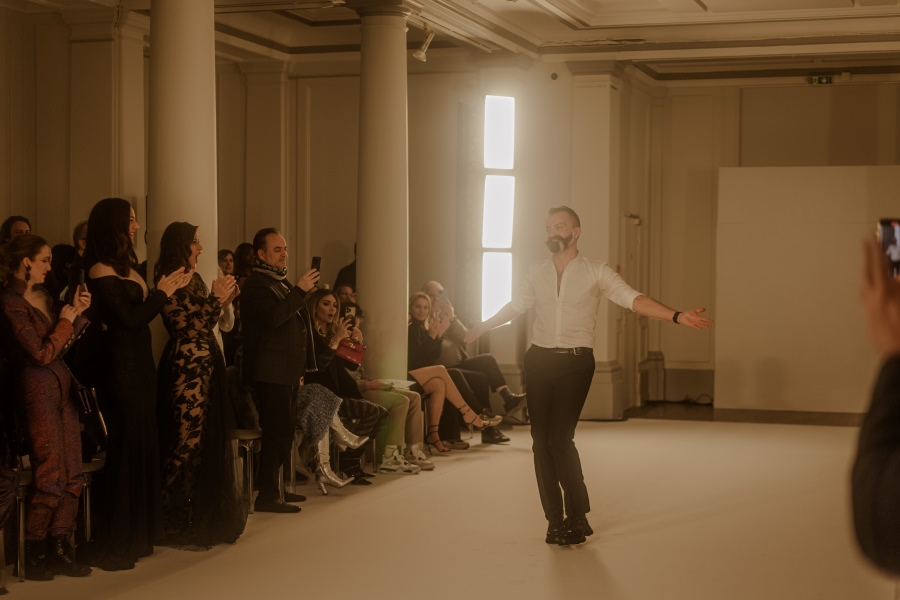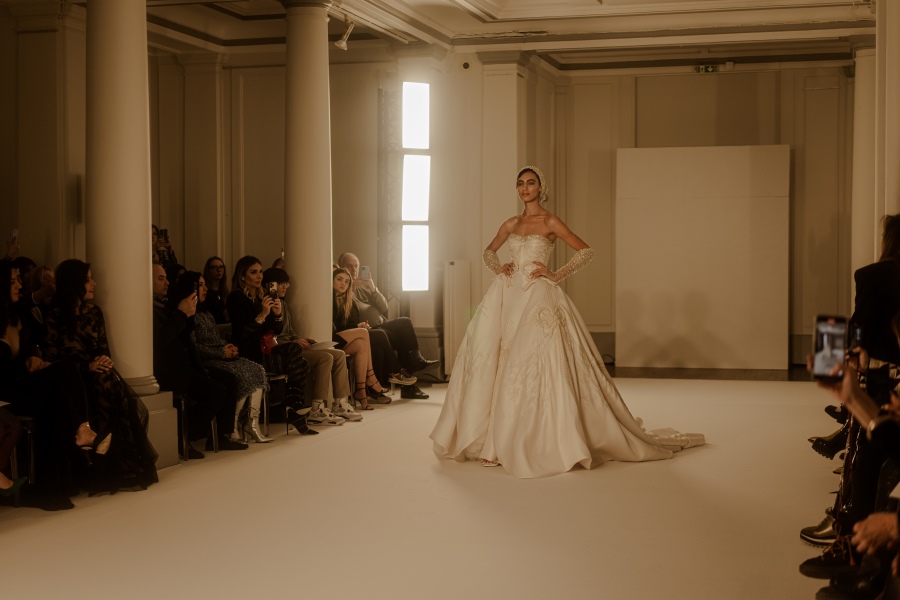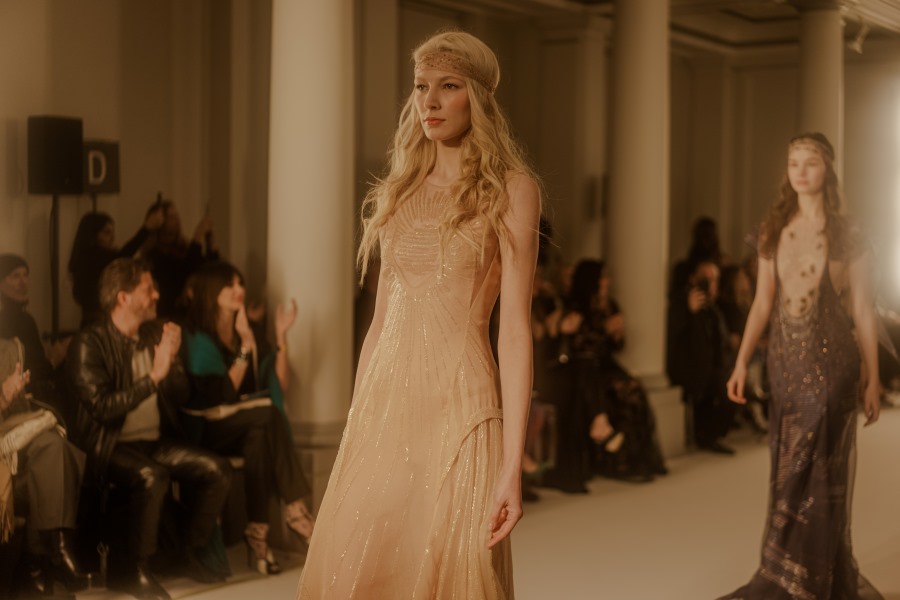 When the show ended, Julien Fournie appeared on the catwalk to greet us with a radiant smile and sparkling eyes, ready to embrace the world.
Discover more dazzling outfits shown on the second day of Haute Couture Week: Georges Chakra.
Photo credits: © Olia Kolendo, Art de Vivre
Inspire our community
A global community of enthusiastic and curious ones. Diverse voices. Subscribe for free to share your vision and enhance our art-filled world.


To leave a comment you must
sign in