Art
5 must-see art exhibitions around the world 2022
From a unique dialogue between Henri Matisse and David Hockney at Musée Matisse de Nice to Anish Kapoor's groundbreaking works using carbon nanotechnology at Gallerie dell'Accademia in Venice, here are some of the best exhibitions you can visit around the world.
1. Hockney - Matisse at Musée Matisse de Nice
Presenting a fascinating dialogue between two great masters — the French painter Henri Matisse and the British artist David Hockney — 'Hockney - Matisse. Un Paradis retrouvé' at Musée Matisse de Nice brings together an impressive selection of works. The show starts with Hockney's dazzling, recent iPad paintings of flowers, which he began painting in bed. Showing how Hockey, a central figure of British pop art, was inspired by Matisse and what their paintings have in common, from their use of line to landscapes filled with movement, this is an exhibition filled with joy and colour.
Until September 18, 2022
Where? Musée Matisse de Nice - 164 Av. des Arènes de Cimiez, 06000 Nice, France
2. Une Seconde d'éternité, at La Bourse de Commerce
Designed by Pritzker Prize-winning Japanese architect Tadao Ando, the Bourse de Commerce–Pinault Collection opened in 2021 and is one of Paris' newest major art institutions. 'Une seconde d'éternité' will offer an insight into the work of fifteen artists whose works reflect on space and time. Inspired by the oeuvre of Cuban-born American visual artist Felix Gonzalez-Torres, known for emotional works using commonplace materials, the show features works by Larry Bell, Dominique Gonzalez-Foerster, Wolfgang Tillmans, and Carrie Mae Weems among other established artists.
Until January 2023
Where? La Bourse de Commerce - 2 Rue de Viarmes, 75001 Paris, France
3. Picasso — El Greco exhibition at Kunstmuseum Basel
A major new exhibition at Kunstmuseum Basel in Switzerland explores Spanish painter Pablo Picasso's admiration for Greek painter El Greco. Marvel at masterpieces by both artists through around 40 works and discover just how much El Greco influenced Picasso's work. The show includes major works from the museum's own collection as well as loans from around the world.
Until 25 September
Where? Kunstmuseum Basel - St. Alban-Graben 8. CH-4010 Basel
4. Milton Avery at Royal Academy of Arts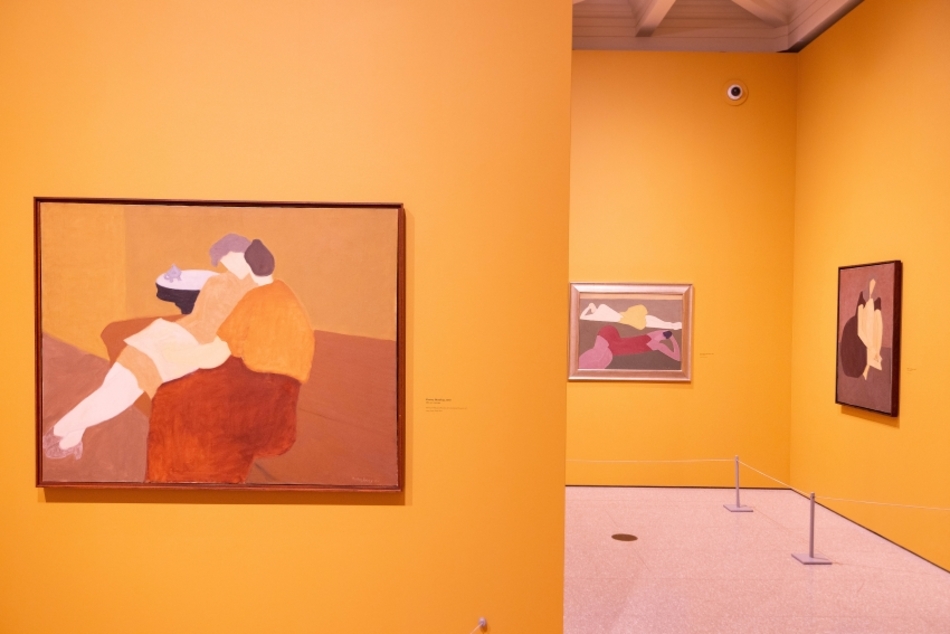 Don't miss this opportunity to delve into the work of one of America's most prominent mid-century artists. Milton Avery's first comprehensive exhibition in Europe, this show at the Royal Academy of Arts features around 70 works from the 1930s to the 1960s, from landscapes to portraits of his loved ones. One of the highlights is his iconic work, 'Husband and Wife' (1945), which depicts a man with an orange face leaning back on an armchair, and his wife, who is also reclining on a mustard-coloured armchair. He painted the couple when they stopped by his family's apartment one night.
Until October 16
Where? Royal Academy of Arts - Burlington House, Piccadilly, London W1J 0BD, United Kingdom
5. Anish Kapoor at Gallerie dell'Accademia
This major exhibition featuring the works of British-Indian artist Anish Kapoor at Gallerie dell'Accademia di Venezia was presented during the Venice International Art Biennale. As well as key works from throughout his career, there are ground-breaking works he recently created using carbon nanotechnology and which by using the Kapoor Black, absorbs over 99 percent of light. Giulio Manieri Elia, the Accademia's Director, said: "Our choice of sculptor might seem a surprise, but Kapoor, because of his original and deep research into colour, light, perspective and space, grows from the roots of venetian Renaissance painting, investigating its essence and interacting intimately on an ideal - we could even say conceptual - level with Bellini, Giorgione, Titian, Veronese and Tintoretto."
Until October 9
Where? Gallerie dell'Accademia - Campo della Carità, 1050, 30123 Venezia VE, Italy
Inspire our community
A global community of enthusiastic and curious ones. Diverse voices. Subscribe for free to share your vision and enhance our art-filled world.


To leave a comment you must
sign in