Lifestyle
5 ways Coco Chanel changed fashion forever
When Gabrielle 'Coco' Chanel was born in the provincial French town of Saumur in 1883, running a fashion empire wasn't on the cards. She was just 11 when her mother died, and then her father promptly abandoned her and her four siblings. Her brothers were farmed out as labourers, and she and her sisters were packed off to a convent school for deprived children and orphans.
Yet thanks to her drive, a knack for fascinating powerful men, and above all talent for dramatic simplicity, she became a well-known designer by the time she was 30 and later, the head of a fashion empire that changed the way women dress forever. As she once said,
I don't do fashion, I am fashion.
Though that might sound rather boastful, it's a fact that the country orphan changed fashion. Without Chanel, there would be no…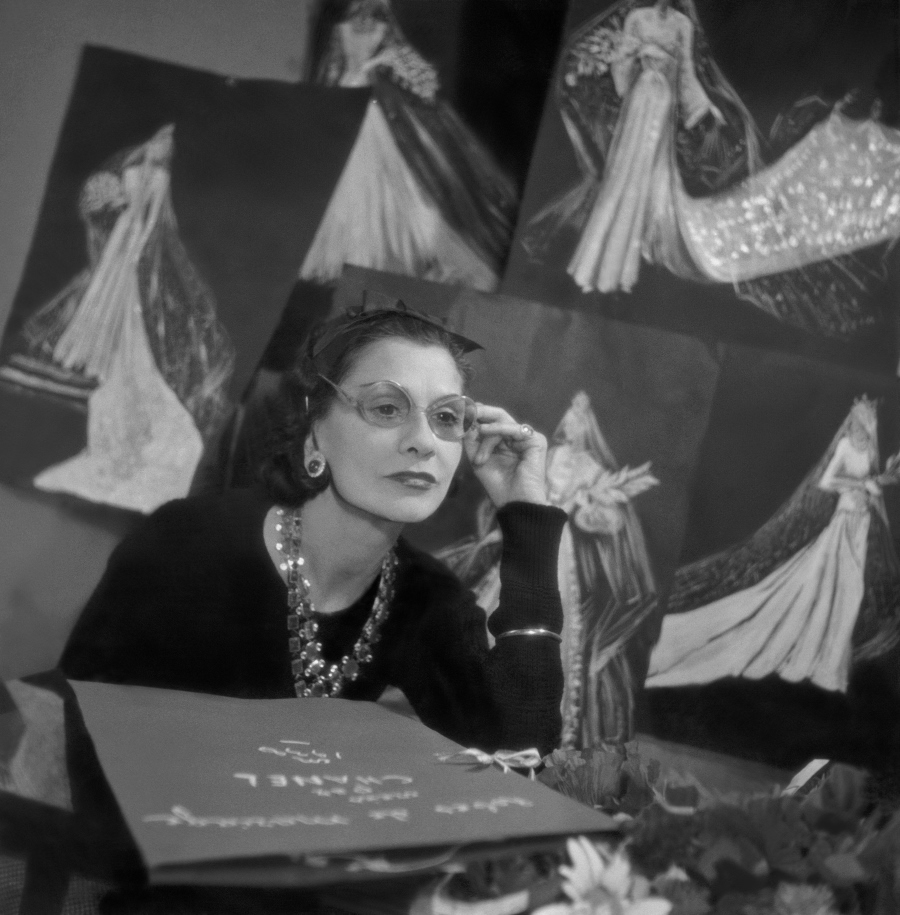 1. LITTLE BLACK DRESSES
When Chanel first popularised the Little Black Dress in the 1920s, Vogue compared the innovation to Ford's popular Model T car. Like the Model T, it was popular, modern, and only came in black. The magazine correctly predicted that it would soon become
a sort of uniform for all women of taste.
Like Chanel herself, the Little Black Dress had surprisingly humble origins. Black was the colour of mourning. It was also the colour of shopgirl and maid uniforms. Chanel turned the Little Black Dress into a fashion statement, and gradually, as time passed, a wardrobe staple.
As a result, she was criticised for borrowing from what society thought of as "lower-class" dress. Her rival Paul Poiret said,
What has Chanel invented? Deluxe poverty…now they resemble little undernourished telegraph clerks.
Chanel was the first to recognise the power of black for its versatility, its practicality, and what she called its "absolute beauty".
2. COSTUME JEWELLERY
Chanel's signature restrained, monochrome palette and elegant, relaxed silhouettes were the perfect backdrop for jewellery.
She particularly loved to layer pearl necklaces and decreed that
a woman should have ropes and ropes of pearls.
Her collection of fine jewellery was remarkable. It contained rare treasures given to her by her lovers, including Grand Duke Dmitri Pavlovich (a grandson of Tsar Alexander II of Russia and an exile most famous for plotting to kill Rasputin), and the Duke of Westminster (the wealthiest man in England at the time).
Despite her own fabulous assortment, Chanel's approach to jewellery was distinctly irreverent. She sold faux pearl necklaces, and she liked to mix and match costume jewellery with real, one-of-a-kind pieces. While imitation jewellery had existed for thousands of years, it was always supposed to look real. Chanel's early designs were ostentatiously fake, reflecting her belief that jewellery should remain
an ornament and an amusement.
3. TIMELESS TWEED TAILORING
Chanel favoured relaxed, exquisitely cut tailoring that allowed for ease of movement. She often borrowed her lover the Duke of Westminster's Highlands hunting jackets and drew inspiration from the style to create her own pieces. She also sourced her lots of her materials from Scotland and declared:
It was me in fact who taught the Scots to make lighter tweeds.
It was only in 1954, though, that Chanel created the iconic jacket as we know it today, complete with all the recognisable details, like gilt buttons and braiding along the lapels, cuffs, and pockets. The design was part of her controversial 1954 comeback collection. The streamlined, androgynous cut was Chanel's answer to the New Look, pioneered by her rival Christian Dior, which was popular at the time.
Inspired by Belle Époque styles, Dior's New Look was unabashedly feminine and romantic. Many of the gowns that he created had built-in stays and underwired bras. Chanel saw the New Look as a reactionary return to the outdated 19th-century ideals of femininity that she had tried so hard to dismantle, and once sneered:
Dior doesn't dress women. He upholsters them.
Her first collection when she came out of retirement can be seen as a critique of Dior and the new trends he helped to spread.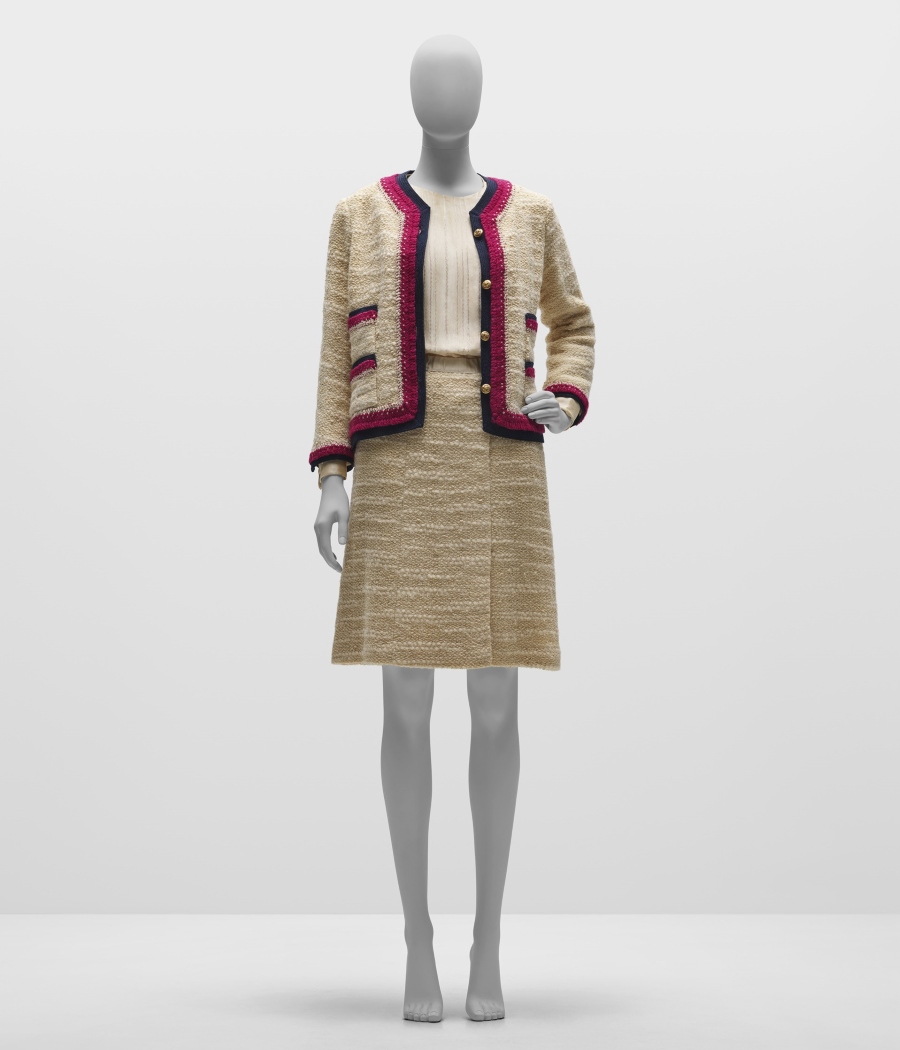 Initially the reaction towards Chanel's 1954 comeback collection was split. Critics complained that she was merely rehashing old ideas. Many also thought that she should have stayed in retirement and pointed out that she had collaborated with the Germans during the war. (She became involved with a high-ranking Nazi officer, and declassified documents released in 2014 suggest that she may have been a spy for the Third Reich.)
Despite the initial lukewarm reaction to the collection, Chanel's suits quickly began to gain popularity, especially among American women – soon everyone from Lauren Bacall to Jacqueline Kennedy were wearing them.
4. HANDBAGS WITH SHOULDER STRAPS
Affectionately described by the brand as an "accomplice", Chanel launched the 2.55 bag in February 1955. The chain-link strap was both a practical and fashionable innovation.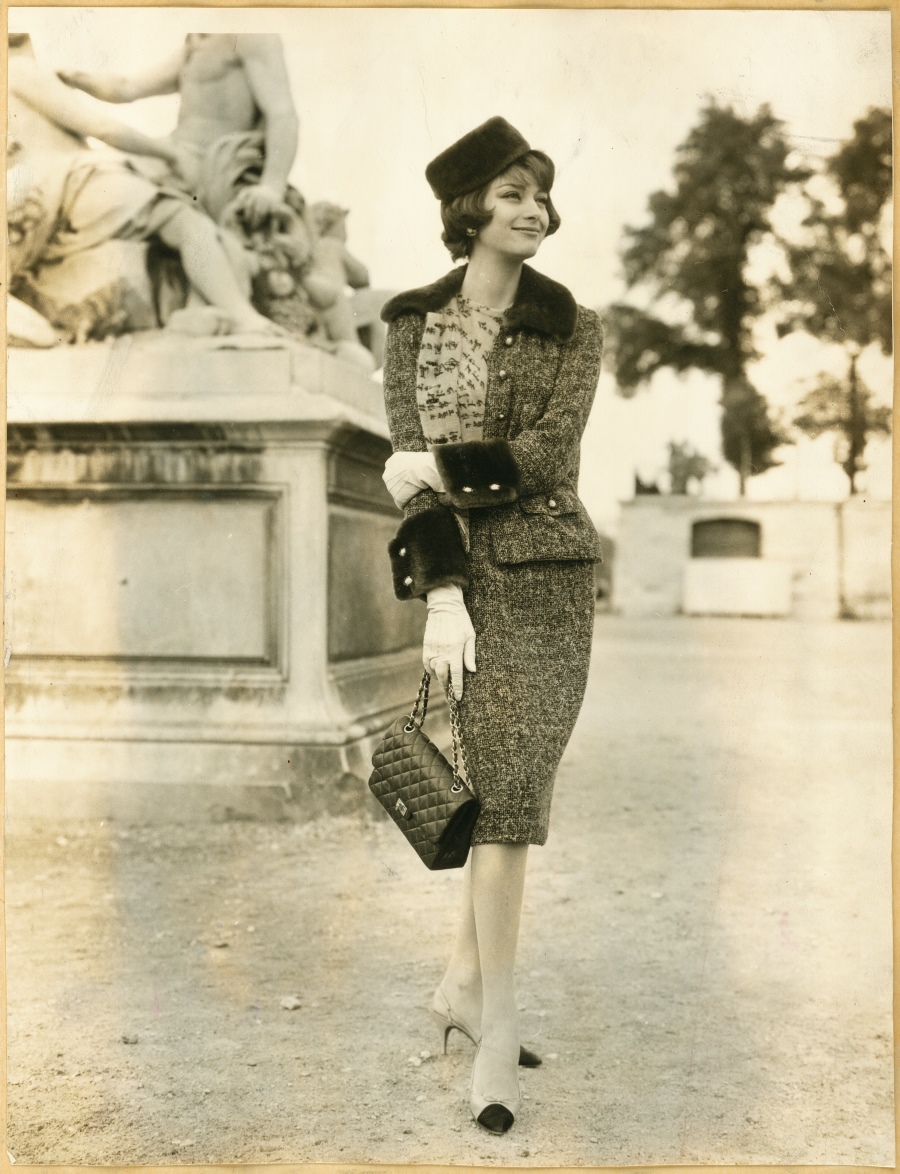 Chanel said:
I got so fed up with holding my purses in my hands and losing them, so I added a strap and carried them over my shoulder.
It was also the first accessory to feature the brand's iconic quilting, which was inspired by the padded jackets worn by stable boys. There were – and still are – seven pockets, including a special compartment concealed in the front flap that was rumoured to be for love letters.
5. CULT PERFUME
Chanel had been planning to develop a modern fragrance for some time when her lover Grand Duke Dmitri Pavlovich introduced her to the perfumer Ernest Beaux at a party on the French Riviera in 1919. Beaux worked for the Rallet Company, a perfumery based in Grasse, which had been the official supplier to the Russian royal family before the revolution.
She worked with Beaux to create a perfume that would make its wearer
smell like a woman, not like a rose.
The result was a strikingly modern, complex scent that was completely unlike the typical floral perfumes of the time. Beaux also added a high percentage of aldehydes, which meant that the scent would last longer on the skin. The new scent was housed in a severe, almost pharmaceutical bottle and christened N°5. Chanel considered it her lucky number. To this day, the house has continued the tradition of holding its runway shows on the fifth of every month.
With its unique, modern scent and streamlined bottle, Chanel N°5 was an olfactory fashion statement. For Chanel, perfume was
the unseen, unforgettable, ultimate accessory.
Chanel recognised that perfume could capture the essence of her style – a strategy that continues to be exploited by luxury brands to this day.
The house's legendary codes remain instantly recognisable, even though they have been reinvented and reimagined countless times, by the late, great Karl Lagerfeld (1933-2019) and its current Creative Director Virginie Viard. The modern house of Chanel is steeped in these references. Viard's cinematic Spring 2023 collection offered whimsical interpretations of the house's signature pieces: for example, corgi faces sequined across an impeccable tweed jacket, and a little black dress covered with bows and crystal lettering.
Chanel once said,
Fashion changes, but style endures.
In the ever-evolving world of fashion, her style has stood the test of time and changed the way we dress forever. From turning the colour black into a fashion statement with the Little Black Dress, to launching the most famous fragrance of all time, her iconic innovations continue to influence the way we dress to this day.
For more fashion inspiration, discover all the highlights of the fourteenth edition of A Shaded View of Fashion Film (ASVOFF) — the world's first film festival dedicated to culture, fashion and cinema.
Credits for the Main photo: © Wikimedia Commons
Inspire our community
A global community of enthusiastic and curious ones. Diverse voices. Subscribe for free to share your vision and enhance our art-filled world.


To leave a comment you must
sign in