Art
Greek Gods in Art: Famous mythology paintings
Ancient Greek stories transcend generations. From 'Narcissus' (c.1600-10) by Michelangelo Merisi da Caravaggio to 'Hercules and the Hydra' (1475) by Antonio Pollaiolo, artists have long been captivated by Greek myths to explore a darker and more complex side of humanity.
Why have artists always been fascinated by Greek Gods?
Greek mythology has long inspired Western artists, who have felt compelled to reinterpret stories according to the concerns of the modern day.
As James Cahill, an expert on the influence of classical antiquity on contemporary art, wrote in an article in CNN:
For centuries, myth has provided a kind of dignified clothing for the expression of transgressive thoughts and feelings.
5 Famous Paintings of Greek Gods
Drawing from mythology, artists create works that are allegorical, that reflect hidden desires or meanings. Here we delve into some of the most well known Greek mythology paintings.
1. The Birth of Venus by Sandro Botticelli, 1484 - 1485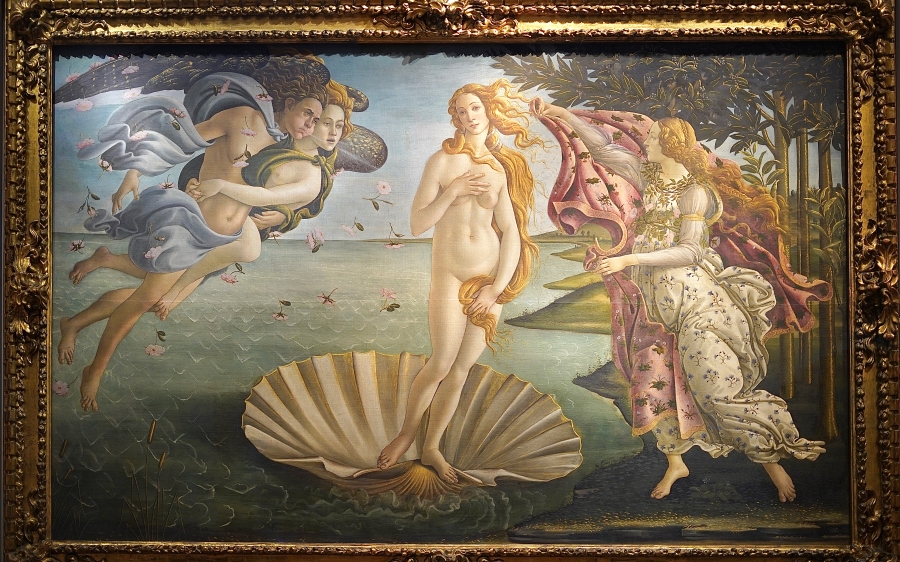 One of the most famous paintings in the world, Sandro Botticelli's 'The Birth of Venus' was created for the Medici family — Florence's most powerful family at the time — and is the highlight of the Botticelli Rooms at Italy's renowned Uffizi Galleries in Florence.
This work Boticelli made for the Medici's villa of Castello depicts a beautiful, nude Venus, the goddess of love and beauty, landing at Paphos, Cyprus. She is seen emerging in a shell from the sea, the wind blowing towards her, a nymph about to cover her with a delicate cloak.
Recently, the Uffizi Galleries sued fashion brand Jean Paul Gaultier for using images of this painting in its collection 'Le Musée', as Italy has quite strict regulations around using Botticeli's works for commercial purposes.
2. The Triumph of Galatea by Raphael, 1513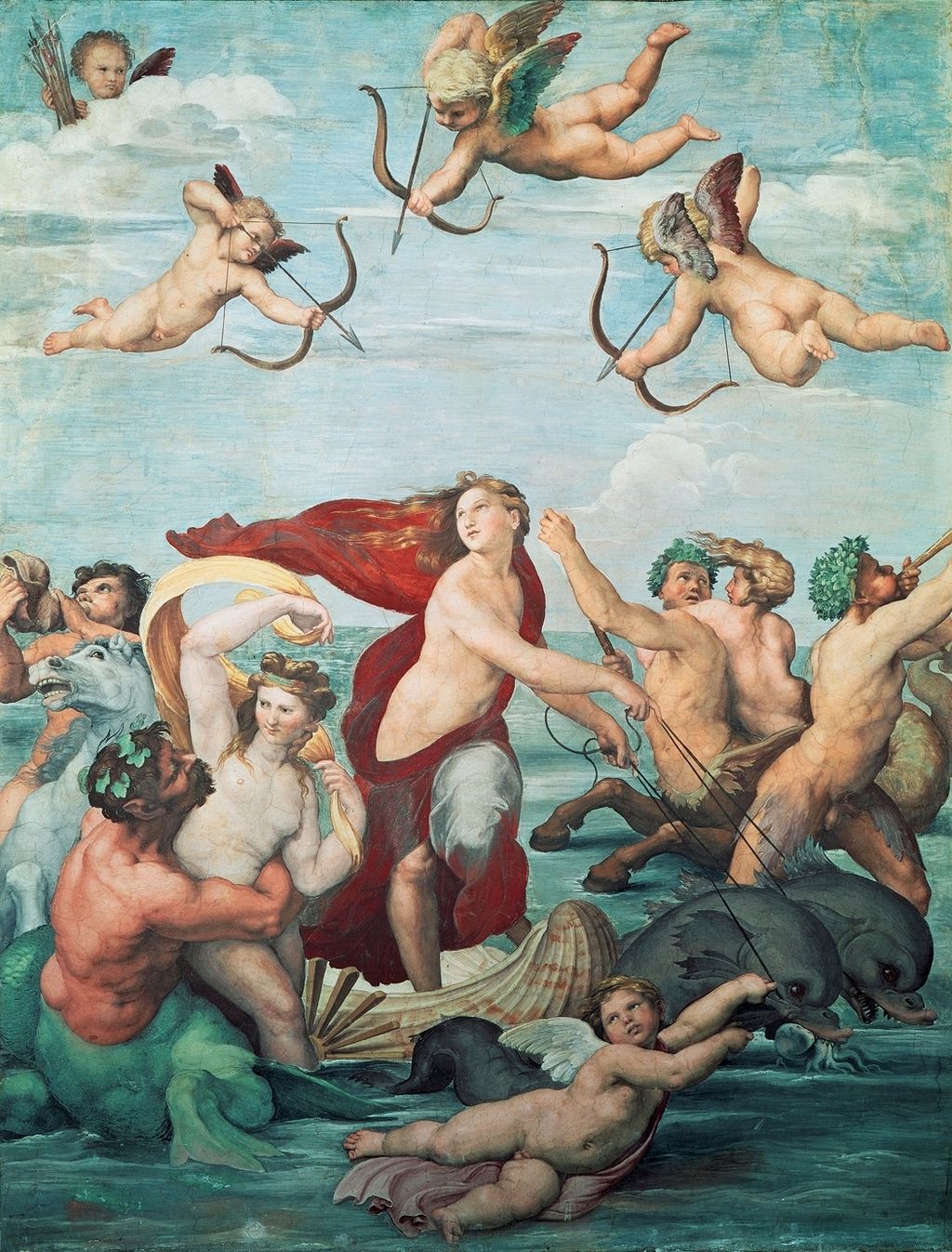 Housed in the Villa Farnesina in Rome, which used to be Agostino Chigi's villa, this fresco created in around 1512 depicts the story of the nymph Galatea, a Nereid or water nymph, who is shown sailing down a river surrounded by nymphs on a huge seashell led by two dolphins. Three putti above her are depicted drawing their bows.
This is one of the scenes in Ovid's classical poem Metamorphoses, about a mortal peasant shepherd called Acis who falls in love with her. Cyclops Polyphemus was jealous and bludgeoned the peasant with a boulder, so Galatea reacted by turning him into the river which still bears his name today.
This story has inspired so many works of art, such as Artemisia Gentileschi's 'The Triumph of Galatea' (ca. 1650), which shows a woman being lifted into the air by men and was sold at a Christie's Old Masters sale for $2.1 in November 2020.
3. The Fall of Phaeton by Peter Paul Rubens, 1604-1605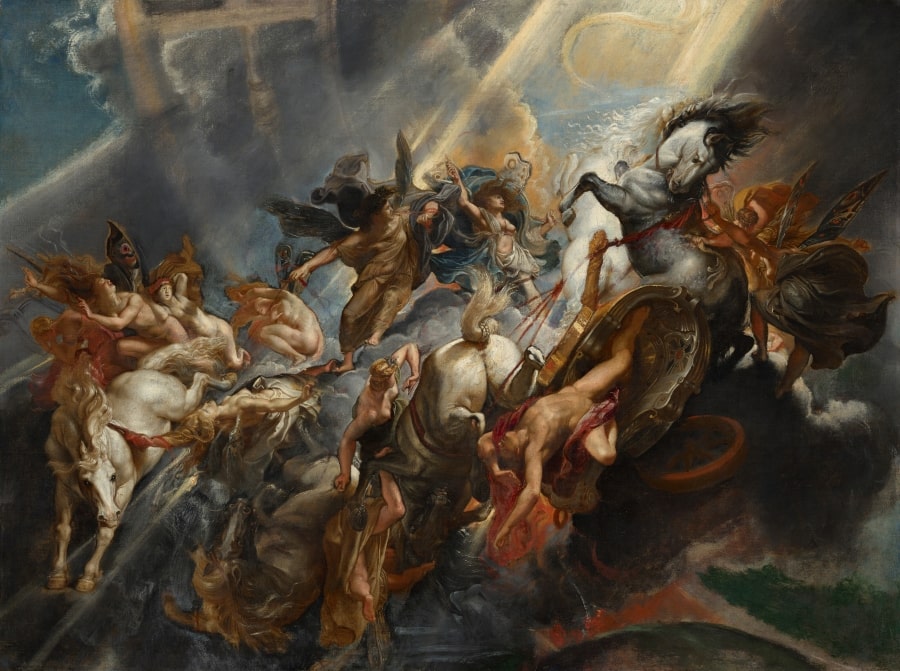 I'm just a simple man standing alone with my old brushes, asking God for inspiration,
the imaginative Flemish Baroque painter Peter Paul Rubens once said.
A dramatic, turbulent scene inspired by Ovid's Metamorphoses, 'The Fall of Phaeton', which Rubens painted in Rome, depicts the son of the Sun-god Apollo riding the Chariot of the Sun through the heavens. He'd convinced his father to let him ride it, but he didn't have the experience required. This painting is held at the National Gallery of Art in Washington, D.C and reflects his skill in capturing movement and his inspiration from other masters like Leonardo da Vinci and Michelangelo.
4. Prometheus Bound by Peter Paul Rubens, 1611-1612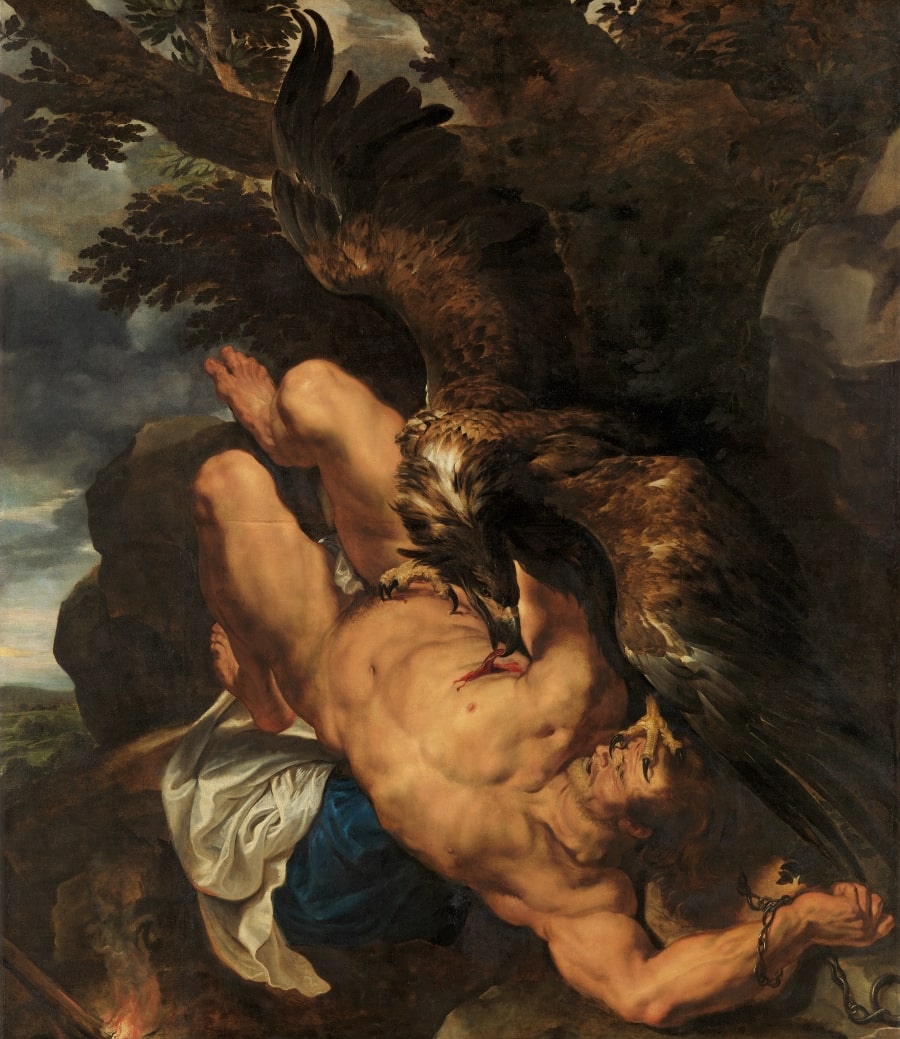 This masterpiece, also by Flemish painter Peter Paul Rubens, depicts Titan Prometheus in agony as he is devoured by a vicious eagle. According to the Greek myth, Prometheus stole fire on Mount Olympus from the gods to give to humanity, so Rubens chose to show the moment in which the king of the Olympians, Zeus, ordered he be chained to a rock and have his liver eaten by an eagle every day. Rubens created this work together with the artist Frans Snyders.
According to the Philadelphia Museum of Art, where this masterpiece is held, the asymmetrical composition was inspired by Titian's picture of the giant Tityus (1548-49) and the figure of Prometheus was derived from Michelangelo's prototypes.
5. Perseus and Andromeda by Frederic Leighton, 1891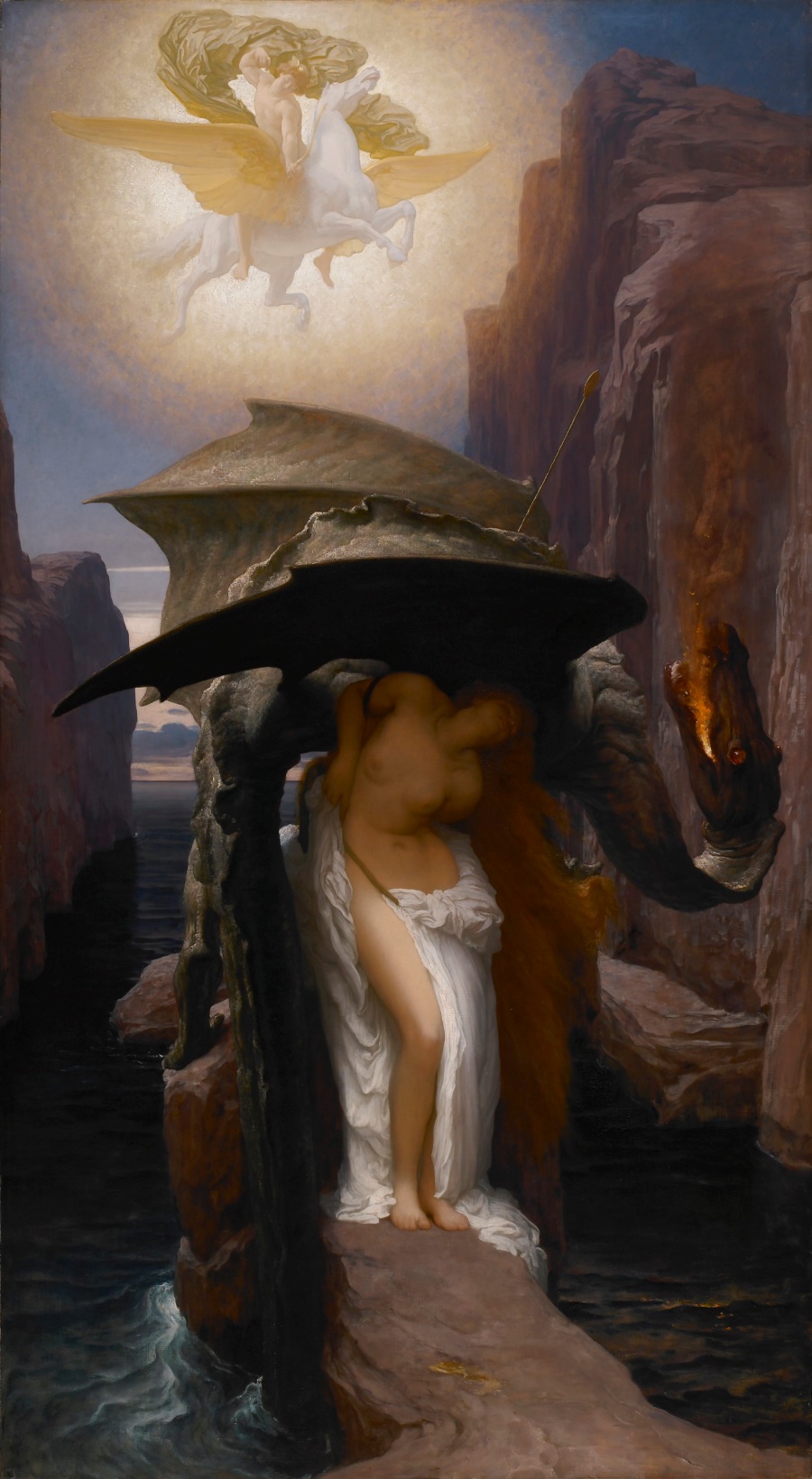 In this famous classical scene from Greek Mythology, British painter Frederic Leighton depicted the moment Perseus had just saved Andromeda — the beautiful daughter of Queen Cassiopeia and King Cepheus — on a winged horse by striking the dragon that is in control of her with an arrow from the sky. Andromeda had been sacrificed to Poseidon, God of the Sea, just because of her beauty. You can see this artwork at the Walker Art Gallery in Liverpool.
A never-ending interest in the Greek gods in art
From the 'Triumph of Galatea' by Raphael to the 'Fall of Phaeton' by Peter Paul Rubens, Greek mythology has been prominent throughout art history and has continued to inspire modern and contemporary artists: Picasso depicted the Minotaur figure when he was facing a crisis in his marriage and Damien Hirst's 'Treasures from the Wreck of the Unbelievable,' explores the tale of a shipwreck containing treasures of a freed slave from Antioch, found off the coast of East Africa.
Frank Auerbach, who is now 91 and is one of the greatest paintings of our age, is known for sketches like 'Bacchus and Ariadne', based on Italian master Titian's painting, in which the god of wine, Bacchus, transforms Ariadne into a constellation of stars.
British artist Lubaina Himid's painting 'Hannibal's Sister', meanwhile, depicts the sister of the North African king she imagined to arouse awareness around the lack of powerful women, particularly Black women, in the history of art.
Greek mythology has had a great impact on the way society views relationships and resonates with a universal audience. Films like 'Jason and the Argonauts' to Disney's adaptation of 'Hercules', also reflect how ancient Greeks and Greek myths have permeated.
If you're keen to gain a deeper understanding of art history, make sure you also read about how Sandro Botitcelli changed history.
Credits for the Main photo: The Triumph of Galatea, Raphael, c. 1513 Villa Farnesina, Rome © Wikimedia Commons
Inspire our community
A global community of enthusiastic and curious ones. Diverse voices. Subscribe for free to share your vision and enhance our art-filled world.


To leave a comment you must
sign in