Events
Keersmaeker/ Lopez/ Ekman review — a show-stopping performance
Three radically different contemporary dance choreographers and the sounds of a string quartet is the bold idea behind Portugal's National Ballet Company's 'Keersmaeker/ Lopez/ Ekman' which features a work by the founder of Brussels' dance company Rosas, Anne Teresa de Keersmaeker, another by the Swedish choreographer Alexander Ekman, and a premiere by the Portuguese choreographer Fábio Lopes.
'Keersmaeker/ Lopez/ Ekman' opens with De Keersmaeker's 'Grosse Fuge' (Great Fugue), a hypnotic piece she created in 1992 in which dancers dressed in suits dance ferociously and with intense energy, plunging themselves passionately to the floor and rolling with dynamism to Beethoven's emotional string quartet Op.133.
The dancers react sensitively and theatrically to Beethoven, uninhibitedly running around in their masculine black and white outfits to convey a tornado of austere and extremely challenging movement.
The second piece, 'Avant Qu'il N'y Ait Le Silence' by the choreographer Fábio Lopez, is a more reflective performance which explores human relationships and what it is to be human. The dancers elegantly and elastically stretch to English composer Gavin Bryars' 'Avant Qu'il N'y Ait Le Silence'.
The programme ends with a bang with Ekman's bold and extravagant work 'Cacti', which the Swedish choreographer created in 2010 and which was the most enjoyable part of the programme.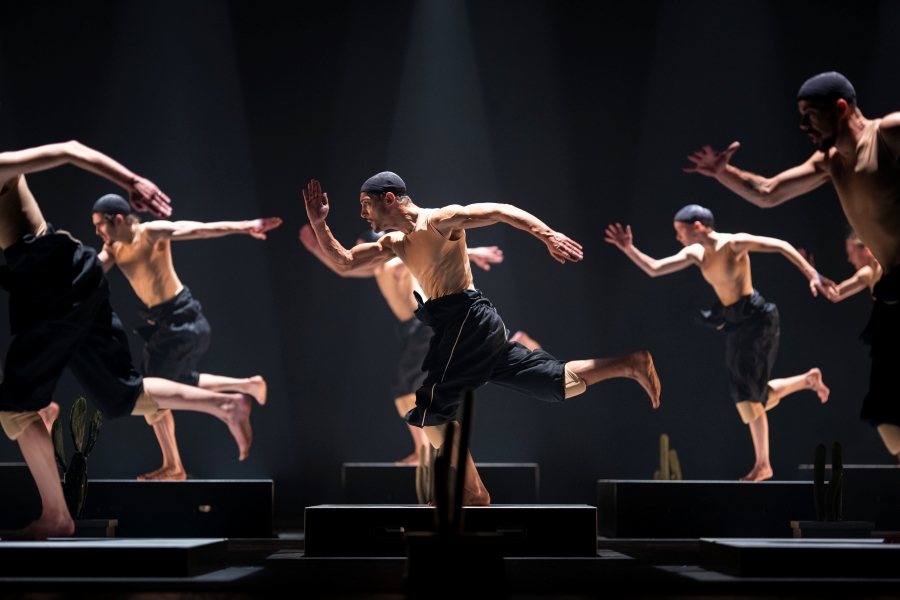 'Cacti' is a silly, hilarious parody of the art world featuring music by Haydn, Beethoven and Schubert. Lighted from above, the stage is taken over by 16 dancers and cactus plants and a voice over that reveals the dancers' pseudo-intellectual thoughts about artistic creation.
It's no wonder this is such an acclaimed piece. The audience laughed out loud throughout the performance, as the dancers posed ridiculously, moved fluidly, and jogged as if they had been overcome with temporary madness.
At one point during Ekman's performance, as a couple decides on how they're going to split their belongings now that they've decide their relationship is over, one of the dancers remarks: "What about our cat?" before — plop! — a "dead" stuffed cat drops down from the ceiling.
Until March 19, 2023
Teatro Camões, Lisbon
Tickets between 10 - 20 €
Inspire our community
A global community of enthusiastic and curious ones. Diverse voices. Subscribe for free to share your vision and enhance our art-filled world.


To leave a comment you must
sign in