Travel
La Dolce Vita: Best Places to Visit in Italy
Everyone loves Italy. From its ancient monuments and famous masterpieces to its pristine beaches, travelling here will be an experience to remember forever — especially if you travel off-season when you can soak up the sites without all the crowds.
Ancient wonders in magical Rome
The beauty of Rome is that it strikes the perfect balance. On one hand, you can visit some of the world's major cultural sites, and on the other you can enjoy an espresso or an aperitivo along its mediaeval streets and feel like you're in a village.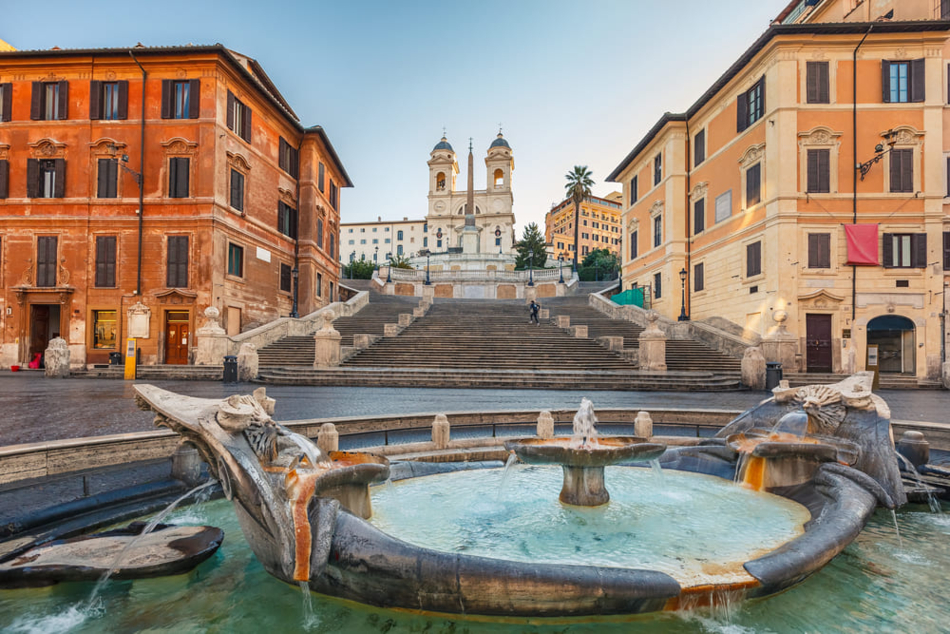 Antico Caffè Greco, Rome's oldest café, opened in 1760 and is located near to the Spanish Steps. It has been frequented by the likes of Mark Twain, Orson Welles, Audrey Hepburn, and Sophia Loren and is charming, with its marble-topped tables, red velvet covered seats and hundreds of paintings lining the walls.
The café is just a 10 minute walk from Villa Borghese, an idyllic park home to the Borghese Gallery, an artificial lake where the Asclepius temple stands and antique sculptures and fountains. From here you are just a 13-minute drive away from the Colosseum, where you can now venture into the tunnels where the gladiators used to get ready for their victories or defeats. If you're feeling a little adventurous, you can also visit this ancient wonder on a vespa with A Friend in Rome.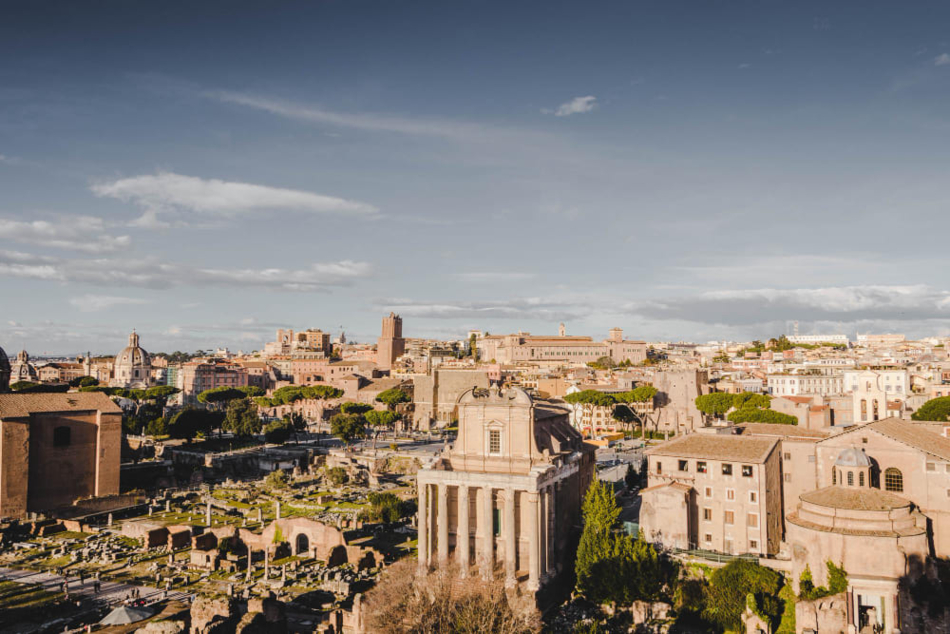 You'll need a whole morning, at least, to wander around the Forum's ruins. Experience what was once the centre of social and religious life and see its extraordinary sights, from the Arch of Septimius Severus (A.D. 203) to the Arch of Titus (A.D. 81).
The Pantheon and the Vatican are other must-see sights in Rome and there are also plenty of superb restaurants near these main attractions. For an authentic cacio e pepe, head to Armando al Pantheon — a cosy and intimate Michelin-starred restaurant which has been run by the Gargioli family since 1961.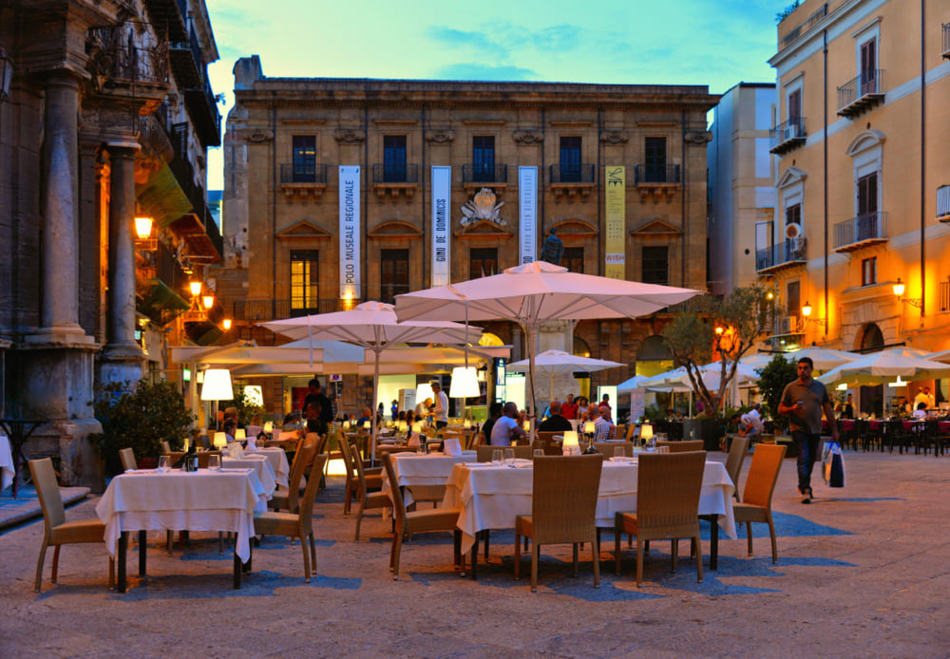 The ideal hotel for art-lovers to stay in Rome
The Sofitel Rome Villa Borghese, a 19th century palazzo, is a boutique hotel that attracts sophisticated art-lovers and those with a passion for the art of living. It's conveniently located near the city's main attractions and overlooks the verdant Villa Borghese. Rooms are modern with classic touches and Baroque-inspired wall panelings and are fitted with an impressive Bose sound system. The elegant bathrooms, decked out in marble, feature Hermes toiletries for a little indulgence after a long day exploring.
Magical Venice: A fairy-tale city
"An orange gem resting on a blue glass plate: it's Venice seen from above." That's how the writer Henry James described this floating city, and it's easy to see why. Laced with blue canals and dotted with romantic palazzos, this is a fairytale-like city where you can enjoy the finest seafood meals, marvel at paintings by Old Masters like Tiziano (Titian) and Tintoretto, or simply wander around the main public square, Piazza San Marco (St Mark's Square).
Piazza San Marco is best visited early in the early morning to avoid the crowds. It's dominated by the imposing St Mark's basilica with its intricate mosaics and huge domes. There are also many glass shops and jewellery shops such as Roberto Bravo jewellery boutique, where you'll find unique gifts to take home.
For a memorable Venetian meal overlooking the Grand Canal, book a table on the terrace of the elegant Terrazza Danieli, on the Hotel Danieli's top floor. This opulent 14th century converted Doge's palace is one of Venice's finest hotels, with 210 rooms decorated with Murano glass and patterned wallpaper or red velvet carpets. Many of the rooms have panoramic views of the lagoon.
Milan: The heart of art and fashion
Milan is the ideal place to spend a weekend luxuriating. Known as the world's most fashionable city, it combines Art Nouveau with renaissance architecture and modern design, and is famous for having developed the aperitivo, which you can enjoy anywhere in the trendy Brera district.
Climb the Duomo, find new designer outfits to fill your closet in Quadrilatero d'Oro or golden triangle (the main shopping district), marvel at 20th-century art at the Museo del Novecento, see an opera performance at La Scala, and of course don't miss the opportunity to see 'The Last Supper' in the flesh at Santa Maria delle Grazie.
Palazzo Parigi, located in the Brera district, is one of the city's most opulent hotels, with its marble columns, antiques, sculptures, and glistening chandeliers. The spa menu features hammam rituals and there is also a heavenly exclusive eighteenth-century garden to relax in. The dining options at the hotel are superb but you can also venture out to the nearby restaurant Joia, for a delicious vegetarian tasting menu served in arty formats in a serene, minimalist setting.
And if you have time, take a day trip to Lake Como. Soak in the breathtaking Alpine slopes and pristine waters onboard a private speedboat, go on a three-hour hike from Colonno to Griante, and wander the winding streets of the picturesque Italian town of Bellagio.
Lake Como has plenty of charming historic hotels, the most glamorous arguably being the family-run Hotel Villa d'Esté, an 18th-century hotel with vast gorgeous landscaped gardens and charming interiors. Built as Cardinal of Como's summer home in 158, it's located right on the lake and all its rooms have large windows overlooking either the lake or the gardens.
But if you'd rather a contemporary design hotel on the lake, there is always Il Sereno which is super stylish yet understated and has an amazing heated infinity pool.
The cradle of the Renaissance: Florence
Everyone must visit the birthplace of the Renaissance at least once, not only because it is home to enduring masterpieces by the likes of Botticelli, Michelangelo, and Leonardo da Vinci, but also because Florentine cuisine is delightful and because Florence is also home to designer labels such as Gucci and Ferragamo.
After you've had a taste of Italy's dolce vita, why not explore Japan's Natural Wonders and harmonious culture.
Photo credits: Shutterstock
Inspire our community
A global community of enthusiastic and curious ones. Diverse voices. Subscribe for free to share your vision and enhance our art-filled world.


To leave a comment you must
sign in