Art
MOMA: A groundbreaking exhibition celebrating female photographers
Hulleah J. Tsinhnahjinnie, Vanna Brown, Azteca Style, 1990. Photocollage, 23 9/16 × 30 in. (59.8 × 76.2 cm). The Museum of Modern Art, New York. Gift of Helen Kornblum in honor of Roxana Marcoci. © 2021 Hulleah J. Tsinhnahjinnie
Through October 10, New York's Museum of Modern Art is showcasing 90 photographic works by women artists from the last 100 years. All the works on display belong to the museum's collection and were gifted by a psychotherapist called Helen Kornblum, who over decades collected a large number of photographs taken by female artists.
Titled 'Our Selves: Photographs by Women Artists from Helen Kornblum', the show doesn't present a chronological history of women photographers, but instead has opted for an intersectional feminist perspective. As curator Roxana Marcoci writes in the exhibition catalogue: "The histories of feminism and photography have long been entwined."
Through different photographic practices, including portraiture, avant-garde experimentation, photojournalism and conceptual photography, the exhibition aims to counter racial and gender invisibility, systemic racial injustice, and colonialism.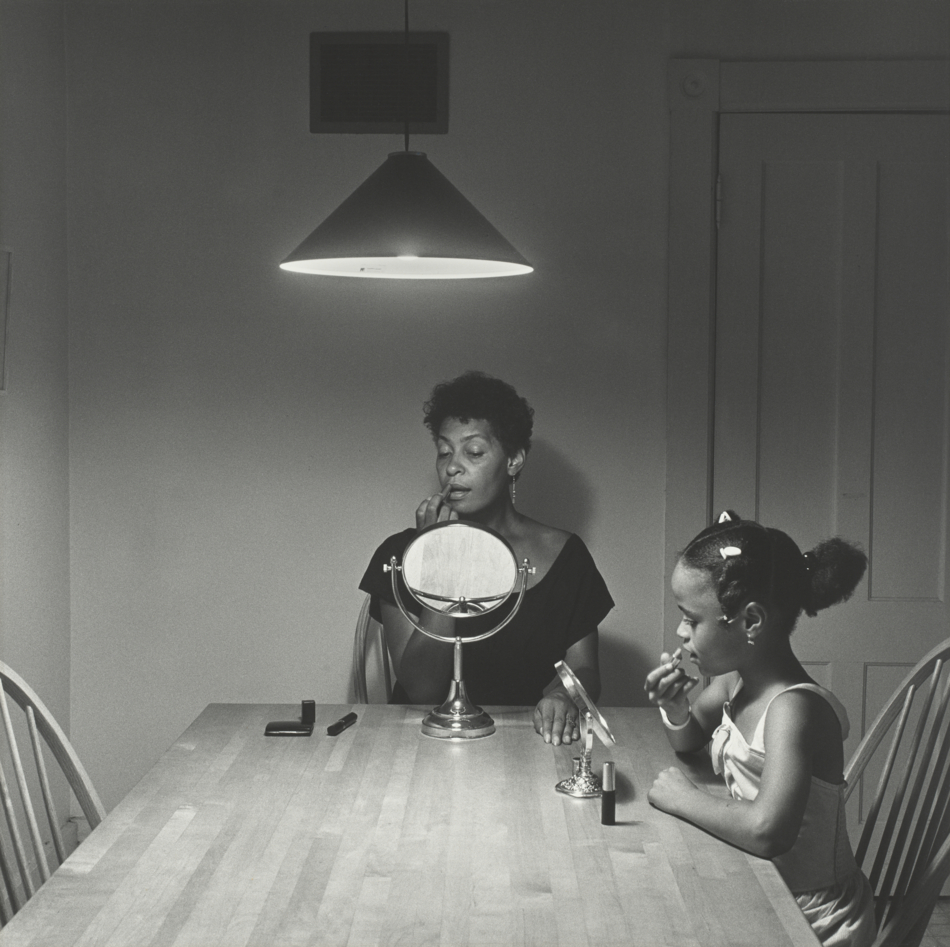 One of the pictures on display, by contemporary American photographer Carrie Mae Weems, shows the artist putting on makeup at the table, aided by a small mirror. A young girl next to her copies her gesture, also putting on lipstick. This is one of the artist's most well-known photographs, and part of her powerful 1990s Kitchen Table Series, which explores and celebrates the inner experiences of people of colour.
The Black feminine gaze is front and centre in this series and is a representation we can all relate to, reflecting on how gender roles are learned and emulated.
Many of the photographs on display were taken by women in the 20th century, including Mexican photographer Lola Álvarez Bravo, German photographer Gertrud Arndt and Austrian photographer Inge Morath.
Álvarez Bravo' 1945 portrait of Frida Kahlo is another iconic work on display. Just like Kahlo, Álvarez Bravo was an accomplished artist. In fact, she was Mexico's first female photographer and the first and only person to present her friend Kahlo's solo exhibition during her lifetime.
Other highlights include works by native artists like Cara Romero and Hulleah J. Tsinhnahjinnie, and by non-native artists including Sharon Lockhart and Graciela Iturbide, exploring indigeneity.
Hungarian-born Mexican photographer Kati Horna' silver gelatin print 'Doll Parts' (c. 1938) is also part of the donation. While she is perhaps best known for covering the Spanish Civil War, masks and dolls were a recurrent theme in her work after fleeing to Paris in 1938, perhaps used as a motif to symbolise self-possession.
'School Girl, St Croix (1963), by Consuelo Kanaga and 'Fatman With Edith' (1993) by Meridel Rubenstein are among other photographs that redress the omission of women in the photo industry, compelling viewers to reflect on diversity and equity.
Credits for the Main photo: Sharon Lockhart, Untitled, 2010. Chromogenic print, 37 × 49 in. (94 × 124.5 cm). The Museum of Modern Art, New York. Gift of Helen Kornblum in honor of Roxana Marcoci. © 2021 Sharon Lockhart
Inspire our community
A global community of enthusiastic and curious ones. Diverse voices. Subscribe for free to share your vision and enhance our art-filled world.


To leave a comment you must
sign in