Art
Outdoor art to marvel at: 10 fascinating sculptures in London
London is home to some of the world's most awe-inspiring public sculptures. From abstract towering monuments to quirky installations, here are 10 must-see outdoor exhibits to enjoy.
1. 'Fulcrum' by Richard Serra, 1987
Towering over Liverpool Street station, 'Fulcrum' by American artist Richard Serra is 55 feet tall and made of Corten steel, weighing 55 tons. Installed in 1987, it was commissioned by the Broadgate property developers in an effort to revitalise the area. Step inside to see how its rusty, corroded material has beautifully weathered.
2. 'Two piece bronze Reclining Figure No 3' by Henry Moore, 1961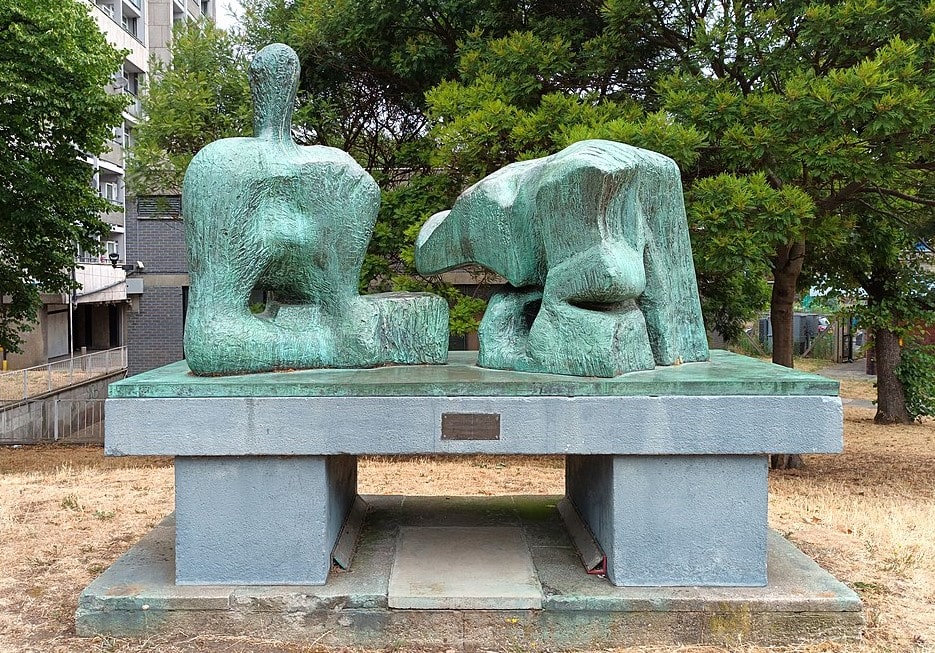 Henry Moore's 'Two piece bronze Reclining Figure No 3', located at Brandon Estate in Southwark, is one of the British artist's most well-known works and the third of four large-scale sculptures he made between 1959 and 1961. It reflects the focus he had throughout his career on the reclining figure and is composed of two separate parts: one looks like it could be a torso with a head and shoulders, and the other looks like it could be a person's legs.
Sculpture is like a journey,
Moore said, in an article published in the Atlantic in 1962.
You have a different view as you return. The three-dimensional world is full of surprises in a way that a two-dimensional world could never be.
3. 'Single Form' by Barbara Hepworth, 1963
Barbara Hepworth's monumental sculpture 'Single Form' dating to 1963 and located in Battersea Park by the glistening boating lake, is a striking example of her mastery of undulating form and texture. One of the most renowned 20th century artists, Hepworth was known for creating elegant sculptures using stone, wood, and bronze and her preoccupation with the world surrounding the sculpture. First exhibited in Battersea Park in 1963, 'Single Form', which is listed at Grade II*, was created by Hepworth after a friend died.
To see the largest group of Hepworth's works, head to The Barbara Hepworth Museum which was open in 1976 by her family as expressed in her will and has been owned by Tate since 1980.
4. 'Crystal Palace Dinosaurs' by Benjamin Waterhouse Hawkins, 1854
Head to Crystal Palace Park to see the 'Crystal Palace Dinosaurs', 30 sculptures created by Benjamin Waterhouse Hawkins in 1854. Some of the first life-size reconstructions of prehistoric animals ever made, these show the first three species discovered. Among his most famous sculptures in Crystal Palace, look out for his Megalosaurus and Hylaeosaurus, and two Iguanodons. While they might not be accurate scientifically, they're still a fascinating sight to behold.
5. 'A Bullet from a Shooting Star' by Alex Chinneck, 2014
For something a little more contemporary and unconventional, and to witness how public art can completely revolutionise mundane structures, you might want to head to Greenwich, where you'll find 'A Bullet from a Shooting Star' by Alex Chinneck. Seemingly suspending a section of the city's historic gas holders in the air, this 35-metre high structure reflects on the site's industrial history.
Chinneck told NOW Gallery:
Every project I produce is contextually sensitive and so each installation responds to the environment that supports, surrounds and includes it.
6. 'Trafalgar Square lions' by Edwin Landseer, 1867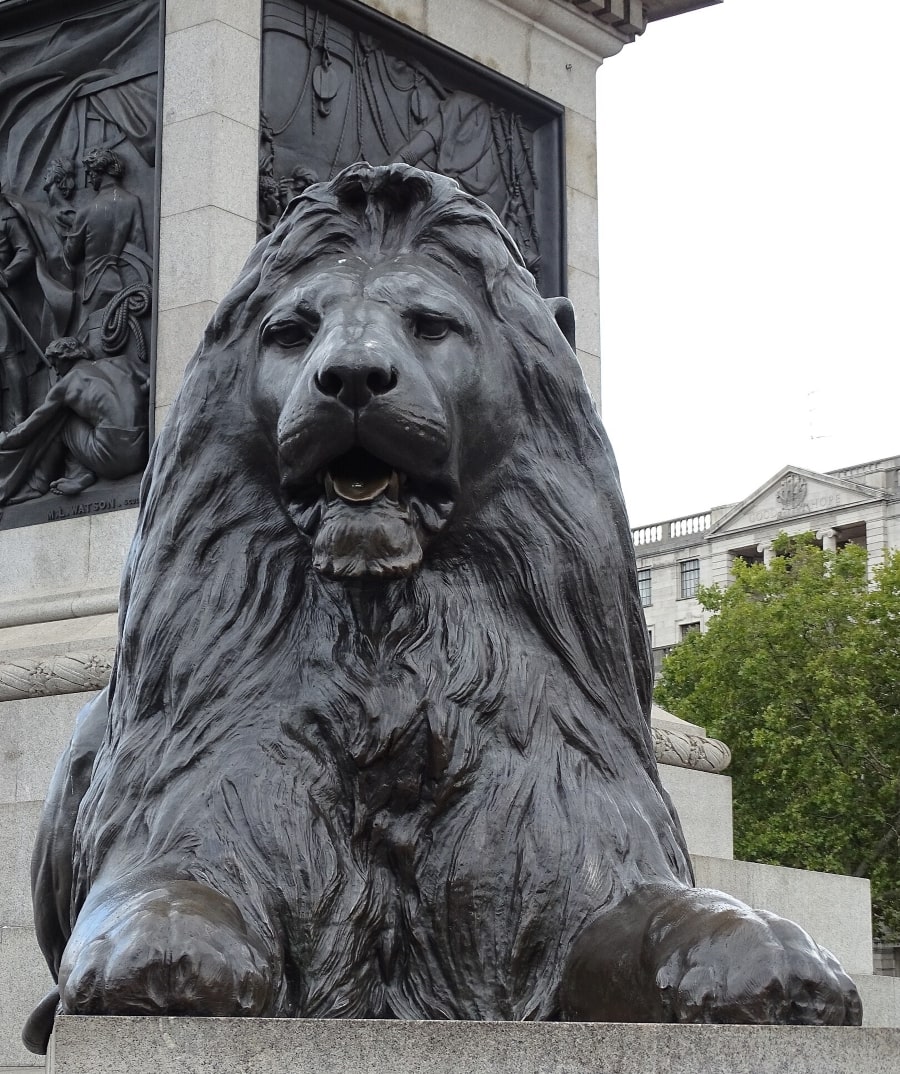 Of course, no trip to London is complete without visiting the Trafalgar Square lions, one of the world's most famous sculptures. The four, imposing bronze lions were created by Edwin Landseer in 1867, and are a symbol of the city. Originally intended to be part of a grandiose fountain that was never built, they are in the Grade I listed designation of Nelson's Column.
In recent years, Trafalgar Square has also been graced with installations by contemporary artists such as Yinka Shonibare and Katharina Fritsch.These temporary installations are part of a program called the Fourth Plinth Commission which has featured works by other world-renowned artists such as Antony Gormley, Rachel Whiteread, and David Shrigley. More recently, Samson Kambalu's 'Antelope' was set up on the square, replacing Heather Phillipson's 'The End', which featured a drone swirling around a dollop of whipped cream.
7. 'Newton' by Eduardo Paolozzi, 1995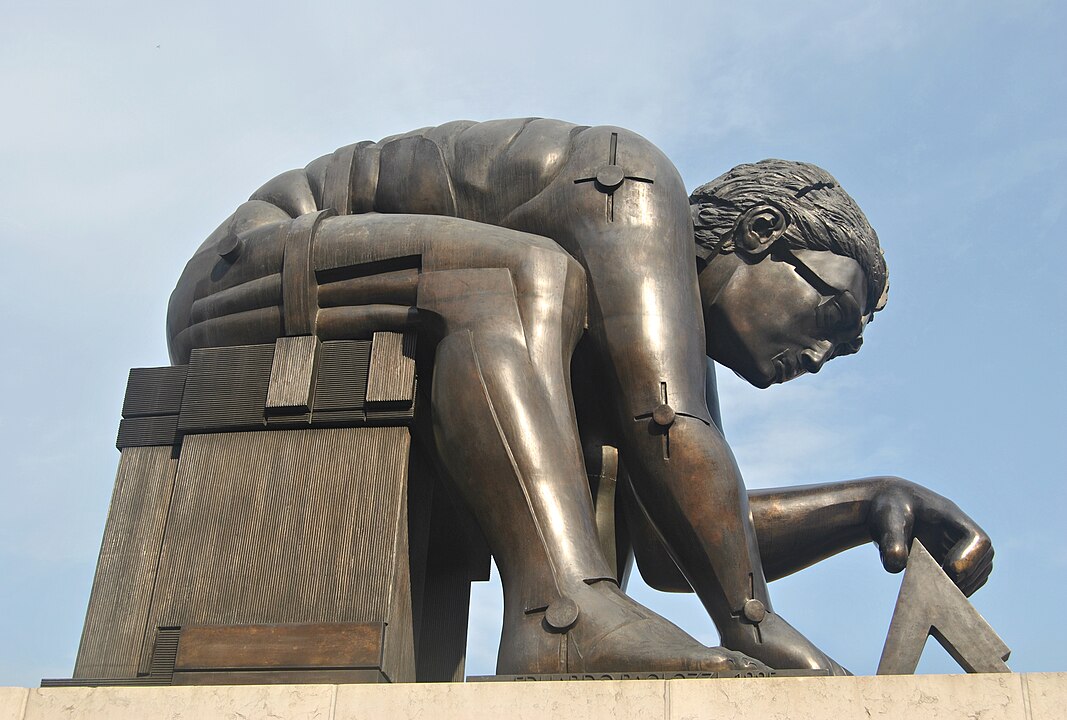 Located just outside the British Library, Eduardo Paolozzi's 'Newton' depicts a fragmented image of the famous physicist Sir Isaac Newton, his body made up of various mechanical and industrial components. A striking representation of the intersection between science and art, the 12-foot bronze statue was based on William Blake's watercolour 'Newton' and shows him in search of knowledge, oblivious to the nature surrounding him.
Paolozzi said:
While Blake may have been satirising Newton, I see this work as an exciting union of two British geniuses. Together, they present to us nature and science, poetry, art, architecture – all welded, interconnected, interdependent.
8. 'Day' and 'Night' by Jacob Epstein, 1928
Jacob Epstein's 'Day' and 'Night' (1929) statues, on London's 55 Broadway Building, which was built as the headquarters of London Underground, is yet another example of how public art can transform a somewhat mundane area.
Built between 1927 and 1929, 55 Broadway is a building designed by Modernist architect Charles Holden. Cross shaped in plan, it has eight sculptures at high level referencing the ancient Greek Tower of the Winds in Athens. Just above street level on Broadway you can see 'Day' and 'Night' by Epstein. At the time, in 1929, they were very controversial and avant-garde due to people saying they were indecent.
Epstein's piece depicts a group of figures that represent the workers who built the underground system, and he created them by carving into the facade.
9. 'Wellington Monument' by Richard Westmacott, 1822
The Wellington Monument, located in Hyde Park Corner, is one of London's oldest and most iconic public sculptures. Dedicated to Arthur Wellesley, the first duke of Wellington — who was greatly admired after his victory against Napoleon at the Battle of Waterloo in 1815 — the monument was made out of enemy cannons and is 36 ft tall. It was commissioned by Ladies of England, an upper-class society and became the city's first public nude statue. It was quite controversial at the time since it was really a statue of Achilles, while British caricaturist George Cruikshank argued that resources should not have been invested in depicting a member of the government at a time when people were going hungry.
10. 'Quantum Cloud' by Antony Gormley, 1999
Created by the world-renowned British artist, Antony Gormley, in 1999, 'Quantum Cloud' stands tall at 30 metres high and is located in the Greenwich Peninsula. Made up of 3,200 steel rods, delicately welded together, it appears to be floating in mid-air. The title of the sculpture is a reference to the scientific concept of quantum mechanics, and looks different depending from which angle you choose to look at it. Resembling a swarm of birds or a network of atoms, depending on your interpretation, it's an ethereal and otherworldly sculpture reflecting on the human body and its surroundings.
These sculptures offer a glimpse into creators' unique styles and have had a role in shaping London's identity and diverse cultural landscape.
Curious to discover other world-famous sculptures around the world? Discover 10 of the most famous sculptures of all time.
Photo Credits: © Wikimedia Commons
Credits for the Main photo: © Shutterstock
Inspire our community
A global community of enthusiastic and curious ones. Diverse voices. Subscribe for free to share your vision and enhance our art-filled world.


To leave a comment you must
sign in