Art
Q&A with Migrate Art Founder Simon Butler: "The more people we can collaborate with, the bigger impact we'll have."
Migrate Art was founded in 2016 by curator, social entrepreneur and artist Simon Butler, who collaborates with some of the world's most renowned contemporary artists to raise funds for refugees and homeless people. Here he tells us why he came up with the idea of setting up the charitable organisation, how he came to work with artists like Anish Kapoor and how he's helped people affected by the war in Ukraine.
How did you come up with the idea of setting up Migrate Art?
I was working at Newport Street Gallery in London and I began to question why I was working in art and what the purpose of art is. Around the same time, my brother, who's a filmmaker, was telling me in a pub about his experience making a film in the Calais jungle. Two weeks later, I jumped on a coach and travelled there and had a really profound experience. In the contemporary art world, everyone's focused on getting things that they don't have and always wanting more. So I decided I wanted to combine those two realities to actually help people.
How did you start Migrate Art? Who was the first artist you managed to collaborate with?
I came back to London and just emailed all the artists I could think of. Julian Opie first donated a canvas, which sold at Christie's and then the project just sort of grew from there and it became my full-time job in 2018. In the beginning we gave 100% of the money to charity and then as the project developed and since it became my full-time job, we give 80% to charity and keep 20% to ensure we can keep going.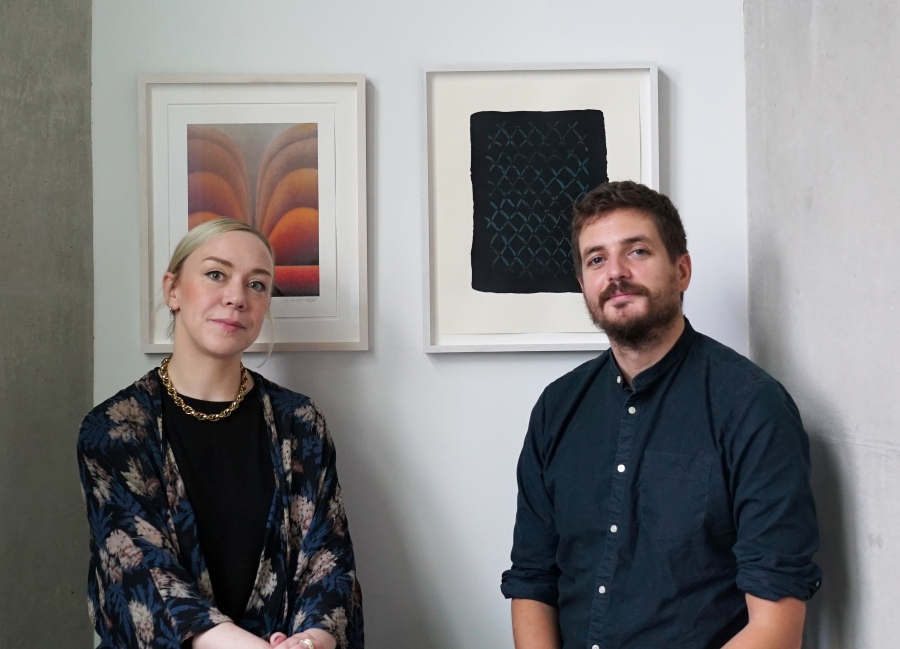 How did you approach the artists and convince them to donate their works?
It's like a game of Tetris. It's a lot of work and artists get asked to collaborate on these kinds of projects numerous times a week. So we started thinking about how we could make it more of a collaboration. When I went back to the Calais jungle in early 2017, the French authorities were tearing it down, but there were still signs that people had been living there. I filled bags and bags with objects and I drove it back to London. There were all these colouring pencils so I started sending the physical pencils to artists' studios. I think that emotional connection cut through all the other requests they were getting and slowly we started getting people to say yes. But at the start it was relentless rejection.
You've raised over 1.5 million pounds — how have you been so successful in terms of sales?
Well the artwork is the hook. The reason people come to us is that we work with an artist they like. We've got them and we can talk about these wider issues that are going on in the world, which breeds more empathy and compassion. We've got people that have been supporting us for years because they care about the artists we work with, but they also care about the causes we support. I think because I worked in the art world for eight years, I understand their language. I'm not coming in completely cold. I think that's where a lot of charities fall short.
And how do you select the artists that you want to work with?
I always had the vision that I wanted to work with the very best artists. I wanted it to be associated with the big galleries. It's really paid off now six years down the line. We also always try to work with artists from the regions we're working in, from Iraq and Syria and Myanmar. We managed to raise some money for artists in Myanmar to flee the 2021 military coup and set up their life in Paris and that was great.
As well as helping those artists financially, have you also helped them gain more exposure?
Yes we also help artists get an international profile as well. The Burmese artist Richie Nath just had a solo show in Miami [This Too Shall Pass, at Art Basel] at the end of last year and the gallerist I was in contact with thanked us because we put Richie on his radar. That's amazing to hear and the sort of thing that gets me excited and out of bed in the morning.
You also collaborated with the British artist Idris Khan as part of a Ukraine appeal to help people affected by the war. How did that come about?
He posted on his social media this image of his work featuring the colours of the Ukraine flag. People just responded to it really quickly and someone commented on his Instagram saying, 'you should make a print of this.' He tagged us asking if we wanted to do it and two days later I was in his studio planning this print. A week later we were selling the print online and the image was printed on the back page of the Evening Standard. The image was just everywhere.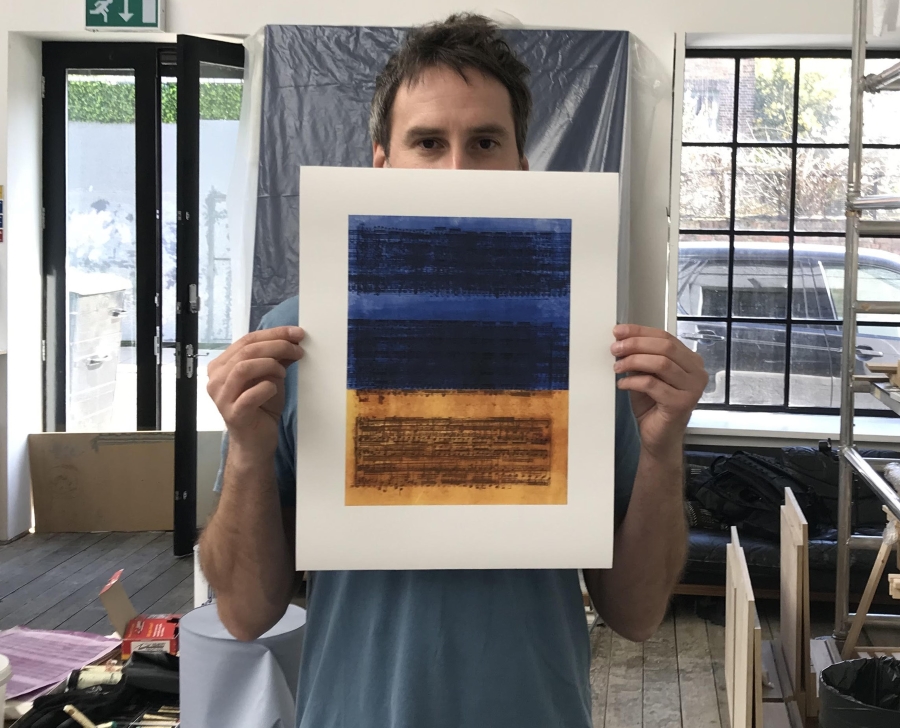 Can you tell us about other artists you have been working with recently? Have you worked with any Ukrainian artists yet?
We haven't really worked with any Ukrainian artists because I have found, particularly with war, that people go into survival mode and when they're still experiencing trauma, the brain's capacity to create things kind of shuts off. So it takes time. We work with an organisation called Love Welcomes in London which works with refugee women here and we worked with Sara Shamma, who's from Damascus and is now based in London. She's a great painter. We're also about to start a project with indigenous communities in the Amazon. In one of the villages I visited I met the village shaman who turned out to be an artist and drew the spirit animals he sees in his dreams, which was just incredible.
How do you help the artists and communities you work with? Do the artists you work with receive anything in return?
Most artists do it for free. They don't take anything from it at all. Artists such as the young guys we worked with from Myanmar got 50% of any sales of their work. We actively think of ways to directly help those communities by going and spending time with them.
Are there any other artists on your radar you'd like to work with?
Always. There are people I've been trying to work with for years and just haven't found the right opportunity. William Kendridge is one of my favourite artists and I've been trying to work with him for a long time. The more people we can collaborate with, the bigger impact we'll have.
Discover more organisations using art to create a better world, such as these 7 non-profit organisations supporting emerging artists in NYC.
Inspire our community
A global community of enthusiastic and curious ones. Diverse voices. Subscribe for free to share your vision and enhance our art-filled world.


To leave a comment you must
sign in