Insight
Q&A with Tomás Saraceno: "It is our behaviour that needs to change, not the climate."
Berlin-based Argentine artist Tomás Saraceno (b. 1973), whose first UK solo exhibition Web(s) of Life inaugurated recently at the Serpentine Gallery in London and runs until September 10, 2023, tells us about the need to change our habits rather than the climate, the role of art in fighting climate change and how he thinks we can drive the necessary transition towards a more sustainable world.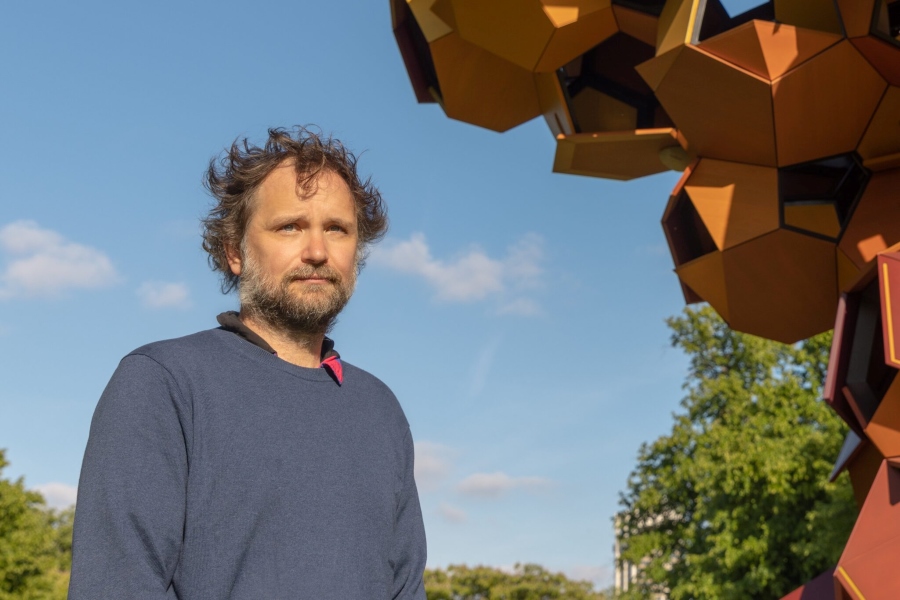 The show relies solely on solar power, which means the gallery will often have to shut down. How will the show be affected and is this an important part of your statement on climate change?
Weather dependency is really at the heart of Web(s) of Life, and is a statement about how we need to change our habits, not the climate. With energy scarce, the air conditioning will be off, triggering the performance for both visitors and staff: If it is very hot, we urge the gallery staff to work slower or take a break. If there is no energy to power the video projector, we encourage visitors to go outside and enjoy the weather. What we hope to achieve with this weather-dependent installation is to demonstrate to visitors that these are not limitations or inconveniences, but conditions that gesture to our inescapable and necessary connectedness with other beings and places. One movement sends vibrations through the whole web. We do not act as individuals but as part of a global ecosystem.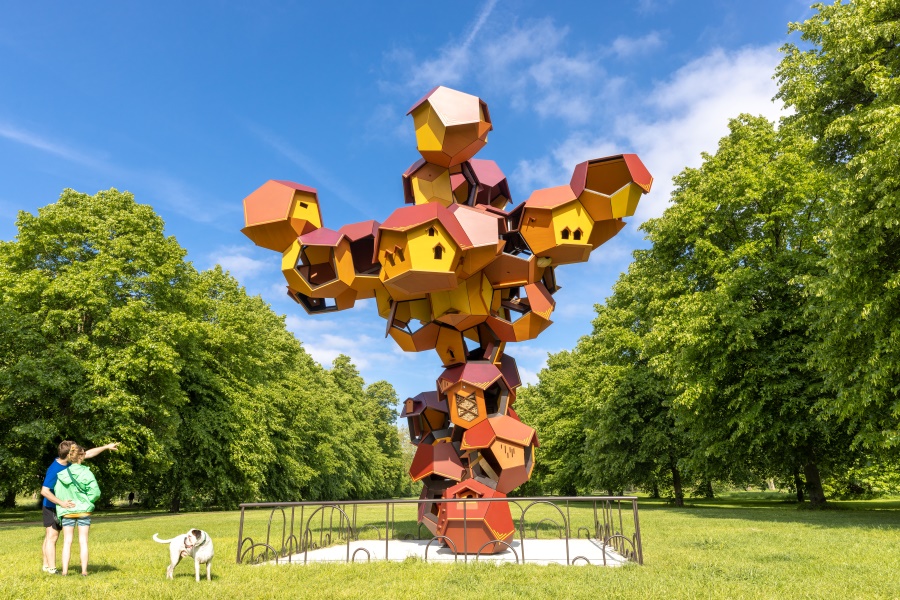 How has the transition to becoming weather-dependent in the Aerocene era influenced the design and concept of the Web(s) of Life exhibition?
For over 20 years, in the Aerocene era, we have been learning to become weather-dependent, working with the sun and winds, attuning to Earth's shifting weather patterns, rather than trying to overcome them. Continuing this trajectory, Web(s) of Life is wholly reliant on solar power from newly installed 27.6m2 panels on the Serpentine's roof, enabling a peak production of up to 5.6 kWh in one hour during sunny days. Depending on the weather, the exhibition may enter different modes — sunny, partly sunny, and cloudy – leading certain installations to switch off, dim down, or run at a lower frequency. In heat wave mode, the indoor galleries will be partially closed to humans, who are invited to join other participants, such as birds, spiders, bees, and squirrels in enjoying the multispecies sculptures spilling out of the west wing of the gallery and into the park.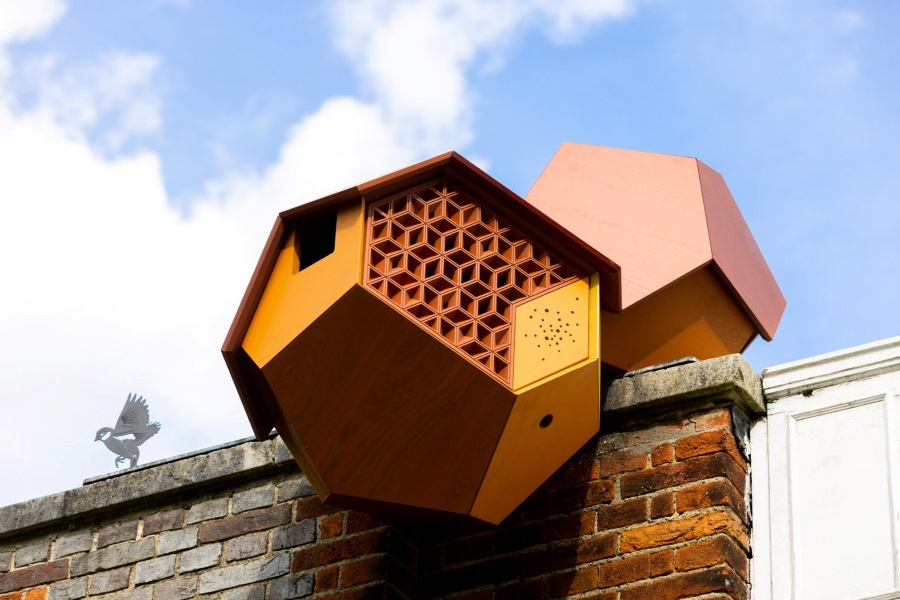 You're known for reflecting on the ways we inhabit the earth, and you've embarked on ambitious projects like a solar-powered balloon powered solely by the sun and air which you flew over a salt lake in Argentina, which we can see in a film at the show. Can you tell us about the role of art to fight climate change?
Although we are really excited to be running this show with solar power, we know that transitioning to renewables is not enough. An ecosocial energy transition must consist of the degrowth of rich nations: we need to scale down to sustainable levels and reduce our energy consumption. This must start with both individuals and institutions alike recognising our interconnectedness with the climate. Knowing that the air conditioning is switched off, the show is set to consume less energy than it produces, feeding the surplus into the national grid during the three-month duration. Of course, no energy is clean, but by generating power for the exhibition on site, its various costs — monetary, social, and ecological — become more tangible. The performance turns the exhibition into a living organism that sleeps and breathes, overheats and quiets down, and asks us all to follow. To affect an ecosocial transition — as outlined in the Manifesto for an Eco Social Energy Transition by the Peoples of the South — it is our behaviour that needs to change, not the climate.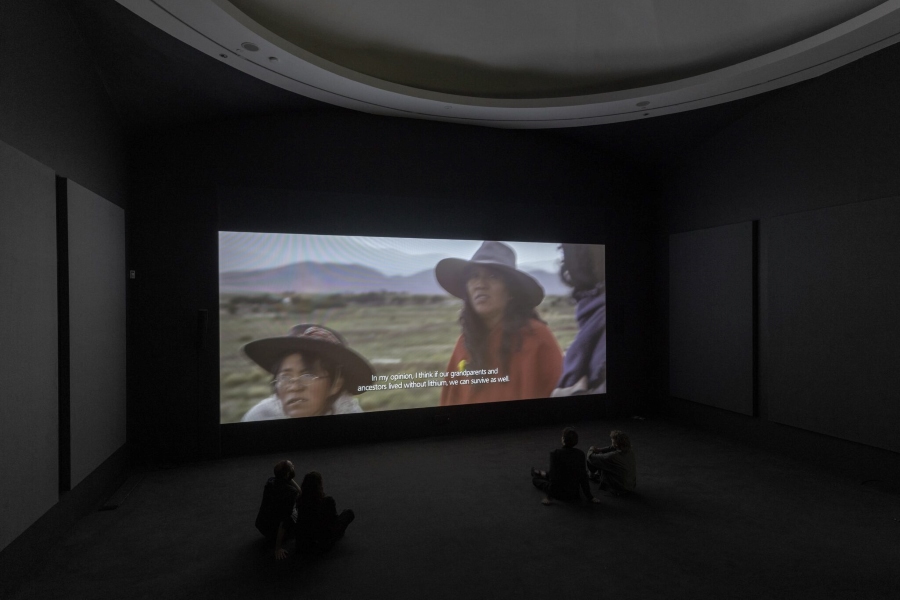 A film screened in another gallery will give us a glimpse of spider diviners (for whom you've set a website for) of western Cameroon at work. How did you come across this community and can you tell us about the process of making the film?
In December 2019, I asked David Zeitlyn if I could join him on a visit to the village of Somié, Cameroon, where the Mambila people have long practised a form of spider divination called ŋgam dù. David is a professor of Anthropology at Oxford University and has been collaborating with the village for over 35 years. During our trip, David introduced me to the diviner Bollo Pierre 'Tadios'. After spending time with Bollo, joining him for several conversations with a ground-dwelling spider, Bollo asked me to create a website for him that shares the practice and knowledge of ŋgam dù with the world. The web portal Nggamdu.org by the spider and spider diviners of Somié, one which returns all economic proceeds to them and preserves their historic practice, offers willing participants an exchange with Heteroscroda crassipes. Since its launch in 2021, funding raised through consultations has been distributed to local projects in Somié, including the ongoing work of a local reforestation co-operative, locally-organised arts workshops, and the payment for the work of its diviners.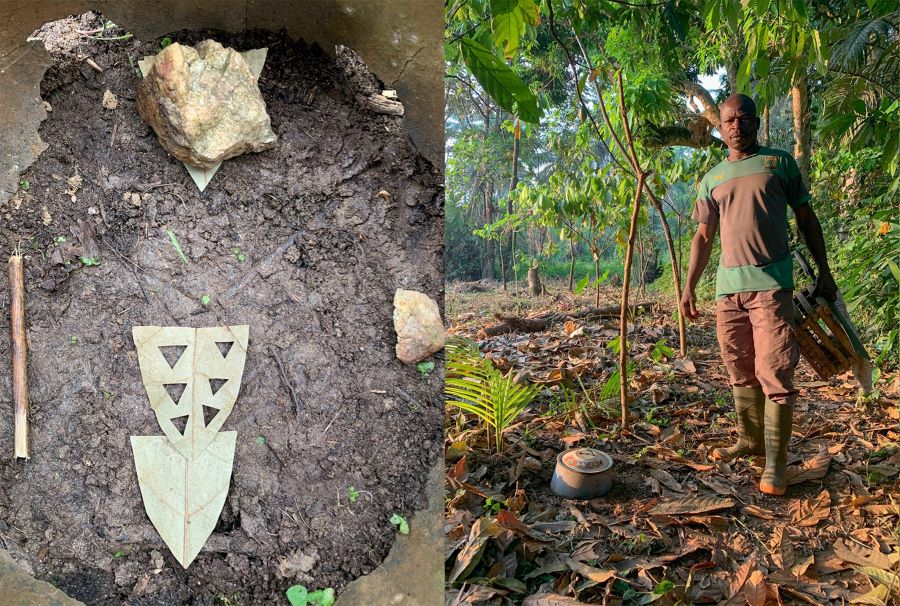 What steps have been taken recently to empower the diviners and local collaborators?
More recently, we have been taking steps as part of a long-term transition that brings more agency and decision-making to the diviners and local collaborators in the village. As part of this process, a workshop was facilitated by Bollo in January to teach children of Somié about this practice, which risks being lost as a tradition and valued source of knowledge. Updates to make the website more accessible with downscaled image quality, a less internet-intensive design and bilingual texts in French, coupled with the further development of a collectively decided fee system and long-term goals for the project were established by Bollo, Iréné and Denis, mapped out within their community protocol. This transition remains an ongoing process, and we will continue to offer advice and support to help promote and platform their work and project.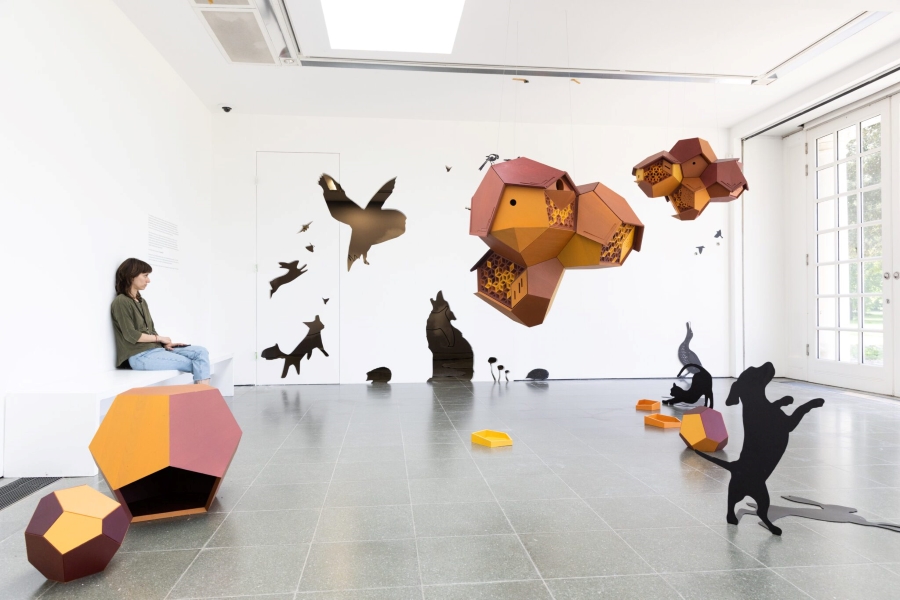 Another highlight of the show is your Cloud Cities sculptures which we can see outside on the verdant grounds of the Royal Parks, and which consist of different compartments for animals to live in. How did you come up with this idea and create this work? What role do you think we can play in combating the decline of urban wildlife?
I think this is a crucial question and one that should be at the forefront of urban planning. Essentially, we need to learn how to co-create sculptures — and ultimately entire cities — that take all species into consideration, rather than focusing solely on humans and their needs. This is what we want to achieve with Cloud Cities (2023), which is designed to promote the cohabitation between human and non-human lives. Designed for the specific requirements of the species they aim to attract, the sculptures stand as meditations on biodiversity and the varying conditions for life between one species and another. Cloud Cities (2023) aims to show us how we can change our perspectives and understanding of the world around us, switching from a position of destruction and dominance over the natural world to one of understanding and harmony with it, as many existing cultures already do.
In what ways does the Web(s) of Life exhibition reflect and interact with the surrounding area?
Sadly, so many birds that used to be commonplace in the park surrounding the Serpentine no longer come around. The house sparrow, the spotted flycatcher, the marsh tit and the starling are now listed as being in decline, all suffering from the proliferation of human settlements. This living sculpture series was designed in consultation with ornithologist Anton Thøger Larsen, Mads Nørgaard Madsen, Butterfly Ambassador for Aalborg Municipality in Denmark and member of the Danish Society of Nature Conservation (DN), Martin Sloth Andersen, Chairman of DN, and Alexandra Horowitz head of the Dog Cognition Lab, Barnard College. We also spoke with and consulted many books from local wildlife organisations, such as The Birds of Conservation Concern, The British Trust for Ornithologists, The London Wildlife Trust, The British Hedgehog Preservation Society and Buglife – The Invertebrate Conservation Trust. Throughout the exhibition's duration, the sculptures will attract the dwindling numbers of birds, bees, butterflies, and spiders. Designed for multispecies encounters that are unlikely in nature, the sculptures stand as meditations on biodiversity and the manifold and varying conditions for life between one species and another.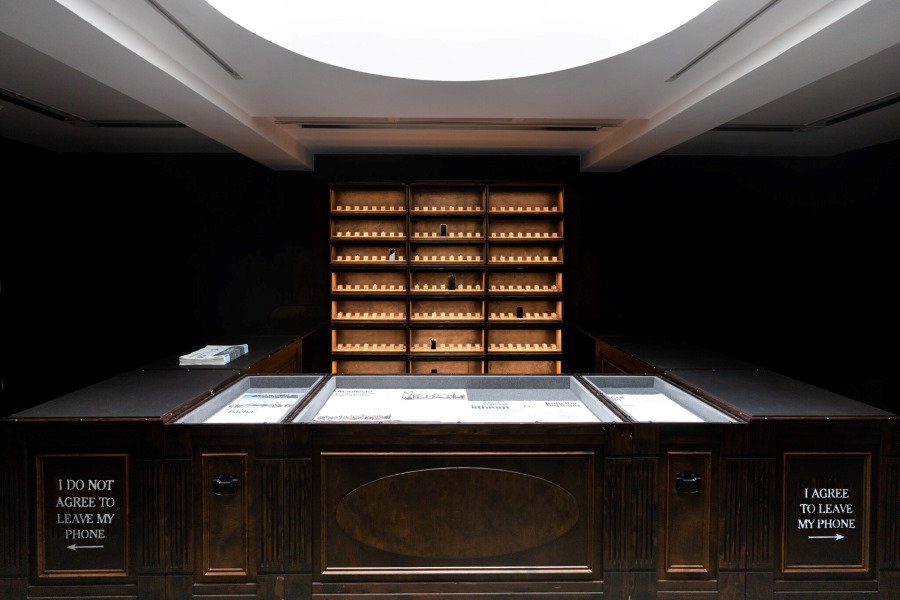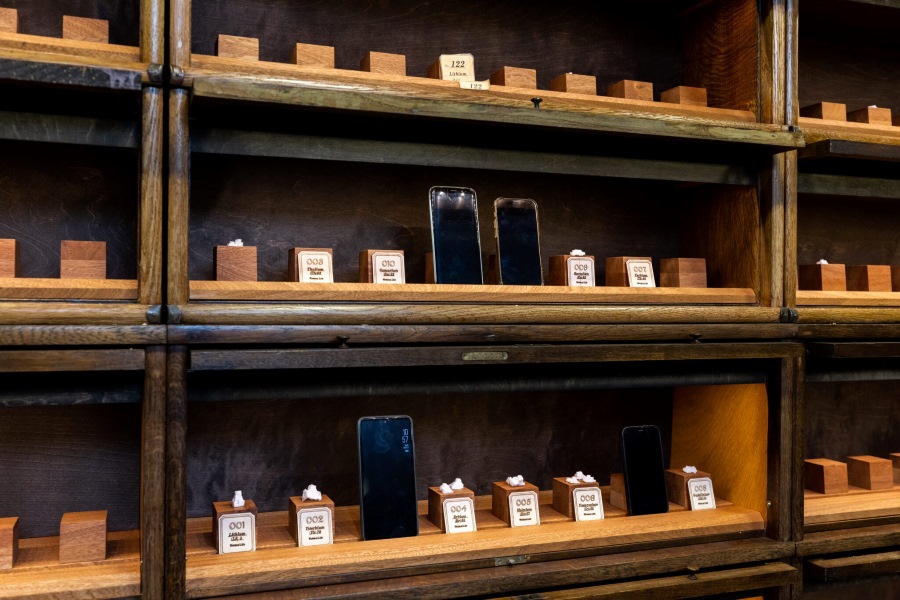 The birds will keep calling you, 2023. Installation view at Tomás Saraceno In Collaboration: Web(s) of Life, Serpentine, London, 2023. Photography by Studio Tomás Saraceno
How can a shift in perspective contribute to combatting the decline of urban wildlife and promoting a more sustainable world?
When approaching the question of urban wildlife decline, I think we need to also remember that often the other species we speak of as being hindered by urban development have been present for much longer than humans. For this reason, the very lens through which we view ourselves in relation to them should be reversed. For example, Homo Sapiens have existed for roughly 300,000 years, whereas spiders have existed for around 400 million years. So we are inhabiting their spaces, not vice versa, and we should be conscious of this and take them into consideration when creating buildings that they too will inhabit. The same can be said for multiple other species, from birds to marine life to arthropods. Ultimately, combatting decline has to start with some people recalibrating their understanding of their position on Earth, so that they can better learn to see themselves as one of many inhabitants in the urban environment, rather than the owners. This is especially true for many in the Global North, who continue to grow and prosper at the expense of people, animals and habitats in the Global South.
This interview has been cut down and edited for brevity and clarity.
Curious to gain further insights from leading visionaries pushing boundaries in the art world? Don't miss our interview with Migrate Art Founder Simon Butler.
Credits for the Main photo: In the shadows, 2023, & Cloud Cities: Species of Spaces and Other Pieces*, 2023. Installation view at Tomás Saraceno In Collaboration: Web(s) of Life, Serpentine, London, 2023. Photography by Studio Tomás Saraceno
Inspire our community
A global community of enthusiastic and curious ones. Diverse voices. Subscribe for free to share your vision and enhance our art-filled world.


To leave a comment you must
sign in