Insight
6 star female artists of 2022
With 2022 coming to an end, it's a good time to reflect on successful women inspiring us through their work. Here are six female artists who have changed the art world this year and who you'll want to keep a close eye on for years to come.
1. Haley Josephs
Haley Josephs (b. 1987) is an American artist who lives and works in New York. Josephs mainly creates large oil paintings inspired by women's life experiences using psychedelic colours and dreamy contours. Having taken part in group shows around the world since 2012, in November 2022, Josephs opened her solo show, 'Every Part of a Dream', at Almine Rech, London. The artist's second solo show at the internationally renowned gallery features her new paintings and a selection of pastel drawings.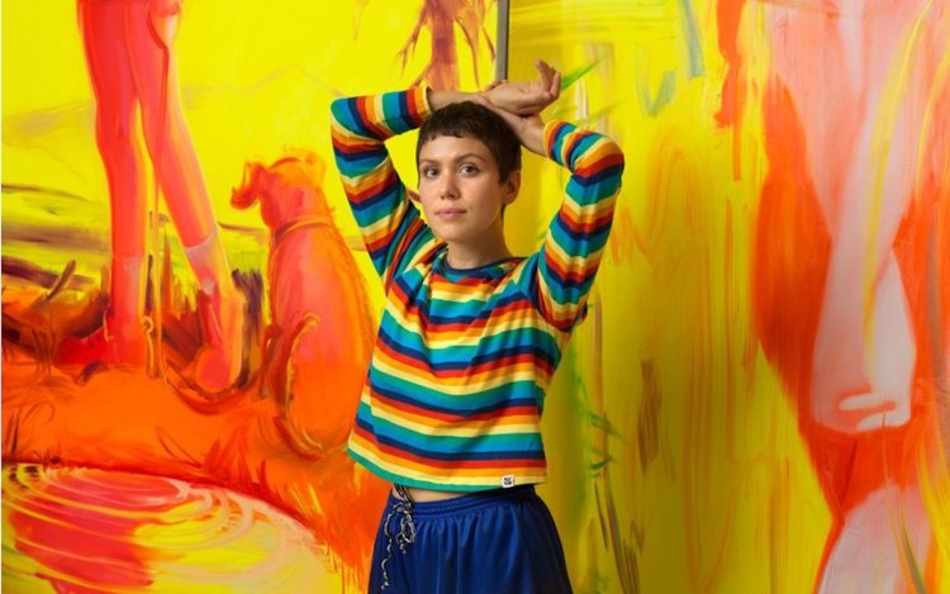 The artist's works blur the line between dreams and reality. The heroes of her paintings are somewhere amid these two dimensions, or what the artist refers to as "the dream of reality." The influence of German expressionist Ernst Ludwig Kirchner's (1880-1938) colour palette on her work as well as surrealistic landscapes provoke in viewers a kind of psychedelic experience and a glimpse of spiritual awakenings.
2. Caroline Walker
Caroline Walker (b.1982) is a Scottish-born artist based in London. In her art, she reflects on the female experience, capturing the unseen and unspoken moments of their lives. In Walker's paintings, women calmly carry out domestic chores ('Janet' series), work ('Service' series), or simply rest. Walker also reflects on motherhood through her 'Birth reflections' series. Her intimate paintings give viewers a glimpse of everyday moments in a woman's life.
Article slider: "36: Female artists to know"
Photo 1 - service, GRIMM New York, 4th May - 3rd June 2018. Photo 2 - Pattern Cutting, Oil on linen, 165 x 240cm, 2018. Photo 3 - service, GRIMM New York, 4th May - 3rd June 2018. Photo 4 - Stock Take, Oil on linen, 190 x 275cm, 2018 © CAROLINE WALKER
Since 2014, Caroline Walker has been exhibited worldwide. From April 29 to May 28, 2022, she presented her first solo exhibition with Stephen Friedman Gallery in London. Entitled 'Caroline Walker: Lisa', the exhibition featured her new paintings and works on paper depicting her sister-in-law Lisa's journey to motherhood.
3. Sarah Zapata
Peruvian-American artist and writer Sarah Zapata (b. 1988) is based in Brooklyn, New York, and works with textiles to create colourful fabric sculptures. She gets inspiration from her South American heritage as well as from such sources and queer society, the experience of discrimination, marginalization, and other social issues. In the spring of 2022, Sarah opened a solo exhibition titled "Sarah Zapata: a resilience of things not seen" at John Michael Kohler Art Center in Sheboygan, Wisconsin, USA.
Zapata's textile installations covering different parts of a room, look somewhat like artificial plants. The viewer is taken on a journey to a world that blurs the line between reality and fantasy, created by the artist.
4. Jadé Fadojutimi
London-based artist Jadé Fadojutimi (b.1993) questions her everyday life experience and self-understanding through monumental colourful paintings. Fadojutimi creates so-called "emotional landscapes" that enable her to express a deeper sense of self. Her mostly abstract paintings are inspired by everything she sees in life, but one of the main sources of inspiration for her is Japan where she goes to work five or six times a year.
In 2022 she took part in several art exhibitions in Scottsdale, Rome, London, and Berlin. She also saw her work presented at the 59th Venice Biennale's exhibition "The Milk of Dreams" in the Central Pavilion at the Giardini which focuses on the representations of the bodies, their metamorphoses and their relation to technology and nature.
5. Victoria Kosheleva
Russian-born and Paris-based artist Victoria Kosheleva (b. 1990) combines contemporary and classical imagery by working in what she calls "cyber-expressionism". In her passionate and enigmatic paintings, Kosheleva creates "surrealistic worlds consisting of memories and fantasies, images and landscapes that are often taken out of their usual context". Looking at her complex paintings, the spectator enters into the unconscious, into faraway worlds of fantasies.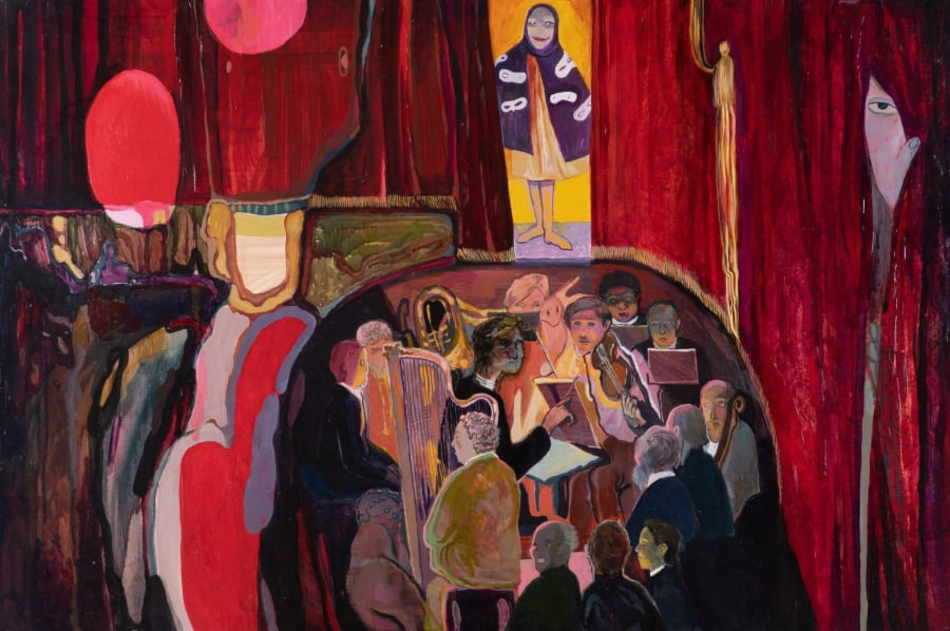 After presenting Kosheleva's work at Art Paris and Cosmoscow fairs, the Parisian gallery Hors-Cadre organised her first solo exhibition in the French capital in November 2022. Titled 'Shelter in the folds of the coat lining, collections of some year', this successful exhibition featured the artist's new paintings that she created specially for the show.
6. Dana Kavelina
Ukrainian artist and activist, Dana Kavelina (b. 1995) was born in Melitopol and is based in Kyiv. Through her texts, paintings, graphics, videos, installations, and animated films she explores themes like historical trauma, vulnerability, and perceptions of war. Since Russia's invasion of Ukraine, Kavenila publishes heartbreaking graphic works about the war on her Instagram account, where succinct descriptions ("There will be hunger", "The sky is open") play a key role.
In the summer of 2022, alongside 11 leading contemporary women artists working in Ukraine, Kavelina took part in a very emotional and poignant exhibition titled 'Women at War' at Fridman Gallery, New York, curated by Monika Fabijanska. Some of the works displayed were made after February 24, 2022, while others date from the years of war following the annexation of Crimea by Russia. In the works presented at Fridman Gallery's show, Kavelina explores the role women play in society, particularly during wartime.
Inspire our community
A global community of enthusiastic and curious ones. Diverse voices. Subscribe for free to share your vision and enhance our art-filled world.


To leave a comment you must
sign in