Lifestyle
The origins of Peet Dullaert: A decade of free and conscious creativity
This year marks a decade of exceptional artisanal creativity in fashion by Prêt-à-Porter brand Peet Dullaert. The brand that originated from central Europe now commands a global presence. The house decided to honor the last ten years of remarkable work by paying a tribute to their origins through the new collection "Couture FW22" that was exhibited last week. Read on to discover more about their history and vision.
The Founder:
Peet Dullaert was born in 2012 in the Netherlands. The brand shares their name with a Dutch fashion designer who was born in 1989. He discovered his vocation at the ArtEZ University of Arts in Arnhem. Post graduation in 2012, he started his own fashion house at the age of 23. Since then, his fame and success has been vertiginous. Very early in his career, Dullaert was covered by renowned publications such as Vogue. He has also been recognized by prestigious awards like the Frans Molenaar or the Triumph Innovation Award. His collections "Muses With Extraordinary Lives" and the new accessories line, "Le Sac Si", reflect a deep concern on giving visibility to women of all ages whose have led inspirational lives in the industry.
The discovery of the main goal:
In 2014, Dullaert decided that he wanted to use his brand as a vehicle for change in the industry and the world at large. His new approach took his work in a sustainable direction that promoted a greener future. Their goal is represented in a responsible and conscious form of hard work that produces high quality and modern apparel. Movement freedom, effortless light and flow around the body are key features of Duallert's work. He believes that the aforementioned qualities are essential for a wardrobe suited to match the life people lead today.
The current self-definition and vision:
Peet Dullaert has now consolidated its philosophy. Their ultimate goal is to develop an authentic vision and identity through artisanal products that binds generations and serves as a mirror for the world that we live in. This dream is realized through responsibly made collections and various tribute stories. Their designs are components of a wardrobe model that breathes energy, freedom, and fresh optimism. Each unique piece, embedded with luxurious fashion, takes a step further towards a greener future.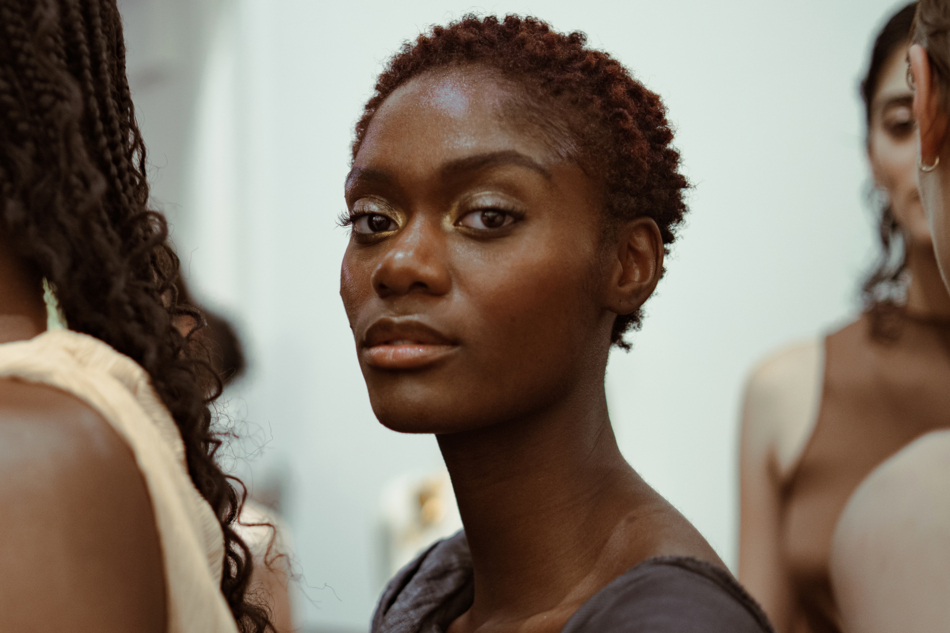 Art de Vivre's Editor-in-Chief attended the 10 YEAR Couture SHOW FW22 Collection "For the Oceans"
On the occasion of the 10th anniversary of the house, the couturier decided to return to his original philosophy by depicting his love for the oceans and admiration for the human body. The show paid tribute to the luminous colors of the ocean, the tidal waves that breathe movement, and the transcendent current that connects us all. This anniversary collection is a hymn of love for people and the Earth!
Peet Dullaert clothes are made to live in: to dance, eat, and move. The silhouettes also take into account the need of the modern consumer to spend time on the phone. This cut for modern posture is a manifestation of Peet Dullaert's Signature Suiting.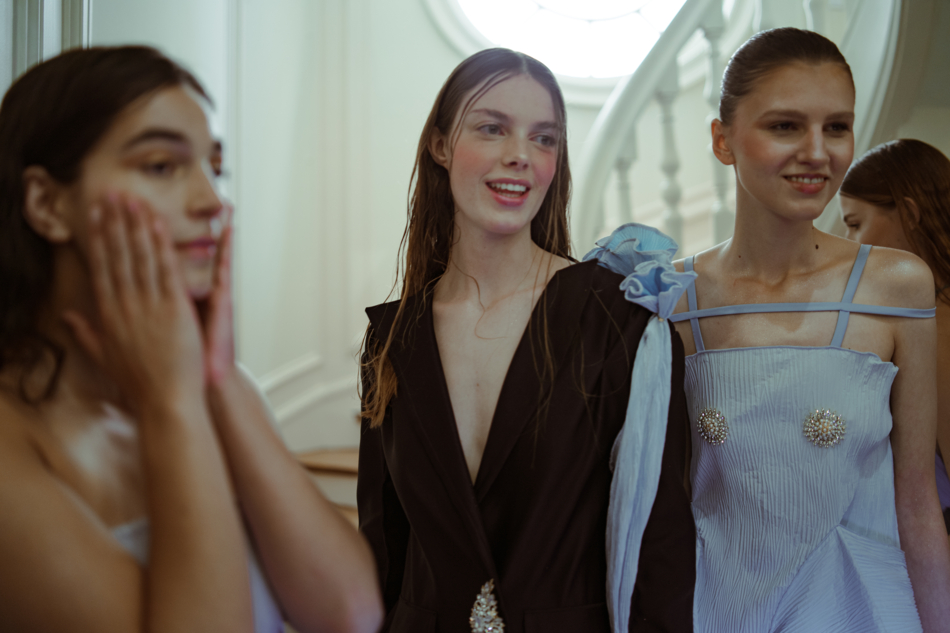 The fabric treatment and materials accentuate the silhouette to draw attention to forms instead of hiding them. This signature Peet Dullaert Techno pleating is a unique innovation in fabric treatment. The pleated fabric is artfully manipulated to create the brand's signature shapes.
Techno pleated material allows the wearer to travel without worrying about creases. This is perfect for the happy-go-lucky user who leads an active lifestyle and does not want to worry about ironing, space in luggage, but prioritizes aesthetics and style.
The "For the Oceans" collection is therefore designed keeping in mind both the consumers and nature.This approach is part of the company's mission to promote a responsible cycle of its own production, based on sustainable, tailor-made collections.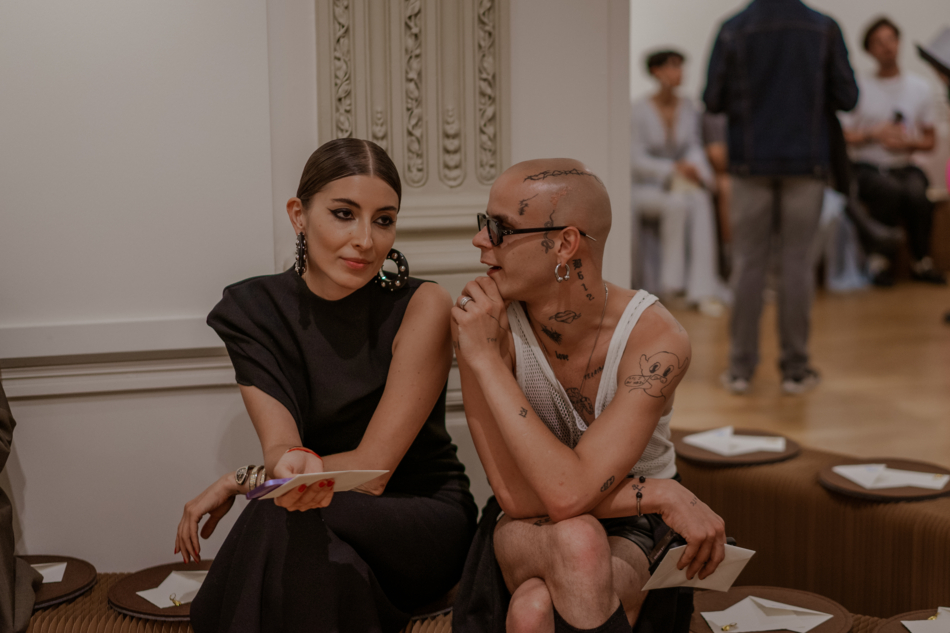 The audience also packed in a special treat during the show. Every attendee was decked in, if not the brand's clothes, then delightful accessories, mind-blowing handbags or beautiful shoes. Everyone had huge smiles on their faces, exchanging compliments and praises. This sight convinces us that Peet's clothes are truly made for life: everyone feels comfortable and relaxed, able to move freely, and yet they look unique and magnificent. everyone is relaxed and natural in their movements, yet they all look unique and lavish.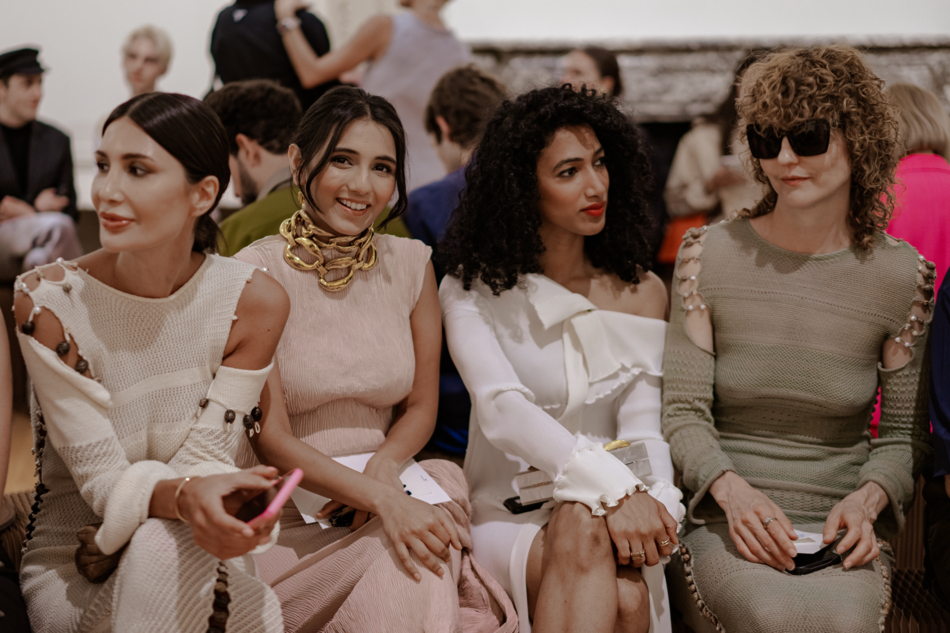 Alice Abdel Aziz, Masoom Minawala Mehta, Trisha Shetty © Art de Vivre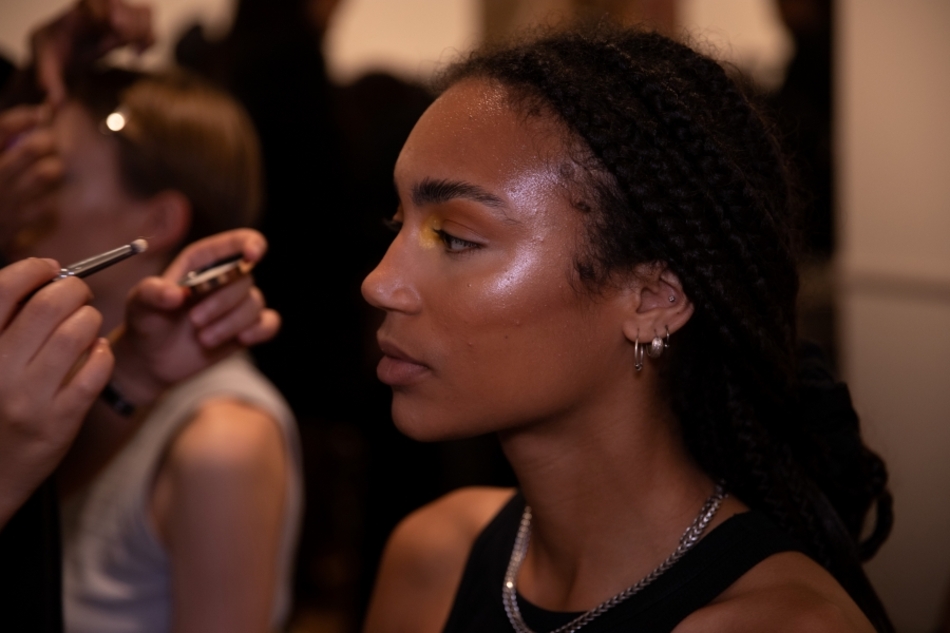 Live your best life! Get inspired with more up-and-coming and new luxury brands we've explored.
Photo Credits: Front Row images by Olia Kolendo, © Art de Vivre
Backstage images by © Ketevan
Credits for the Main photo: Olia Kolendo, © Art de Vivre
Inspire our community
A global community of enthusiastic and curious ones. Diverse voices. Subscribe for free to share your vision and enhance our art-filled world.


To leave a comment you must
sign in