Art
The Serpent Queen: Reclaiming the story of a powerful monarch
Starz's new period drama, 'The Serpent Queen', blends history into fiction to tell the story of Catherine de Medici — one of the most powerful women in France.
In this period piece, Italian-born Queen Catherine de Medici is played by Samantha Morton as an adult and by Liv Hill as a young girl. The show is based on a non-fiction book titled 'Catherine de Medici: Renaissance Queen of France', by Leonie Frieda. The first episode of the Serpent Queen aired on Starz on September 11, 2022.
But who was Catherine de Medici, and why should you watch this show?
Catherine de Medici: a Machiavellian queen, or a noble monarch?
Catherine de Medici was born in 1519 in Florence, Italy to one of the most influential families in Europe. The Medici family was called the Godfather of the Renaissance thanks to their contribution to Florence's cultural growth. Growing up without her parents, Catherine was highly involved in arts, very well educated, and disciplined by nuns in Florence and Rome.
At the age of 14, encouraged by her uncle Pope Clement VII, she married Henry, Duke of Orléans who was the second son of Francis I, King of France. During the first decade of their marriage, Catherine did not meet the expectations due to her husband's infidelity, and attachment to his mistress Diane de Poitiers. However, she had 10 children in total. Three of them became the kings of France (Francis II, Charles IX, and Henry III), and two of them became queens: Elisabeth of Valois, Queen of Spain, and Margaret of Valois, Queen of France.
Portrait of Catherine of Medici (1519-1589), by Germain Le Mannier, 212 x 118 x 9 cm. Gallerie degli Uffizi, Galleria Palatina di Palazzo Pitti, deposit, Florence, 1890, n. 2448, © Wikimedia Commons
Catherine was an energetic intellectual and a great patron of the arts like her family in Italy. During the French Wars of Religion, she did her best to maintain order in the face of social turmoil and violence, yet failed to succeed as she sided with the wrong crowd by supporting the St. Bartholomew's Day Massacre in August 1572.
Her inability to bear a child in the first decade of her marriage led her to consult with folk healers, future seers and astrologers which added to the false belief of witchery. Throughout her life in France, she was condemned for being a cursed witch and therefore often not trusted.
Although the first half of her life was dictated by others, and she was criticized due to her unorthodox methods in her personal life and politics, she managed to establish herself as one of the most powerful and greatest queens of France. Catherine died on January 5, 1589, in Blois, France.
The Serpent Queen: a whimsical period dramedy
Starz's depiction of Catherine de Medici in the Serpent Queen is not so far from reality up to now, although it has some twists here and there. Both actresses who play Catherine (Samantha Morton and Liv Hill) are extremely talented. The setting and the costumes are excellent reflections of the era, and the choice of the contemporary soundtrack (featuring Patti Smith and PJ Harvey) makes it even more appealing to a contemporary audience..
The Serpent Queen Official Trailer
Flashbacks and direct monologues to the camera are designed to break the fourth wall, reflecting how important Catherine's personal opinions are. Often, she will say something to the audience and then does the complete opposite in the next scene. The older Catherine, the queen regent, is narrating her story to her newly-chosen maid directly as opposed to what the audience might know from history books. Catherine is in charge of her story.
"She was able to overcome all those obstacles and not only survive, but she thrived and she became the longest ruler in France. It's an extraordinary story, knowing – as much as we can tell, because history is written by men – that it was true," Samantha Morton told the Guardian.
She added: "Catherine is always the smartest person in the room, and then has almost dumbed down to facilitate other people's egos and make sure that she's going to survive. She can't expose herself as being intelligent. Intelligent women are dangerous, no?"
While directly talking to the camera, and the audience, Catherine guides women to find their power and thrive with it. "One must learn to exploit an opponent's weaknesses", to know "never to trust a single soul" and "to teach one's enemies a lesson because otherwise, they would never learn," the Serpent Queen tells her maid, Rahima. The young maid complies.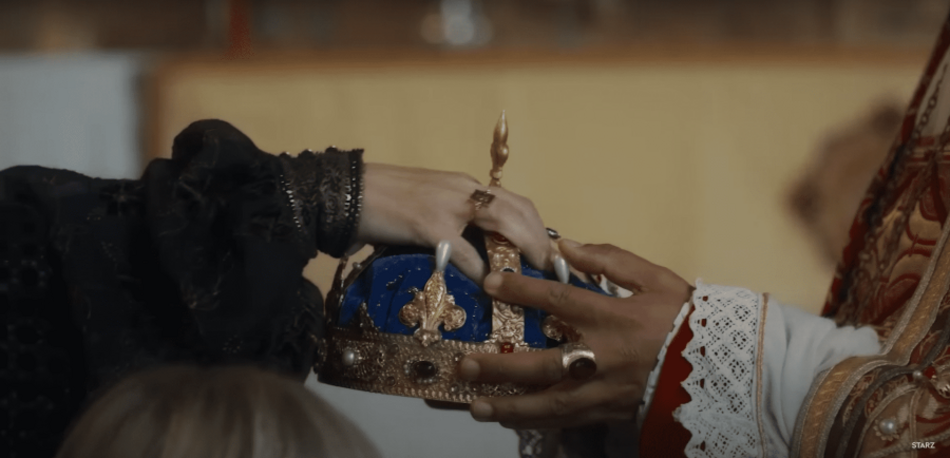 The Serpent Queen
Love, intrigue, power and women's roles in high society are the main themes of the show. Although Catherine is forced to marry Henry, she finds herself falling in love with him. She recalls that one of the worst things to happen to a woman of that time is to fall in love, especially when love is not reciprocated. Henry is manipulated by his mistress and is not respected by his older brother and his father, the King because he is emotional, sensitive and vulnerable.
On the other hand, Catherine is the opposite of him. She is smart, witty, a great mathematician, astrologer, astronomer, and politician. She speaks many languages, and knows what to say and do in difficult situations. She is bold, a great negotiator, and a perfect example of a survivor.
All in all, the audience is in for a treat so far. 'The Serpent Queen' is a historical drama but with a modern twist, telling the powerful monarch's story from her point of view.
Credits for the Main photo: Samantha Morton (as Catherine de Medici) in The Serpent Queen, photo by Divulgacao © StarzPlay
Inspire our community
A global community of enthusiastic and curious ones. Diverse voices. Subscribe for free to share your vision and enhance our art-filled world.


To leave a comment you must
sign in