Art
The Turner Prize 2022 nominees and their thought-provoking works
This year marks the return of the Turner Prize to Liverpool, the second city outside of London to host the event twice. Running until March 19, 2023 at Tate Liverpool, the Turner Prize 2022 exhibits works by shortlisted artists Heather Phillipson, Ingrid Pollard, Veronica Ryan and Sin Wai Kin.
According to Tate Liverpool director Helen Legg, these four artists deal with some of today's key issues, including climate change, politics and the pandemic's aftermath.
The winner will be selected by a jury on December 7, and will be awarded £25,000. The three runner-up artists will each receive £10,000. Audiences can also participate by casting their vote on-site. Read on for an introduction to the four artists and their nominated work.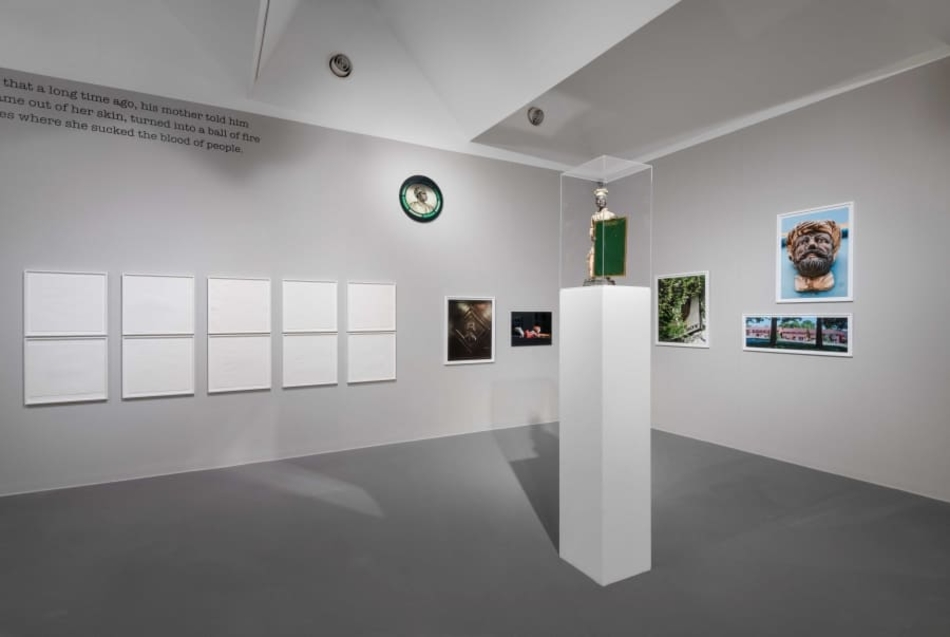 Heather Phillipson
Phillipson's immersive experience is a reimagining of her solo exhibition 'RUPTURE NO 1: Blowtorching the Bitten Peach', which was showcased at the Tate Britain.
The artist describes the experience as "charged ecosystems, maladaptive seasons and unearthed lifeforms'', according to Tate's official website.
The 'insistent atmosphere' of Rupture No 6 has been criticised for lacking any elemental focus amid a chaotic barrage of audio-visual experiences. Yet Phillipson refuses to attach any prescribed meaning to the piece, aiming only to craft a mood of deep discomfort, to which she succeeds triumphantly. Stripped of our ability to intellectualise ecological doom from a spectatorial distance, the purity of immediate sensation demands an attention that can only be suffered through the body, as meaning is made through experience.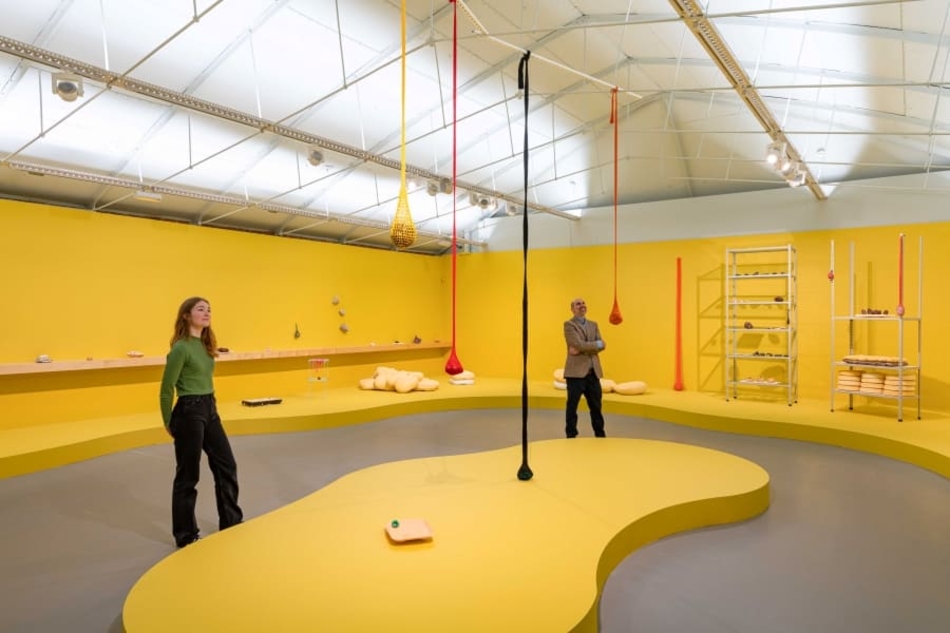 Sin Wai Kin
Sin Wai Kin, 31, is one of the youngest artists ever shortlisted for the Turner prize, nominated for their involvement in the British Art Show 9 and their solo presentation at Blindspot Gallery.
Sin's Drag Dreamscape, 'It's Always You', invites us into a solipsistic piece of speculative fiction where four boy band members, The Storyteller, The Universe, The One and Wai King reappear in different contexts, slipping between gendered codes and conventions as an act of gender anarchy.
The boy band as a medium where identities are explicitly crafted and commercialised is a perfect site for subversion, as the application of drag powerfully deconstructs notions of fixed identities and social narratives.
Existing on a spectrum of gender expression, Sin's personas interrogate binaries of femininity and masculinity, self and other, thinking and feeling, life and death, dreaming and waking. Ultimately, if nothing is fixed or 'real', we open up the possibilities of true exploration and expression of self — whatever 'self' may be.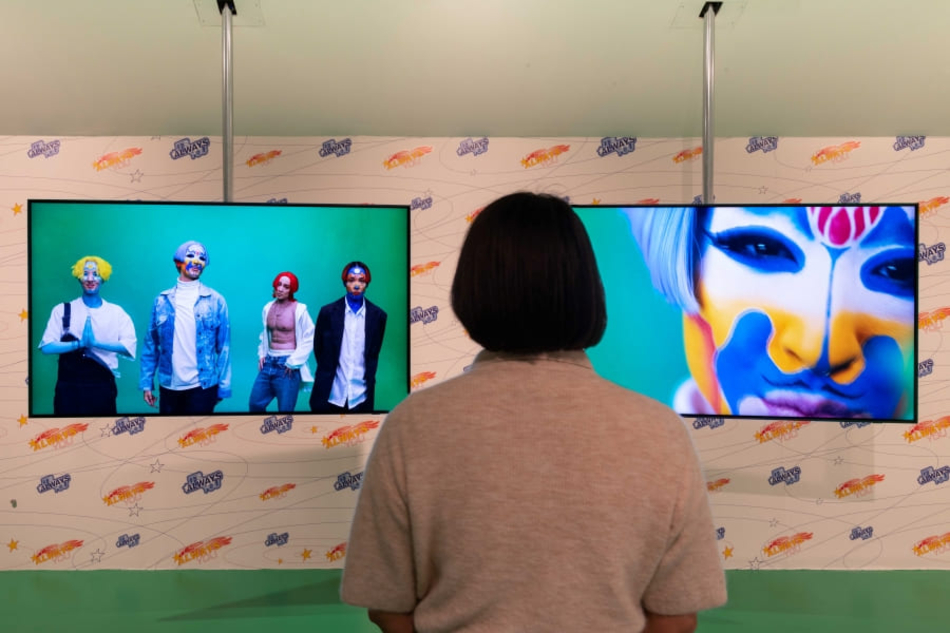 Ingrid Pollard
Pollard, 69, made her name as a photographer, however her gallery in the Turner Prize exhibition space includes a multi-media exploration of race and sexual identity, in an overarching study of 'racism hidden in plain sight'. Her exhibition space includes the installation 'Seventeen of Sixty Eight 2018', the photo series 'DENY: IMAGINE: ATTACK 1991' and 'SILENCE 2019' and the sculpture 'Bow Down and Very Low – 123 2021.'
Pollard makes use of everyday objects to uncover the pervasive racism ingrained in quotidian British life. Her work includes racist depictions of the Black figure on pub signs in the UK.
Developed with artist Oliver Smart, a trio of kinetic sculptures made of old saws, baseball bats and glass shards repeat mechanical sounds and movements to evoke a particular moment and figure from a 1944 colonial propaganda film. Simultaneously threatening and deferential in their gestures, this pervasive discomfort forces the audience to confront a deeply uncomfortable and lingering tradition of colonialism on their doorstep.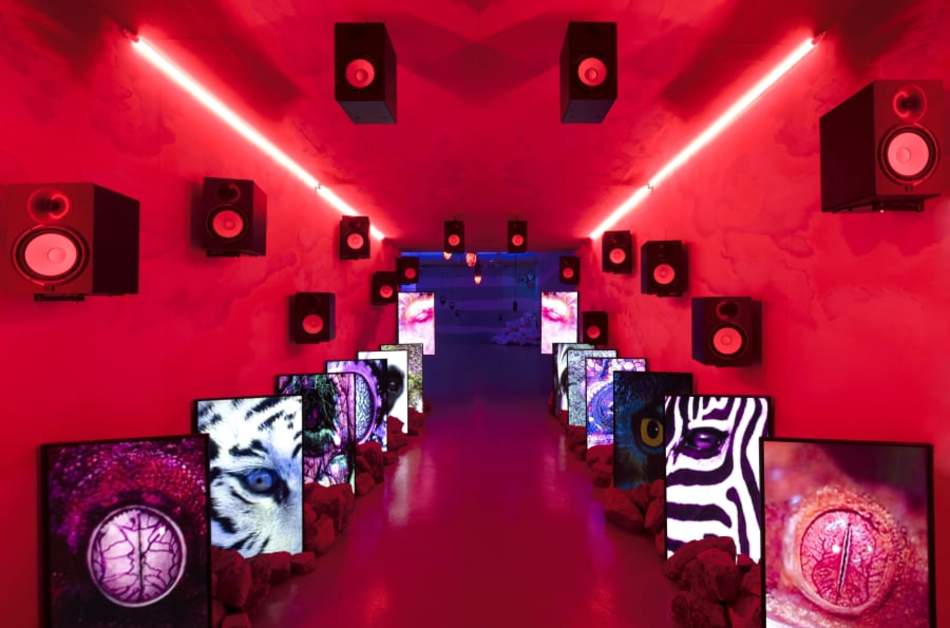 Veronica Ryan
Nominated for her solo exhibition Along a Spectrum (2021) at Spike Island and her Windrush Artwork Commission in Hackney, Veronica Ryan repurposes recognisable materials like fruit, takeaway containers and feathers to explore themes of memory, dislocation, trauma and the environment, alongside the psychological impact of the pandemic.
Open to a variety of readings, evidenced in the titles of her work 'Multiple Conversations' and 'Along a Spectrum', the sculptural repurposing of everyday materials relates childhood memories, 'psychological resonance' and the 'extended self' (in the words of Ryan) to histories of global trade and ecological issues, anchoring reflections of self to our wider environment. Turner prize judges have praised her work for "exquisite sensuality and tactility" in both Bristol and Hackney.
The Turner Prize winner will be announced in Liverpool on December 7.
Credits for the Main photo: 02 - VR - Installation © Tate Photography, Sonal Bakarina
Inspire our community
A global community of enthusiastic and curious ones. Diverse voices. Subscribe for free to share your vision and enhance our art-filled world.


To leave a comment you must
sign in