Insight
The world's end: Vivienne Westwood's legacy
Fashion has mattered throughout the ages and around the world, with fashion trends influencing the aesthetics of different eras and reflecting societies' identities. It also allows artists to express their unique visions.
As they say, fortune always favours the bold, and designer and activist Viviene Westwood was a bold visionary who lived an extraordinary life. She turned the world of fashion upside down, revolutionising the idea of style and proving that clothes can be a symbol of freedom and a tool of activism. She changed peoples' mindsets and inspired future generations.
On December 29, 2022, she passed away at 81. Here we look at some of the key moments in Viviene Westwood's life and career.
Long Live the Queen of Punk!
Westwood was born in 1941 in Tintwistle, Cheshire, England. She grew up during and after World War II and moved to London with her family in 1958, where she started creating jewellery. She attended the University of Westminster and took jewellery and silversmith courses but left due to external pressure discouraged young designers' passion. She never thought a working-class woman could make a living from the arts so she worked at a factory and then worked as a teacher until 1971.
Her personal and professional life turned around when she met and fell in love with Malcolm McLaren, who later became the producer of the iconic punk rock band Sex Pistols. Westwood designed the bands' costumes and became the ultimate representation of the punk aesthetic.
In 1971, Westwood and McLaren opened their first shop, Let it Rock at 430 King's Road, London. The shop went through multiple rebrandings, changing names to Too Fast to Live, Too Young to Die, and Sex, and was a place unlike anywhere else in England. Later, the shop was renamed Worlds End and still maintains this name.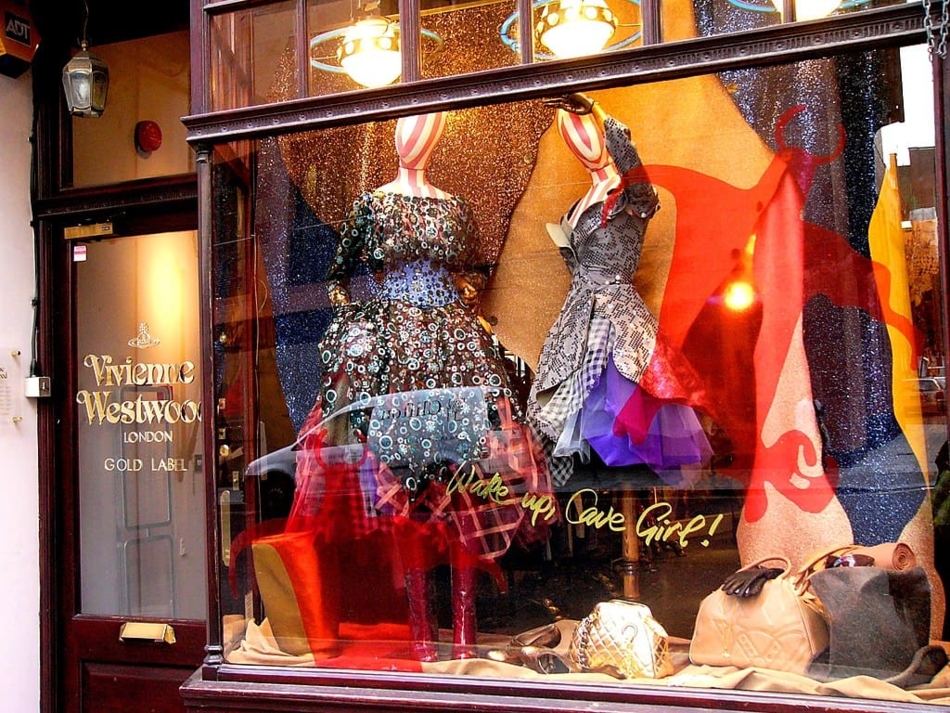 Eventually, Westwood and McLaren separated, and Vivienne continued working independently. Her fashion shows were always renovating, individualist, and unique, as the brand itself.
'Pirate' was Westwood and Malcolm McLaren's first collection. It was presented in 1981 during the London Fashion Week and represented the shift of Westwood's interest from punk to the New Romantics movement. The collection was rich with unisex pieces and romantic silhouettes which reflected the artist's extraordinary vision.
Viviene Westwood is especially known for signature items, one of which is a corset. The item has been used for centuries around the world. With the mixture of historical garment inspiration and 18th-century French decorative art, Westwood created one-of-a-kind pieces and today her corsets are still considered iconic and timeless — a perfect example of how talent and creativity can transcend the boundaries of time.
Vivienne was a brave person who expressed her passion for life and proved many times that circumstances can change if we are not afraid to resist obstacles. Her fiery, courageous and extravagant nature was perhaps perfectly reflected in her 1994 collection Café Society. The collection in itself was quite daring, full of nudity and provocative looks, and presented the models such as Kate Moss in an erotic manner. The nudity and provocative actions, like half-naked Moss licking ice cream during a walk, were theatrical and raw. It is one of the most memorable walks in the supermodel's career, and certainly, the whole show was as daring as its creator.
Fashion as a platform for political activism
What makes Westwood's legacy so lasting is not just the beautiful pieces of clothing she created. Westwood used fashion as an excuse to express and visualise her beliefs, having faced the consequences of class struggle all her life. As a child of World War II, she experienced the impact of war and the hardships it caused. The generational trauma, lost identities, the search for meaning, and alienation were all symptoms and results of the mass destruction. Those feelings and experiences were deeply engraved in the designer's memory and made her more resistant.
It is no secret that the fashion industry is one of the leading contributors to climate change and global warming, and Westwood understood the industry's impact on the planet's future. She advocated against consumerism and suggested the public buy as little as possible and hold on to old pieces. Westwood was the author of the manifesto - Active Resistance to Propaganda, which analysed the relations between art and climate crisis. Westwood publicly shared the manifesto at multiple venues, and Forbidden London and Dave West staged it at Bloomsbury Ballroom in 2009.
Westwood also believed that freedom is only possible when truth is not hidden, and was vocal about her support for Julian Assange during the WikiLeaks scandal.
Through her work, Vivienne Westwood inspired the masses to see behind flashy images of capitalism and called to put a pause on consumerist culture. In her Red Label Spring/Summer 2016 collection, titled 'Mirror the World', she attempted to answer the philosophical question of what makes a good life. Each piece created by Westwood communicated the idea that freedom and truth should be valued above all else.
Most of us can only imagine what it's like to live in complete freedom. But as the Famous French philosopher Albert Camus once said: "The only way to deal with an unfree world is to become so absolutely free that your very existence is an act of rebellion". With her bold, extravagant looks, taking inspiration from punk symbolism and identifying challenges facing her times, Westwood achieved complete freedom, where comfort is found in chaos, freaky means spectacular, and punk is never dead.
Her legacy will act as a mechanism of protest towards an unfair world and continue to inspire generations to come. The death of Westwood was the world's end for many: it marked the end of the world inspired by her work and vision. One world has certainly ended, but Westwood's legacy will live through the revolutionary spark she left behind, which can never be forgotten.
Credits for the Main photo: Vivienne Westwood at the close of her eponymous fall 2016 show © Imaxtree
Inspire our community
A global community of enthusiastic and curious ones. Diverse voices. Subscribe for free to share your vision and enhance our art-filled world.


To leave a comment you must
sign in