Lifestyle
Top 10 French Film Actors and how they revolutionised cinema
Throughout history, France has been the home of captivating films and has produced some of the finest actors in the business. The country's love of cinema and fine actors cannot be understated when events like the Cannes Film Festival and Champs-Élysées Film Festival happen every year and a place where actors like Jean Reno starring in 'Leon' (1994) or Michel Piccoli from 'Bad Liaisons' (1955) and 'Travelling Companion' (1996) became international film icons.
Here are ten of the greatest French actors in our lifetime illuminating how vital cinema is to French culture.
1. Jean-Paul Belmondo - The Iconic French Actor
When you think of French actors, the first one that comes to mind, typically, is Jean-Paul Belmondo. Jean-Paul was born in 1933, in Neuilly, and graduated from the Conservatoire of Dramatic Arts at 20. His career spans over decades, and he has been compared to American actors such as Marlon Brando and James Dean numerous times, which is ironic considering Belmondo was reluctant to star in English language films.
Belmondo was one face of the French New Wave, an art film movement created in the late 50s and lasted until the 60s, which rejected traditional filmmaking methods and used improvised dialogue, long tracking shots and rapid scene changes.
Some of his credits include: 'Molière' (1956), 'Borsalino' (1970) and 'Un homme et son chien' (2009, his final film role.)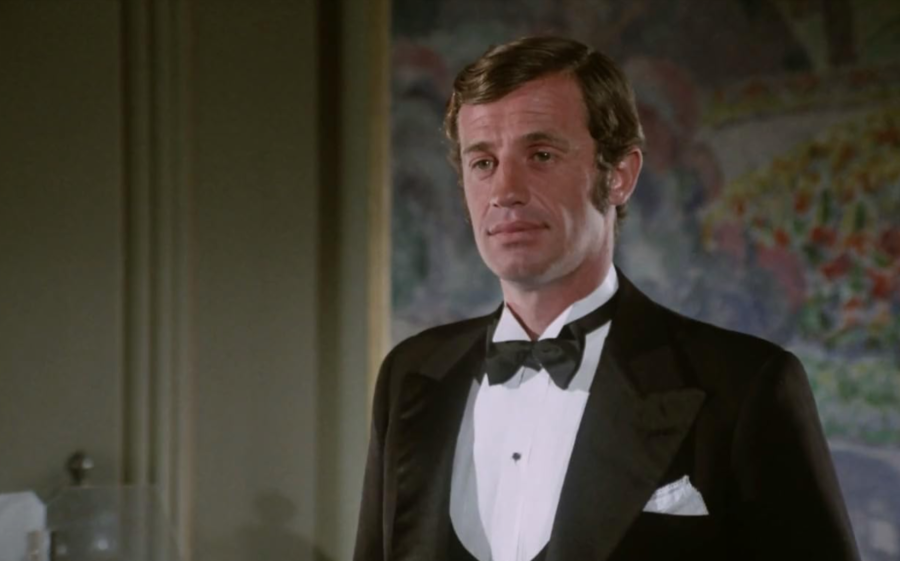 Photo 1 - Jean-Paul Belmondo in Borsalino (1970); Photo 2 - Jean-Paul Belmondo in Stavisky (1974)
Belmondo passed away in 2021 at home due to ill health. He has a huge legacy worldwide, with directors like Tarantino noting him down as an important influence in their work. This legendary status in French culture cannot be overstated. French channels aired his films on the day he died; the audience was over 6.5 million.
2. Alain Delon - An Icon of French Cinema
Alain Delon was born in 1935 in Hauts-de-Seine, his very first performance was a short film in 1949 called Le Rapt, and he rose to fame in the late 50s, and early 60s with films such as 'Women are Weak' (1959), 'Plein Soleil' (1960) and 'The Devil and the Ten Commandments' (1963).
In 1963 Delon joined MGM starring in 'Any Number Can Win' (1963), in which he refused to take a straight salary. Instead, he took the film distribution rights in particular countries which later became known as 'Delons method'.
Alain Delon in Plein Soleil (1960)
His work covered international and French markets, from typecast as a Latin lover in Hollywood to gangster movies to starring in French television dramas and films 'Une journée ordinair' (2011).
Delon is still with us today - in 2019, at Cannes Film Festival, he received an honorary Palme d'Or due to his long-standing career. In 2022 he interviewed President Zelensky as part of a programme about Ukraine called Face à Zelensky.
3. Gérard Depardieu - A symbol of French masculinity
Depardieu was born in Châteauroux but left for Paris at sixteen. Once there, he began working with acting greats like Romain Bouteille in a new comedy theatre at the Cafe de la Gare and studied theatre with Jean-Laurent Cochet's help. From 1967 he starred in many short films and TV movies like 'Le Beatnik et le minet' (1967), but his first film role was 'Les Valseuses' (1974). Another movie of importance in the actor's early career is 1900 (1976) in which he starred alongside Robert De Niro, and 'The Last Metro' (1980), which landed Depardieu his first Cesar award for Best Actor. Thanks to a role in 'Jean de Florette' (1986), his rise to international fame became obvious, and so did his nominations for other awards, such as his second Cesar award and a nomination for the Academy Award.
From the 1990s, Depardieu began starring in more English Language based films, such as 'Hamlet' (1996) and working with acclaimed Sci-Fi director Ridley Scott in 1492: 'Conquest of Paradise' (1992).
Although Depardieu has some incredible performances, which include 'Life of Pi' (2012), an indie film in 2013 called 'A Farewell to Fools' and in 2022 he was in a couple of episodes of 'The King's Favourite', his reputation outside of his acting had fallen from grace with several allegations of inappropriate behaviour behind the scenes.
4. Louis de Funès - The famous French comedy actor
Louis Funès has a career that spans over 37 years and across 150 roles in film and 100 in theatre.
His first film roles were mainly comedy parts in films such as 'La Tentation de Barbizon' (1945) or his role of porter in 'Le Paradis', which must be stated lasted less than 40 seconds!
By 1955 he appeared as a walk-on or extra in 50 films; in 1963, his fame grew due to a part in 'Pouic-Pouic' (1963) which gave him higher billing in future movies and appearances. After 'Pouic-Pouic', he starred in 'Le gendarme de Saint-Tropez' (1964), which generated international success; this would be the first of six collaborations between Funes and director Jean Girault, who saw Funes as the perfect person to play a scheming, opportunistic and sycophant gendarme.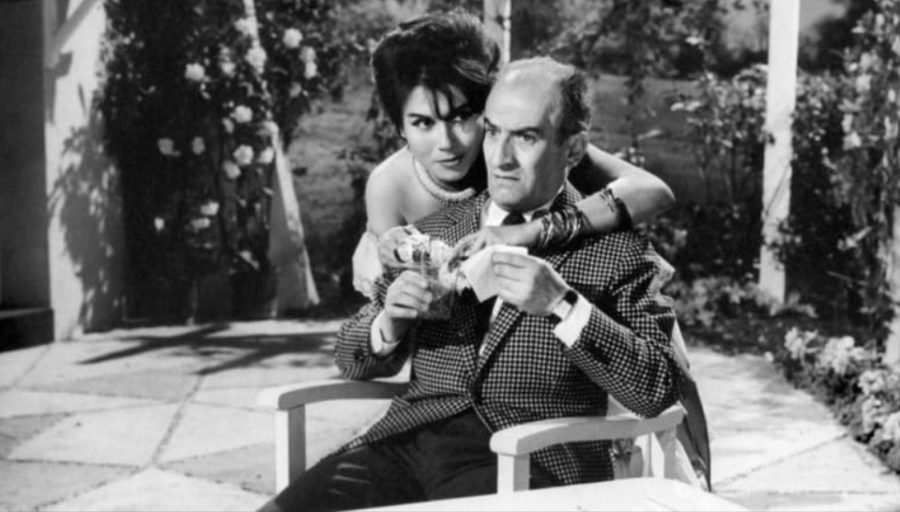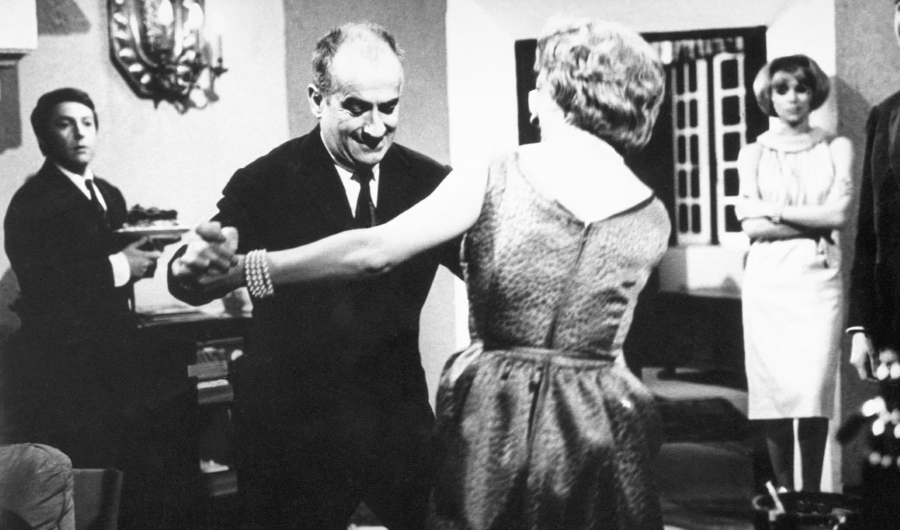 Louis de Funès in Pouic-Pouic (1963)
Another director Funès collaborated with was Gérard Oury creating 'La Grande Vadrouille' (1966), which drew a massive audience of 17.27 million people. Funes continued to top the French box office, becoming France's best comedy actor.
In the '70s, he starred in classics such as 'L'aile ou la cuisse' (1976), which was in fact considered his best role. And he was even a knight in France's Légion d'honneur in 1973.
Unfortunately, Funes passed away in 1983 after making his last film 'Le Gendarme et les gendarmettes' (1982). He is remembered fondly by the public. His face was on a postage stamp in 1988 and had two museums in his name; one opened in 2013 in Château de Clermont and another in 2019 in Saint-Raphaël.
5. Jean Reno - The French Heartthrob
Jean Reno's career started in 1978 with the 'Hypothesis of the Stolen Painting'. At the start, he would typically be cast in roles that were bodyguard and fighter types or heavies. This was due to his height (6ft 2in).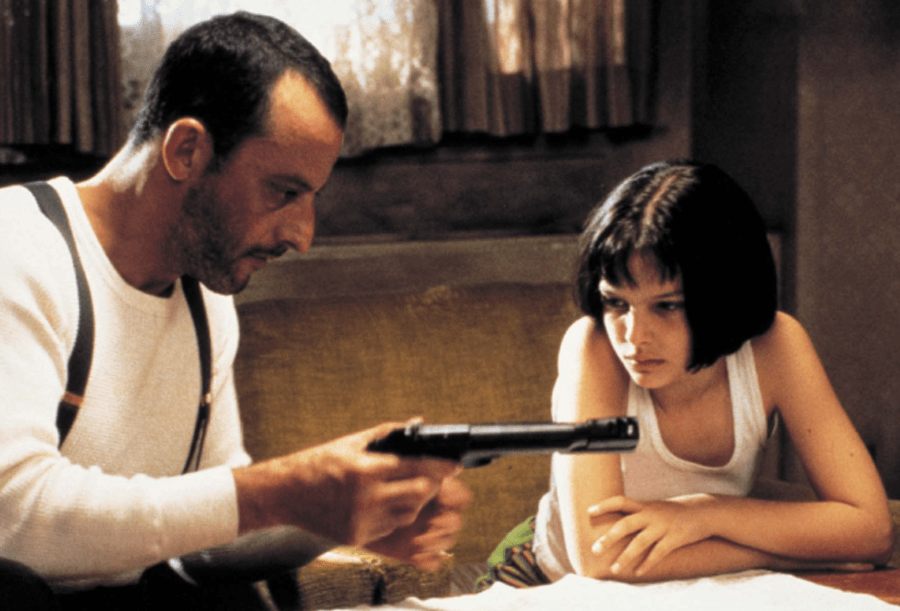 One of the directors he works most closely with is Luc Besson. Besson and Reno have collaborated since Reno's career, such as 'Le Dernier Combat' (1983). One film you might be aware of is 'Leon the Professional' (1994), in which the two also worked together. The role of Leon Montana also earned Reno a nomination for Best Actor in the Cesar Awards.
He doesn't just stick to French cinema. He is also a household name internationally and has starred in many English language hits such as 'Mission: Impossible' (1996), 'The Lion King' (1994, 2019) and the upcoming film 'Lift' set to hit our screens in 2024.
6. Jean Gabin - A French Icon of the Silver Screen
The 50s and 60s saw a boom in cinema icons and silver screen highlights worldwide; you'll know Jean Gabin among those names.
Jean Gabin's career started in music, particularly in movie halls and opera houses, where he would imitate the style of Maurice Chevalier. This would enable him to tour South America as part of a troupe and later join the Moulin Rouge, later leading to roles in silent films in 1928.
Throughout the 1930s, Gabin would begin acting with roles in 'Chacun sa Chance' (1930) or as a secondary character for a few years before gaining notoriety in the film 'Maria Chapdelaine' (1934) or as the romantic lead in 'La Bandera' (1936), the latter ensuring he became a household name in France.
Still, the movie that gave him international success was 'Pépé le Moko' (1937).
Soon after these successes, he was inundated with offers from Hollywood, many of which he would have to turn down due to the outbreak of the Second World War. But a few were still made, such as 'Moontide' (1942) and 'The Imposter' (1944).
Gabin continued acting until the mid'70s, with his last film credits being 'L'Année sainte' (Holy Year) (1976).
Gabin passed away due to Leukaemia in 1976 and was cremated with full military honours. Again, the legacy left behind is enormous due to his importance to French cinema. For example, Gabin was appointed Officier de la neur in 1981 and even had a Grand Prix course named in his honour. On top of that, the Cinema Jean Gabin in Montgenèvre is named in his honour.
7. Pierre Richard - The Legendary Comedy Actor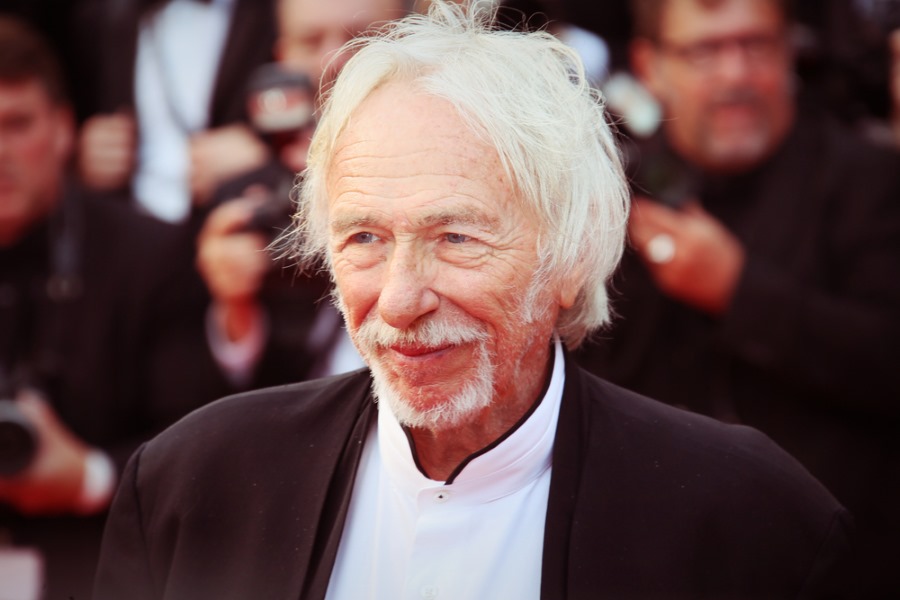 Much like Fuenes, Richard's is seen as a comedy legend in France. Their names are often paired together. When Richard first started his career, he worked with Antoine Bourseiller and would often duet in sketches with Victor Lanoux (1968). His first acting credit was with Alexandre le Bienheureux (1968).
Two years later, he would continue directing his own movies, such as 'Le Distrait' (1970) and 'Les Malheurs d'Alfred' (1972).
Throughout the 80s, Richard would direct and act in many popular comedies such as 'Les Compères' (1983) and 'Les Fugitifs' (1986). He is often seen as a clumsy daydreamer regarding his roles. His most recent role was in 'Jeanne du Barry' (2023).
8. Michel Piccoli - A French Film Legend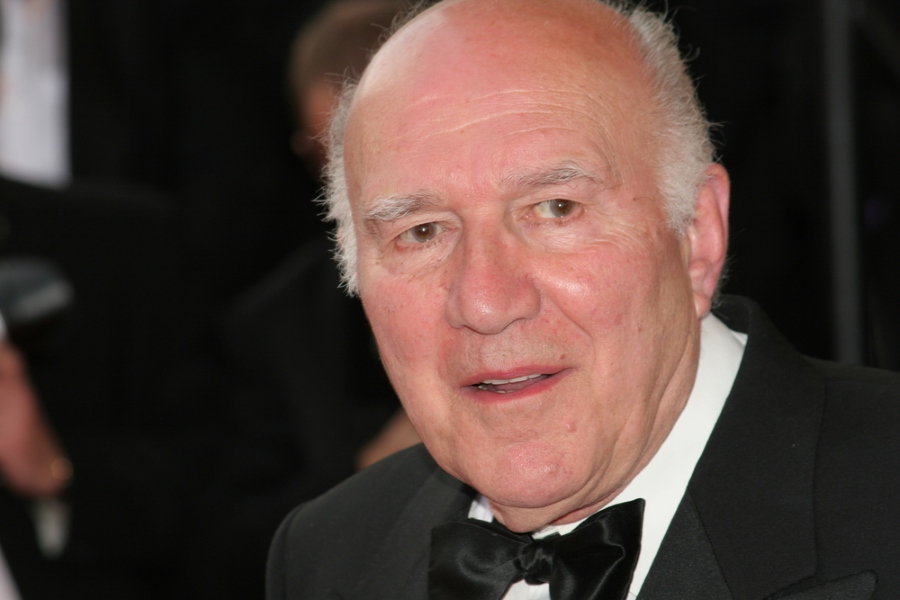 Legend has been used to describe many cinema icons, but if any French actor truly earned that label, it would be Michel Piccoli! His career is the longest on this list, with over 200 projects in his name and a 7-decade long career. No other actor is as accomplished as Piccoli.
Before he was a legend on the screen, he was a legend in theatre, so much so that his version of Don Juan remains one of the most highly regarded performances. Some of his cinema credits include: 'The Bellman' (1945), 'Topaz' (1962), 'Libero Burro' (1999) and his final credit 'Le goût des myrtilles' (2014). In terms of awards, he won 17, including an Excellence Award at Locarno Festival in 2007 and was nominated for ten awards; Surprisingly, he never won a Cesar award for Best Actor.
Sadly Piccoli passed away in 2020.
9. Jean-Pierre Marielle - The King of French Comedy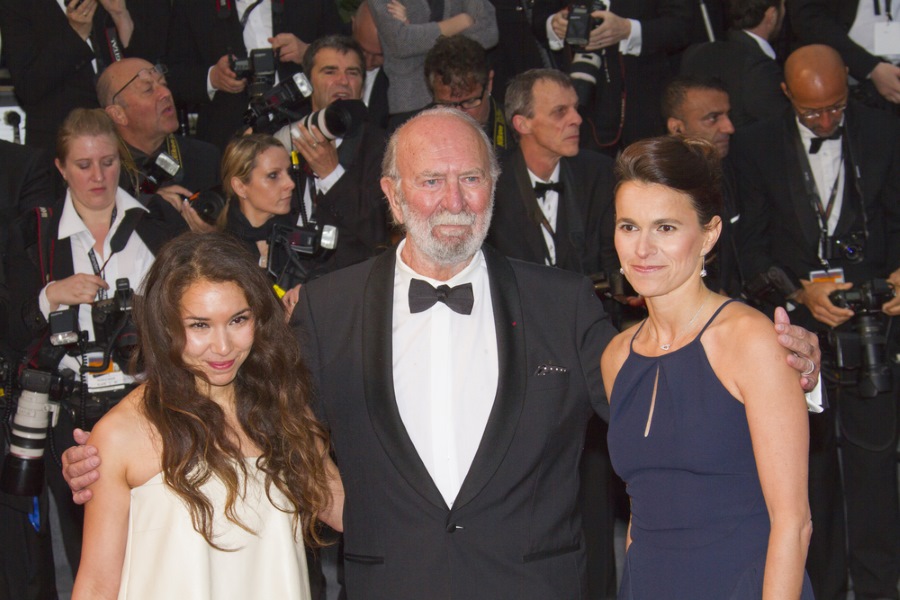 Jean-Pierre Marielle began his career in the theatre, mainly working on Harold Pinter plays. Success in other areas of acting was not as stable in the '60s with films like 'Weekend at Dunkirk' (1964) and 'Un monsieur de Compagnie' (1965).
It was in the 70s that Marielle reached true popularity! Particularly with his comedy work such as 'Les Galettes de Pont-Aven' (1975), 'Que la fête commence' (1974).
If you were to ask the French public what his greatest role was, it would be found in 'Les mois d'avril sont meurtriers' (1987), in which he plays a disillusioned police officer, with many praising the many shades Marielle brought to the role.
His final credits are in 2016 with 'Phantom Boy', and he passed away and 'Capitaine Marleau' (2017). He passed away in 2019 at 87 with an impressive 139 acting credits.
10. Louis Jourdan - The Most Talented Actor
Louis Jourdan's career started in World War Two, starring in many films like 'La Comédie du bonheur' (1940) and 'La Vie de Bohème' (1945) before joining the French resistance. Once the Second World War ended, he went to Hollywood, where he worked with David O. Selznick and although they argued a lot, they were a great team. Legend Alfred Hitchcock directed his first American Film, 'The Paradine Case' (1947).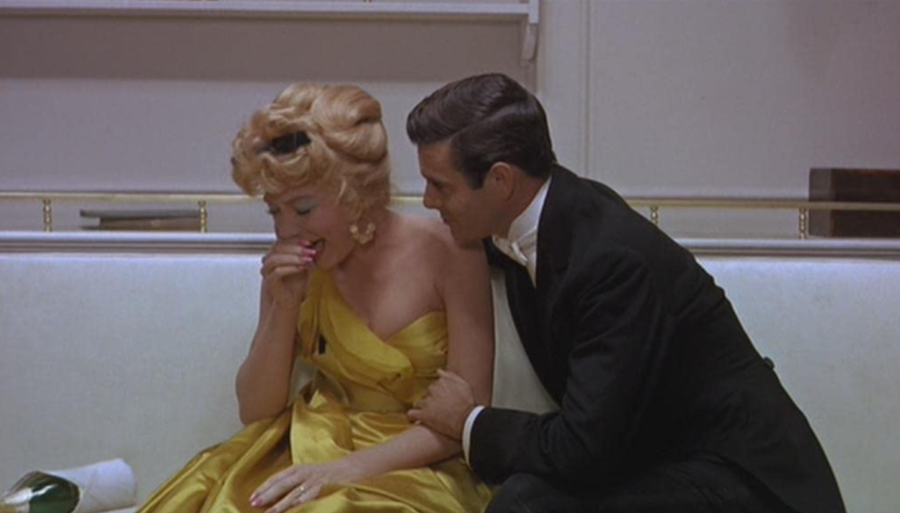 Louis Jourdan in Can-Can (1960)
Jourdan would continue working in film, TV and stage until 1992, with very diverse credits ranging from 'Can-Can' (1960), 'The Great American Beauty Contest' (1973), 'Swamp Thing' (1982) and 'Year of the Comet' (1992).
In 2010, Jourdan received a Chevalier de la Légion d'honneur and later passed away in 2015, he was 93 at the time.
Choosing 10 of the greatest French actors is a challenging task. Still, the ten actors on this list have helped shape cinema worldwide and are some of the most recognisable faces from both old Hollywood and current cinema. Each actor has rightfully earned their place on this list and more importantly, in our hearts making them the most famous french actors in the world.
If you're curious to discover more famous French actors and their contributions to cinema, then you might want to read The highest-grossing films of all time.
Photo Credits: © Shutterstock, IMDb
Inspire our community
A global community of enthusiastic and curious ones. Diverse voices. Subscribe for free to share your vision and enhance our art-filled world.


To leave a comment you must
sign in