Events
Urban Art Fair 2022 In Paris: Artists to buy for your collection
After having been cancelled in both 2020 and 2021, the Urban Art Fair (UAF) is back with a selection of excellent art galleries and a fascinating new programme. This year, from May 12 to May 15, UAF welcomes urban art collectors to the hall of Le Carreau du Temple, located in the historic district of Marais, Paris. Discover a selection of top street artists who will be presented at UAF 2022 and perfect works to hang up in your home or office.
Founded in 2016 by Yannick Boesso, a passionate urban art collector who began his career in the music industry, Urban Art Fair was conceived as the very first international urban art fair. Each year, UAF welcomes around 15,000 visitors, bringing together the best galleries specialising in urban art based in France, particularly in Paris, as well as abroad. In 2022, the list of exhibitors includes 38 galleries, 25% of which come from international contemporary art capitals: New York, Brussels, London, Berlin, and around 150 urban artists, including emerging and already known names.
Hom Nguyen
(represented by Galerie Perahia, Paris)
Born in Paris in 1972, this artist of Vietnamese origin is best known for his dynamic, expressionist, and energetic portraits, in which he seeks to show the complexity of human emotions and feelings. His works echo paintings of such great artists as Jackson Pollock, Lucian Freud, and Cy Twombly.
At UAF 2022, look out for Nguyen's work 'Skate Tradition', which differs from his classic paintings. An extremely fine, delicate, and detailed drawing on a wooden board in the form of a skateboard, this work is undoubtedly inspired by classical Asian painting and, in particular, by tattoo arts — Nguyen's great source of inspiration.
Hom Nguyen "Skate Tradition", 2020. Drawing with pencil on wood, American black wooden case.
104 x 43 x 8 cm. 6900 € © Artsper
Bordalo II
(represented by Galerie Mathgoth, Paris)
A true "green artist" Arthur Bordalo, known under the pseudonym Bordalo II, was born in 1987 in Lisbon - a city particularly affected by pollution. Bordalo II's murals, installations, and assemblages depict animals and are created from materials the artist finds in local dumps around the world and then repaints. Bordalo II denounces the overproduction of plastic materials which ends up poisoning animals, and at the same time, seeks to raise global awareness of the importance of eco-responsibility.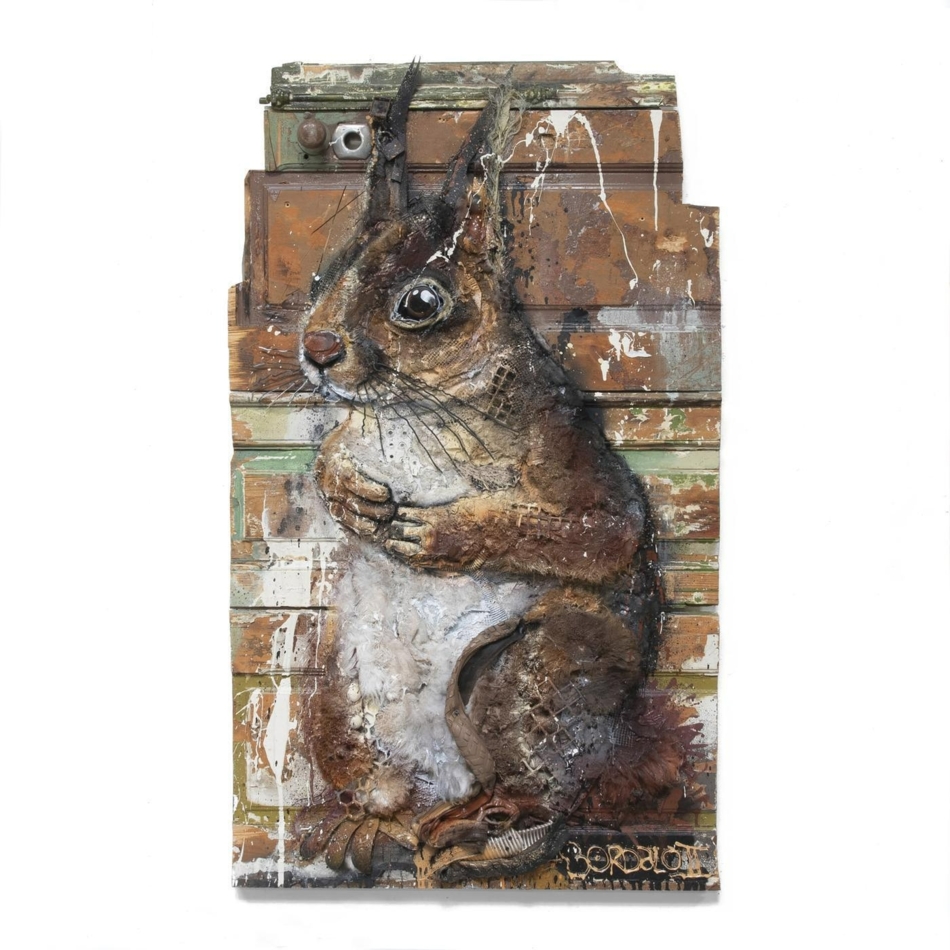 Bordalo II, "Squirel Neutral", 2022. Painting on assemblage of plastic waste, wood. 165 x 99 x 15 cm.
© Courtesy of the artist and gallery Mathgoth
EGS
(represented by Urban Spree Galerie, Berlin)
Born in 1974 in Helsinki, EGS is an anonymous artist who belongs to Finland's first wave of graffiti . Today, he is one of the most internationally recognized Finnish artists. EGS is mainly known for his stylised world maps, but several years ago, he started to explore the craft of glassblowing. If you are looking for a three-dimensional work of art, we encourage you to take a look at EGS's beautiful hand-blown glass sculptures in which graffiti and abstract painting become tangible objects, and movement is fixed in space.
EGS "Vintage Vandalism I", 2022. Hand blown glass
Guillaume Grando, aka 'SupaKitch'
(represented by ArtCan Gallery, Paris, Marseille)
Guillaume Grando, aka 'SupaKitch' is a French multidisciplinary artist. Born in 1978 in the Paris region and raised in Montpellier, in the south of the country, today he lives in Biarritz, and often works in collaboration with his wife Koralie, who is also an artist.
Seascapes, surfing, natural light, and movement are the subjects that inspire SupaKitch, and the essential materials of his elegant, fluid, and meditative work. During UAF 2022, ArtCan Gallery presents the exhibition 'Sic luceat lux', which explores "light as a creative catalyst."
Guillaume Grando SupaKitch "Surface & Depth #95", 2022. Resin and spray painting on wood, 120 x 80 cm.
Courtesy ArtCan Gallery
Guillaume Grando's work in interior
Open hours: May 12 from 6 p.m. to 10 p.m.,
May 13 and 14 from 11 a.m. to 9 p.m., May 15 from 11 a.m. to 7 p.m.
Credits for the Main photo: Urban Art Fair - Street Art Tour
Inspire our community
A global community of enthusiastic and curious ones. Diverse voices. Subscribe for free to share your vision and enhance our art-filled world.


To leave a comment you must
sign in