Melodies abound every corner. Merry people dancing their hearts out everywhere. Excitement and merriment in the air. This is exactly what WE LOVE GREEN is all about.
Every year, the festival hosts a multitude of different bands to set the stage on fire and provide a reprieve from the hustle-bustle of our daily lives. The festival also serves as an experimental laboratory for sustainable solutions in the entertainment industry. It is solid proof of how we can adapt sustainability in our hectic lives.
WE LOVE GREEN is an annual European festival that is held in Paris. This year it will host renowned names like Massive Attack, Gorillaz, Moderat, Phoenix, Disclosure, and Greentea Peng. The event venue is a pioneer in eco-friendly production techniques. They are committed to delivering a quality experience to the visitors.
This year, the festival is taking place on the 2nd, 4th and 5th of June. If you haven't booked your tickets already, this is your sign to go get 'em now! They are in very high demand so we'd strongly suggest getting a move on now!
For those of you who have already purchased the passes, rest assured. The event will be one to remember, with amazing programs and a variety of fun activities. With scrumptious food, breath-taking art projects, a think tank and a revolutionary innovations village, you are in for a treat of a lifetime.
Art Installations
WE LOVE GREEN's Residence Workshops invites design students and designers to apply and take part in the workshop. Successful applicants receive funds from the festival organisers. The young artists also receive valuable guidance and recycled material for their pieces. Most importantly, artists retain ownership of all the work they create. The installations are then appraised by a jury consisting of industry leaders from the design, art, and scenography worlds.
Think Tank
Located at the heart of the festival, the think tank promotes environmental innovation and raises awareness about the ecological issues surrounding us. The think tank witnesses highly reputed visitors from across different spheres who encourage a healthy exchange of ideas. These change-makers include scientists, activists, sociologists, and artists who also lead conference talks, screenings, and discussions. A variety of projections for the festival are screened in the Think Tank space, allowing the viewers to explore the directors' perspectives on the issue.
Innovations Village
The innovation village created by WE LOVE GREEN is aimed at bringing together NGOs and start-ups from different fields to create a positive impact on society. ChangeNOW, an ecosystem federating solutions for the planet, a partner at the Innovation Village will be bringing in demos and creating a meeting space between the candidates and the recruiting structures.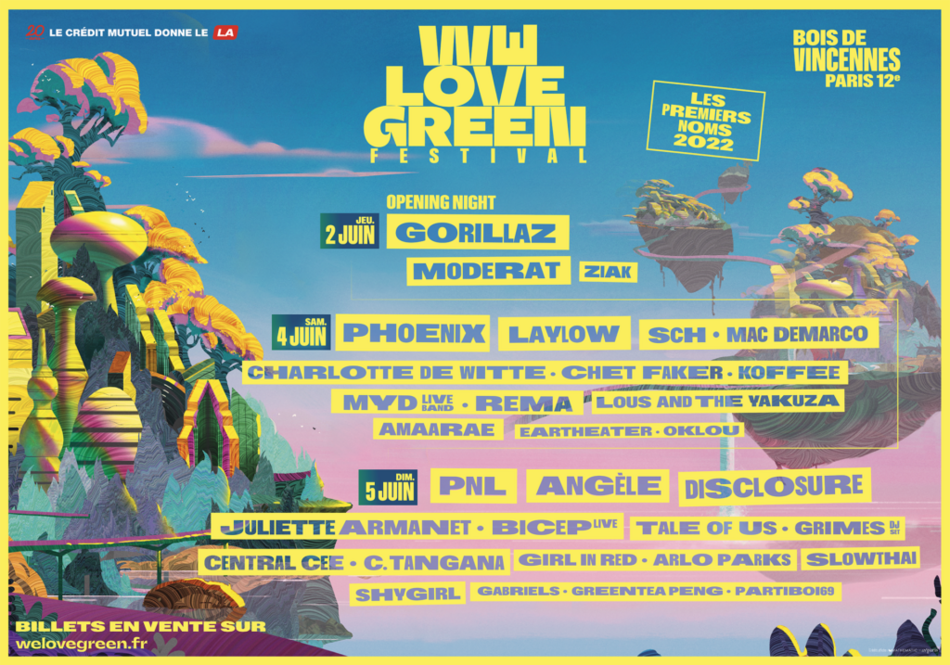 We love green festival
GREEN
Ultimately, WE LOVE GREEN aims to become a 100% circular festival by 2025 and develop solutions that can be easily implemented by other festivals across the globe. WE LOVE GREEN is part of the Green Deal Circular Festivals (GDCF) which supports 'green growth' by stimulating sustainable innovation. The participating Dutch and other international organisations have agreed to reduce the environmental impact of European festivals as much as they possibly can by 2025. Other festivals like Mañana Mañana, Best Kept Secret and Shambala are also a part of this initiative.
The festival is comprehensively powered by sources of renewable energy such as solar panels and French biofuel. In addition to this, 95% of the WE LOVE GREEN premises are fitted with energy-saving light bulbs, including the design features and the stages.
There is a lot you can learn from the festival and the various initiatives undertaken in order to create this wonderful, green experience for everyone. Take into consideration the fact that all restaurants at the festival serve meals in compostable plates, bowls and cutlery made from 100% recycled materials. In 2019, WE LOVE GREEN saved 2.1 million litres of water by fitting composting toilets across the festival venue.
A festival for everyone
WE LOVE GREEN is organised in a manner that is accommodative for people with reduced mobility (PRM). Easy access to the main stages and the main points of the festival is ensured. Moreover, several sanitary blocks and bars have been made accessible for PRMs. The festival welcomes guide dogs with patrons who need them.
If you're ready to experience Gorillaz, the legendary band, then WE LOVE GREEN is where you should be! You can now get front-row tickets and watch them play unforgettable classics, new collaborations and a new technological show that promises a myriad of sounds, genres, styles, and attitudes. Gorillaz at WE LOVE GREEN means avant-garde sounds and great ideas for everyone.
WE LOVE GREEN is just around the corner and the ticket sales are off the charts. Book your passes now and gear up for an eco-friendly adventure!
Inspire our community
A global community of enthusiastic and curious ones. Diverse voices. Subscribe for free to share your vision and enhance our art-filled world.


To leave a comment you must
sign in