Art
Frida Kahlo's legacy: How she became a celebrated artist
Depictions of Frida Kahlo continue to appear everywhere. Recently, Puma launched its Puma x Frida Kahlo collection — which her family asked to remove from the market. A new opera, 'El Último Sueño de Frida y Diego' ('The Last Dream of Frida and Diego') at San Diego Opera, composed by Grammy-winning Gabriela Lena Frank, tells the story of Frida and Diego while he is on his deathbed on Dia de los Muertos ('Day of the Dead'), and the Paris Galliera in Paris is celebrating her this Autumn with an exhibition that provides visitors with a more intimate glimpse of the artist's life.
Reaching such a vast audience would probably have been unimaginable to Kahlo, who only had one solo show in New York City during her lifetime and died in 195, when she was only 47. She reportedly died of a pulmonary embolism, but many people think she might have overdosed. She lived a short but extraordinary life, beginning to paint only after a bus accident confined her to a bed for a month and she started making self-portraits of herself. "I paint self-portraits because I am so often alone, because I am the person I know best," she once said.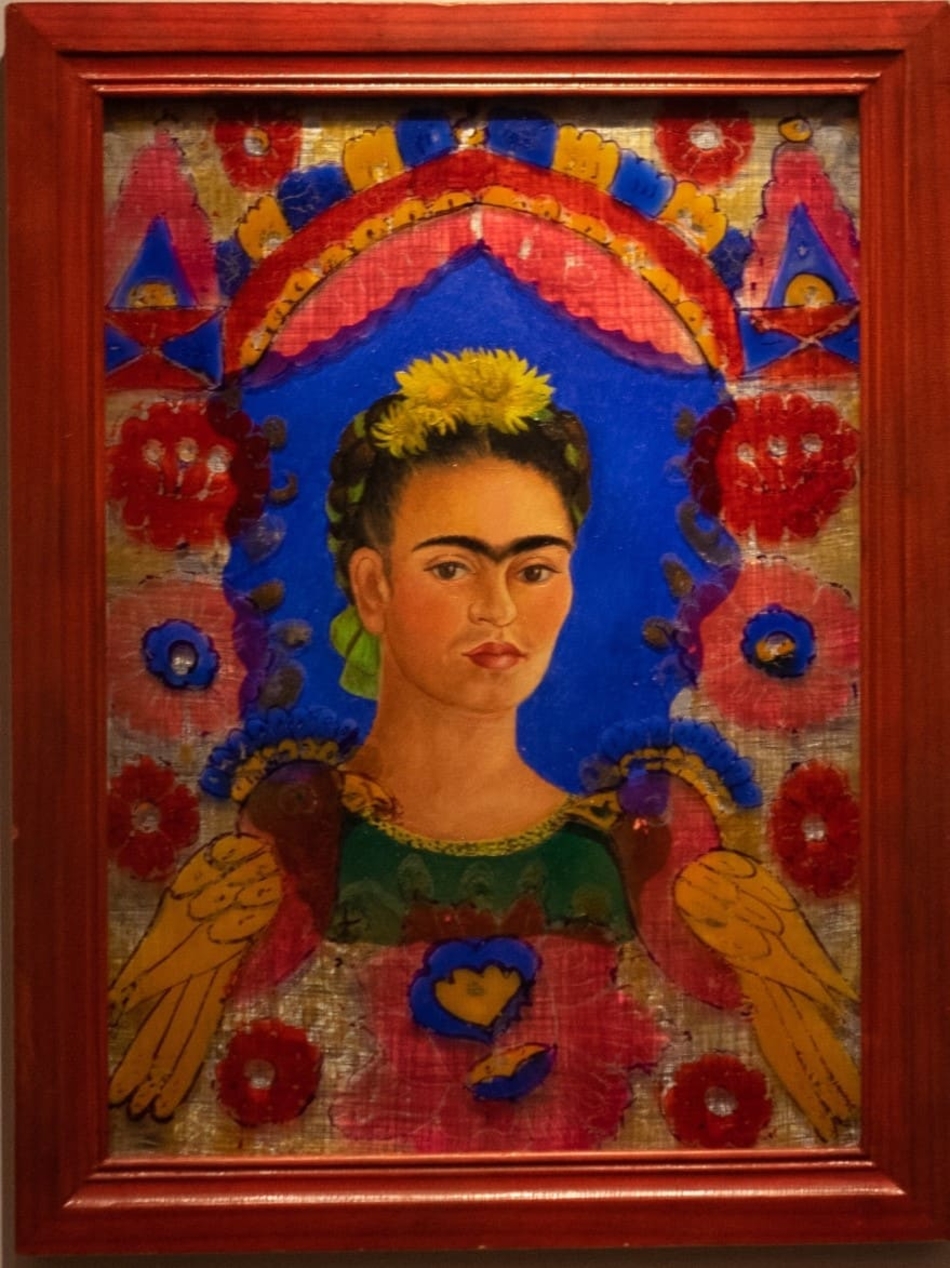 Later, she joined the Communist party and started spending time with photographer Tina Modotti and the renowned artist Diego Rivera, who she ended up marrying — twice. They lived in her childhood home, the Blue House, which can still be visited today. He admired her creative talent and it was from him that she learnt much about her trade, often asking for his opinion.
In the 2002 biopic, 'Frida', there is a scene in which she approaches him while he is working on a mural atop a ladder, and tells him to come down and look at her work. Their relationship was tumultuous and both had affairs. They married in 1929, divorced in 1939, and got married again in 1940. One of her most famous works is "The Two Fridas" which was created after divorcing him in 1939.
Frida's style
Full of symbolism, Frida's work was vibrant, full of colours and emotion, reflecting often on painful experiences and her turbulent relationship. 'The Broken Column' (1944), one of her most well-known works, was created shortly after she underwent spinal surgery, and depicts the artist nude, her torso split in half wearing a surgical brace.
Another of her paintings, Self-Portrait With Cropped Hair (1940), depicts her wearing a masculine suit seated on a chair, surrounded by chopped hair and holding a pair of scissors. This also reflected events from her life, as she would cut her hair every time he had an affair.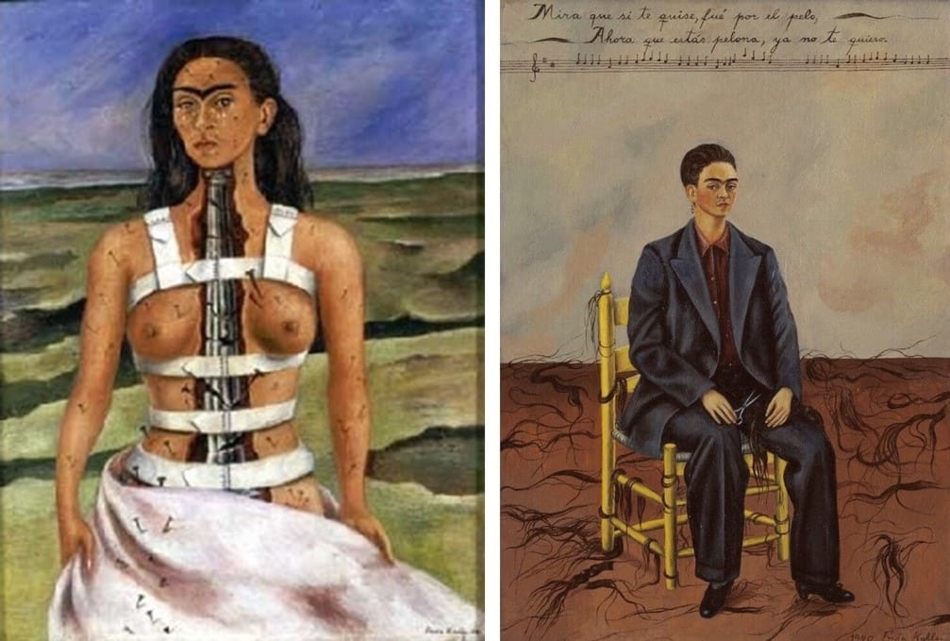 A unique fashion style
The Mexican artist is not just remembered for her paintings, sketches and drawings but also for her unique fashion style, which in a way she used to conceal her disabilities but also to reflect how proud she was of her cross-cultural identity.
You can see her traditional Tehuana dresses, which covered imperfections in her lower body, and rebozos (woven shawls) at the Palais Galliera, as well as the perfume she wore, Chanel No. 5, and her prosthetic leg which she decorated with a leather boot with embroidered silk appliqué.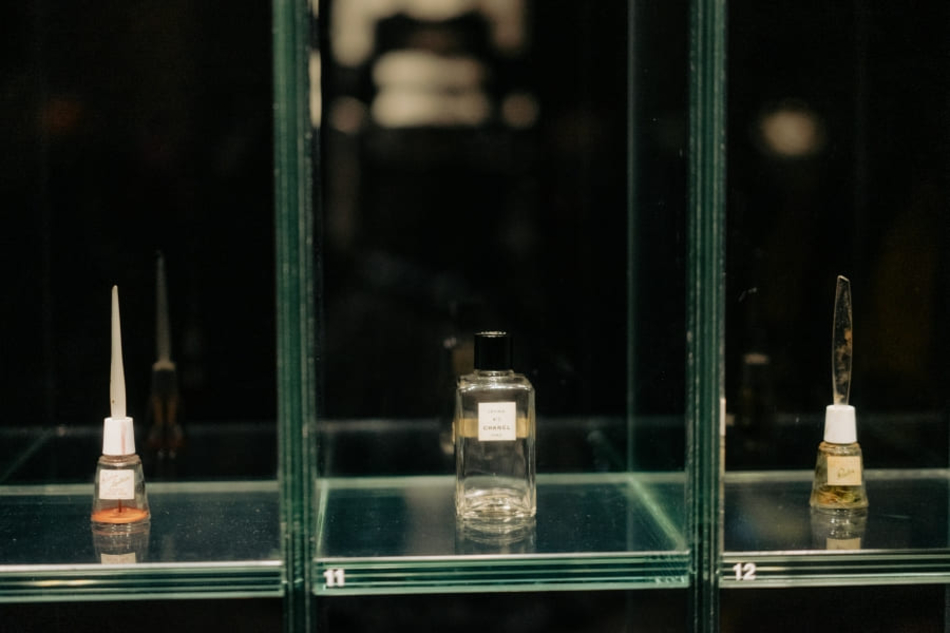 Rebozos were introduced by Spanish colonizers and were reworked by Aztec villages, who used traditional embroidery and dyes. It became a symbol for Mexico's fight for freedom. It reached the American masses when she was featured in an article in Vogue in 1937.
Because she had a damaged spine, she had to wear plaster corsets, which she painted on and covered with scraps of fabric. Corsets looked stunning on her but were also reminiscent of the plaster body casts she had to wear. She wore bold makeup, center-parted hair and had an untamed monobrow and mustache.
Her impact on the fashion industry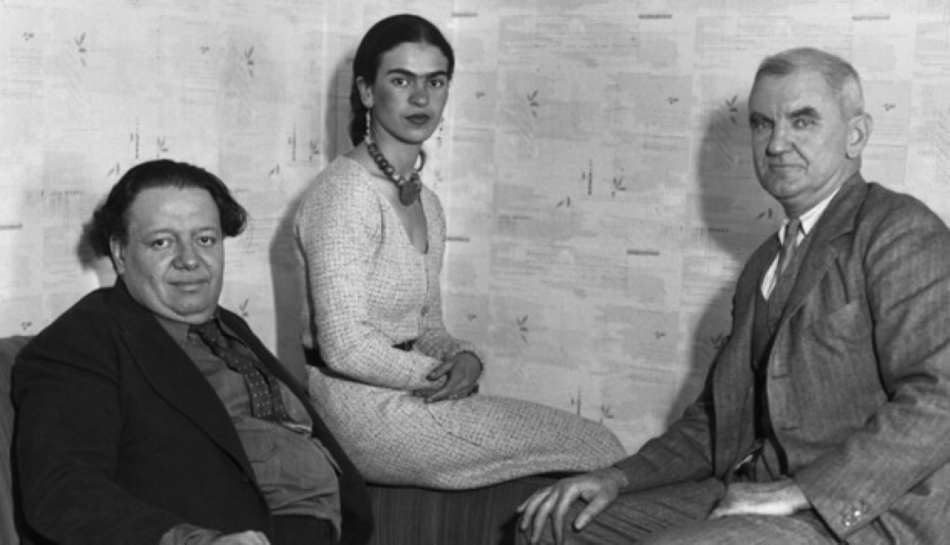 Frida's love for clothes was not purely an aesthetic pleasure, it was also a way for her to try to draw attention to Mexican identity politics.
When Frida died, Rivera stored all her clothes and items in a room and they were only revealed to the public about 50 years later, giving us vital cues to understand how she used fashion to project her feminist values and celebrate her Mexican heritage.
Article slider: "29: Frida Kahlo's legacy"
Olia Kolendo © Art de Vivre
Frida has had a huge impact on the fashion industry, influencing dozens of designers such as Dolce & Gabbana, Carolina Herrera, and Maya Hansen's spring 2013 collection, "Skully Tulum". Madonna's "cone" bustier, designed by Jean Paul Gaultier for her 1990 Blond Ambition tour, were inspired by Frida's corsets.
Her style has also informed countless magazine fashion shoots, such as one with model Laura Ponte, photographed by Iris Brosch for L'Officiel February 1998 issue.
Frida: A legendary icon
Today, Frida's self-portrait is still seen everywhere, immortalized on t-shirts, cards, keyrings and on many everyday items. So much so that there is almost a "cult of Frida", an obsession and cultural phenomenon that is often referred to as "Fridomania." She was declared a national treasure by the Mexican government in 1984 and prices for her work have been on the rise. Her painting "Diego y yo", for example, was sold last year at Sotheby's auction house for $34.9 million (€30.9 million).
Frida's last painting was the vibrant 'Viva la Vida, Watermelons', depicting still life watermelons, with the central one inscribed with the words 'Viva La Vida', ("Long live life"). She created this work despite her ill health, completing it just eight days before her final departure, and it poignantly reflects how much she persevered throughout her life despite chronic physical pain. She also chose to depict watermelons because they are used as a symbol on Mexican Day of the Dead, when Mexicans celebrate rather than morning.
"I hope the exit is joyful — and I hope never to return." Frida Kahlo wrote in her diary in 1954, several days before her death.
Since her death, her popularity continues to soar. But Frida's popularity is controversial as her image has been reproduced so much that critics say her legacy as a powerful feminist icon is at risk, and that it overshadows her meaningful and intelligent work.
Discover other artists shaping the art world today, like Shirin Neshat, who is known for examining the Iranian female experience and supporting Iran's women-led movement.
Learn how other artists changed the art world, including Andy Warhol — who blurred the boundaries between mass consumption and "high art." As well as delving into the life of famous artists, why not also discover emerging artists from around the globe, and discover life as an artist in Berlin.
Credits for the Main photo: Olia Kolendo © Art de Vivre
Inspire our community
A global community of enthusiastic and curious ones. Diverse voices. Subscribe for free to share your vision and enhance our art-filled world.


To leave a comment you must
sign in