Events
Highlights of the first edition of Paris+ par Art Basel Fair
When in January 2022 cultural body Réunion des Musées Nationaux-Grand Palais (RMN-GP) awarded Art Basel the Paris+ par Art Basel event and ousted France's leading contemporary art fair FIAC, the Parisian art world was overcome with shock, but also with anticipation.
Art experts have all been asking themselves the same questions: How will the world's leading revamped contemporary Swiss art fair impact Paris? How will Art Basel integrate into the Parisian landscape after its shows in Basel, Miami, and Hong Kong?
Article slider: "19: Art Basel in Paris"
Photo 1 - Ugo Schiavi "Soulèvement-Effondrement" (2022), Jardin des Tuileries, Paris; Photo 2 - Stijn Ank "The Pheonix" (2022), Jardin des Tuileries, Paris; Photo 3 - Niki de Saint Phalle "Blue obelisk with flowers" (1992), Jardin des Tuileries, Paris
The first day of the long-awaited Paris+par Art Basel was a success, with kamel mennour gallery reporting having sold two Alberto Giacometti sculptures ('Composition' (1927–28) for €2.75 million and 'Figurine' for €1.45 million). The event was also marked by a wide range of events offered by Art Basel across Paris, and by the visit of First Lady of France Brigitte Macron and the President Emmanuel Macron.
Article slider: "20: Brigitte Macron"
"Paris+ relies on the expertise of Art Basel's renowned fairs, the excellence of its services to exhibitors and collectors, and the strength of its international network", Clément Delépine, Director of Paris+ by Art Basel.
An extremely selective art fair, Art Basel brought together over 150 galleries exhibiting at the Grand Palais Éphémère from all over the world, including New York, Torino, Seoul, Zurich, Tbilisi, São Paulo, Berlin, and Beirut. Its programme also featured excellent monumental installations across Paris and a dense Conversations programme, which took place near the Eiffel Tower on the beautiful boat Bal de la Marine, and which saw Artistic Director of the Serpentine Galleries Hans Ulrich Obrist take part on October 21.
Between October 19 and October 23, we attended the inaugural edition of Paris+ par Art Basel, and here are some of the favourite works we discovered.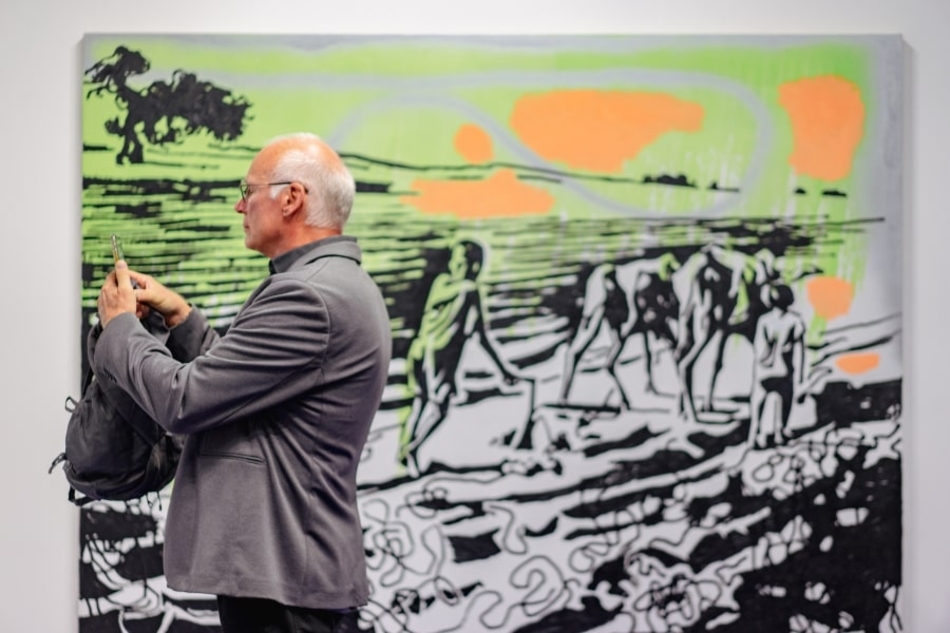 Alicja Kwade 'Au cours des Mondes'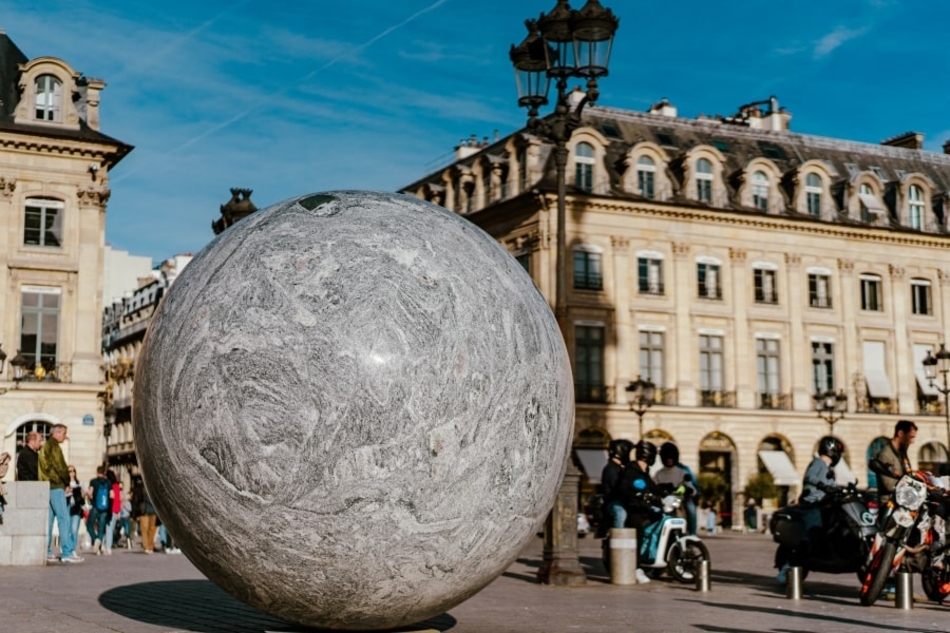 At the Sites sector, Polish-born and Berlin-based artist Alicja Kwade presented her new site-specific work 'Au cours des Mondes', her largest work to date, across the emblematic Place Vendôme. This was the most spectacular project within the Sites sector of Paris+. Presented by kamel mennour gallery and curated by Jérôme Sans, this stunning work consists of about twenty globes of various sizes made of millions of years old natural stone. Some of the globes were placed on the ground, and some seemed to float in the air, surrounded by infinite concrete stairs facing different directions. The installation is harmoniously integrated into Jules Hardouin-Mansart's 17th-century architecture, so there is a beautiful dialogue between earthy and cosmic, eternal and finite, ancient and modern.
In 'Au cours des Mondes', as in her stunning project 'ParaPivot' which was placed on the roof of the MET in 2019, Kwade invites passers-by to interact with her public art installation: to touch the globes each of which has a particular natural drawing, to walk on or under the stairs, and to sit on them.
Alicja Kwade is an artist fascinated by science, especially quantum physics, technology, and philosophy. As she stated during her talk at Conversations on October 20, 'Au cours des Mondes' is a work that deals with existential issues: the infinite stairs that lead to nowhere evoke questions such as "who are we?" and "where are we going?". A sphere, a recurrent motif in Kwade's work, also has an important meaning: it is about a circulation which is presented everywhere, beginning with an atom. "We are all on the sphere that turns into the void", the artist explains.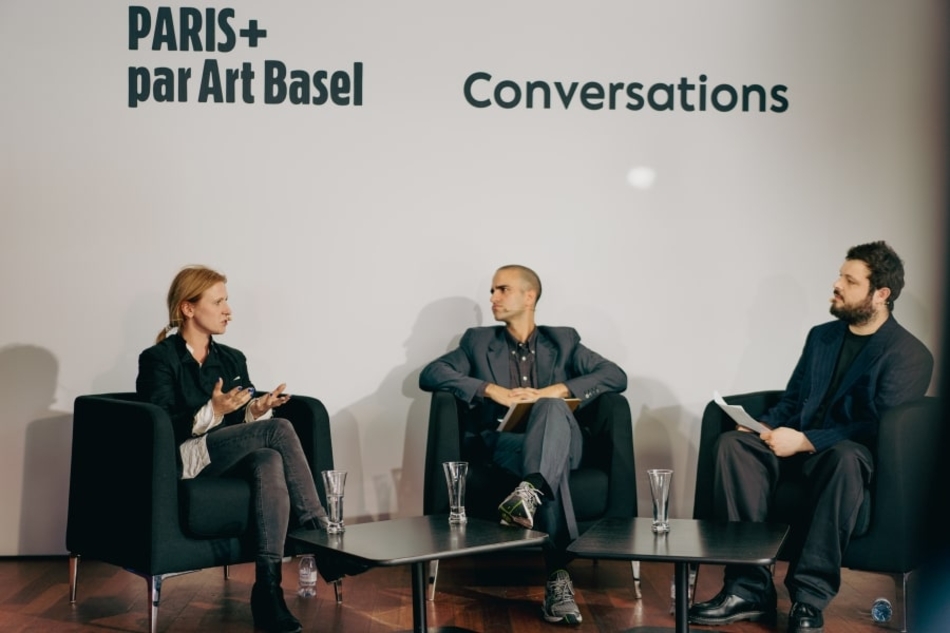 Emma Webster presented by Perrotin
Alongside its historical and emerging artists, Perrotin Gallery presented Emma Webster (b.1989) at Paris+. Having recently joined the internationally renowned gallery, Webster is an emerging British-American artist based in Los Angeles, and she has already had a successful exhibition titled "Illuminarium" at Perrotin Dosan Park, in Seoul (August 27 – October 20, 2022). On Paris+ VIP day, her stunning large-scale piece 'Echo of an Act: Left' (2022) was sold for around $100,000 to $150,000, according to The Baer Faxt.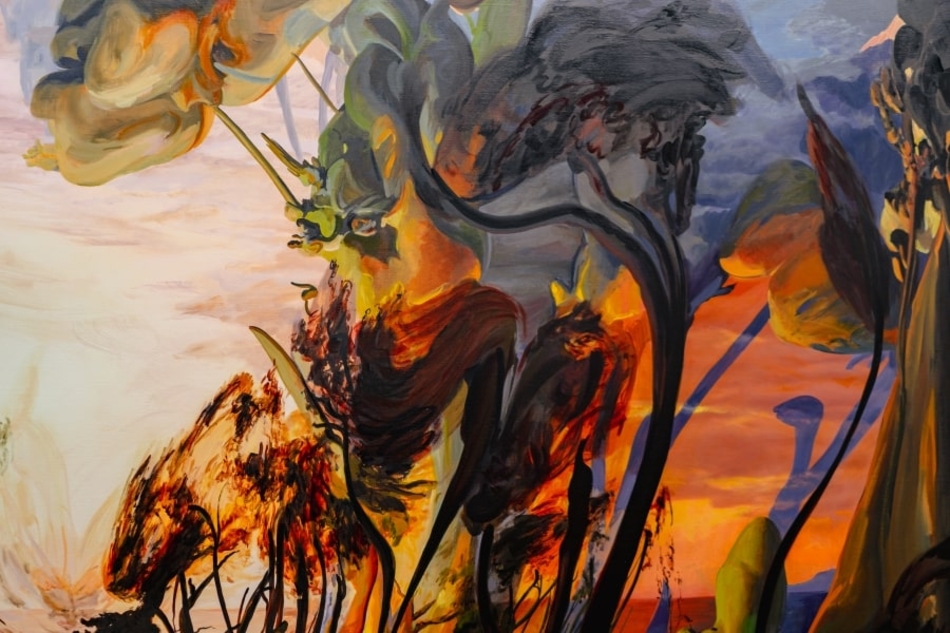 Webster develops an innovative approach to landscape painting by using virtual reality technology. She begins each piece with sketches, which are then scanned into a virtual reality program, where the artist transforms her images and renders them three-dimensional. Then, Webster prints the digital scenes and translates them onto large-scale canvases with oil paint.
Webster says: "I'm trying to create a world that doesn't exist. It is as if these are postcards for places that you can't visit. They have to exist as an expectation, instead of a tangible reality".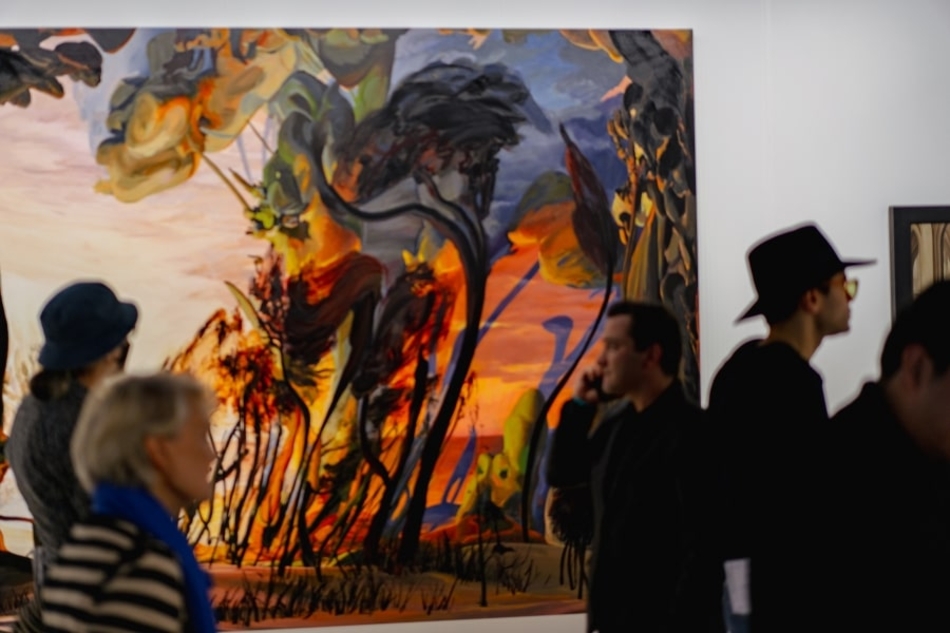 She creates enigmatic, fantastical scenes that take us to faraway, imaginary, mysterious worlds. These may be the worlds of fairy tales, or even of J.R.R. Tolkien. In these dark times, this is the kind of art we all need.
Thea Gvetadze and Emerging Galleries sector
Emerging Galleries was the most dynamic, vivid, and original sector at Paris+. Here, 16 galleries promoted "emerging art and innovative practices through solo presentations". While some galleries exhibit works with a particular focus on experimental video and moving image (Patrick Goddard by seventeen, Liv Schulman by Anne Barrault), Tbilisi-based gallery LC Queisser featured works by a mid-career Georgian artist Thea Gvetadze (b. 1971 Riga, Latvia) who works with traditional techniques and materials, inspired by her "direct experiences and rural travels inside Georgia."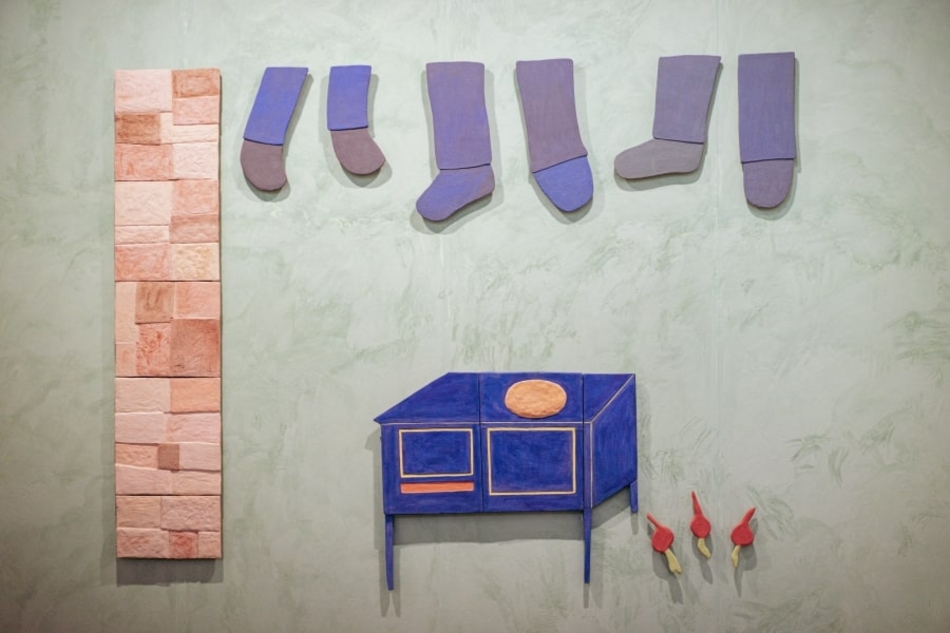 At Paris+, Gvetadze created an intimate room with a hand-painted wall, her recurrent technique, on which she places a poignant installation titled 'Guardians' (2022) made of glazed chamotte tile, clay, and mosaic. 'Guardians' is a portrait of a family and also an archetypal image of a daily routine in the Svaneti region in Georgia that salvages tomorrow:
A glimpse of chamotte (a material specific to a Svanetian tower-building tradition) wall, a couple of radishes, and a Svanetian oven with bread baking on top

.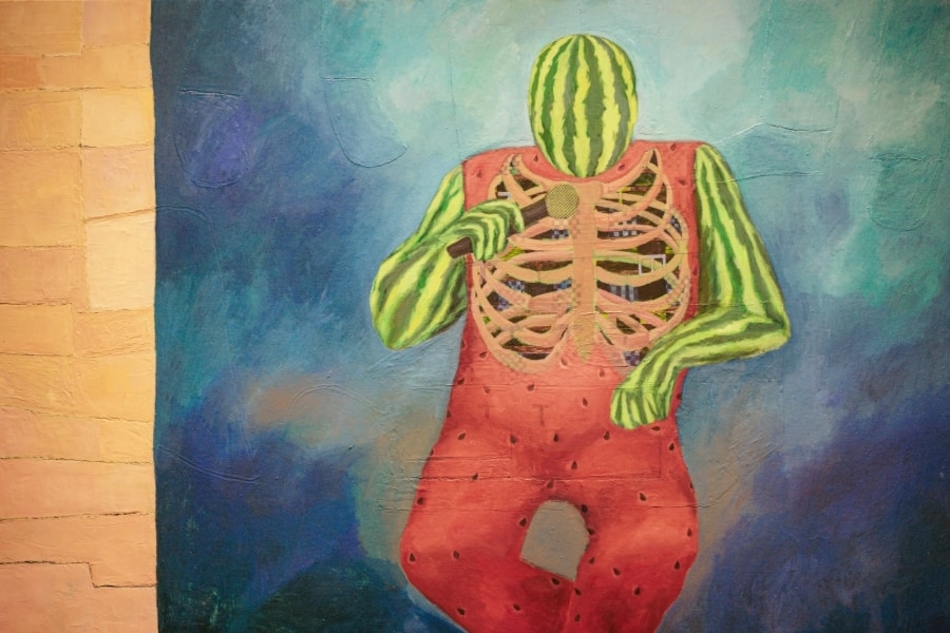 On the right wall, there was a large painting of a humanized watermelon which evoked a merchant of fruits and vegetables at a market. As Gvetadze points out, Georgians immediately understand what it's all about, as the cuisine is omnipresent in the country's culture. On the left wall, there are two artists' very personal pieces "Heart Pockets", which are a kind of surrealist assemblages. Here, organza blouses, which are tied with hand-sculpted cherries, shelter two drawings in their left pockets, and are enclosed in a copper frame. The pocket-sized images of a woman and a horse are study paintings from Gvetadze's early years and reflect on her personal and artistic journey. According to the Baer Fax, Gvetadze's 'Heart Pocket II' was sold for €8,000.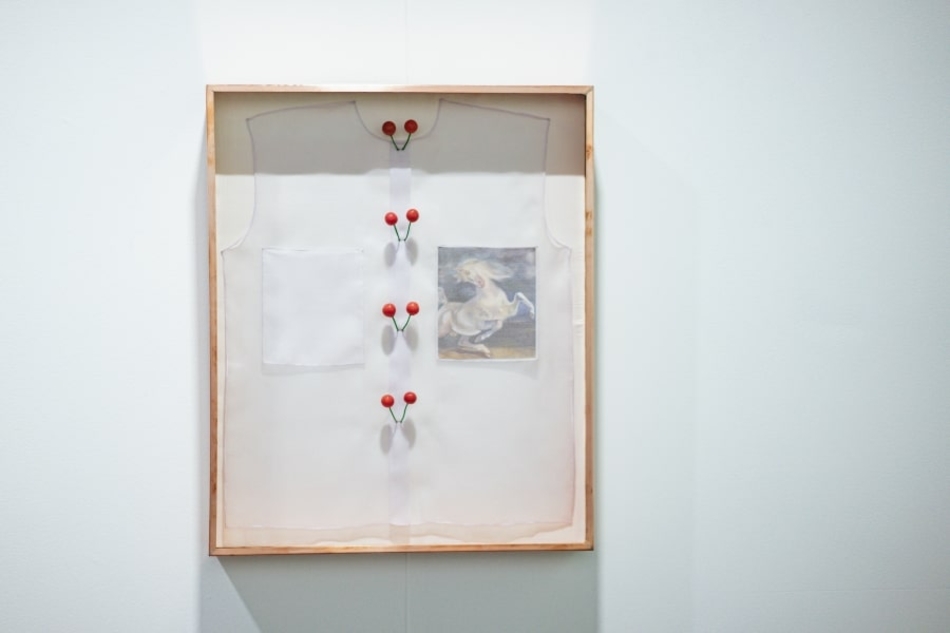 Now that you're up to date with all the highlights the first edition of Paris+ par Art Basel Fair, discover all the highlights of The Annual Taste of Paris festival.
Photo Credits: Olia Kolendo, © Art de Vivre
Inspire our community
A global community of enthusiastic and curious ones. Diverse voices. Subscribe for free to share your vision and enhance our art-filled world.


To leave a comment you must
sign in