Events
Metropolitan Opera Eric and Dominique Laffont Competition: Young blood and immense talent
This year's Metropolitan Opera annual vocal competition, sponsored by Eric and Dominique Laffont, was true to its reputation for hosting world class singers. In a jam-packed Opera House in New York's Lincoln Center, the 10 finalists put everything on the line to compete for $20,000 USD for the winners and $10,000 USD for each runner-up. Under the baton of Michele Gamba, the Metropolitan Opera Orchestra accompanied the young singers on a journey through various styles and eras of opera's greatest hits.
The six opera singers who clinched the top spots were tenor Anthony León, mezzo-soprano Natalie Lewis, soprano Teresa Perrotta, mezzo-soprano Sarah Saturnino, bass-baritone Christian Simmons, and soprano Meredith Wohlgemuth.
The Metropolitan Opera Laffont Competition is a highlight of the global operatic calendar. The competition has a record for spotting the greatest opera talents, with its past title holders including Jessye Norman, Frederica von Stade, Lawrence Brownlee, Nadine Sierra, Kathleen Battle, Michael Fabiano, Anthony Roth Costanzo, and Lisette Oropesa. The renowned documentary, 'The Audition' which lifted the curtain on the gruelling process for singers competing in the 2007 Metropolitan Competition final, elevated the reputation of the event to another level.
Here we look at all the exceptional competitors who made this an unforgettable event.
Blazing bold baritone: David Wolfe
The first competitor, 24-year-old Baritone David Wolfe, is still in his master's programme at Bienen School of Music at Northwestern University. This charismatic youngster opened the competition with "Hai già vinta la causa! … Vedrò mentr'io sospiro", Count Almaviva's staple aria for young baritones from Le Nozze di Figaro. A resounding instrument, and an earnest actor, Wolfe picked an aria that showed both his solid baritone sound and his wit.
For Wolfe's second piece, he selected an aria from Jake Heggie's Moby-Dick, 'Captain Ahab? I must speak with you. Sir?'. It is bold in any competition to programme a piece that is not stock-standard competition repertoire, but in this case it paid off. Coming across as mature beyond his years, Wolfe wore his heart on his sleeve, showing that he not only has a voice which will mature into the dramatic repertory, but also reinforcing how compelling his acting could be in a more serious piece. Having already premiered Heggie's 'If I Were You', it seems Wolfe is playing to his strengths and is already being aligned to work in an important area of contemporary opera that he has proven to be an exceptional interpreter of.
Meredith Wohlgemuth: A risk-taking light lyric soprano
Being a light lyric soprano is a difficult position to be in at the best of times. To make it any final is a statistical feat, being in the most competitive vocal category. For this voice type, programming the most popular light soprano repertoire is a gamble. Does one go off the beaten track to avoid being compared with decades of great voices, or do they put themselves under the microscope? Juilliard graduate, Meredith Wohlgemuth, bravely began her programme with an all too familiar phrase 'Eccomi in lieta vesta' ('Here I am in festive clothing'), from Bellini's version of Romeo and Juliet. An undeniably beautiful sound with evenness from top to bottom of the voice and no breaks in the register, Wohlgemuth proved why she took a roll of the dice with this aria. A timbre with an uncanny resemblance to Nadine Sierra, Wohlgemuth's 'Oh! Quante volte' had warmness in the lower range but also youthful spin all the way through. An elegant demeanour, this soprano can easily be cast in any of the light lyric roles, and fittingly, she is soon to debut Ilia in the Aspen Festival's upcoming 'Idomeneo'.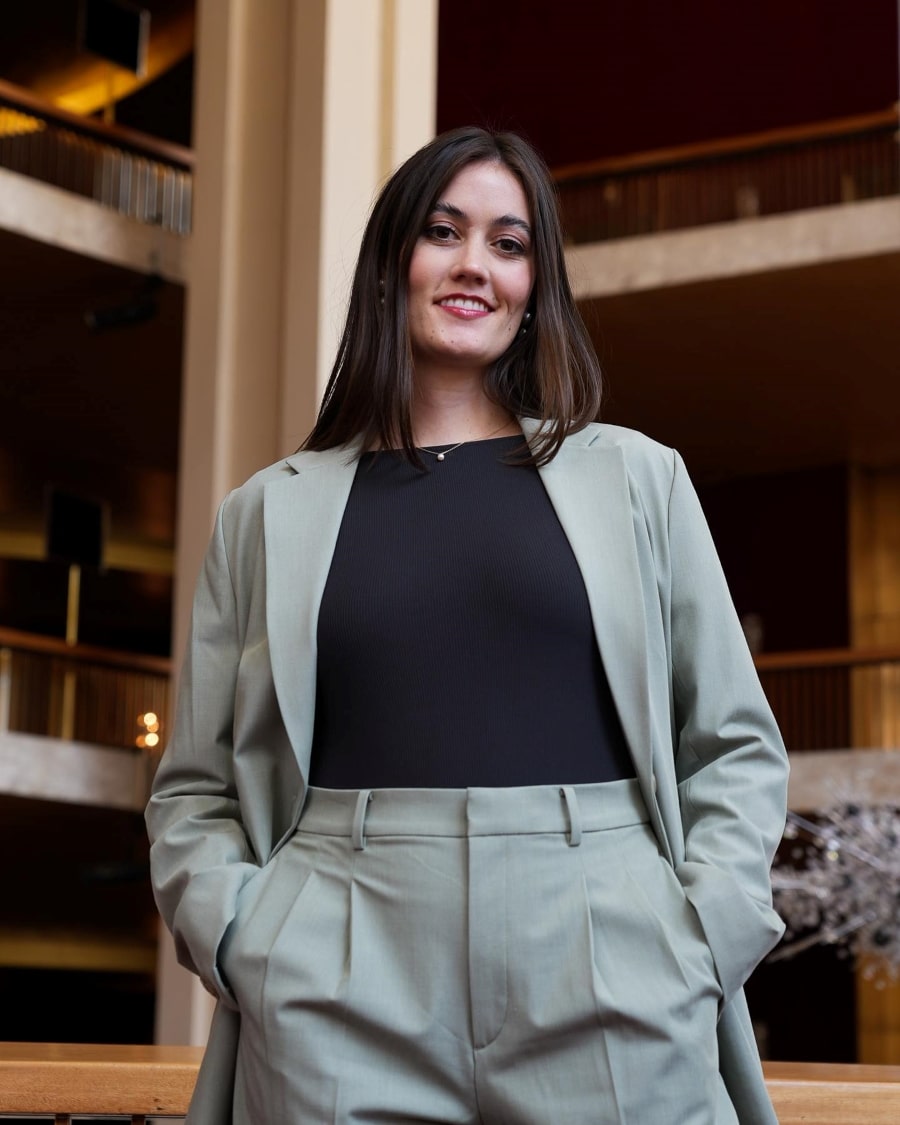 While Wohlgemuth sailed through all the 'tricky' corners of the Bellini, in the language, there were some unusual stresses and note lengths that confused the natural accents and meanings of the Italian. These linguistic issues did improve in Wohlgemuth's rendition of Cleopatra's aria, 'Non disperar, chi sà?' from Handel's Giulio Cesare (Julius Cesar). Lightening off the voice, and showing qualities mirroring Lisette Oropesa, Wohlgemuth highlighted her comedic side and command of the baroque repertory. This was another risky competition choice, being a safer range from the Cleopatra arias, but nevertheless a good contrast and turning out a first prize for Wohlgemuth.
Radiantly romantic: Yuntong Han performs L'amour! L'amour!
Following on from the Italian version of Romeo and Juliet, came the French, with tenor Yuntong Han taking the stage to perform 'L'amour! L'amour!... Ah! lève-toi, soleil! from Gounod's Roméo et Juliette. The 28-year-old, originally from Shenyang, China, is now completing his master's at Indiana University. An impressive voice, both in volume and romantic colouring, he programmed fitting repertoire for his fach. For Han's second aria, another classic lyrical tenor aria, "Lunge da lei … De' miei bollenti spiriti" from La Traviata. Yuntong nailed both pieces without technical error or struggle and still had plenty left in the tank to fill out the final notes with grand crescendi that seemed to outgrow the orchestra. This young tenor will certainly be in demand for the most performed operatic repertory which is always calling for reliable full lyric tenors.
Character, charm and charisma: Christian Simmons
From Washington's Cafritz Young Artist Programme, Christian Simmons made his first impression with a charming portrayal of Figaro in 'Non più andrai', another Figaro favourite. Simmons possesses a remarkably rich round sound, and a very active presence on stage, which the narrative of Figaro teasing Cherubino gave the young bass-baritone plenty of opportunity to show off. Rachmaninoff is not often offered in operatic competitions, but it made for an ideal contrast to the cheeky Mozart. Selecting pieces that give growing bass-baritone voices the ability to indicate where their voices are headed without going too big too soon is a real challenge. Aleko's aria 'Ves' tabor spit' is a gem of an aria for bass-baritones in this predicament, allowing them to show dramatic promise. Simmons' dark colouring suits the Russian repertoire very well and gave us a peak into his trajectory.
Anthony León's winning performance
When a singer commands the attention of a full opera house without needing to make a single gesture, there is a certain magic that shifts the atmosphere. No stranger to the competition circuit, Anthony León showed how to earn a first place. Some of the most challenging repertory belongs to the light lyric tenor. The pieces León selected are among the most challenging, as both tend to be sustained in the passaggio, the most tiresome bottle-neck zone of the vocal instrument. Often, the Don Ottavio in Don Giovanni is the wimpy guy that risks destroying the dramatic momentum of the opera, especially in his aria, "Il mio tesoro" - a technical battle which pays the least dividends from the audience.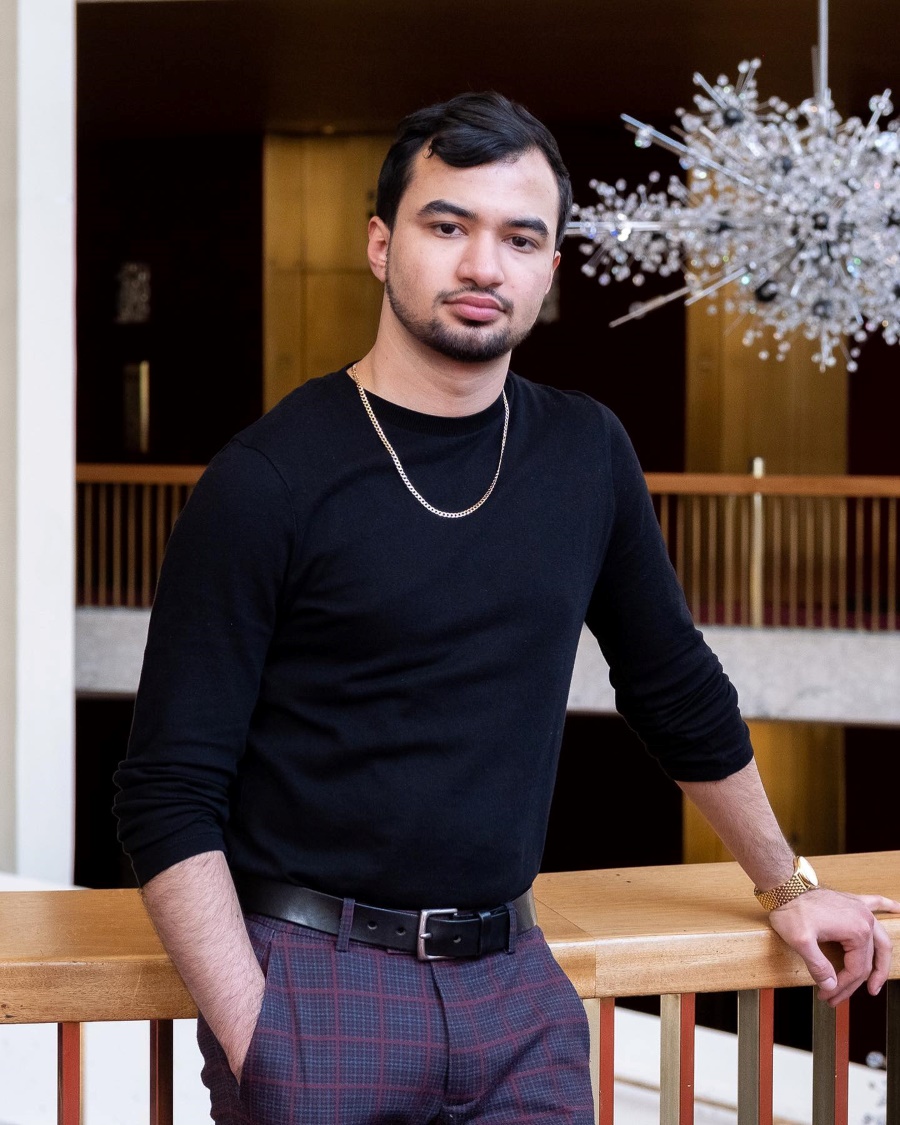 However, Anthony León gave a most exquisite rendition of this aria which reaped all rewards. León has a very special instrument and produces the most difficult repertoire with ease and freedom. Not to be confused with a 'park and bark' singer, León uses the voice to communicate, with such confidence that he needs no other crutch. In his second piece, 'Dal labbro il canto' from Verdi's Falstaff, León again captivated the Metropolitan Opera House with his beauty and freedom of tone, along with outstanding control, stretching crescendos for so long that he soared over the top of the orchestra even at the point where most would be cutting the note short. A stand out talent in this competition, León certainly deserved his winning prize.
Puccini all the way: Lyric tenor, Sahel Salam, makes bold choices
Having already performed the full role of Rodolfo in La Bohème, it was clear that Sahel Salam is a seasoned performer who is comfortable on the grandest of stages. An artist in the Merola Program's productions, a Jerwood Artist with the prestigious Glyndebourne Festival, and being in his fourth-year as a resident artist at the Philadelphia Academy of Vocal Arts, Salam's talent is gaining recognition. Salam is a true Puccini tenor, but instead of picking the Puccini favourites, he played a more strategic card, choosing to open with "Avete torto ... Firenze è come un albero fiorito" from Puccini's Gianni Schicchi, not an easy aria and not as rewarding for the audience, but nevertheless, a risk which showed that Salam is a Puccini expert. While it is not currently on his agenda, the comfort on the stage, charming demeanour, and the true lyrico timbre required for Puccini, which Salam possesses suggests casting directors ought to be lining up to cast this promising young performer for Pinkerton in Madama Butterfly.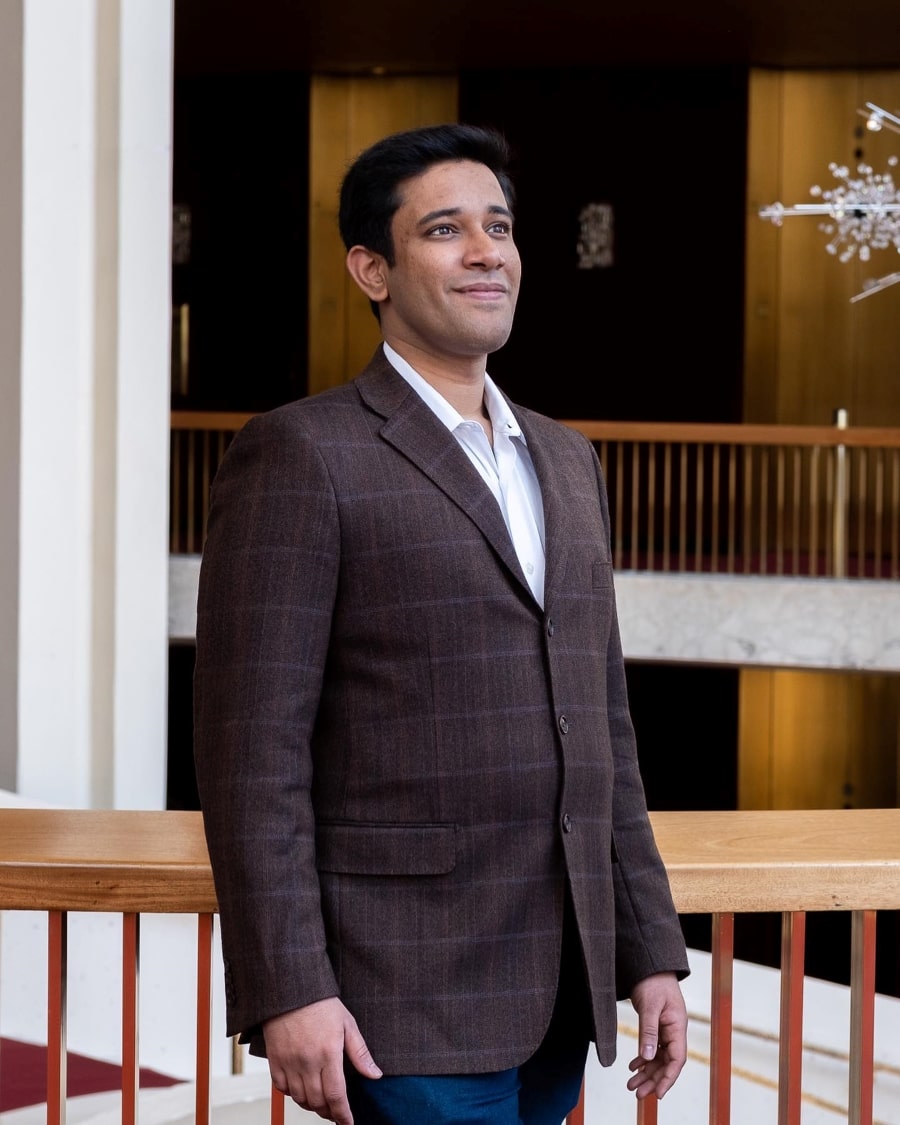 Eleomar Cuello: Exciting energy
Cuban native Eleomar Cuello brought different energy to the programme. American-trained singers have developed a reputation for their extremely polished deliveries and reliability. There is a safety and security which can make for a casting director's best friend, which is why many singers trained in the US have exceptional careers abroad. However, for an audience, it can sometimes feel 'too safe' and some of the spontaneity sought from a live performance can be missing. The Cuban-trained baritone did not have the latter issue, Cuello's performance was exciting. Although he is already a seasoned performer, having performed Guglielmo in Così fan tutte, Valentin in Faust, Schaunard in La Bohème, Silvio in Pagliacci, Escamillo in Carmen and the title role in Don Giovanni, Cuello created the illusion he was living out the experience of each character for the first time. A vocal quality like golden syrup, Cuello's voice is warm yet it fills the house. Donizetti's "La pietade in suo favore" made a great first impression, and the second piece "Avant de quitter ces lieux" from Faust, was the perfect type-cast role for the strapping baritone, though there was a slight sense of fatigue at the finish.
Stand out Sarah Saturnino
Of all the performers on Sunday afternoon, Sarah Saturnino had an x-factor that set her apart from the pack. Saturnino had an uncanny resemblance, both in vocal approach and stage presence, to the famed Anna Netrebko, albeit the mezzo version. The 29-year-old swanned onto the stage before letting rip with 'O don fatale' from Verdi's Don Carlo. Saturnino's colouring choices imbued the piece with so much dramatic dynamism, but this was even more impressive considering the enormity of her instrument that she has clearly mastered. The audience was particularly rapturous after Saturnino's first performance, and for her second, 'Amour! Viens aider ma faiblesse' from Samson et Dalila, Saturnino strategically left an appetite to hear her interpretation of Dalila's more famous aria, "Mon cœur s'ouvre à ta voix". An exciting performer that will mark this era of operatic singing, Saturnino will no doubt be playing some of the most demanding mezzo repertory in the grandest of houses.
Mature beyond her years: Natalie Lewis
The maturity in programming, calm stage presence and vocal timbre were startling for 24-year-old mezzo Natalie Lewis. 'Hence, Iris, hence away' is a legendary mezzo piece, and difficult due to the repetitiveness of the piece, which leaves a performer working extremely hard to hold the audience attentive. In the concert platform without the support of props, staging and costumes, most mezzos wouldn't dare touch this aria. Lewis on the other hand used it to show her strengths of interpretation, taking what are usually painfully repetitive phrases, and imbuing every delivery with a slightly different meaning. Also impressive was Lewis' contrasting selection, her second piece "Acerba voluttà, dolce tortura" from Adriana Lecouvreur, showed off her superhuman ability to sing in the lowest part of the register with full weight before leaping up to soprano territory producing full blown high notes above the top of the stave. In her early twenties, we will be sure to see Lewis exploding onto the international scene and growing into some notorious repertoire.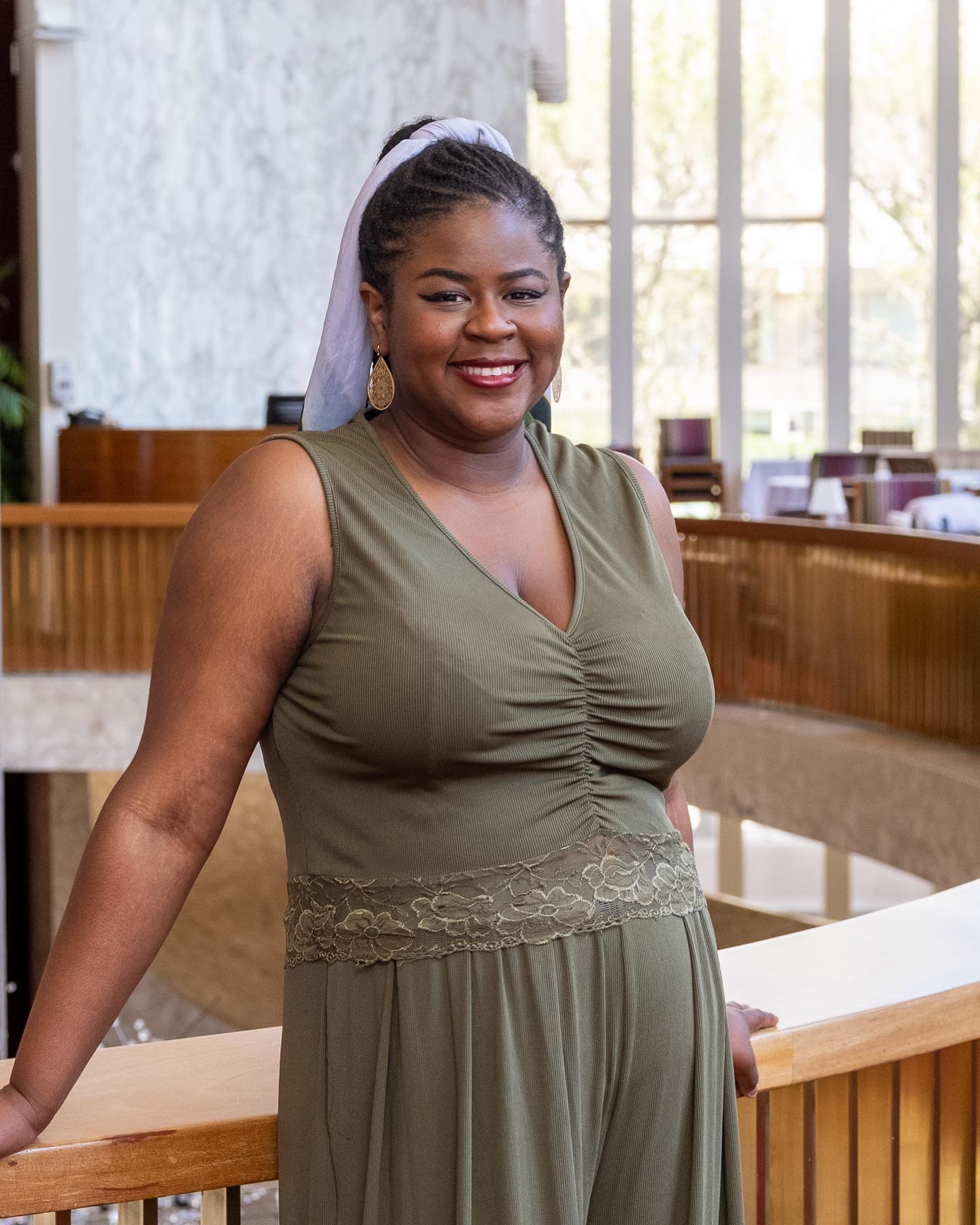 A Mozartian maiden: Teresa Perrotta
One of pleasant surprises from this year's competition was hearing singers who had a strong understanding of their vocal identity and what they do best. A great example of this was 27-year-old soprano from Florida, Teresa Perrotta. The greatest lyric soprano interpreters of Mozart have all possessed a special spin that sounds youthful yet mature, it glistens and has the ability to both ring throughout the largest of theatres, whilst also voicing vulnerability. Perrotta has this very gift. Bravely taking on one of the most difficult Mozart arias to start, Perrotta made light work of 'Ecco il punto, o Vitellia ... Non più di fiori' from La Clemenza di Tito. The understanding of spin was evident in the effortless navigation of all registers, alongside the power but also tenderness that the challenging 'mad' character demands. For her second piece, Perrotta showed where the voice is moving, performing 'Dis-moi que je suis belle' from Massenet's Thaïs. From the strength of her high notes, which sound as though there is no limit to the top of the voice, one may predict that Perrotta will grow into the Wagnerian repertory, it will be exciting to see how this special voice develops.
An exhilarating line-up, the Laffont Competition certainly lived up to the Met's legacy for spotting great talent and is a foreshadowing of the Met's highly anticipated 23/24 season.
This September the new season will open with Jake Heggie's "Dead Man Walking,", followed by an array of Met premieres including "X, The Life and Times of Malcolm X" by Anthony Davis, "El Niño" by John Adams and "Florencia en el Amazonas" by Daniel Catan — a refreshing program not to be missed.
As an Art de Vivre subscriber, gain more insights and inspiration from leading visionaries pushing boundaries in the opera world such as Soula Parassidis.
Credits for the Main photo: Metropolitan Opera Eric and Dominique Laffont Competition
Inspire our community
A global community of enthusiastic and curious ones. Diverse voices. Subscribe for free to share your vision and enhance our art-filled world.


To leave a comment you must
sign in