Art
Our guide to experiencing infinity in Yayoi Kusama's Infinity Mirror Rooms
Yayoi Kusama, often referred to as the 'princess of polka dots', has had an unprecedented impact on the art world in recent years. One of the highest-selling female artists in the world, she is perhaps best known for her immersive mirror room installations. Viewers are welcome to walk around these mesmerising sensory-scapes and perceive these pieces of art from all angles, melting into and becoming part of the bigger universe they explore.
Before you head to the exhibition at the Tate Modern, running until April 28 2024, let's take a look at Kusama's life and her profound influence on pop art.
A glimpse into Yayoi Kusama's life
Born in 1929 in Matsumoto, Japan, Yayoi Kusama is revered both for her inspiring mirror installations and fascination with polka dots.
Lacking support from her mother, Kusama was left to explore her creative endeavour alone. She's experienced bouts of mental illness and has channelled her emotions into her art to find relief. In fact, her polka dot artworks were inspired by hallucinations she would often have when she was younger. She once described a field in which the flowers started talking to her. These flowers went on as far as her eye could see and hence her obsession with polka dots began.
At the age 27, Kusama moved from Japan to New York and was heavily inspired by the Pop Art movement there. A controversial performance piece in which she covered naked participants in brightly coloured polka dots brought her into the public eye. Ever since, she has been innovating and creating works of art that continue to leave both critics and ordinary viewers in awe.
She returned to Japan in 1973 and since the late 1970s, Kusama has voluntarily resided in a mental health facility in Tokyo, Japan. She is said to only venture out to visit her studio in which she tends to work in intense 50-70 hour bursts.
How does Yayoi Kusama make her Infinity Mirror Rooms?
As the name suggests, Kusama's famous rooms are lined with mirrors to help evoke a sense of infinity. By using these mirrors and combining them with the intense repetition of elements seen in her earlier works, Kusama was able to create these perceptual experiences that take viewers on a journey of eternal duplication.
'Phalli's Field', for example, a mirror room initially finished in 1965, was made painstakingly by sewing thousands of fabric tubers and then sticking them to pieces of furniture and other artefacts. This process took two years, and was the reason for Kusama's mirror room breakthrough. The intense labour of sewing meant Kusama looked for other means to expand the quantity of her art without it occupying hours of time. Surrounding her work with mirrors enabled the vast array of phallic shapes in 'Phalli's Field' to multiply beyond Kusama's physical limitations.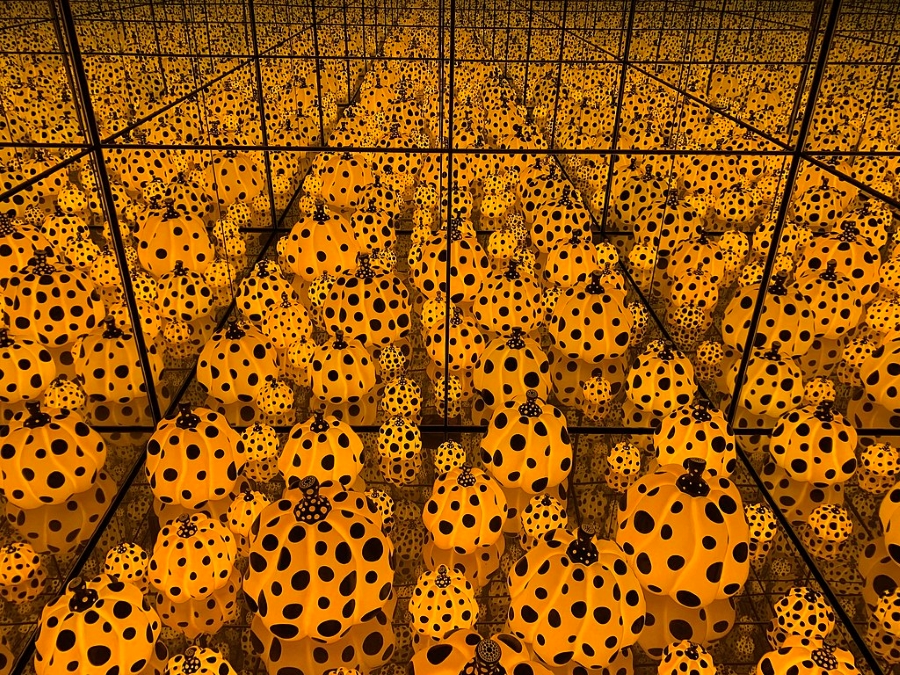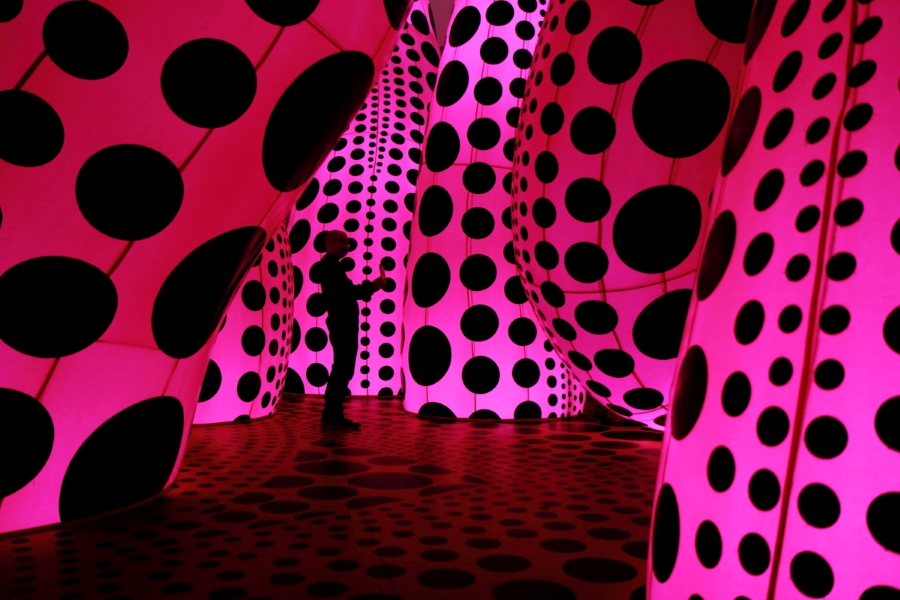 Photo 1 - Yayoi Kusama's work 'The Spirits of the Pumpkins Descended into the Heavens', exhibited at the National Gallery of Australia in Canberra, ACT, Australia; Photo 2 - Yayoi Kusama in Israel © Lizzy Shaanan
What materials and elements of art are used in Yayoi Kusama's installations?
Throughout her career, Kusama has experimented with many materials, including but not limited to paint, lights, mirrors, fabrics, and perhaps most famously, polka dots. In terms of her mirror rooms, lighting is a huge component but she also brings in large objects such as balls, chandeliers, and pumpkins.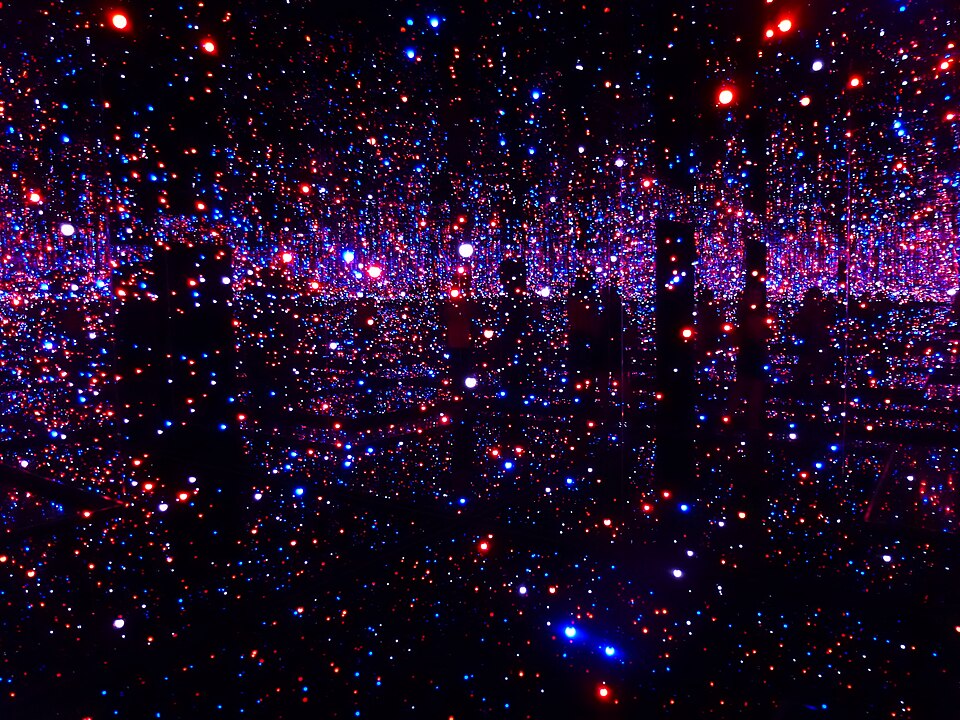 Where can I visit the 'Infinity Mirror Rooms'?
Two of Kusama's Infinity Mirror Rooms are currently on show at the Tate Modern in London, and you can purchase tickets through their official website, where you can also find more information. Prices range from £30 to £65 depending on whether you want to enjoy dinner for the full experience.
One of the installations at Tate, 'Infinity Mirrored Room – Filled with the Brilliance of Life' (2011) will take you through a walkway of mirrored tiles, surrounded by a pool of water and coloured flashing LED lights dangling from the ceiling. Next to it you'll find the room 'Chandelier of Grief' (2016), which is filled with hanging chandeliers.
You can also see one of Kusama's Infinity Rooms at David Zwirner Gallery in New York through July 21, 2023 as part of a show titled 'Yayoi Kusama: I Spend Each Day Embracing Flowers.'
Immerse yourself in the art and work of other trail-blazing artists and not-to-miss cultural events as an Art de Vivre subscriber.
Credits for the Main photo: © Shutterstock
Inspire our community
A global community of enthusiastic and curious ones. Diverse voices. Subscribe for free to share your vision and enhance our art-filled world.


To leave a comment you must
sign in