Lifestyle
Paris Fashion Week SS23: Highlights
Paris Fashion Week SS23 proved that fashion and art are inseparable this season, and the event will be discussed for a long time to come. Here are some of the highlights this year.
Finale of the Coperni show
The most spectacular performance was the finale of the Coperni show, which made such a strong statement last season with its glass handbags. Bella Hadid took to the runway in just her knickers and had a spray dress painted on her using an innovative technology courtesy of Fabrican, containing cotton and synthetic fibres.
Article slider: "16: Coperni with Bella Hadid"
Coperni Fashion Show in PFW SS 2023
The paint transformed the dress before an astonished audience and critics compare this moment to the famous Alexander McQueen show in 1999 when paint robots spray-painted model Shalom Harlow's white dress.
Balenciaga
Article slider: "15: Balenciaga Fashion Week"
Balenciaga Fashion Show in PFW SS 2023
The next most talked about show is the Balenciaga show, opened by Kayne West. Balenciaga's creative director, Demna Gvasalia, had models walk down a catwalk covered in mud, wearing ankle-high shoes.
The Botter show will be remembered for its recognisable cerulean blue. However, the real cherry on top was the accessories: bags frozen in a block of ice and condoms with coloured liquid instead of gloves.
Courreges
The Courreges show evoked the fleetingness of life and fashion changing too fast. Sand fell from the ceiling and the models walked on it kicking off their shoes as they went.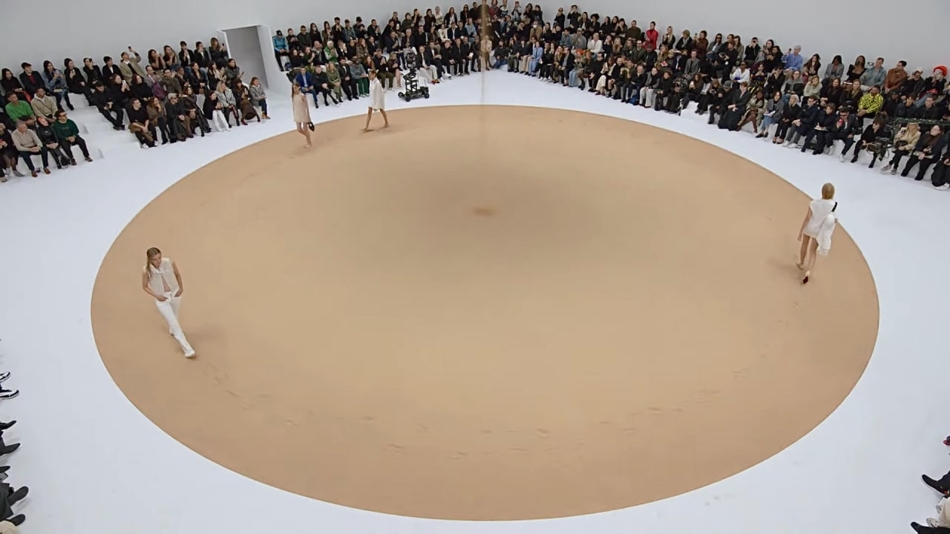 Other highlights of Fashion week in Paris
Article slider: "13: Schiaparelli collection"
Schiaparelli Fashion Show in PFW SS 2023
Maria Grazia Curie struck again with an intricate performance for Dior, and while Schiaparelli left us without a luxury show this time, their lookbook spread around the world so quickly, their reputation is working for itself. Everything about the collection is beautiful.
Article slider: "14: Dior"
Dior Fashion Show in PFW SS 2023
You might be asking yourself if it's possible to reach Schiap's level.
The answer is definitely yes. Each season proves that fashion inspired us to embrace our wild side and that this fine art has no limits.
Find more ways to embrace your true self through fashion and discover joyful new outfits by LOEWE, which recently launched its spring/summer 2023 collection.
Now that you're up to date with all the highlights of Paris Fashion Week SS23, discover all the highlights of The Annual Taste of Paris festival
Credits for the Main photo: Dior Fashion Show in PFW SS 2023
Inspire our community
A global community of enthusiastic and curious ones. Diverse voices. Subscribe for free to share your vision and enhance our art-filled world.


To leave a comment you must
sign in