Insight
Taschen: How the world-renowned publisher became famous for its art books
The German publisher Taschen has been dedicated to creating affordable and accessible books since 1980, their well-crafted beauty and feel making them perfect coffee table books for both living rooms and offices. Many of their books are published in series making some of these items highly collectable, as well as limited editions. Here we delve into Taschen's beginnings and how the publisher became so successful with its art books.
Taschen's beginnings
The beginning of Benedikt Taschen's future in publishing started when he founded his own small-scale comic book publishing company in Cologne at the age of 18.
Only a year later, Taschen purchased 40,000 liquidised books about the Belgian surrealist René Magritte at the American Trade show and resold them for a substantial profit, this being his first large financial success.
Taschen's art books
Taschen is known for its publications on artists and their work, offering buyers the opportunity to get their hands on limited art editions and series such as 'basic art' which includes books on abstract art, cubism, expressionism, and many artists for a fraction of the price of their more specialised publications.
These texts offer in-depth analysis of art techniques, brushwork and palettes as well as exploring artists that made their stamp in the history of art.
One of Taschen's collector's art editions is Georg Baselitz: a hardcover, numbered and signed by the artist. Baselitz was known for painting the motif on the head and has been challenging the boundaries of art since the 1960s. Many of these artist monographs encompass a portrait of the artist, hundreds of works, essays by critics on their work and in Baselitz's case, a collection of literary texts relating to his use of myth and history. It also contains a wide variety of Baselitz's work in plenty of detail, including his paintings and wooden sculptures
Taschen's best-selling art books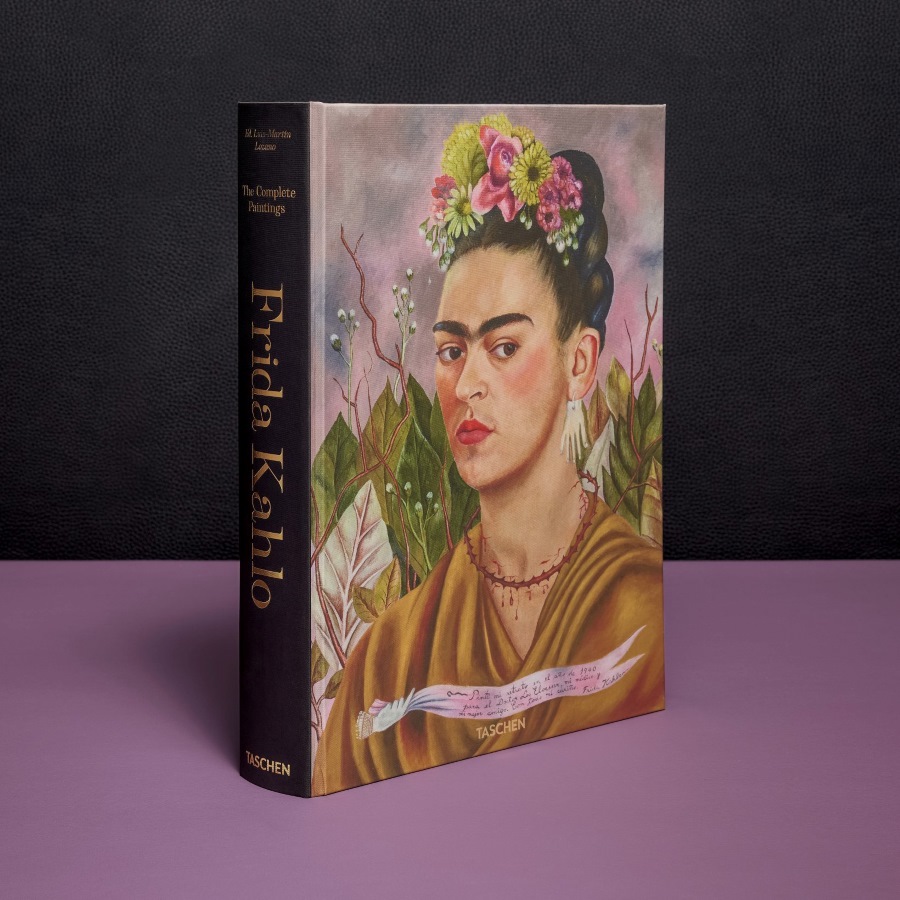 Frida Kahlo. The Complete Paintings - TASCHEN
'Frida Kahlo. The Complete Paintings' is one of Taschen's best-selling art books and pays homage to Kahlo's role in Mexican revolutionary art, her contribution to feminism, sexuality and gender politics. Finished with beautiful spine lettering in gold and a bold cover of Frida Kahlo's portrait, the remarkable attention to detail from Taschen's authors and editor Luis-Martin Lozano continues within the pages. Set out in the XXL text is diary pages, rare photos, letters and an illustrated biography. Kahlo's story among encompassing self-portraits and second-hand photographs can be milled over in this monograph.
Vermeer. The Complete Works - TASCHEN
The complete works of 17th-century Dutch artist Johannes Vermeer is another of the publisher's best-selling books. Taschen delves into Vermeer's known 35 works and features brand new photography of his paintings, including some across a three fold-out spread. It also features an essay on Vermeer's mastery of transforming one single oil painting into a truly living scene. This comprehensive catalogue goes further than Peter Webber's 'Girl with a Pearl Earring' film and is a must for those invested in Vermeer's art.
Dian Hanson's The History of Men's Magazines
Taschen currently has a large selection of Dian Hanson's erotic literature which explore the history of men's magazines.Hanson is an American magazine editor who specialises in pornographic magazines, which in this series range from 1900 to 1979. Some of these titles include 'Forbidden Erotica' and '1000 Nudes: A History of Erotic Photography from 1839-1939', covering endless erotic subjects.
Hanson told Creative Review that
we have reached the point where men's magazines have virtually disappeared, which makes them officially historical.
One of the important aspects of these texts is provided through looking at these magazines through a historical lens and assessing the changes that have and haven't occurred over the past decades. Although these may not be coffee-table books, they balance Taschen's distinction in the publishing realm.
Taschen books on style, food and travel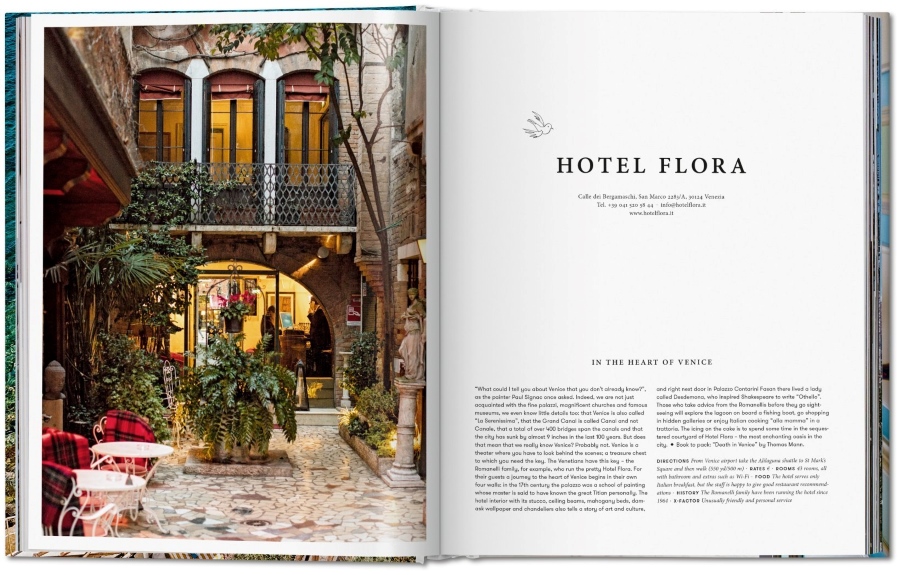 Great Escapes Italy. The Hotel Book - TASCHEN
Taschen's books on travel are useful for planning your next trip. 'Great Escapes Italy. The Hotel Book' is 350 pages of Italy's art and culture diving into their food, landscapes and their incredible hotels.
Angelika Taschen, who has been with Taschen's from the 1980s, explores Italy's hidden gems through photography and carefully selected information from Sicily's villages to Venice. Italy has a region for everyone whether you're searching for delicious food, quaint harbours, or a romantic setting and Angelika studies what makes Italy a true paradise.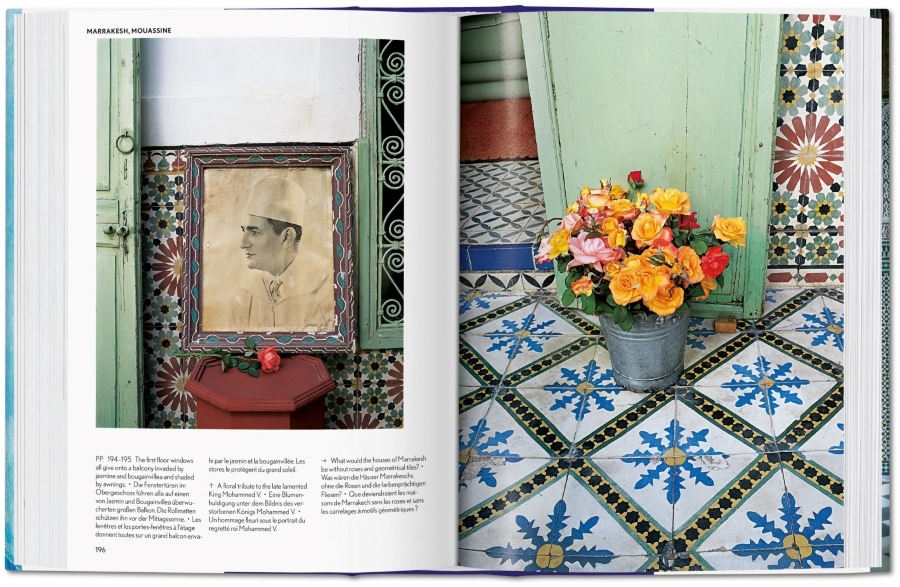 Living in Morocco. 40th Ed. - TASCHEN
From a different travelling stance, Barbara and Rene Stoeltie tour Morocco in search of eclectic homes in 'Living in Morocco. 40th Edition'. This kind of text steers more away from spots to visit in the country but focuses more on the Moroccan way of living through its style.
This destination is recognized through its carved wooden furniture, Moroccan tiles, luxurious pools and exquisite fountains, all detailed in over 500 pages. Perhaps this book will inspire you to incorporate a bit of Moroccan decor into your own home.
Taschen's dedication to the environment
Sebastião Salgado. Amazônia - TASCHEN
Taschen publishers have also vowed to plant a seed for every book bought through their alliance with Instituto Terra in Brazil, making them a solid choice for many buyers in the current climate. Their publications of photographic collections relating to the organisation have strengthened their partnership, with Taschen having been carbon neutral for 10 years.
The collections celebrate varied cultures and the rainforest's beauty. This includes Brazilian photographer Sebastião Salgado's Exodus, Genesis and Amazonia. These books are a compilation of images taken from Salgado's trips to Brazil, where he visited indigenous tribes and captured their way of living, the rainforests, incredible mountains and the rivers within. He also looks at other places such as Sanctuaries, Africa, Northern Spaces, and Pantanal in Genesis.
As an Art de Vivre subscriber, step back in time and discover the mysterious symbols hidden in Johannes Vermeer's paintings.
Credits for the Main photo: © Art de Vivre
Inspire our community
A global community of enthusiastic and curious ones. Diverse voices. Subscribe for free to share your vision and enhance our art-filled world.


To leave a comment you must
sign in