Art
The mysterious symbols hidden in Johannes Vermeer's paintings
Last month, the Rijksmuseum in Amsterdam presented more paintings by Dutch master Johannes Vermeer than ever shown together before. Until June 4, 2023, immerse yourself in 28 of Vermeer's serene, evocative paintings from around the world and travel back in time to the everyday life of citizens of the 17th-century Netherlands.
Before heading to the exhibition, explore some of the fascinating details in Vermeer's works and learn all about his life and that of his contemporaries.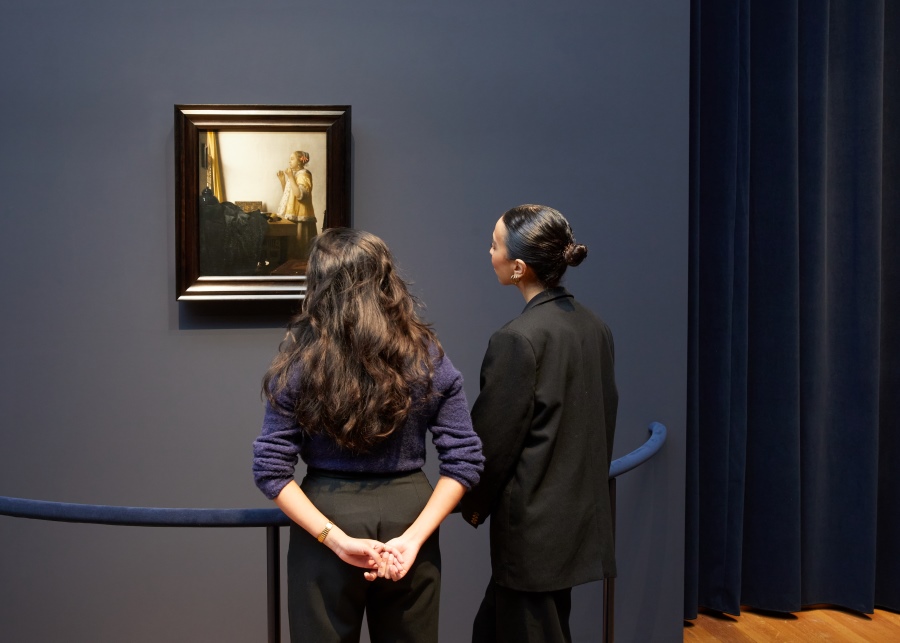 The mystery behind Vermeer's paintings
Johannes Vermeer (1632-1675) is one of the most famous Dutch painters of the Golden Age. Brought up in a middle-class family, Vermeer spent his whole life in Delft. His youth and years of studying are full of mystery, and we don't know that much about his everyday life and how his artistic talent was formed.
The less we know about an artist's life, the more curious we tend to be to explore his inner world and where he made his beautiful paintings. We do know that Vermeer created his works in the rooms of his own home, and that his family members modelled for some of his paintings. Many objects belonging to his home appear multiple times in various paintings, and serve as windows to the everyday life of Dutch people at the time.
Vermeer's white pitchers
An object that often appears in his paintings is a white ceramic pitcher that can be seen in 'The Glass of Wine' (1659-61) which is currently in the exhibition, or in 'A Maid Asleep' (1656-57). According to Vermeer's estate inventory, Vermeer's family had owned plenty of crockery, so most probably this white pitcher was Vermeer's.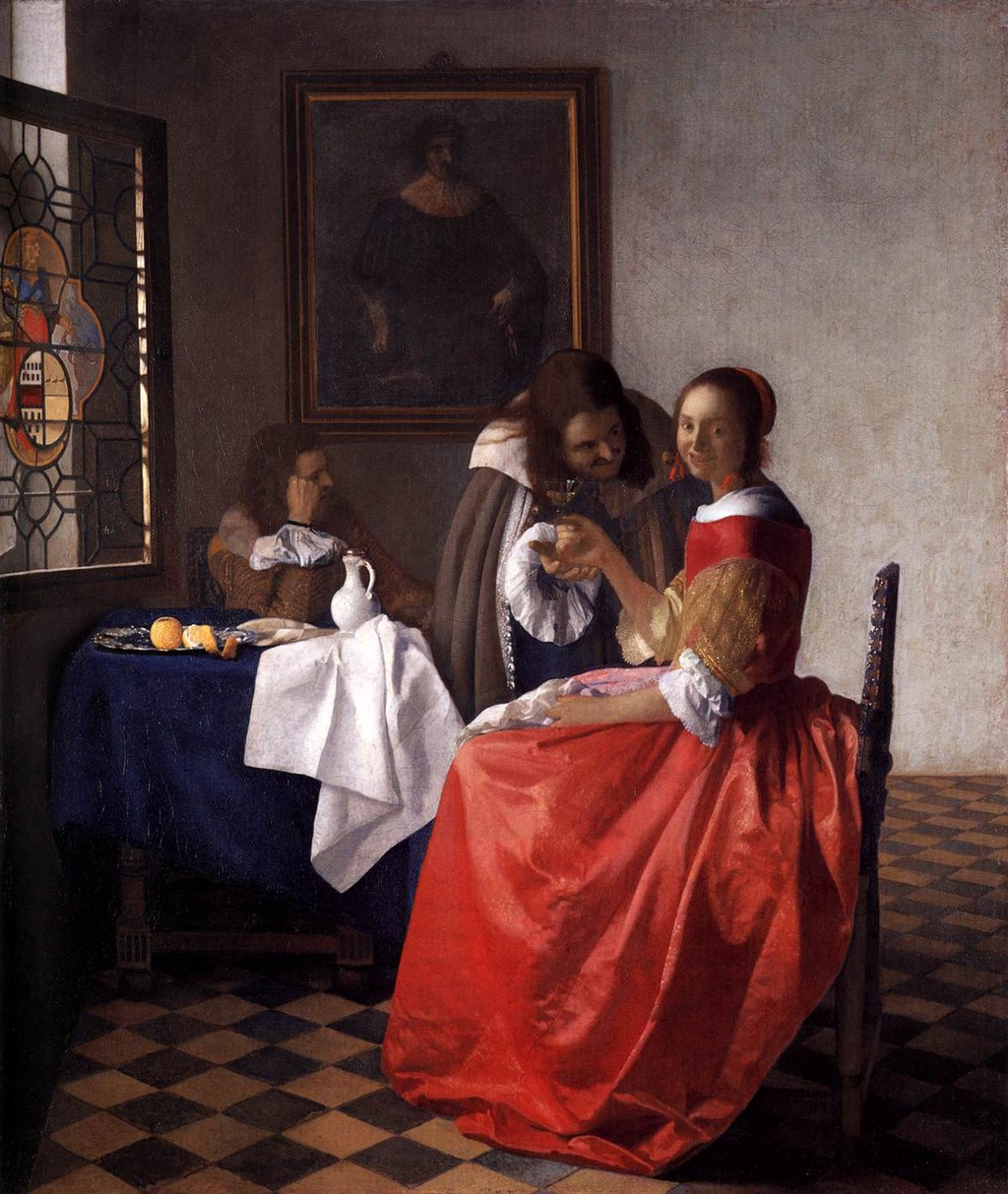 Such pitchers were often used for wine, and in the paintings this motif played an important role. Wine in a pitcher was meant to be a love potion that helped men seduce women. In his painting 'Woman and two Men' (1659-1660), in which one of the men bends down to a cheerful woman holding a glass of wine and encourages her to drink it.
Maps: Symbols of prosperity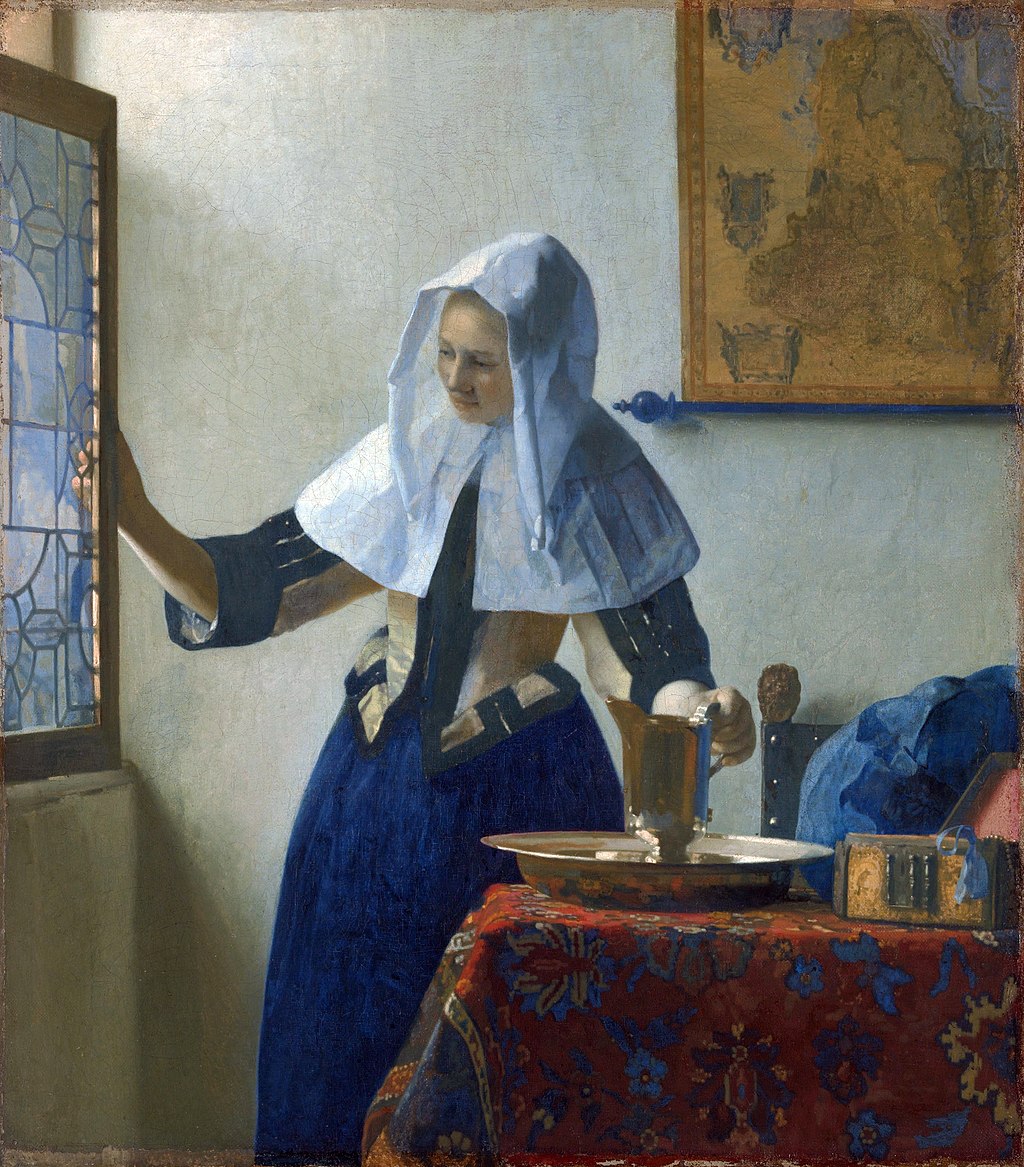 Photo 1 - Young Woman with a Water Pitcher, Johannes Vermeer, c. 1662. Photo 2 - The Allegory of Painting, Johannes Vermeer, c. 1666. – Wikimedia Commons
In Vermeer's paintings as well as in paintings of other Dutch artists, it's common to see different kinds of maps – giant maps on the walls, rolled paper maps, or even globes. Maps were the symbols of the prosperity of the Netherlands that in the 17th century became a maritime power. This led to the popularity of maps, which were used both as decorative elements in homes or public places and as documents for trade and travel.
In 'Young Woman with a Water Pitcher' (c. 1662), Vermeer depicted the giant tapestry with the map of the Republic of the Seven United Netherlands made by draughtsman and publisher Claes Janszoon Visscher. Part of the same map appears in other Vermeer's paintings such as 'The Allegory of Art'. The meticulous work of the artist made it possible to recognize islands and outlines of lands and seas in his paintings.
Paintings in Vermeer's artworks
Paintings also often appear in Vermeer's works, and it says a lot about the time. In the 17th century, there was a breakthrough in art which led to the Dutch Golden Age. This is mainly due to the fact that the Netherlands had been freed from Spain and art had been freed from Catholic restrictions. The dominance of Protestantism led to a significant reduction in orders for religious painting, and, at the same time, to a spread of secular themes: portraits, landscapes, household genres, and still lives, became incredibly popular among the increased number of middle-class Dutch citizens.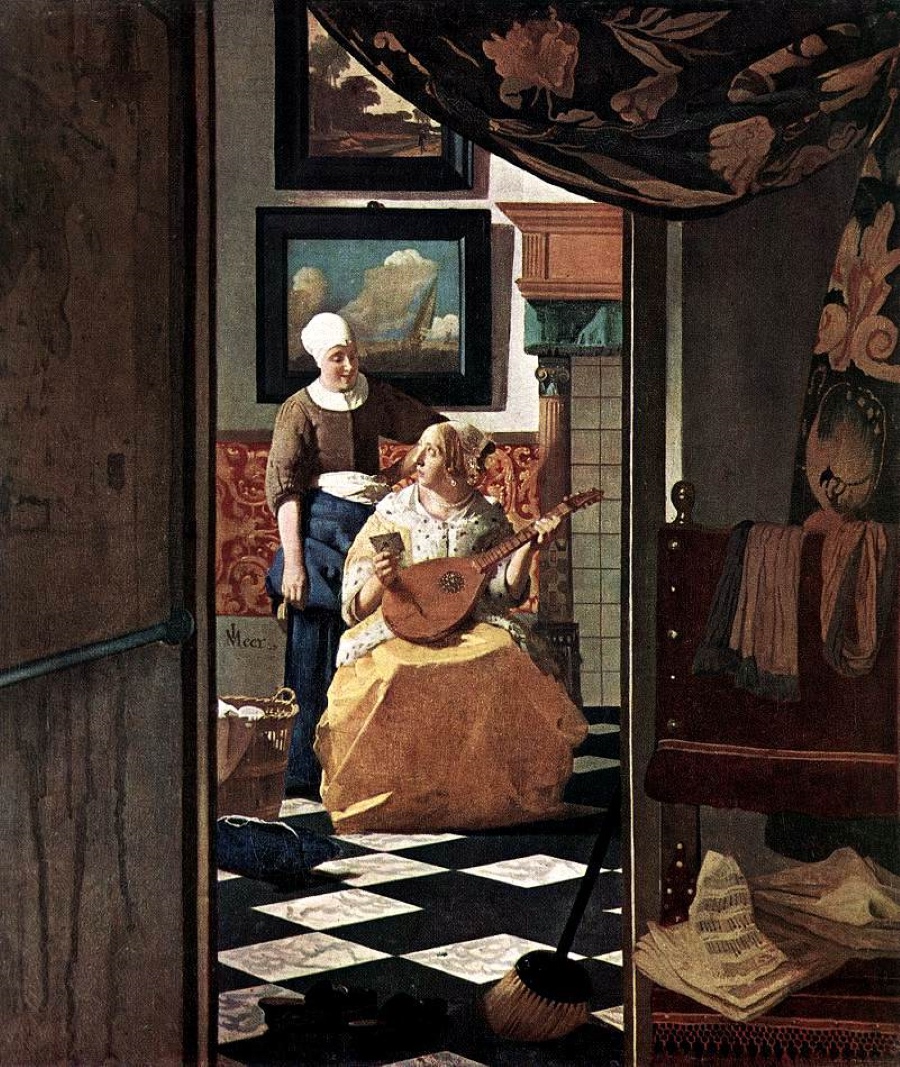 Vermeer was a huge art lover, and also worked as an art dealer. So his house was filled with many paintings. The foyer of the artist's house was also probably used as a kind of art gallery. It is thought that Vermeer depicted some of the paintings from his own collection in his works. Take a look for example at 'The Love Letter' or 'The Girl with the Wine Glass', where the depicted portrait is considered to be the portrait of someone from Vermeer's or his wife's family.
Musical instruments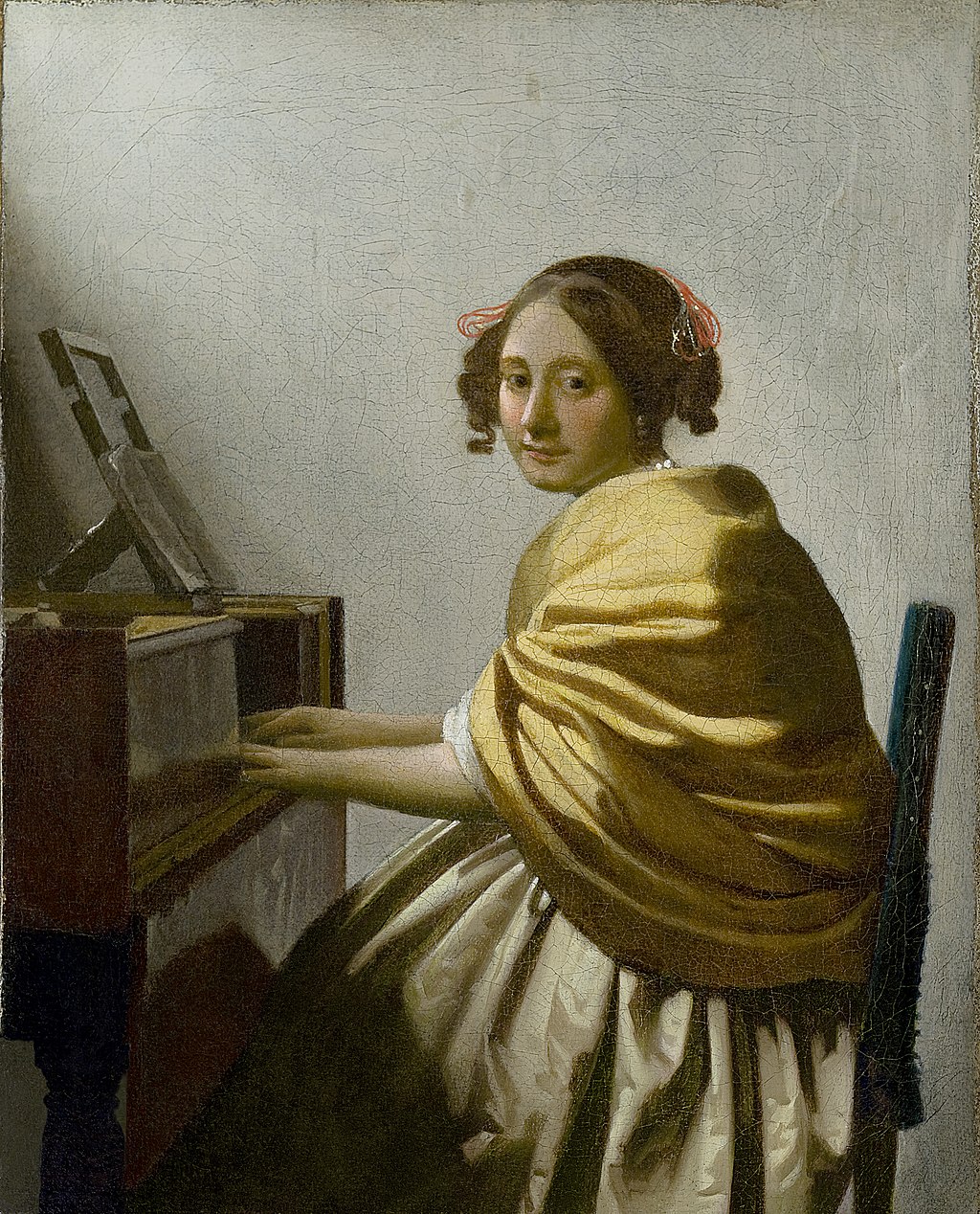 Other frequent guests of Vermeer's paintings are musical instruments. Music was a significant part of the Dutch culture of the 17th century. Music was played everywhere – at festivals and official events, in taverns and royal palaces, in churches, and in the houses of citizens. With a modest list of entertainment available in those years, music remained one of the main means of brightening up leisure.
Vermeer depicted musical lessons and women playing different instruments in many of his paintings such as 'A Young Woman Seated at a Virginal' and 'Girl Interrupted at Her Music' which are on display in the exhibition. Through musical motifs, he immerses us into the heroes' inner lives as they diligently learn to play musical instruments or dissolve into the beautiful melodies.
A fascination with pearls
One of Vermeer's passions was pearls: in 18 of his works he depicted women wearing or holding the pearls. They were actually very popular in the 17th-century Netherlands, and Vermeer was also fascinated by their shine and beauty. He painted many pearls of different sorts and sizes, but some of them are unrealistically big such as the pearl in the earring in 'Mistress and Maid'. Most probably, such giant pearls were the product of the artist's imagination, or possibly the imitation pearls that were also popular inspired him.
Although pearls in art are symbols of purity, beauty, and love, they are also symbols of wealth. They were highly prized, as it was hard to collect them. That's why a pearl necklace such as the one depicted in Vermeer's 'Young Woman with a Lute' was so valuable.
Windows that create light-filled scenes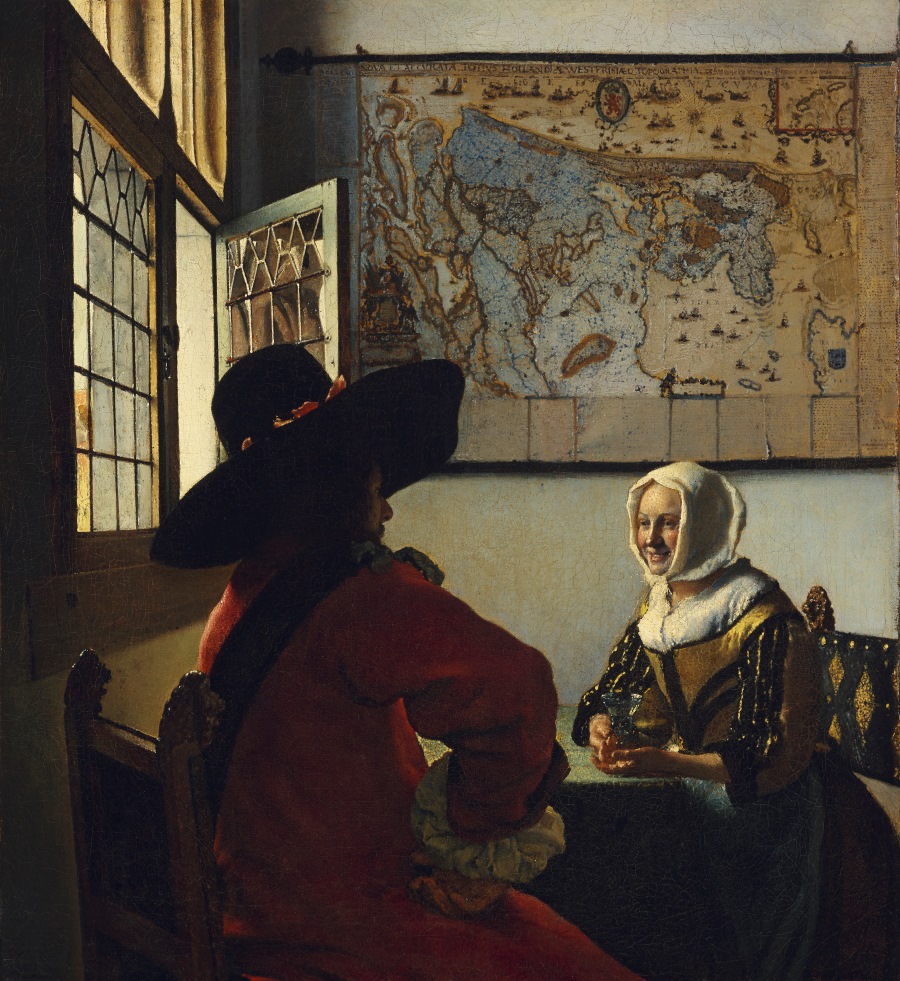 In Vermeer's paintings, windows are always the main source of natural light. At the time, many houses in the Netherlands had cross windows and Vermeer's house was no exception, with windows forming different patterns. For instance, take 'Officer and Laughing Girl' in which among the main features are the diamond, hourglass, and square shapes, just as in 'Girl Reading a Letter at an Open Window.' In 'The Glass of Wine', the light coming from the sophisticated stained-glass window illuminates a woman in an elegant red dress drinking a glass of wine in the company of a man.
Don't miss the chance to marvel at the small yet fascinating details in Johannes Vermeer's paintings at his largest retrospective yet, which runs until June 4.
Credits for the Main photo: Girl Reading a Letter at an Open Window, Johannes Vermeer, 1657-58, oil on canvas. Gemäldegalerie Alte Meister, Dresden
Inspire our community
A global community of enthusiastic and curious ones. Diverse voices. Subscribe for free to share your vision and enhance our art-filled world.


To leave a comment you must
sign in