Lifestyle
5 beautiful plants for a natural Christmas
There's no such thing as too many decorations during the festive season, especially when it comes to plants. Even if your Christmas tree and lights are already up, plants are a brilliant way to add some final festive touches. From Holly to Anthurium, here are five stylish festive plants that will not only spruce up your home but are quite eco-friendly too.
1. Holly (Ilex): A handsome favourite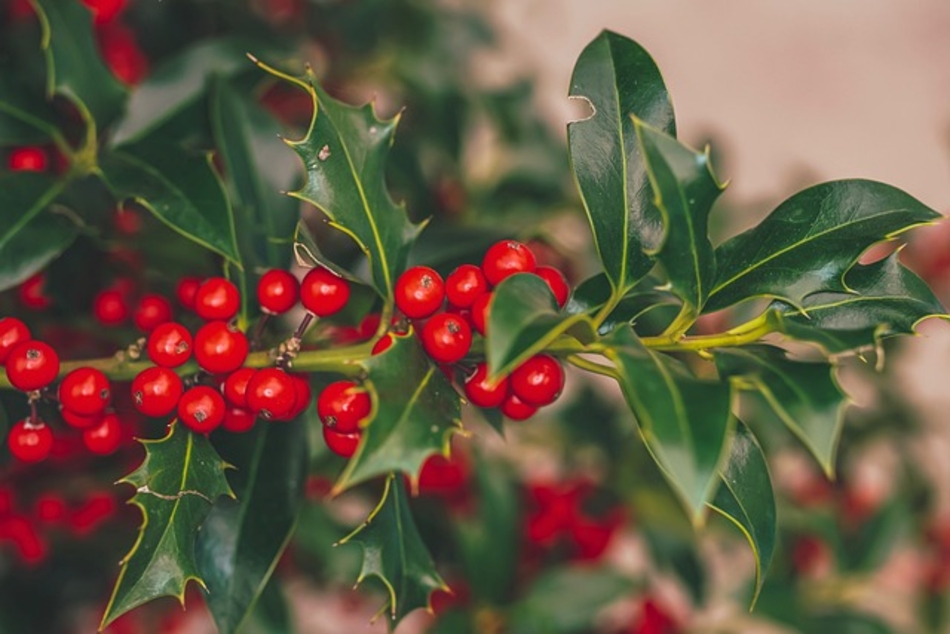 With its vibrant red berries and verdant, spiky glossy leaves, holly, or ilex, has great appeal during this season and adds such a beautiful touch to any home. A symbol for Christmas for centuries, it has always symbolised good luck and hope for the future, with farmers in the past never cutting off hollies and placing a holly tree to protect the farmyard from evil. Whether you are superstitious or not, this adds a beautiful touch to the home and is evergreen, so it rarely sheds leaves.
2. Mistletoe (Viscum album): For hopeless romantics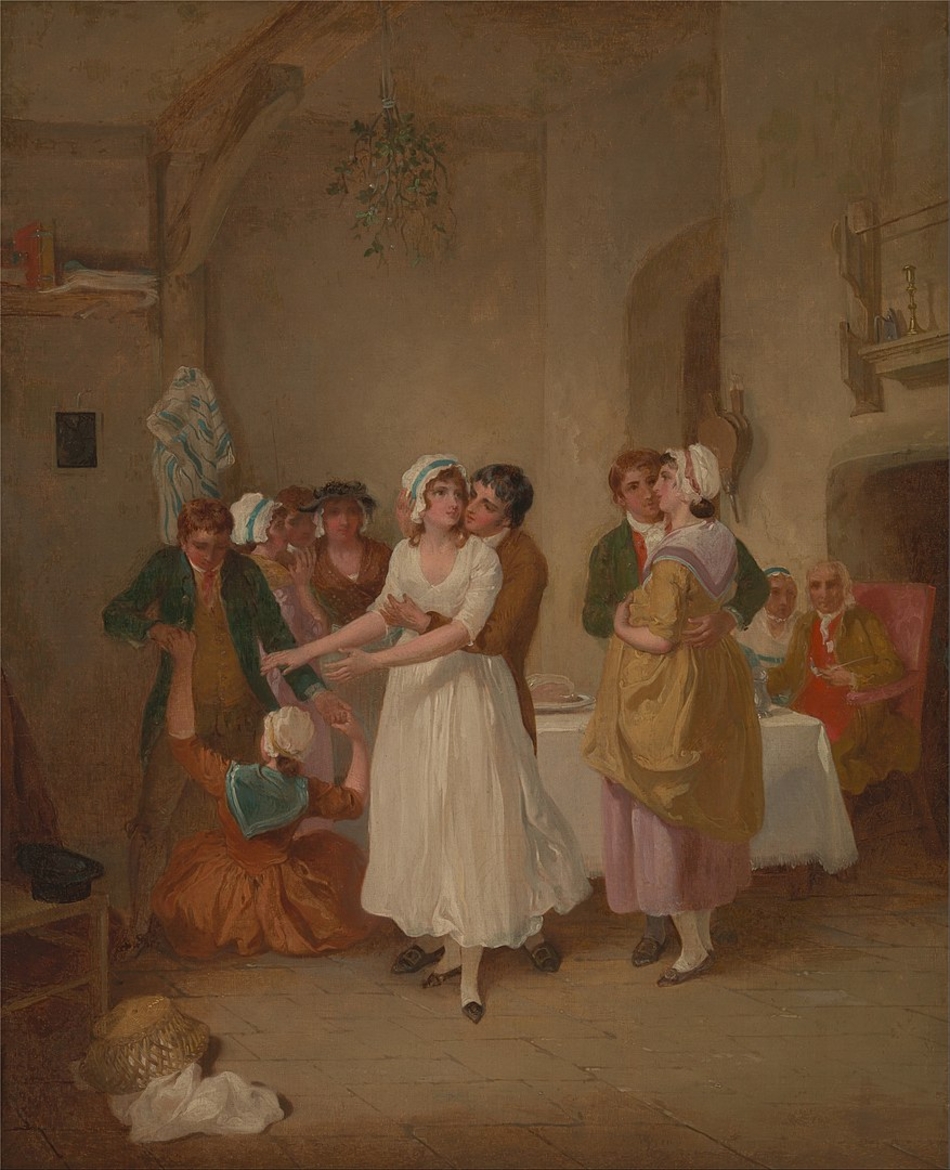 Mistletoe, which is actually a parasitic plant and grows in other trees, is such a charming plant and is perfect to bring a little romanticism into your home. In England, there's a tradition of kissing under the mistletoe, which is thought to date all the way back to the 1700s, although there are numerous stories as to why this started. The Celtic Druids are said to have used it thousands of years ago in ceremonies because they saw it as a sacred plant to ward off ill health, but the tradition of kissing underneath it is believed to have begun in ancient Greece during the Saturnalia festival. It was later associated with fertility and the Romans would place it in their homes as a gift for the gods.
3. Poinsettia (Euphorbia pulcherrima): The pretty Mexican 'Christmas Eve Flowers'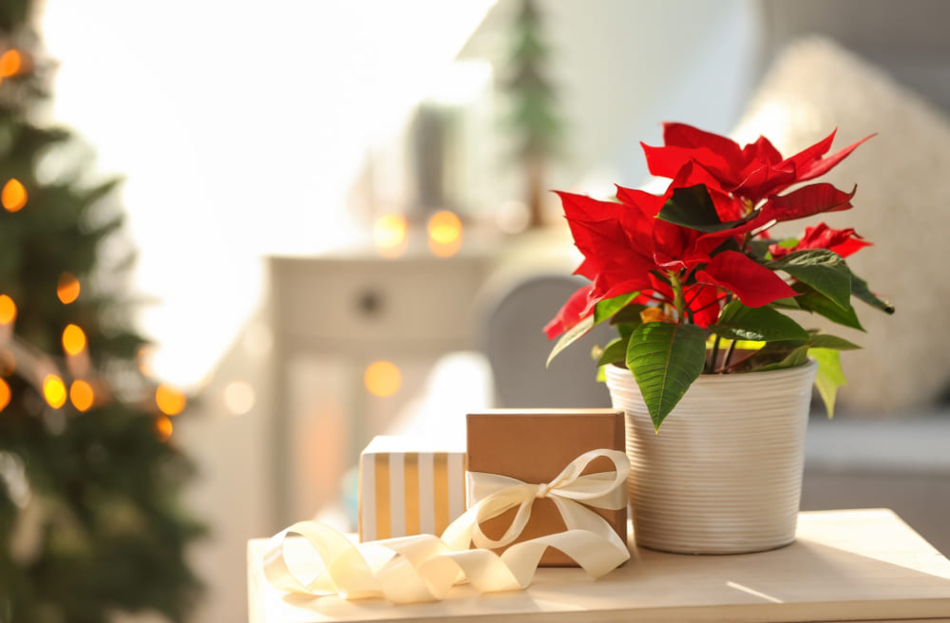 Poinsettias are long-lasting, and appreciated world-wide thanks to their bright red foliage and star-shaped leaf bracts. Originally from Mexico, this plant was named after Joel Roberts Poinsett, the first U.S. ambassador to Mexico. He took them to Mexico in the early 1800s and today they are known as "Flores de Noche Buena," or "Christmas Eve Flowers" because, according to a Mexican legend, a young girl didn't have a gift for baby Jesus and picked up a bunch of weeds, which she left under the nativity scene, and was shocked to see them turn into gorgeous red flowers.
4. Amaryllis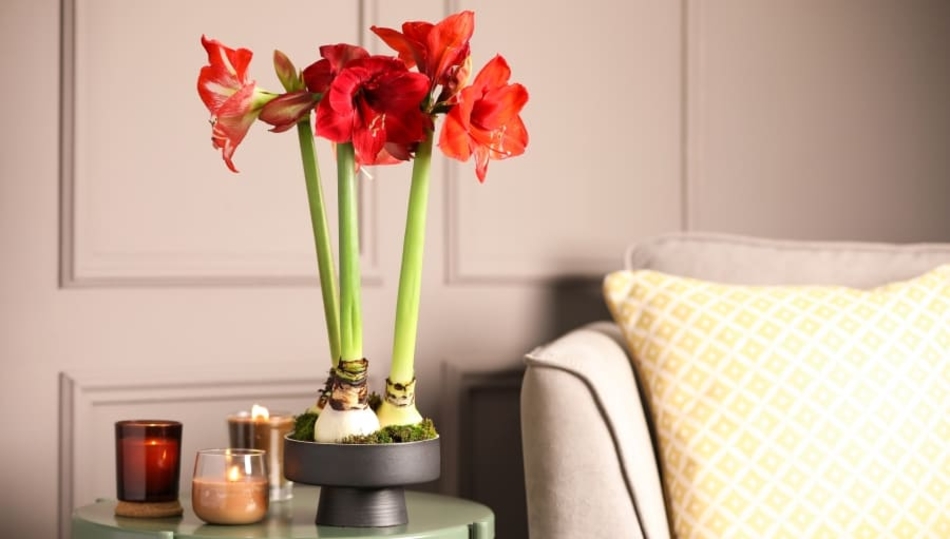 These stunning blooming trumpet-shaped bulbs with bold colours make for an elegant and exotic ornament. They grow very well indoors but need a lot of bright light, so make sure they're near a window and not tucked away somewhere dim. They deserve to be in the spotlight: it's no wonder they featured in Piet Mondrain's painting 'Red Amaryllis with Blue Background', which showed the artist's more delicate and intimate side.
5. Anthurium: Flamingo flower
Adored for its heart-shaped spathes, this plant loves humidity and is super easy to take care of. Superbly elegant and known as the flamingo flower, it thrives in warm homes and needs plenty of light and moderate moisture. Dress it up with lights if you want to create an even more magical ambience.
And of course, you can always place a bouquet of red roses on the dining table to give your home an ultra-romantic vibe. For more interior design tips this Christmas, check out our 6 DIY Christmas decor tips for 2022.
Credits for the Main photo: © Shutterstock
Inspire our community
A global community of enthusiastic and curious ones. Diverse voices. Subscribe for free to share your vision and enhance our art-filled world.


To leave a comment you must
sign in