Lifestyle
5 Things to know about the Balenciaga Spring 2023 show in Paris
After the iconic fashion house Balenciaga hit the runway at Paris's 2023 fashion week, you might have wondered whether this latest collection signalled the brand's redemption following months of controversy.
From their close relationship with the disreputable Kanye West, to their recent advertisements featuring children in bondage, Balenciaga as a brand, and its Creative Director Demna Gvasalia, had much to prove…
Balenciaga's Spring 2023 Collection: A Preview
One of the most notable motifs of the collection was the absence of any logos — something Balenciaga has become known for. Demna Gvasalia told Vogue:
It's a big thing, but I think we're going to enter the stage in my work where it doesn't need to be justified by the brand on it.
It certainly made for a more minimalist and classy collection, actively distancing itself from the 'streetwear' label. The absence of branding of the collection added to the overall simplicity of the looks, which was the main takeaway from this Spring collection. Demna completely stripped back his designs, seen evidently in the 17 black oversized tailored looks that opened this Paris show.
The baggy fitting suits are a signature motif for Demna, who has been responsible for such silhouettes becoming so popular in the last decade.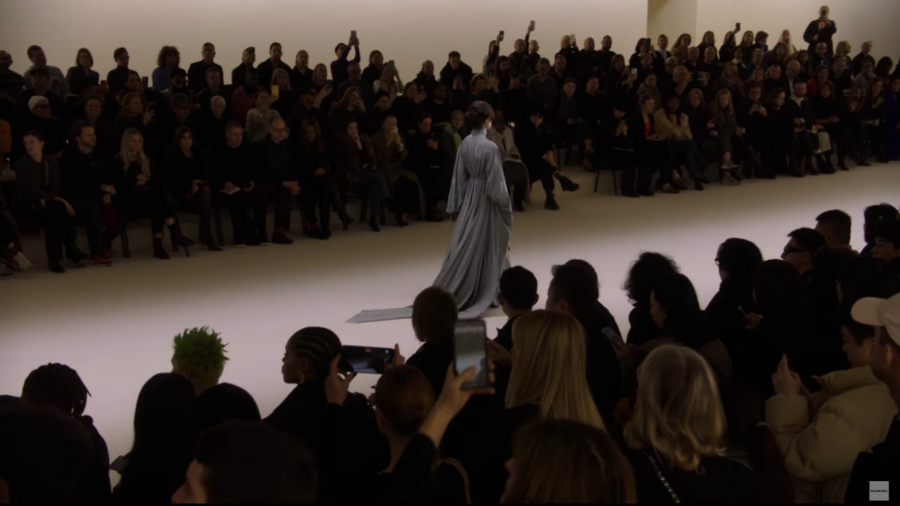 When and where was the Balenciaga show?
Balenciaga's Paris show was held on March 6, 2023. The show took place at the Carrousel du Louvre, which was purpose-built for fashion shows in the 1990s. Choosing this venue meant Demna was both paying homage yet also distancing himself from the gritty basement venues his first Balenciaga collections appeared in.
The plain setting was certainly a step back from his usual buzzy settings, allowing the clothes to speak for themselves. He also chose to omit a celebrity front-row seat, with the audience seated around 700 industry professionals.
Creative Director Demna's vision for the show
Demna has a true vision for the show: to be his real self, after years of concept shows where he felt his clothes were not truly being seen he had this to say about his latest collection.
I feel like this is the message I want to give: This is who I am,
he told Vogue.
This was reflected in his simplistic choice of venue, the monochromatic looks, and the absence of the iconic Balenciaga logo. He also wanted to pay homage to Cristóbal Balenciaga's legacy, and incorporate that into his own designs in a unique and tasteful way. This can be seen in the transition from Demna's classic menswear motifs to the founder's slightly embellished, classic evening gowns.
Another reason for this vision was partly to help repair Demna's and Balenciaga's reputation in the public eye. After a few months of backlash from two campaigns that angered the internet, coupled with Balenciaga's relationship with the scandalous rapper Kanye West, Demna had some serious reparations to make.
Stripping back this collection and focusing on the clothes was one way in which Demna quietly worked to make things right again. No bells or whistles, this collection focused on what fashion should be about: the clothes.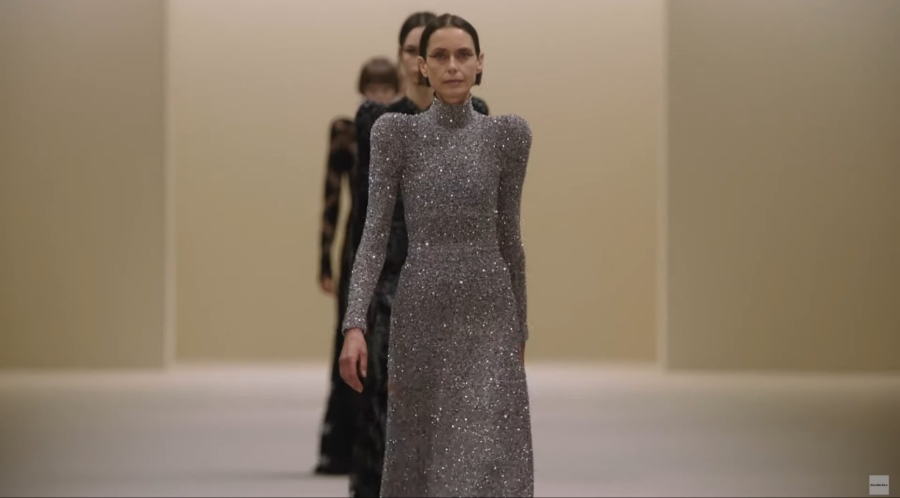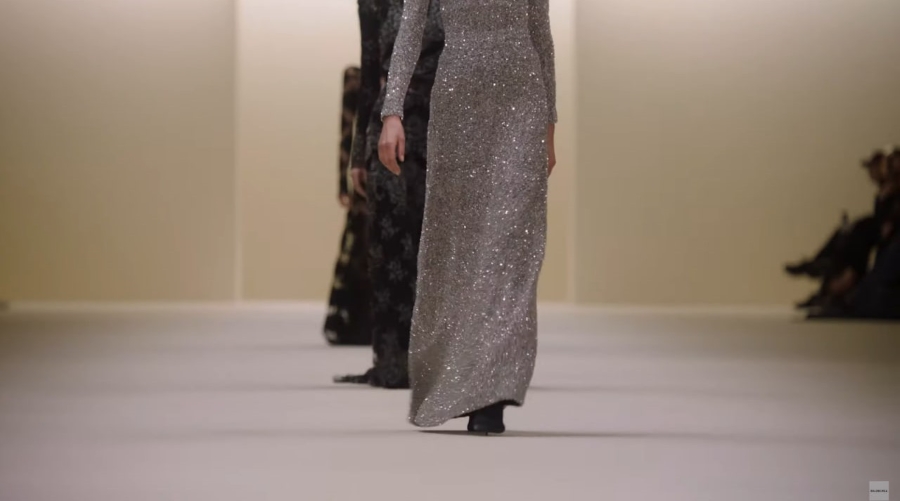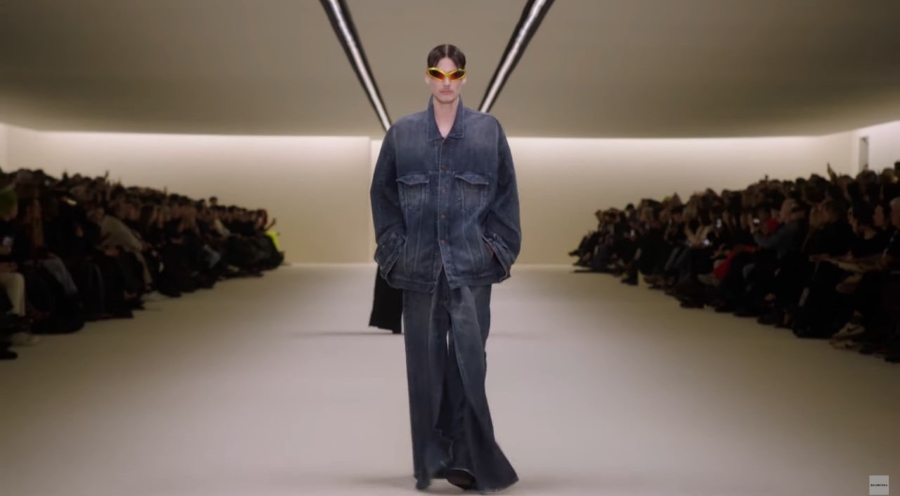 Balenciaga's impact on the fashion industry
Balenciaga, founded in 1937, was not the streetwear brand we know and love today. The founder Cristobal Balenciaga was a true innovator, and in the 20th-century completely altered the female silhouette, breathing life into old and overworn garments.
Following his mothers footsteps as a seamstress, Balenciaga's garments focused on fluidity and grace, redefining femininity in his tailoring. It's also no surprise that having been born in Getaria, in northern Spain, many of his original pieces were heavily influenced by Spanish Flamenco dancing and regional Spanish costumes.
Why is Balenciaga so popular?
Balenciaga, under Demna, has had to toe the line between heritage and modernity. In doing so, Demna borrowed heavily from streetwear influence and casual garments. Most notably, their unique sneaker designs were a huge success, and allowed them to dominate a space that was previously just owned by sporting brands, let alone runway labels.
Using these common shapes, fabrics, and styles in the luxury context gave Balenciaga nuance and juxtaposition in the fashion world and made them a huge talking point for not just couture lovers, but for the wider populace too.
Balenciaga's new homage to streetwear allowed the brand to be catapulted into popularity, and in the age of social media, this meant exponential growth for the label in a very short amount of time.
With their recent controversies still reeling in the public's mind, let's see whether this fashion house will manage to hold on to its popularity.
As an Art de Vivre subscriber, keep up to date and discover more memorable fashion shows that made history.
Photo credits: Balenciaga Spring 2023 Collection / Official YouTube Channel
Inspire our community
A global community of enthusiastic and curious ones. Diverse voices. Subscribe for free to share your vision and enhance our art-filled world.


To leave a comment you must
sign in