Insight
Review of Asteroid City — a mysterious masterpiece meditating on grief and loss
The 76th Cannes Film Festival showcased a multitude of captivating films, but one name in particular ignited the collective excitement like no other: Wes Anderson. His latest creation, 'Asteroid City', emerged as one of the most eagerly awaited films of the year thanks to Anderson's unparalleled storytelling and his stunning visual aesthetics.
'Asteroid City' explores intricate and intangible concepts, while also incorporating recurring themes found throughout his body of work, from the complexity of family dynamics and loneliness, to the multifaceted nature of love and the pervasive feeling of alienation.
A cinematic journey
Like many of Wes Anderson's films, 'Asteroid City' embarks the audience on a captivating journey. However, this voyage is different to the one depicted in 'The Darjeeling Limited' (2007) and 'Moonrise Kingdom' (2012). Anderson's characters and their narratives possess a semblance of familiarity, but they are all intricately linked as denizens of his imaginative universe.
Symbolically set in the fictional town of Asteroid City, the tale unravels within the confines of a play by the playwright Conrad Earp. Unfolding in 1950s America, the story revolves around exceptionally talented children who converge upon a youth astronomy convention. Their purpose? To vie for a coveted scholarship and showcase their awe-inspiring scientific achievements. The desert landscape serves as a significant backdrop, harkening back to the ancient impact of an asteroid upon Earth thousands of years ago. During the convention, the events take an unforeseen twist.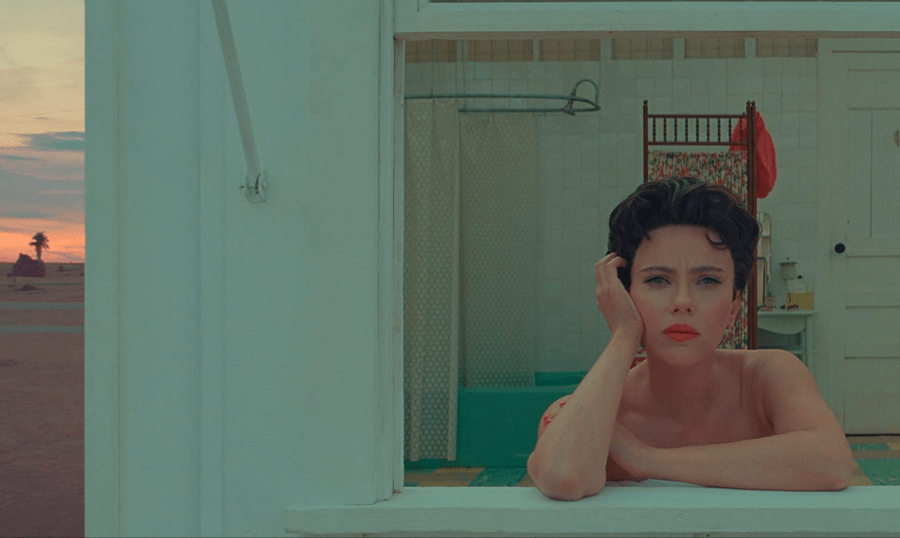 The complexities of family dynamics
One of the competitors, Woodrow (Jake Ryan), embarks on the journey to the enigmatic Asteroid City accompanied by his father, Augie Steenbeck (Jason Schwartzman), a war photojournalist, and his younger sisters. During their expedition, they cross paths with the renowned actress Midge Campbell, portrayed by Scarlett Johansson, and her daughter Dinah (Grace Edwards). As their personal narratives intertwine, the film delves into the profound implications of personal grief and loss, alienation, loneliness and how these emotions reverberate within the intricate dynamics of parent-child relationships.
Set against the backdrop of the desert, with its haunting echoes of past bomb testings, the story delicately tiptoes on the precipice of an uncomfortable sense of uncertainty and the fragility of our existence and perception of reality. It skillfully navigates the balance between these profound themes, all while immersing the audience in an introspective exploration of life's complexities.
The absurdity of life: Anderson's trademark quirkiness
Since its release, the film has garnered a spectrum of mixed opinions due to its perplexing nature, marking it as one of Anderson's most enigmatic works. Even the characters within the story find themselves bewildered by their own actions and motivations. At first glance, one might dismiss this as Anderson's trademark quirkiness taken to the extreme, but upon closer examination, it becomes evident that every intricate detail serves a purpose: to highlight the absurdity of our choices, decisions, and the inherent meaninglessness of their idiosyncrasies within the vast expanse of the universe.
This is precisely why the characters in 'Asteroid City' exhibit such confusion and a sense of being adrift between their words and actions. The director David Lynch once remarked,
I don't know why people expect art to make sense. They accept the fact that life doesn't make sense.
'Asteroid City' stands as an ode to this very acceptance—a celebration of the mysteries that lie beyond our grasp yet maintain a profound connection to our ordinary, everyday lives. It invites us to embrace the enigmatic nature of existence and find solace in the beauty of its inherent contradictions.
After almost three decades of filmmaking, one can't help but wonder: what new marvels can Wes Anderson conjure that are both exquisitely distinct and authentically original? It seems that there are countless surprises yet to unfold, for Anderson has an unparalleled ability to deliver extraordinary narratives that serve as revelations of cinematic ingenuity. His works are immersive journeys that effortlessly blend the profound and the ludicrous, existing within his trademark realm of vibrant hues and meticulously balanced compositions, and the 'Asteroid City' is no exception.
Discover more captivating films as an Art de Vivre subscriber such as 'Everything Everywhere All at Once'.
Credits for the Main photo: Jason Schwartzman and Jake Ryan in Asteroid City (2023) © IMDb
Inspire our community
A global community of enthusiastic and curious ones. Diverse voices. Subscribe for free to share your vision and enhance our art-filled world.


To leave a comment you must
sign in