Travel
Exploring Trapani: A hidden gem of Sicily's northwest coast
Trapani, a city nestled on the northwest coast of Sicily, is drenched in history and offers visitors an array of things to do.
The hospitality and reception in this part of Italy are second to none, with natives eager to converse and assist travellers in their home place.
There are plenty of places to visit, in or nearby this municipality, such as the ancient cobble-stoned town of Erice, the picturesque Egadi Islands or Trapani's Salt Pans.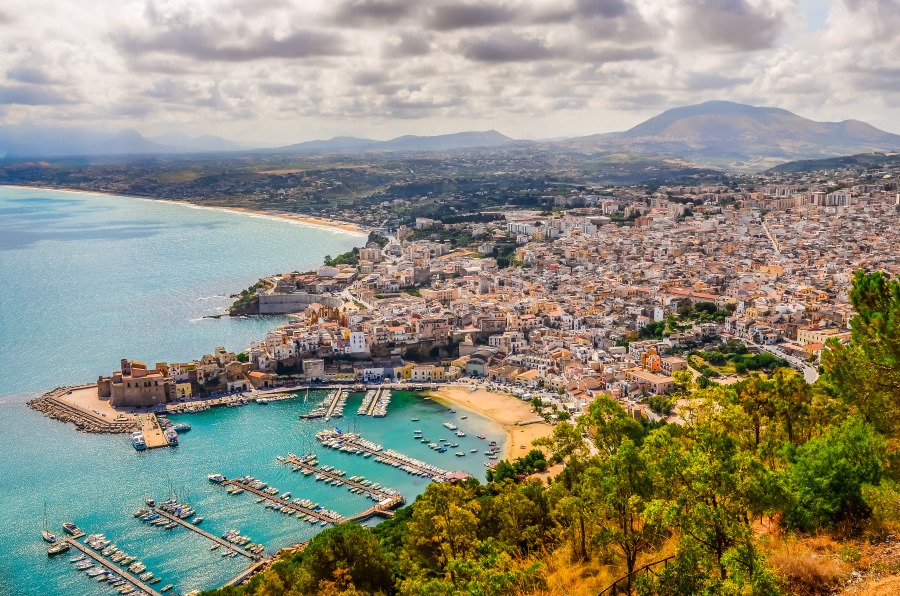 Trapani's history
The port and the traffic that Trapani received in earlier centuries benefited the city by keeping production costs low but being near the sea had its disadvantages. The Egadi Islands surrounding Trapani provided a great hiding spot for ships, particularly in the 15th Century, therefore the city was vulnerable to piracy.
There remain many gaps in Trapani's history. Still, the fortification of "Castello di Terra", a castle built in the Middle Ages is a notable construction with remains that can still be seen today on Lungomare Dante Alighieri.
Later on, the port of Trapani played an important role in the agriculture and tuna fishing sector, as well as the manufacture of salt which is functioning today.
Albergo Room of Andrew
A lovely base to return to after an activity-packed day is the Albergo Room of Andrew. This prestigious four-star hotel is located in the heart of Trapani, and was built in the early twentieth century by Marquis Enrico Platamone and transformed into a hotel in 2017.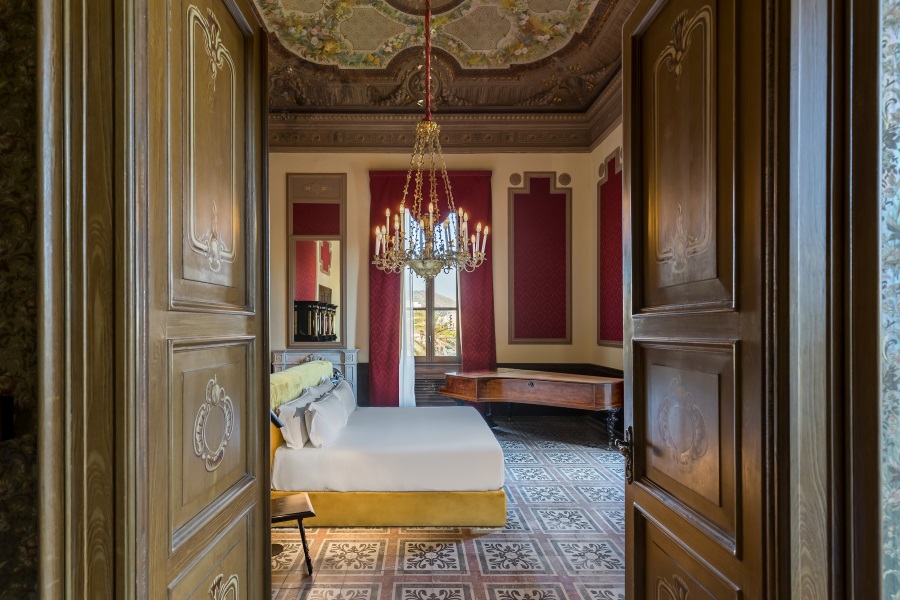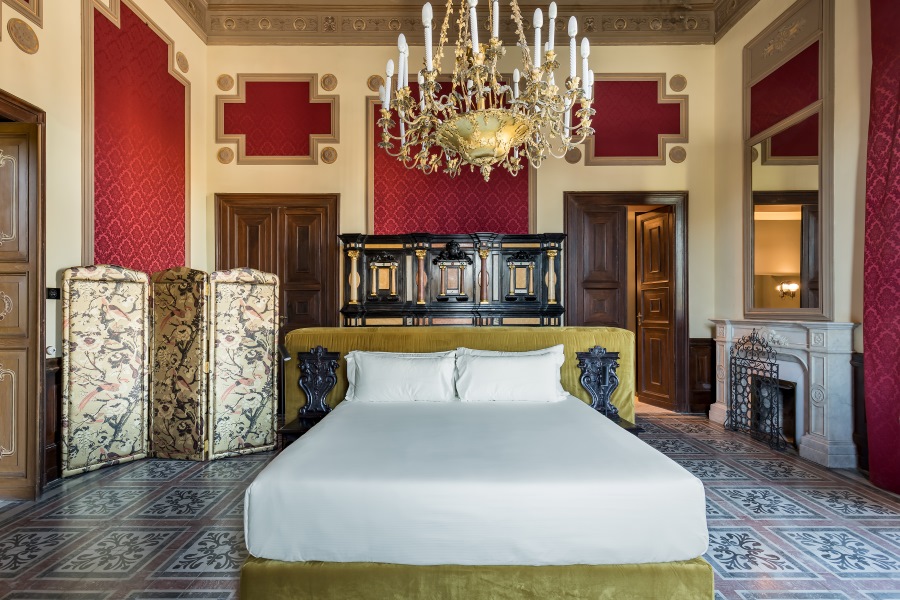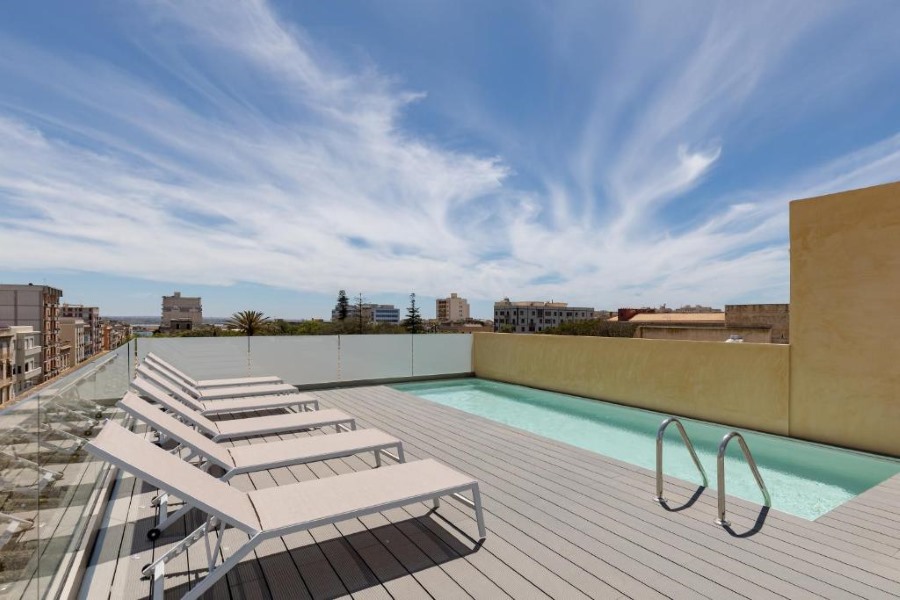 Albergo Room of Andrew
Each room is decorated to a high standard with modern furniture despite the historic building. The second floor labelled 'the noble floor' holds a deluxe room that demonstrates the aristocratic elegance of the early twentieth century, decked out with shades of deep red and gold.
There are also standard and superior rooms, the former facing the hotel's pleasant courtyard and the latter with balcony-style doors and more space. In these rooms, the gold is more subtle for those that prefer an aesthetically calmer room of creams, blacks and lovely tiled floors.
Their staff have a very high standard of professionalism and go the extra mile for guests.
If you get caught in a Sicilian shower and don't want to travel far for a bite to eat, their café turned lounge bar accommodates guests and locals alike.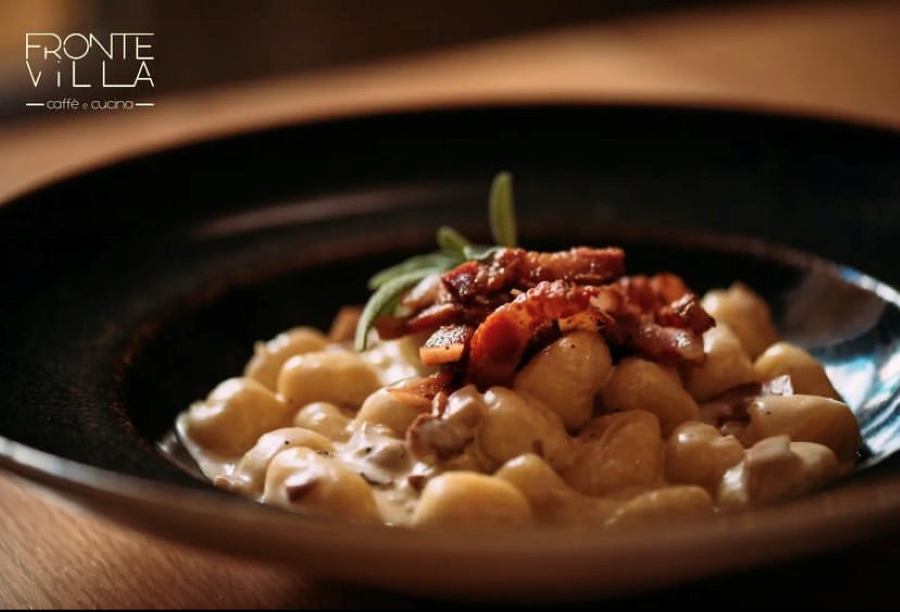 FronteVilla - Inst: @frontevilla
FronteVilla is a café, a bistro, a lounge bar, a restaurant and an event host all in one – why not try some of their patisseries or in-house Sicilian street food on your doorstep?
For dinner, you can expect delicious citrus swordfish roll with olives and caper stew and spaghetti with fish egg, shrimp tartare and pistachios on the menu.
Antique rural dammuso, sea view and arabic garden - Airbnb
If you're looking for an airbnb for a more intimate experience, consider staying at Dammuso, a splendid villa surrounded by olive trees with scenic sea views and a private outdoor pool.
Purgatorio Church
This Church was designed by architect Don Pietro Lo Castro and the façade from 1712 was characterised by the Trapanese architect Giovanni Biagio Amico.
It was built in 1688 and holds twenty bold statues presenting the Stations of the Cross that feature in the Procession of the Mysteries of Trapani during Holy Week.
Good Friday marks the beginning of the city's events and this goes on until Saturday afternoon.
This time of the year is a great time for those that want to experience a special yearly event tied to the church.
The highly decorative Italian style is shown inside the walls, demonstrating what sprung to life in late 16th-century Italy.
The aim of the Baroque style was to capture the emotional and sensory relationship to one's faith.
Gennaio30 Bistro
As local chef Gaetano Basirico and founder of Serisso 47 says,
The trick of a good recipe is to be an accomplice of the ingredients.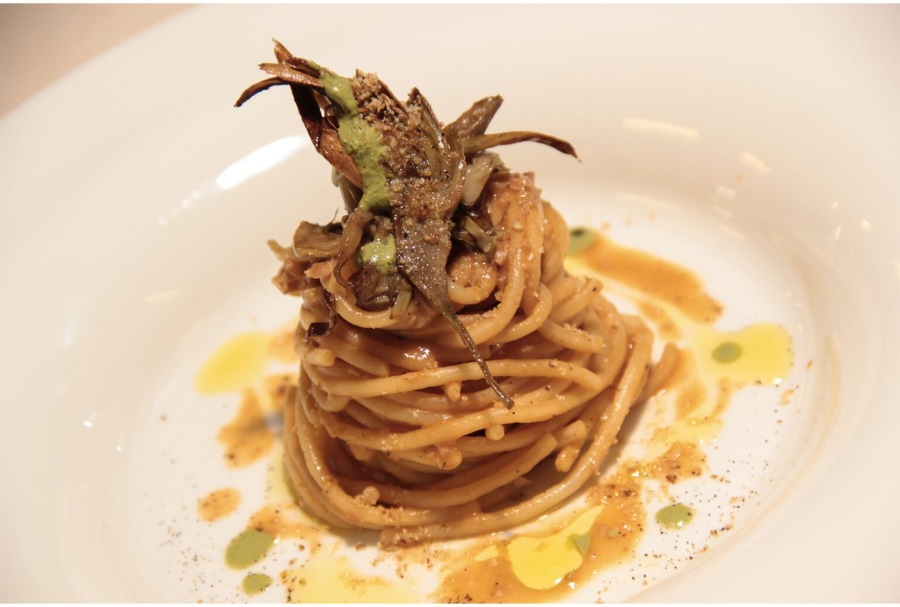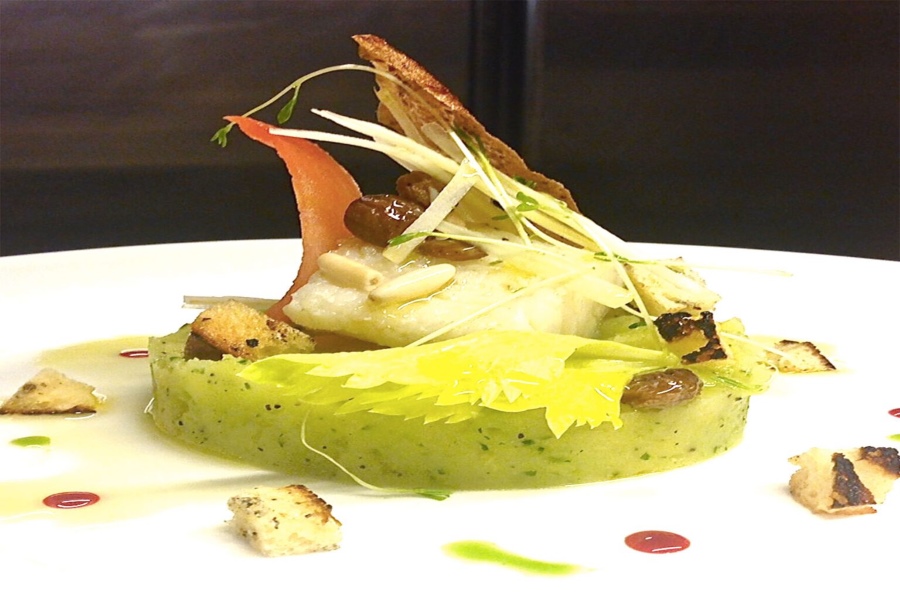 He supports his statement by garnering his love for local produce and investing in the high-quality Sicilian cuisine that Italy is known for.
Gaetano's Michelin-star restaurant Serisso 47 is currently closed but visitors of Trapani can taste high-quality Sicilian cuisine at Gennaio 30 knowing that Gaetano is well versed in the menus he crafts with his expertise and knowledge of local trades.
For mains, veal is on the menu, cooked with aromatic herbs, Jerusalem artichoke and Italian endive, as well as pan-fried lamb with spring onion, green olives, potatoes and rosemary. Or why not try their crunchy sea bream with parsley and lemon yoghurt sauce?
This bistro rocks stone arches and walls, ringed ceiling lights and bold contrasts of white and black furniture create a dimly-lit ambient space.
Transparent candelabras, quirky wall hangings and wall-to-wall wine racks. What more could one want for a relaxed yet professional dining experience?
Salt pans of Trapani and Marsala
Many tours run through Trapani's historic Salt Pans – this is a famous part of Sicily where the unique piles of salt can be admired.
This ancient production of salt is a real sight to see, with wide expanses of sectioned water, large windmills and tanks of water which can be seen whilst approaching the site.
Many of these salt pans remain functioning today during different times of the year and they're very easy to visit.
These salt pans also stretch through Paceco, and in this town, you can visit the Salt Museum where the long history of salt extraction and processing of the salt can be experienced for one euro.
The Egadi Islands – Favignana and Levanzo
Favignana and Levanzo are two small islands that are easily reached and frequently visited from Trapani Port.
Their protected marines, famous bays and quaint streets are why many tourists choose to split their stay between the islands and the mainland.
The Egadi islands are relatively new tourist spots meaning the authenticity of the Italian way of living is visible. Many locals still depend on fishing as their main source of income as they have for centuries.
Cala Rossa Bay is the most sought-after spot in Favignana, popular with boat trips and island guests due to its crystal, turquoise sea and historic rocky landscape.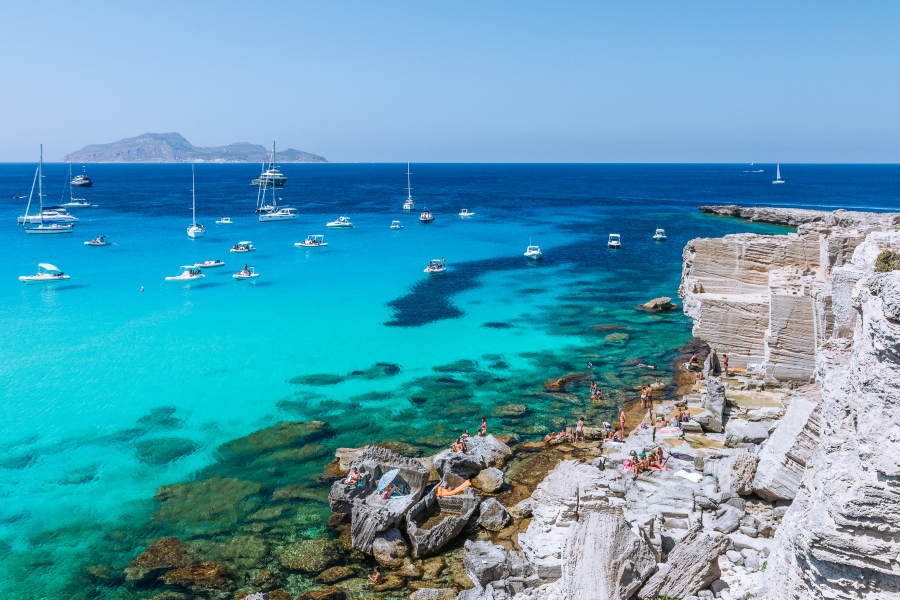 Favignana is the larger island, with extensive bike or scooter rental opportunities to discover its hidden caves and bays.
Bue Marino, named after the monk seals that frequented this spot, tends to be more quiet than Cala Rossa Bay. The smoother rocks from the old quarry make for great sunbathing spots and the clear water is a must for those that love swimming.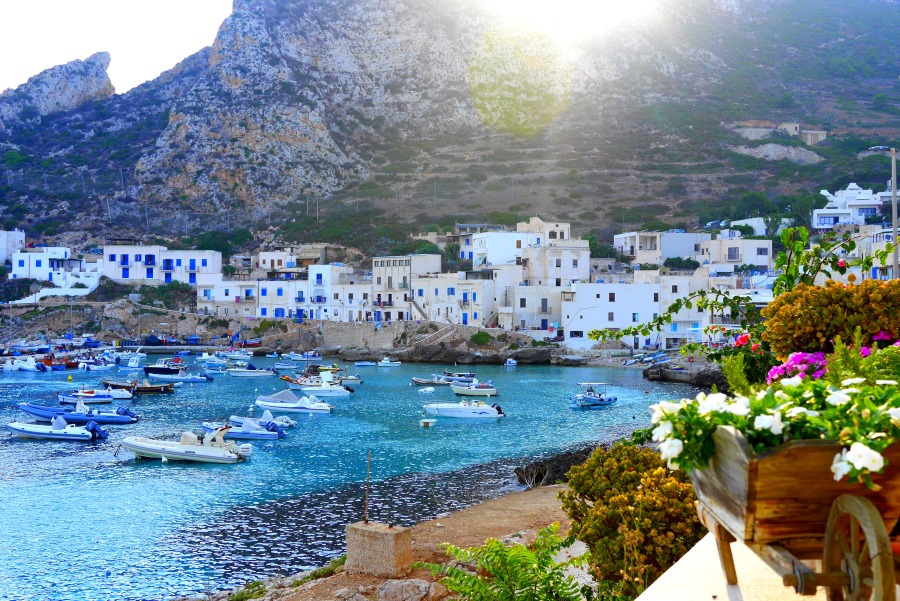 Levanzo on the other hand is much smaller with more fishing boats and picturesque qualities. This island suits swimming and sunbathing days.
Day trips to the islands typically start from 9 and arrive back at the port at 5, including lunch, stop-offs and coast drives but we recommend you spend a night or two in Favignana.
Company Blu lines leave Trapani port, daily, costing approximately 42.50 euros.
Ancient Erice by cable car
Erice is a mediaeval town with restaurants and cafes that allow for breathtaking views, cobbled streets and mountainous beauty.
From Erice, you can experience views of the whole of Trapani, the continuous green fields behind the city to the left and the lengthy beaches to the right.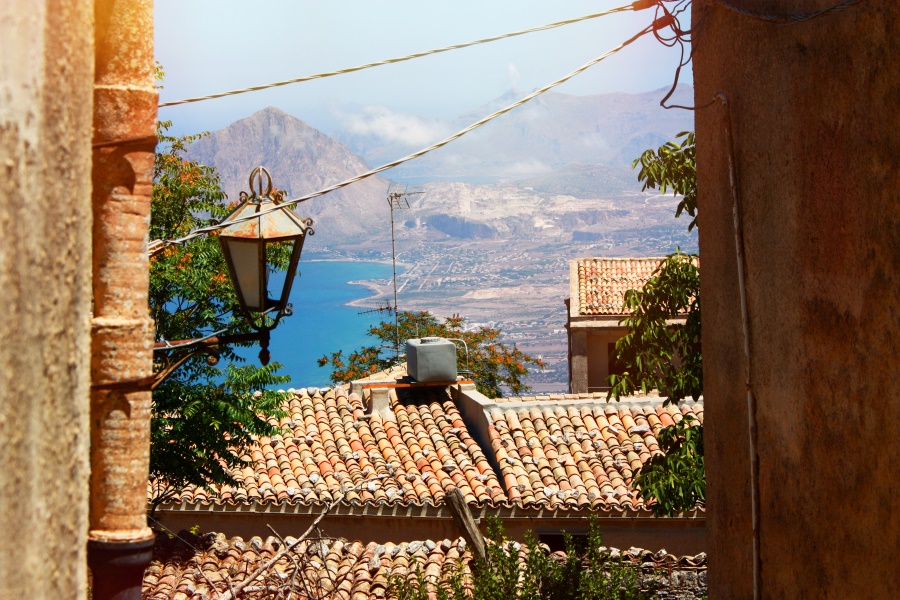 Set 750m above sea level, the weather can be temperamental but its ability to change from shocking sunshine to heavy fog within minutes adds to its mystery.
The Castello di Venere, a 12th-13th century Norman Castle, can be visited through a ticket purchase with a stone wall said to have been built by the mythological Daedalus.
To reach the cable car from Trapani, line 21 or 23 can be caught from Trapani centre and the cable car journey takes 10 minutes. It costs 9.50 euros for a return ticket.
This is the perfect Sicilian guide for amazing things to do in Trapani. If you're only just beginning to plan your Italian adventure and wish to research some more, take a look at our article on the best places to visit in Italy.
Photo Credits: © AdobeStock
Inspire our community
A global community of enthusiastic and curious ones. Diverse voices. Subscribe for free to share your vision and enhance our art-filled world.


To leave a comment you must
sign in