Insight
Lisbon's Loco restaurant review — A surprise feast crafted with meticulous attention to detail
As you step into Loco, the Michelin restaurant tucked away behind Lisbon's Basílica da Estrela, you'll be struck by a centennial olive tree, weighing a staggering 450 kg, appearing to levitate from the ceiling. It's a sight that sets the tone for the atmosphere and attention to detail found here. Then, by the bustling kitchen in the dining area, where the dishes are carefully crafted before your eyes.
Head chef Alexandre Silva, who won the first edition of Portugal's Top Chef competition in 2012, showcases his superb culinary skills through a surprising 16-course tasting menu featuring seasonal ingredients — organic and sourced from local producers where possible — paired with local and organic wines.
Portuguese cuisine with a modern twist
Loco is a restaurant that dares to push the boundaries of traditional Portuguese cuisine. We were treated at the outset to highly inventive dishes served showcasing the chef's creativity and expertise. One such creation was the crispy potato roll filled with creamy cod fish brandade, accompanied by the sweet and tangy onion jam, which was a tantalising experience. The fresh oysters from the Sado river served with creamy coconut cream and green chilli granita — a twist on a classic seafood dish —was equally surprising.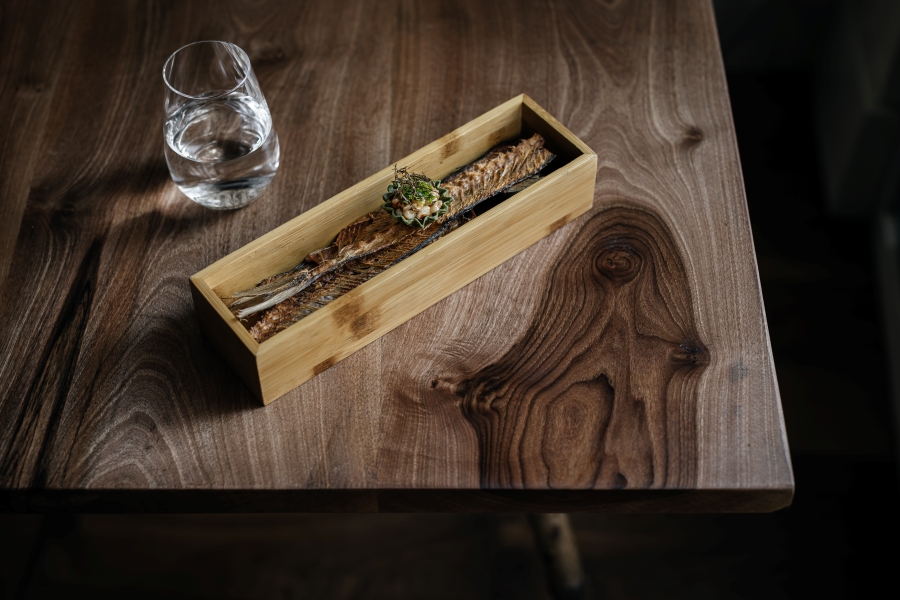 Bread took the centre stage in the main course, paying homage to local tradition. The spelt sourdough bread was served with "berbigão à bulhão pato" sauce, extra virgin olive oil, smoked sobrassada, and lemon-infused aged cow's butter - an exquisite medley of flavours.
Loco continued to impress with standout dishes like its spirulina tartlet with a succulent cod bladder stew and seabass cured roe. The steamed fish of the day paired with fresh seaweed and oyster was also delightful.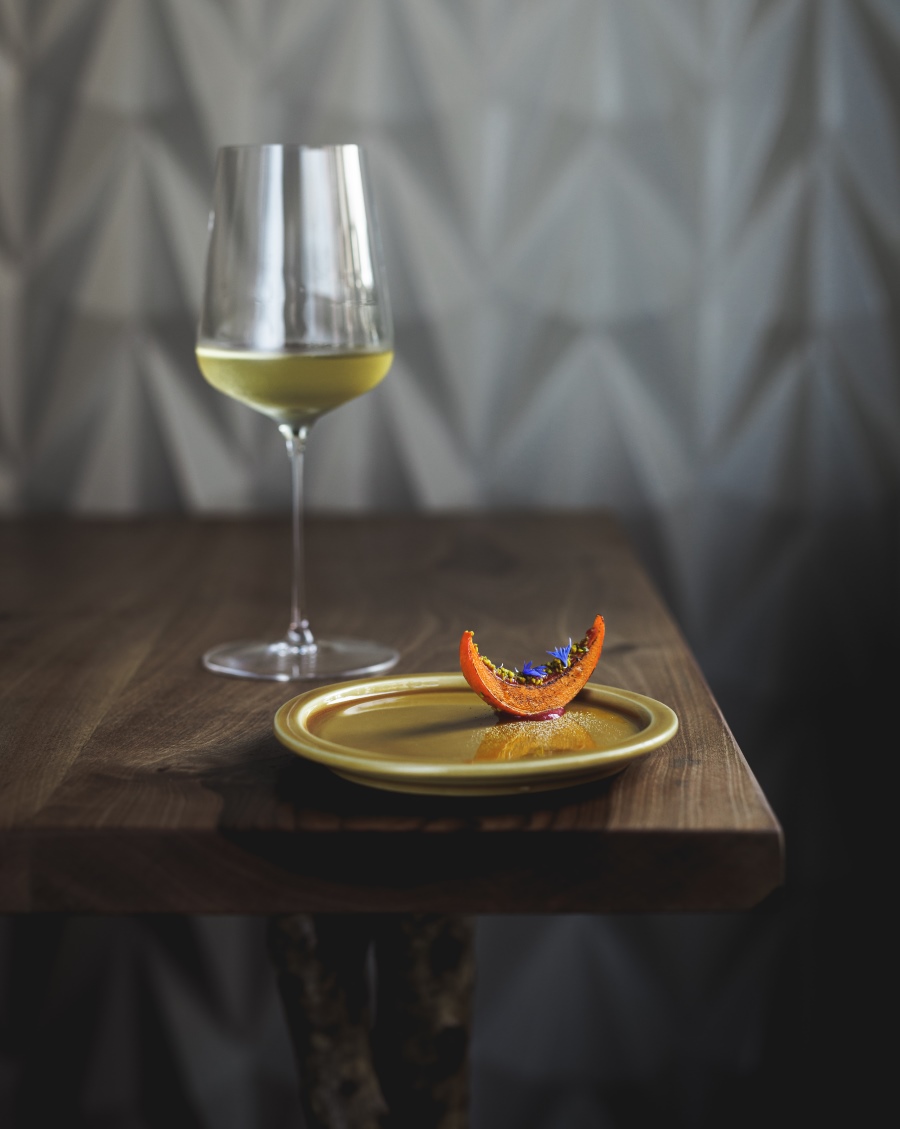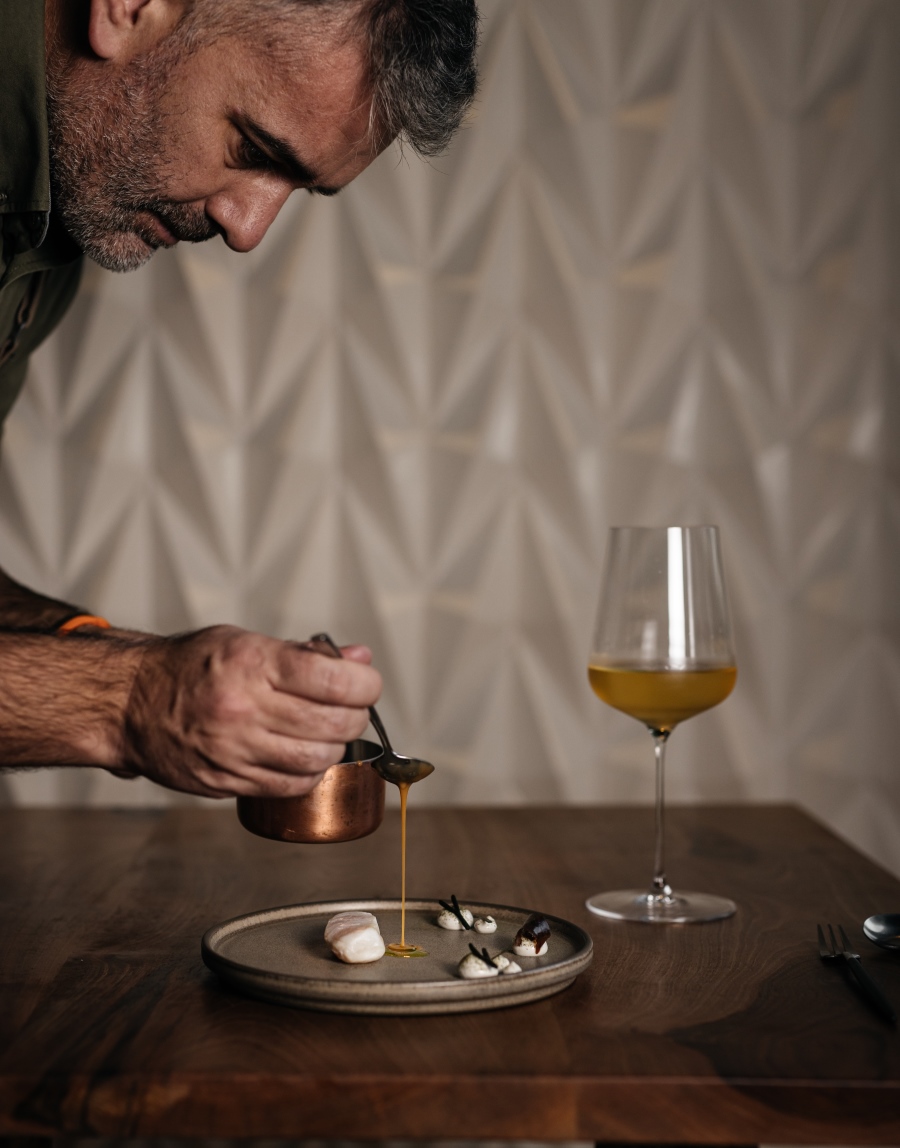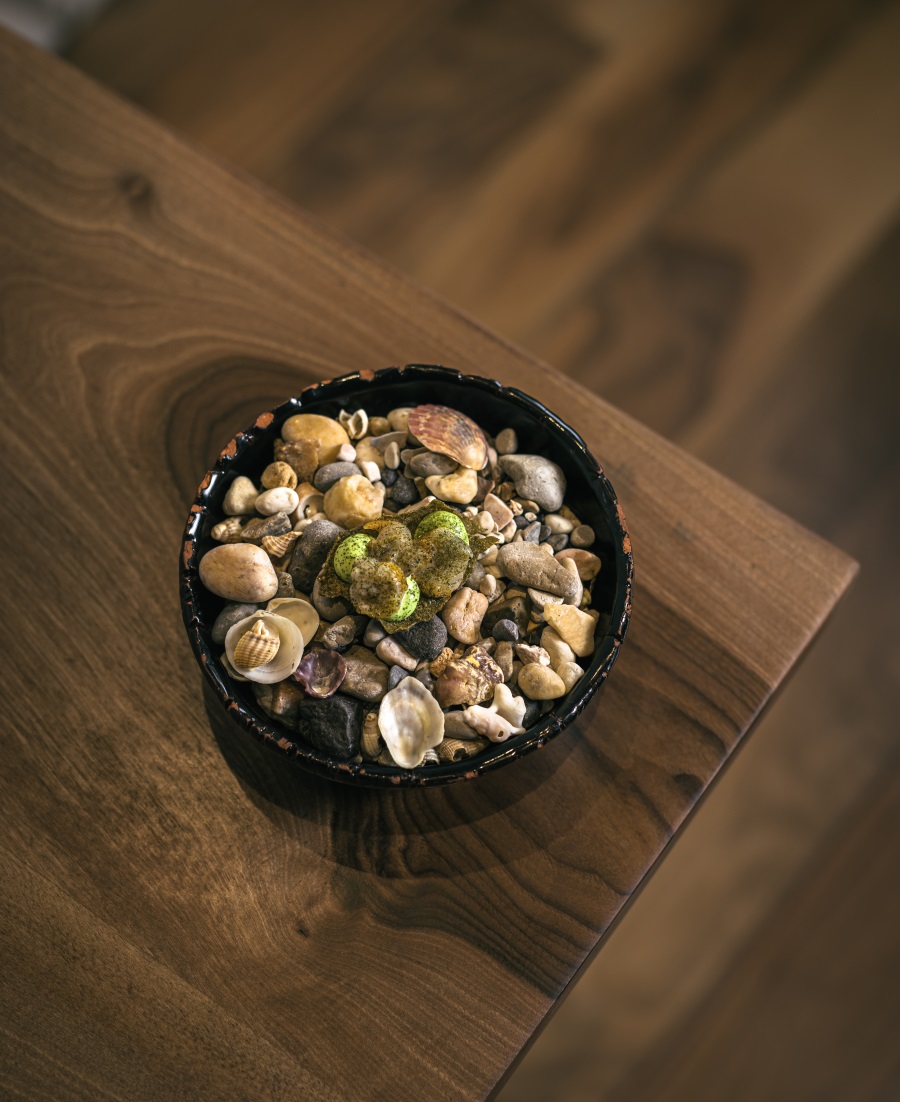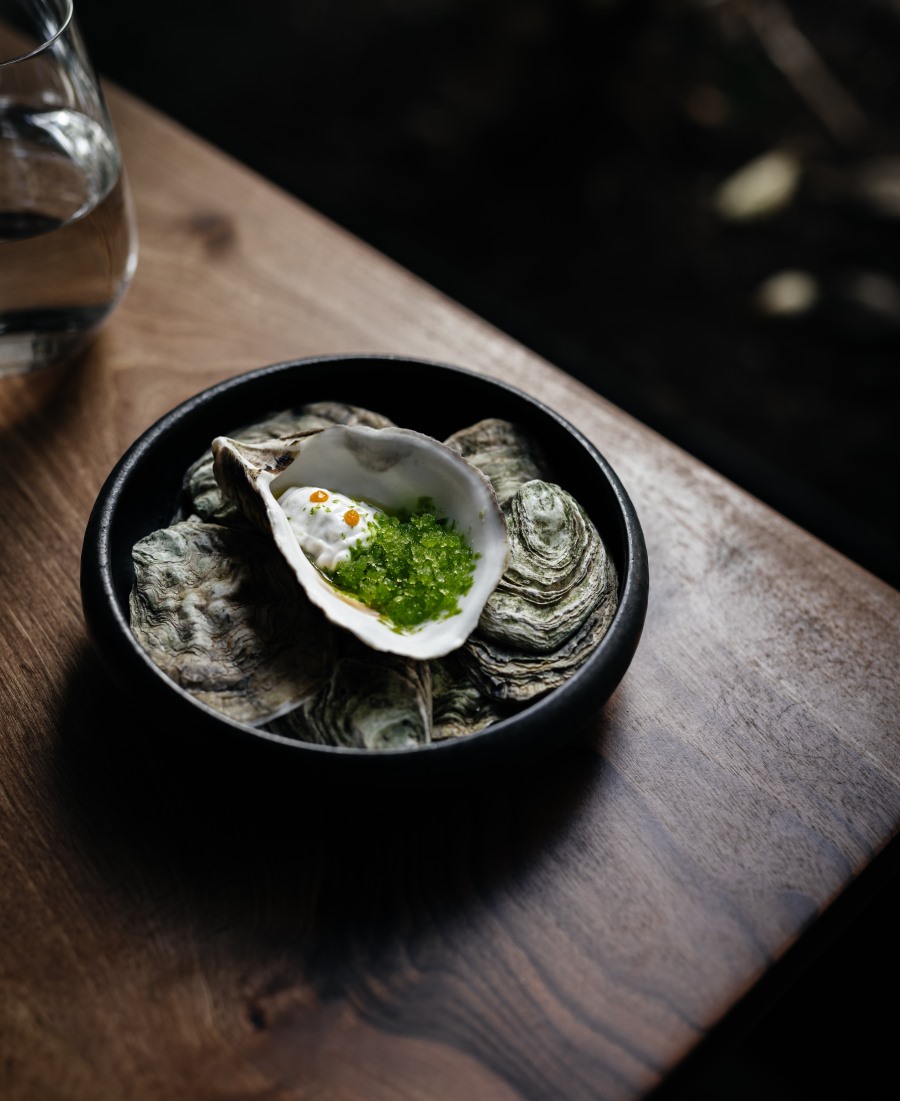 The delectable desserts were just as enchanting and included blueberries, carob, and sourdough cream, and beetroot sorbet with hibiscus kakigori and pistachio cream. The goat milk, goat cheese and goat yoghurt was simple and refreshing - perfect to conclude the meal.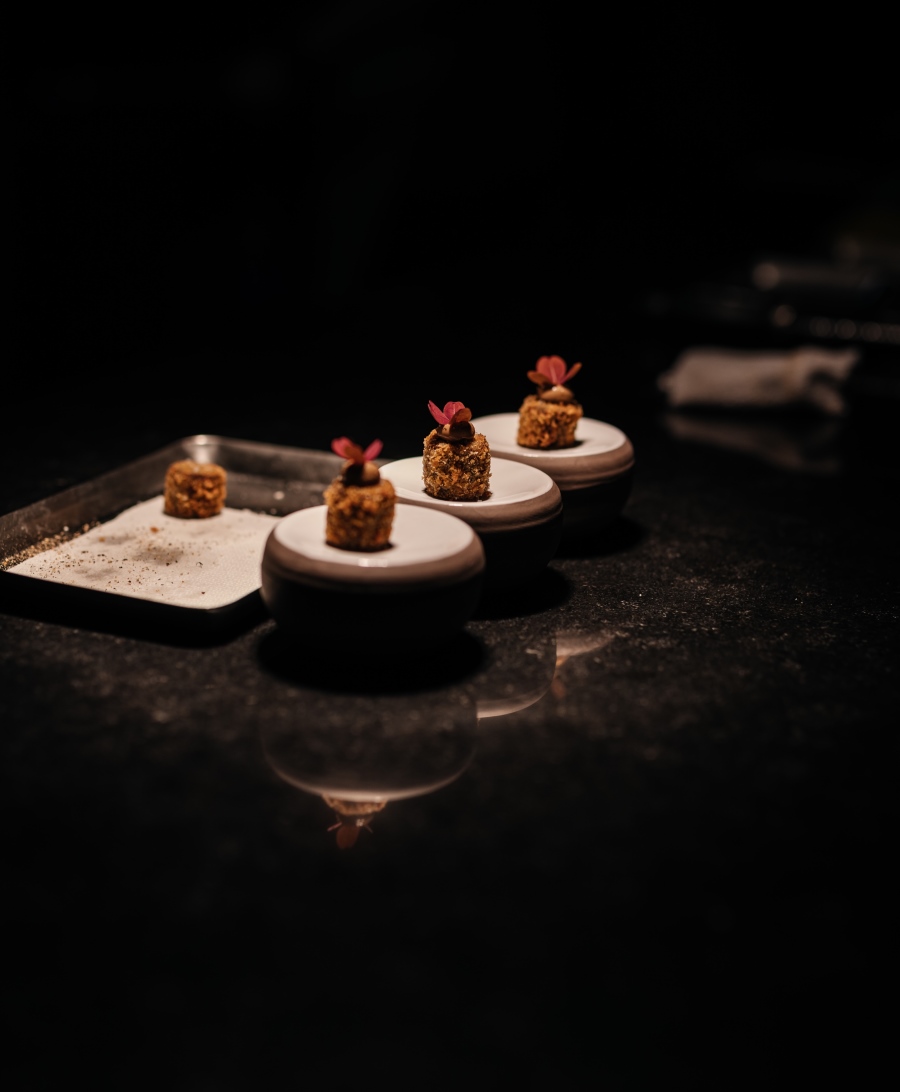 A plethora of textures and flavours, the Loco menu is a harmonious symphony, with chefs using vacuum distillations to create aromas and perfumes as well as using ancient techniques such us using fresh clay to cook meat.
A minimalist and intimate setting
The dining atmosphere at Loco is both contemporary and inviting, with tables crafted with tree trunks and branches and a service that is attentive and knowledgeable. The restaurant offers an intimate and personalised experience, with a maximum capacity of only 22 diners per night, and a focus on avant-garde cuisine made with Portuguese ingredients with international influences derived from his travels, from Portugal to North Africa and Asia.
You'll be served exclusively Portuguese wines, with a focus on hidden gems, such as Manolito (2019) from the Alentejo region, with its subtle cherry and herbal notes — a true embodiment of Loco's dedication to showcasing lesser-known wines.
On our way out, as we bid farewell, we couldn't help but pause to admire the floating olive tree again, now understanding how it symbolises the restaurant's organic philosophy and the team's unwavering commitment to their craft. Loco leaves a lasting impression.
Loco
R. Navegantes nº53-B
1200-731, Lisbon
Closes Mondays and Sundays
Loco Menu: 16 'moments' — €150
Experience Menu: 16 'moments' + wine pairing — €235
Full disclosure: Art de Vivre was graciously offered a complimentary meal by the restaurant during our visit.
For more culinary inspiration, don't miss our carefully curated guide to the 6 best gourmet restaurants around the world.
Inspire our community
A global community of enthusiastic and curious ones. Diverse voices. Subscribe for free to share your vision and enhance our art-filled world.


To leave a comment you must
sign in