Insight
Q&A with anti-war artist Anna Dial: "Making art in Russia is like a game of roulette."
Russian multidisciplinary queer artist Anna Dial, co-founder of the platform 'Unknown Person' and the educational project Kafedra, moved to a small coastal town in Montenegro towards the end of 2022 with one main goal: to open a gallery with the mission to support anti-war art.
Dial, who is also an art teacher and has published over 50 small print editions, addresses the ideas of feminism, democracy and post-utopia in her work, and works hard to create visibility around the issues affecting queer people and climate refugees.
She works with animation, illustration, sculpture, painting, and embroidery and regularly takes part in contemporary art festivals and exhibitions. Her graphics, paintings, printed editions, and art objects are held in private collections, galleries and museum archives such as the The Garage Museum of Contemporary Art in Moscow.
Born in Kamchatka, in the Russian Far East, Dial moved to Moscow after graduating from university. Since the end of 2022 she has moved to Montenegro.
Here she tells us why she moved to Montenegro after the war started, how she came to open her own gallery, and the challenges of creating anti-war art in Russia.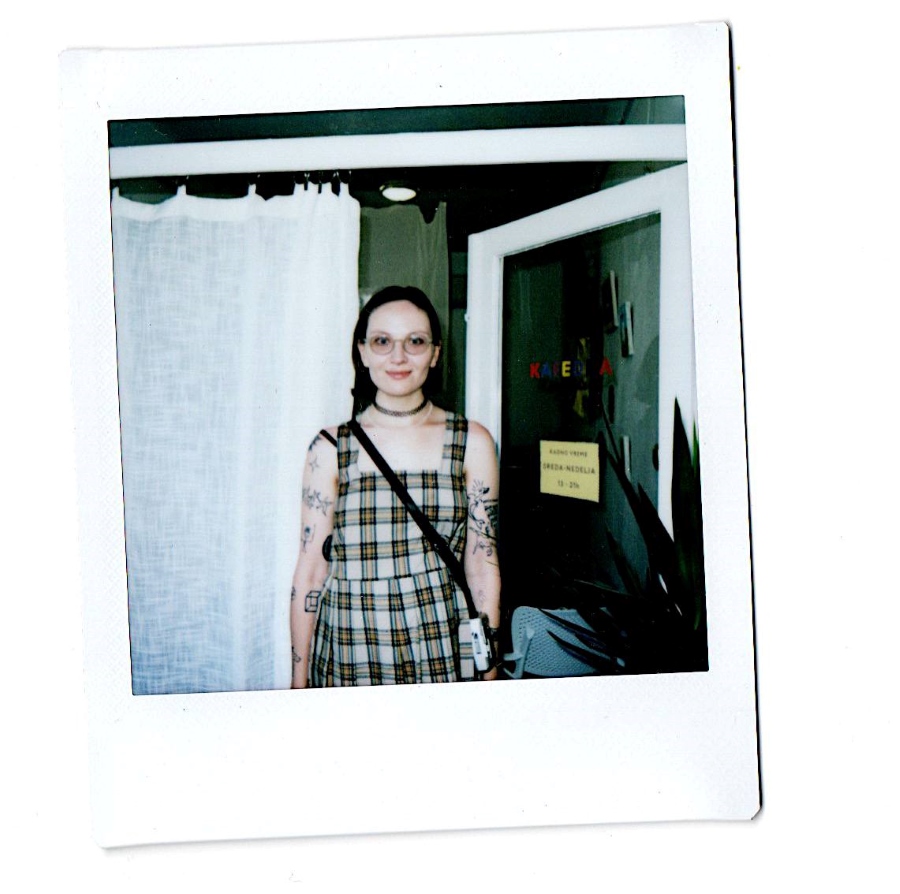 What is your art about? What are the main themes you delve into in your works?
I identify as a queer artist and feminist. Often my characters are not gender specific, I play with shape and body image and give the viewer the freedom to feel the story. I have a series of feminist works and comics, and I have a project called '46 degrees Celsius' in which I explore problems related to global warming. Sometimes I turn to very personal issues.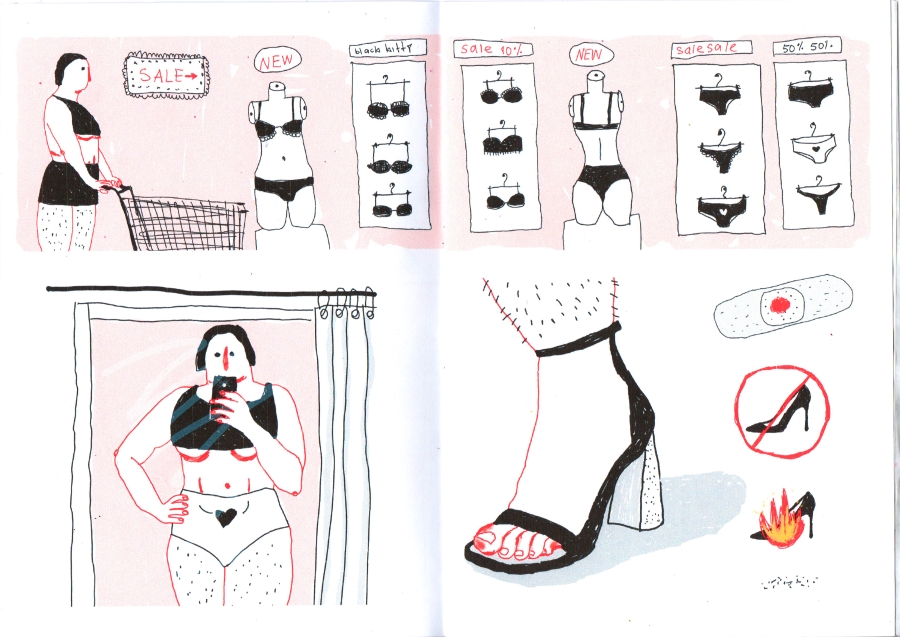 Moving to another country is a brave step. Why did you decide to do it?
A number of laws have been adopted in Russia, which no longer allow free artistic activity. And if you create samizdat [a form of underground publishing and distribution of written materials that were critical of the Soviet government and its policies], that's a red flag for the state.
During 2022, there were a few moments that prompted me to leave: On several occasions certain people made photographic recordings of my anti-war and printed samizdat materials. Unfortunately I can't reveal everything publicly in detail. I was in my last term of pregnancy at the time, when all this was happening. I didn't feel safe. My family and I left urgently at the end of the year, and all this against the backdrop of military mobilisation that had already begun. Making art in Russia in spite of it feels like a game of roulette: it doesn't matter whether you are famous or not — they will find something to punish you for.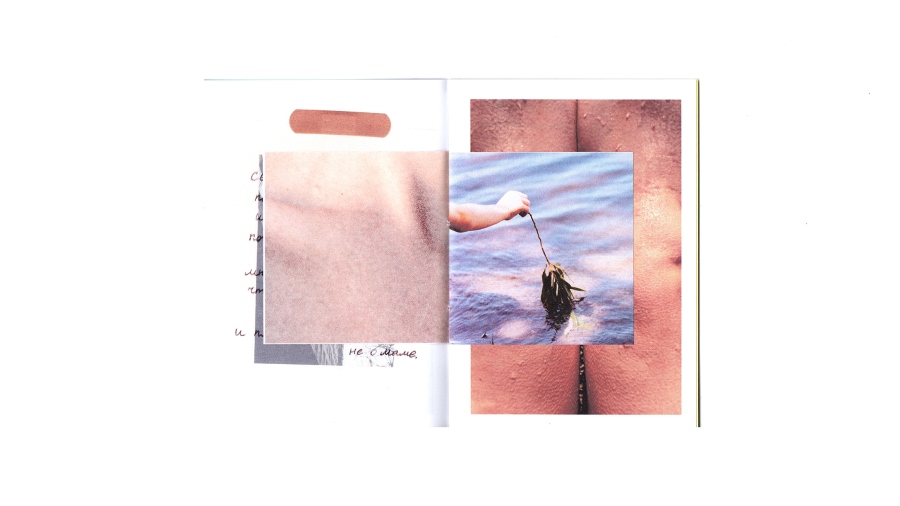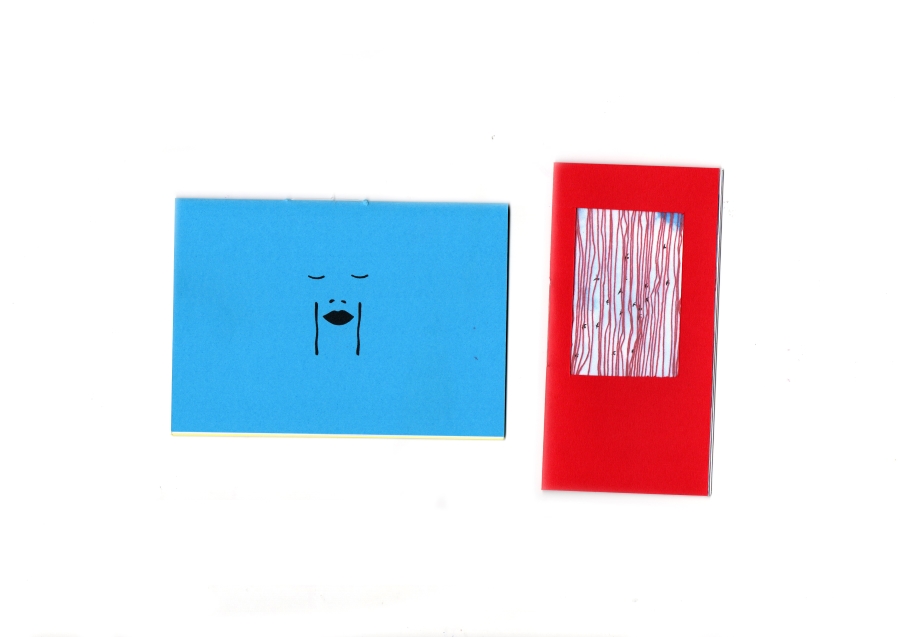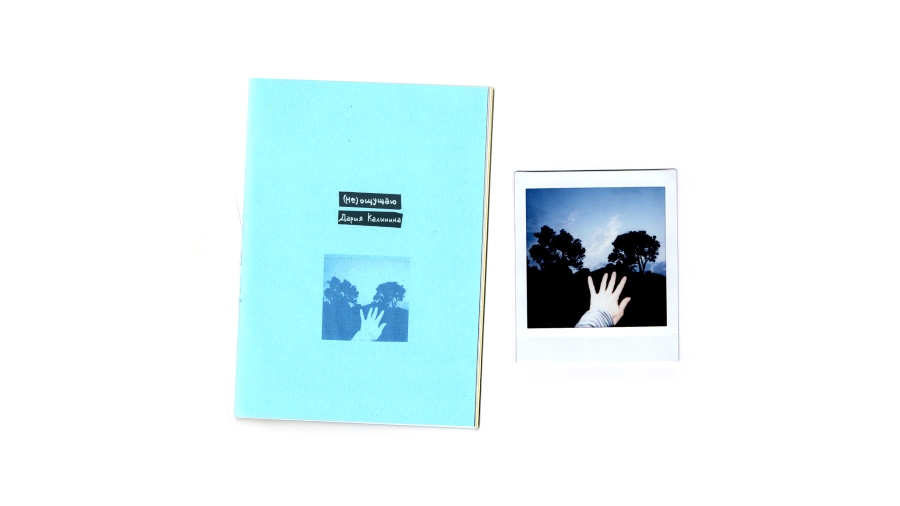 Some of your colleagues were forced to leave Russia and others were imprisoned for their anti-war stance (Sasha Skochilenko has been in jail for more than a year for "anti-war price tags" in a store; Lyudmila Razumova and Alexander Martynov were imprisoned for anti-war graffiti; Philippe Kozlov (Philippenzo) was recently arrested for his anti-war graffiti. Do you think it is possible to make art in Russia today if you raise anti-war themes?
Some artists continue to create anti-war art that supports those who still remain in Russia and are against the war. When I come across posts with such art projects, of course I started to worry about my colleagues. Nowadays, any art that even indirectly hints at an anti-war stance can be criminalised.
In the spring of 2022, I took part in a contemporary art fair in Winzavod, Moscow, and two girls came up to my stand and said:
Don't buy this work, it looks like the Ukrainian flag, take the rainbow man, rainbows have not been banned yet.
And that was only because my ceramics had blue and yellow colours.
My small publishing house was flooded with letters saying
please remove my work due to new laws
or refusing to have their name in our collective project.
Before leaving Russia, I had to remove a lot of material from my media. It is very difficult and dangerous to create in such an environment, especially when you have children. I was disgusted with myself because of self-censorship, because of fear every time. It took a very long time to come round again.
Those who are now in prison for freedom of speech, art, for their anti-war stance are the heroes of our time.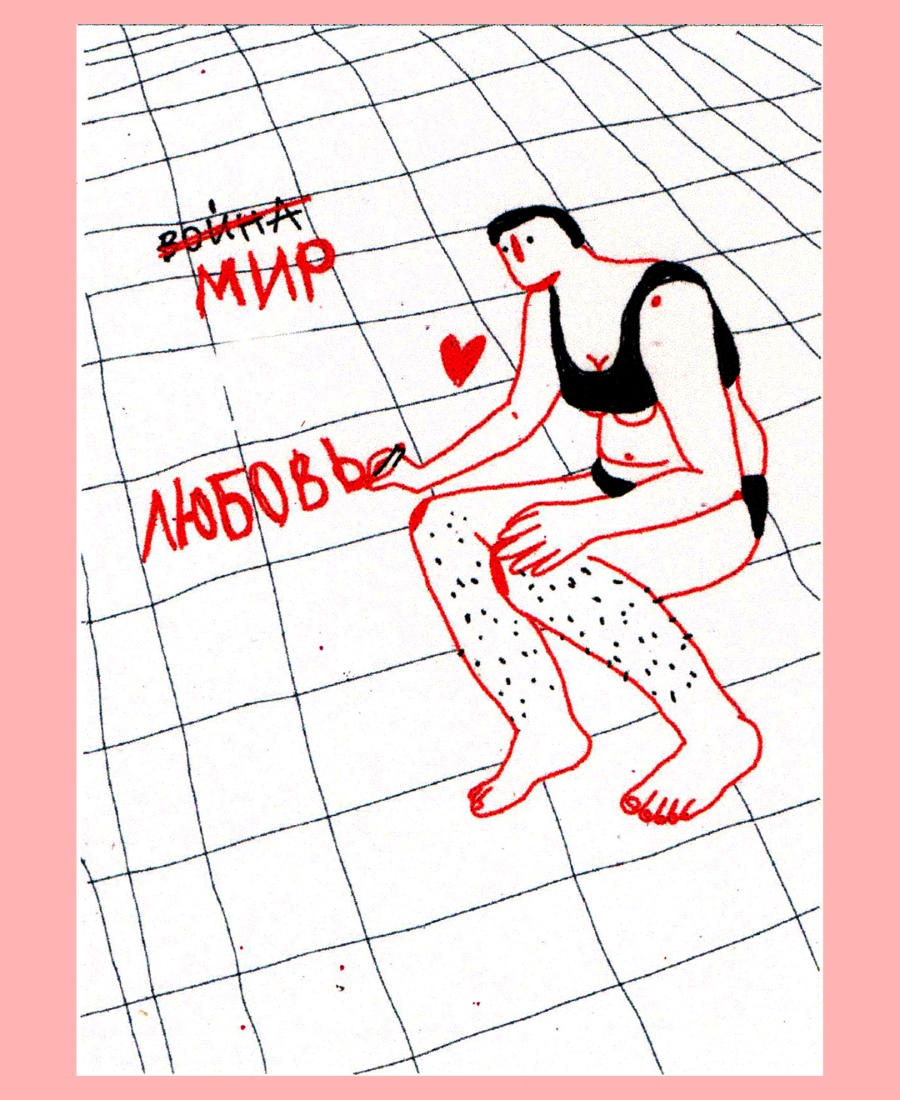 Tell us about how you and your husband came up with the idea of opening a gallery here in the small town of Herceg Novi in Montenegro?
We used to be resident curators at Winzavod in Moscow, organised our own mini-festivals and contemporary art markets, made exhibitions, and gave lectures in various Russian cities. When we came to Montenegro, we couldn't just sit idly by, it was important for us not to stop our artistic and cultural activities, and to preserve our identity. So we decided to open a temporary art space to bring together a community of artists and cultural figures, to organise collective anti-war exhibitions, to give a voice to those who found themselves in forced emigration.
Our exhibitions are always accompanied by a printed edition as firstly we came into contemporary art as self-publishers. It is important for us to develop print culture, to show that a book is not just a paper project, there is something more behind it. Kafedra existed for five months - I gave classes on print and contemporary art, there were small donations, people bought tickets to exhibitions, sometimes my work. It was amazing that such a small town on the coast found so many lovers of contemporary art. We were able to document important stories of people who suffered for their beliefs.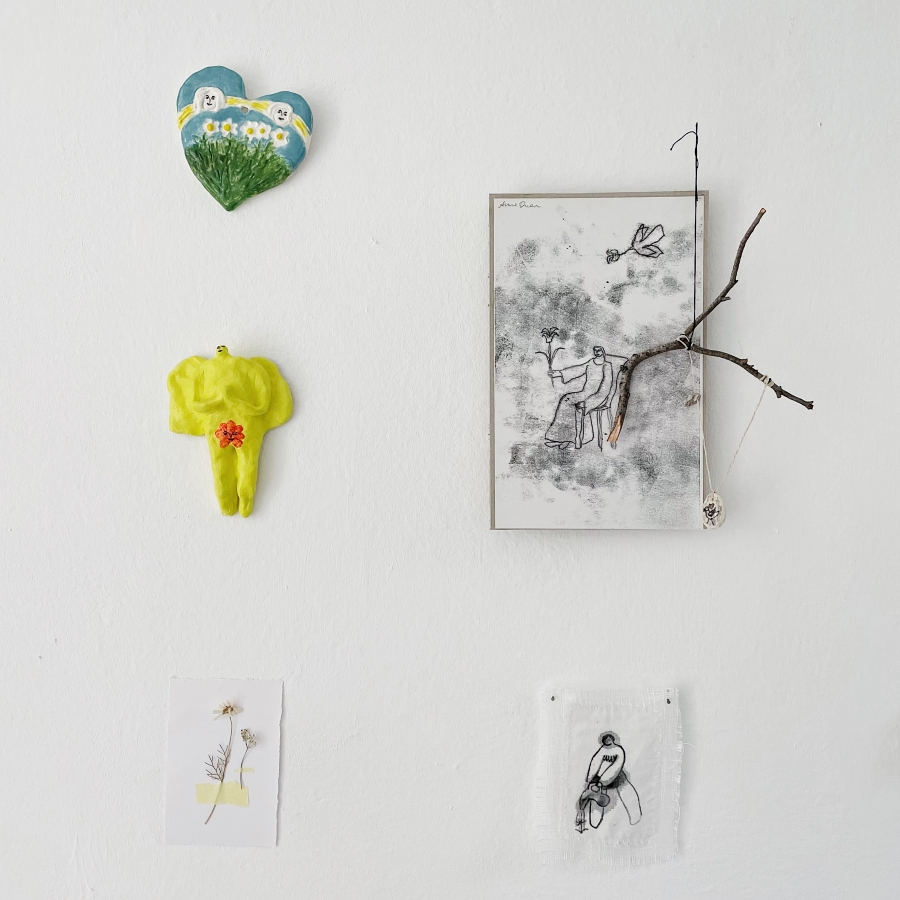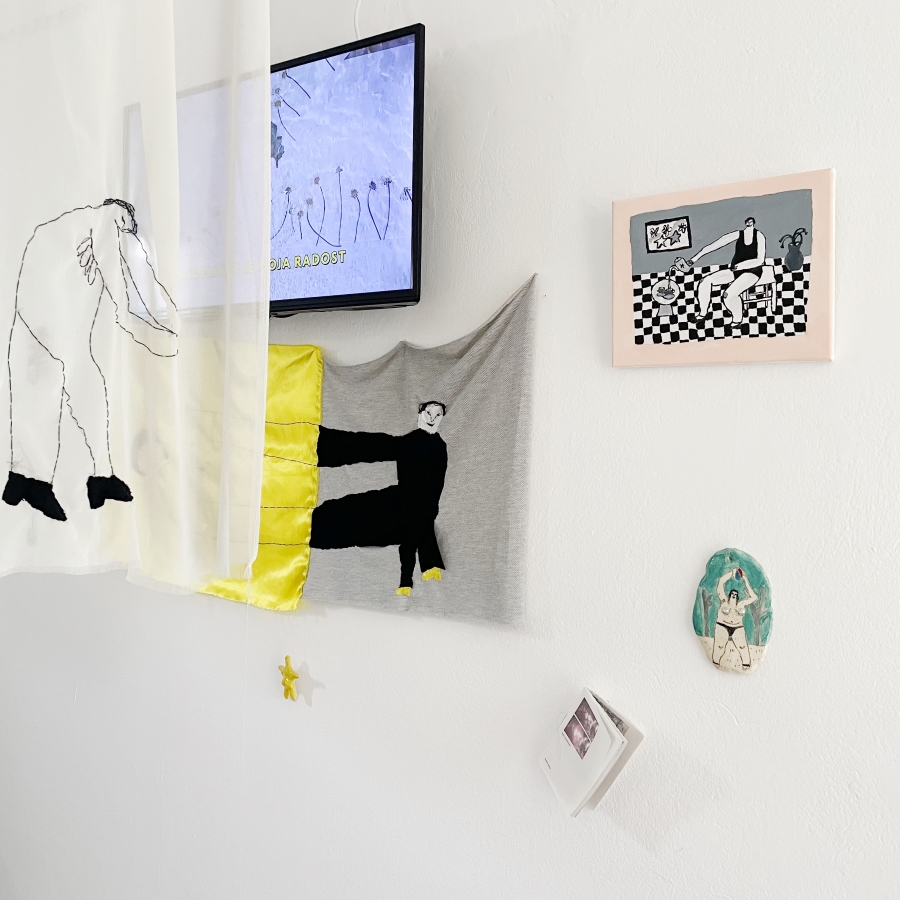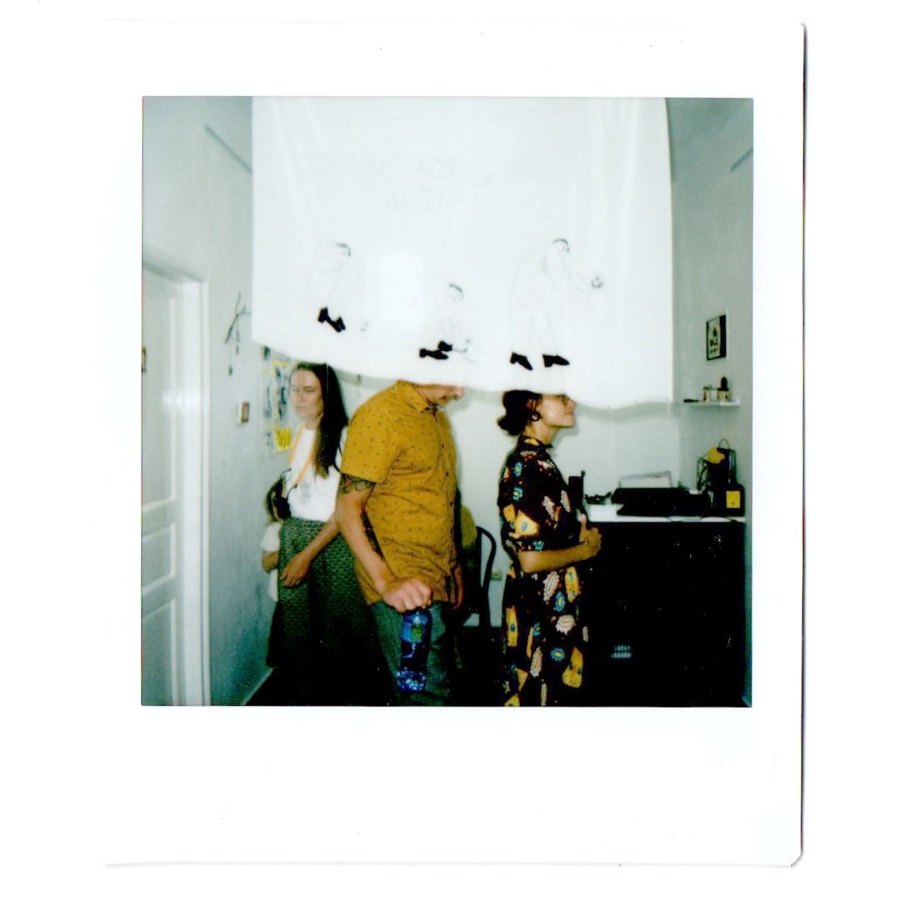 Can you tell us how you prepared for your recent show 'Camomile Field' and what the main themes were?
I started creating the first works for this project when the war started. I wanted light in the midst of total darkness. My son was going to a kindergarten, where propaganda for children started, and I decided that he would not go back there. So we started spending a lot of time together, drawing and going to a ceramics workshop. I was inspired by his work. And all this was intertwined with the fact that I was expecting my second child. In the midst of all the terrible news, my family became a fulcrum. In the spring and summer of 2022, we often collected camomiles on walks and brought them home, putting them in water, making a herbarium. That's where the name comes from, Camomile field, the kind of refuge where you fly in and wait out the worst of times. Many of the characters are people my son drew: angels, and butterfly-like creatures. I have already finished most of the works in Herceg Novi, based on sketches from Moscow. Some of the objects are accompanied by life-affirming words and phrases in Montenegrin like hope, love you, freedom.
When we opened the Kafedra art space, we wanted to get to know people in the city through art and that's why we made my exhibition the first one. I wanted to share my story, to give a little hope, to say "no to war".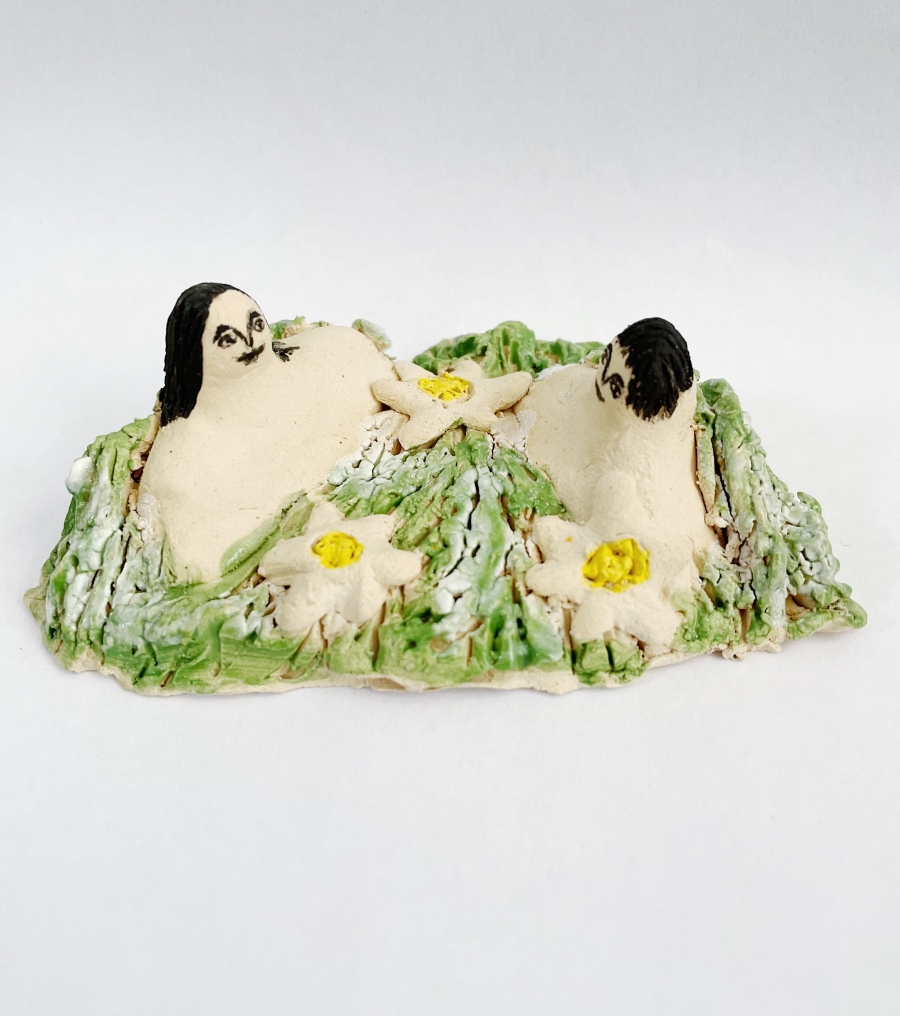 What other exhibitions have taken place at the gallery?
After 'Camomile field' we held 'Visible emptiness' and 'Mirage', both collective anti-war exhibitions. We curated a solo exhibition titled '(don't) sensate' about the problems of adaptation due to emigration by photographer Dasha Kalinina. We also held a print exposition titled 'Unknown Person' in which we displayed our small-print editions and talked about print culture. At the exhibition you could create your own zine in a few minutes, and we held printing labs.
Photo 1 - 'Visible emptiness' Exhibition; Photo 2 - '(don't) sensate' Exhibition
Who are the artists who take part in exhibitions in your gallery? Are they from Russia or are there participants from other countries?
About 40 artists and female artists from different countries and cities took part in Kafedra. Most of these artists are in forced emigration or remain in Russia. Usually for all our collective projects we hold a public open call and invite individual authors and contributors. This way we get to create installations, print texts, visual works, and show video art. Those who are on the territory of Montenegro could bring their works in person or even hold their own artist talk or lecture.
What are your future plans for the gallery?
Right now my task is to renew our micro-media and archive prints in cultural institutions. Next, we are going to organise open-calls on topical themes again, create public art, books and exhibitions, and seek grants. Kafedra has always been a pop-up project, and it is ready to move forward, open to collaborations. I believe that it is possible to spread new knowledge and progressive ideas through art.
Anna's Dial Official Instagram
Photo Credits: © Anna Dial
As an Art de Vivre subscriber, gain further insights from leading visionaries in the art world such as the curator of the Royal Academy's major Marina Abramović show, Andrea Tarsia.
Inspire our community
A global community of enthusiastic and curious ones. Diverse voices. Subscribe for free to share your vision and enhance our art-filled world.


To leave a comment you must
sign in