Art
7 non-profit organizations supporting emerging artists in NYC
The art scene in the Big Apple never sleeps, with emerging artists from all over the world travelling to this hotbed of creativity in droves. The neighbourhoods of Chelsea and Tribeca are currently among the most popular places for artists to settle, offering an endless stream of new galleries. But it is, indeed, a difficult and competitive market to navigate.
So how do many young emerging artists succeed in the art scene without sponsorship or contacts? Here are some of the most prestigious non-profit art foundations supporting and empowering emerging artists.
1. The Andy Warhol Foundation for the Visual Arts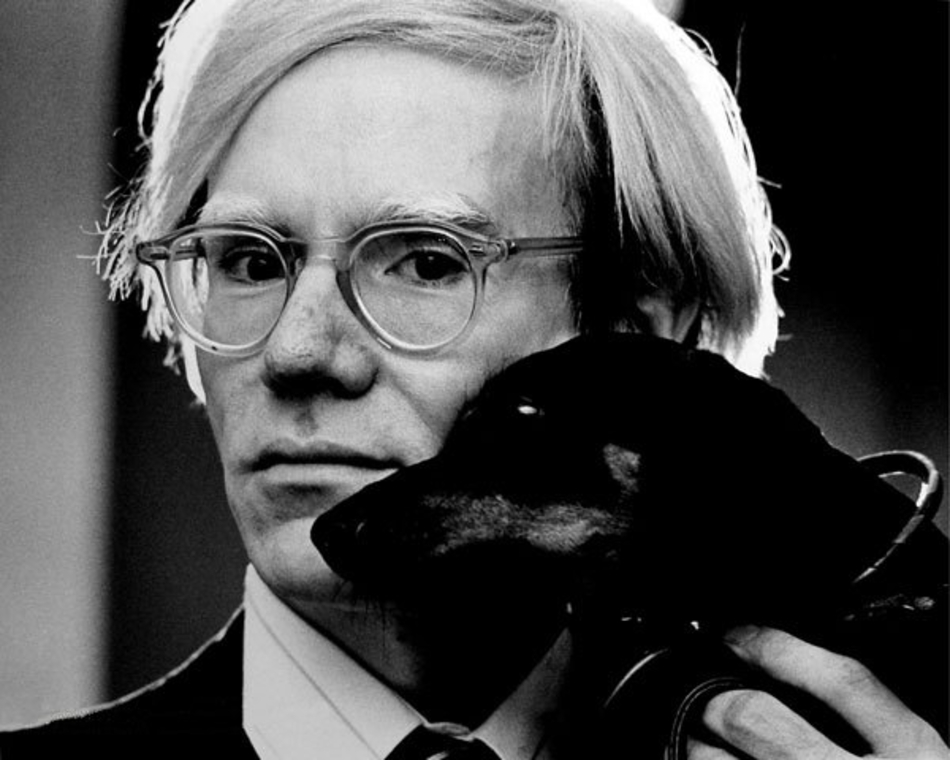 Established in 1987, the Andy Warhol Foundation for the Visual Arts is one of the most prestigious of all. But don't be fooled by its name: the foundation doesn't only dedicate itself to preserving Andy Warhol's legacy.
The artist, who died unexpectedly at the age of 58, in his will stated his desire to set up a foundation dedicated to the "advancement of the visual arts" and left almost his whole state to create it.
Non-profit arts organizations face profound challenges due to the political, economic, social, and cultural upheavals of our current moment,
Joel Wachs, president of the Andy Warhol Foundation for the Visual Arts, says on the official website.
At the same time, and more than ever, artists need the supportive community and creative encouragement that these organizations provide.
As well as continuing to manage investigations and responsible licensing policies to preserve Andy Warhol's legacy, the foundation helps and supports the work of experimental visual artists and other art institutions.
Andy Warhol Foundation for the Visual Arts
65 Bleecker Street
Seventh Floor
New York, NY 10012
2. ArtBridge: Supporting urban artists
Coraima Santana, "Resilient," located at 1385 Fifth Avenue at New York City Housing Authority's Taft Houses in Manhattan, NY. © Paul Katcher
When sidewalks become art galleries to admire, it helps you to refresh or rest your mind from a stressful day of work or while walking the streets in between activities.
Founded in 2008 by Chelsea-based designer and artist Rodney Durso, ArtBridge is a foundation supporting urban artists. To make art more accessible to the public, ArtBridge installed pieces of art and construction sites in NYC, Hudson Valley, and Italy, and has organised plenty of exhibitions.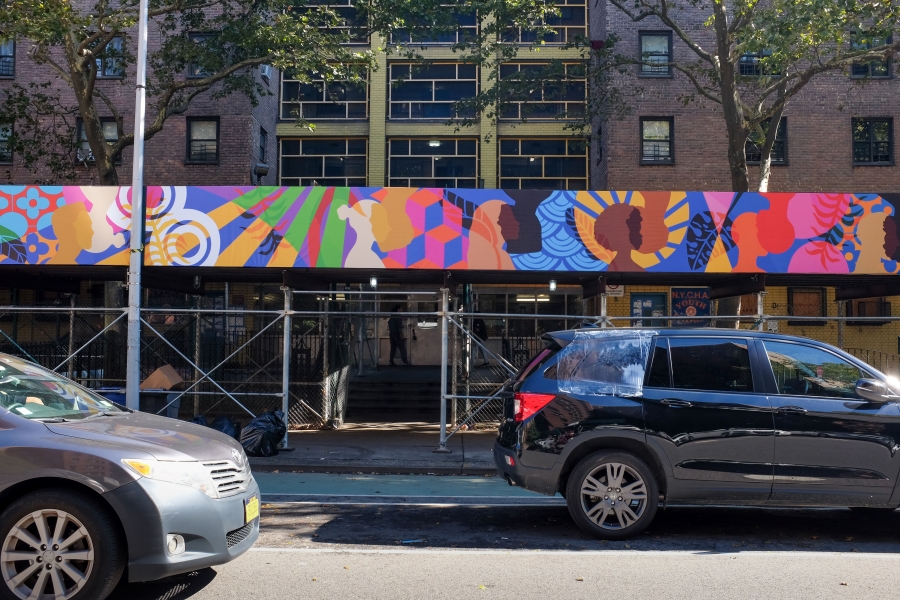 Alex Rivera, "A Stronger Signal," located at 721 Tinton Avenue at New York City Housing Authority's Adams Houses in Bronx, NY. © Paul Katcher
ArtBridge empowers local artists to transform prominent urban spaces into gallery-quality exhibitions, focusing on New York City's 300+ miles of construction fencing and scaffolding. A beautiful way to bring beauty to day-to-day life and support those who create it!
ArtBridge
526 West 26th St, Suite 502
New York, NY 10001
3. Aperture Foundation: A haven for photographers
Aperture Foundation is all about photography. A multi-platform publisher created in 1952 by photographers and writers, its main aim is to connect and inspire the photo community and its audiences through work that inspires, whether in print, online or in person. Today, the foundation has four issues of the magazine Aperture, over a dozen new photo books and books about photography, a program of exhibitions, Portfolio Prize, talks, workshops, and more.
Aperture Foundation
548 West 28th Street, 4th Floor
New York, NY 10001
4. National Academy of Design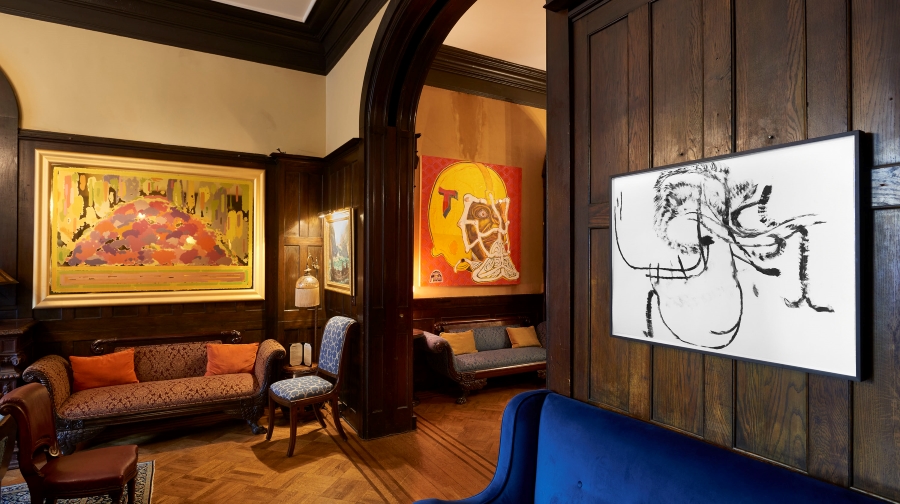 Founded in 1825, the National Academy of Design is the leading honorary society for visual artists and architects in the United States, supporting them through exhibitions, education, research, grants and fellowships. They advocate for the arts as a tool for education, celebrate the role of artists and architects in public life, and serve as a catalyst for cultural conversations that propel society forward.
National Academy of Design
15 Gramercy Park South
New York, NY 10003
5. Society of Illustrators: The oldest dedicated to illustration in US
Founded in 1901, this non-profit is the oldest one dedicated to illustration in the US. Taking advantage of the growing Golden Age of this artistic discipline, a group of nine artists and a businessman created this society with a simple goal in mind: to organize periodic exhibitions
featuring illustrations and supporting artists. But they had bigger plans in store for them, soon after playing an important role in a poster advertising World War I, the 'I Want You for the U.S ARMY' poster, reminding young men that they had a patriotic duty.
Most of its exhibitions and dialogue were about war and politics but they also branched out with exhibitions about theatre, dance, and film. Today the organization has many layers and is focused on providing illustrators a centre to discuss, demonstrate and exhibit their works, as well as contributing to supporting future artists and the community at large, and taking a stand on legal and ethical issues affecting the profession.
Society of Illustrators
128 East 63rd Street
New York, NY 10065
6. New York Foundation for the Arts: A "service organisation"
Established in 1971, the New York Foundation for the Arts (NYFA) is one of the main art foundations, offering an array of programs, opportunities and events happening in NYC to promote careers in the arts. They describe themselves as a service organization providing artists, emerging arts organizations, arts administrators, and students with critical support, professional development tools, and resources for defining and achieving career success.
New York Foundation for the Arts
29 W. 38th Street, 9th Floor
New York, NY 10018
Endless incredible organizations are out there working to promote the future art scene, and these are just a few. But there will never be enough non-profits dedicated to sponsoring and sharing creative pursuits.
7. Americans for the Arts (Art and Business Council of New York)
Another interesting non-profit with great impact would be Americans for the Arts, an institution named in the past as Art and Business Council of New York. This organization believes that through the arts we can actually transform society, economics, workplaces, students experiences and so on making the best connections. In their words:
Our mission is to build recognition and support for the extraordinary and dynamic value of the arts and to lead, serve, and advance the diverse networks of organizations and individuals who cultivate the arts in America. Connecting your best ideas and leaders from the arts, communities, and business, together we can work to ensure that every American has access to the transformative power of the arts.
Americans for the Arts
1 E 53rd St
New York, NY 10022
Credits for the Main photo:
Exhibition: Consequences: A Parlor Game
February 7, 2022 -May 12, 2022 at the National Arts Club
Left to right:
Peter Halley, Gold prints, 2020
digital prints on gold foil vinyl
53 x 75 inches each
Trenton Doyle Hancock, It's Just a Matter of Trust at This Point (for Chadwick), 2020. acrylic, graphite, plastic tops, and paper collage on canvas, 60 x 60 inches.
Julie Mehretu, Codex Monotypes #85, 2018. Oil-based ink and acrylic on paper, 23.5 x 30.375 x 1.5 inches.
Photography by Arturo Sánchez.
Inspire our community
A global community of enthusiastic and curious ones. Diverse voices. Subscribe for free to share your vision and enhance our art-filled world.


To leave a comment you must
sign in