Insight
Turnips: a culinary symphony of freshness forged by a Chef and a Greengrocer
The concept of Turnips
Charlie Foster is a fifth generation greengrocer. His father supplied London's restaurants (including Michelin-starred ones) with Europe's best fruit and vegetables. This genetic disposition to procuring and providing the freshest of produce was inherited by Foster himself, continuing on his family's legacy in London's booming restaurant scene. Sometime during the chaos of mental recall that was the pandemic, Charlie Foster struck up a partnership with Tomas Lidakevicius - a chef with a resume in London-based Michelin-star restaurants such as City Social, by way of Lithuania.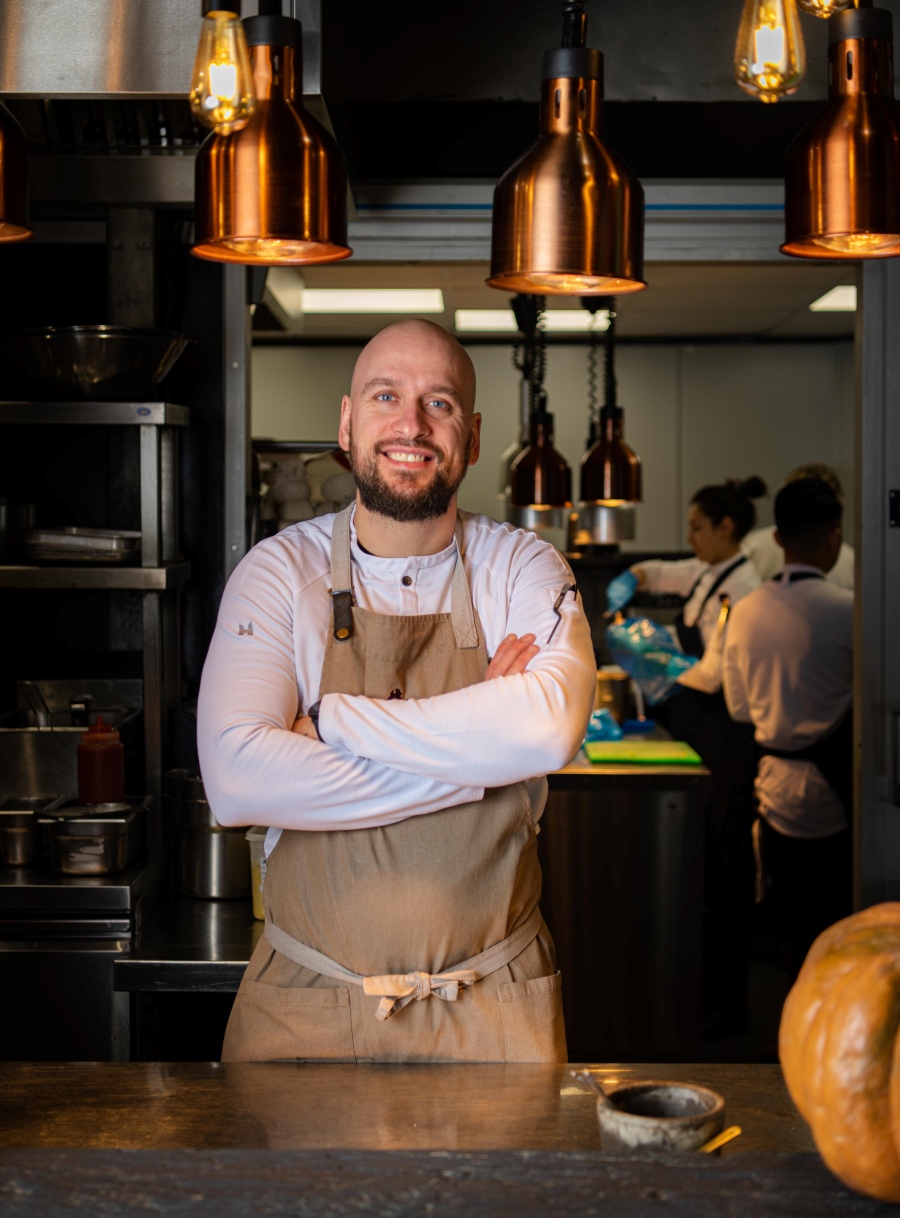 A hidden gem within the bustling Borough Market
Borough Market is one of London's busiest tourist attractions. On any day of the week and at any time, you can be sure that there will be hoards of potential customers. This being said, however, for some strange reason the incredible demand has not tainted the quality of purveyors products. One can find cuisine from all across the Globe in one convenient (albeit ginormous) venue in the centre of London. Thai, Singaporean, and Persian. Cheesemongers, fish mongers, and delis. Wine bars, bakeries, and cafes. For a city with an inherent food culture that pales in comparison to many of its European neighbours, Borough Market represents what the London food scene is all about: the global food scene. A celebration of the World's food and its people is what will be found here. But it is not just about shops and stalls. One can find restaurants as well, and even some fine-dining restaurants too.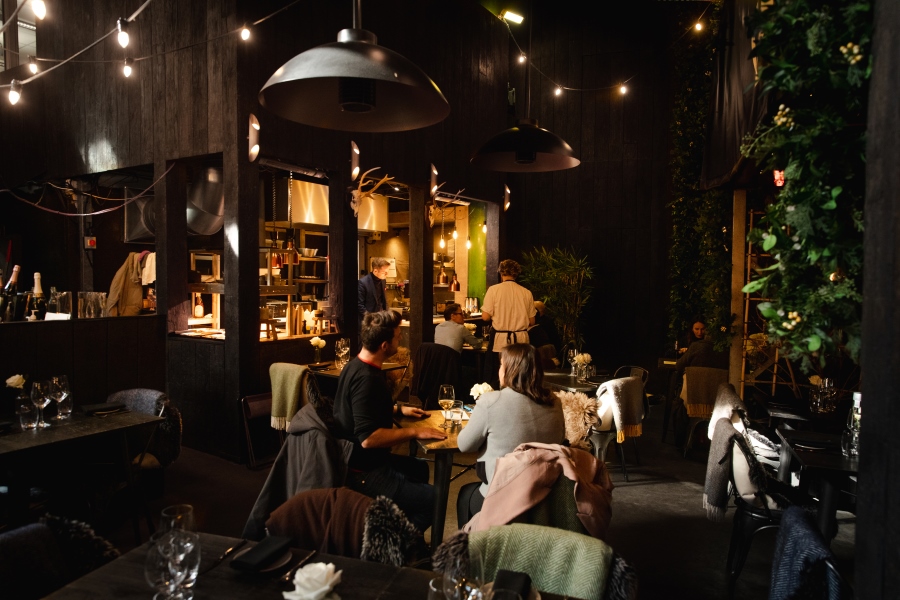 Turnips Interior © MEMO Agency
Weaving through the pulsating crowds of Borough Market, one might stumble upon a glorious greengrocer laden with stacks of bold, glimmering produce. A young man bellows in an old-school manner the names of fresh produce reminiscent of a melody and tone one might hear somewhere near the old Bow Bells; captivating customers to buy their products. Situated behind the rows of multi-hued fruit and vegetables lies a small fine-dining establishment of dark wood walls and a compact, gleaming open kitchen. Jars of pickled, preserved and fermented fruit and vegetables are stacked on shelves - perhaps, an ode to Lidakevicius's Baltic background. This is a method of overcoming the implicit restrictions of seasonality whilst creating incredible changes in flavour and texture through biological reactions. A strange sense of calm has been cultivated despite the heaving crowds of the Market. Even in the kitchen from which I sat opposite, there was a tranquil flow about its busy operation. An oasis. However, it would not be London without a periodical train lowly rumbling overhead.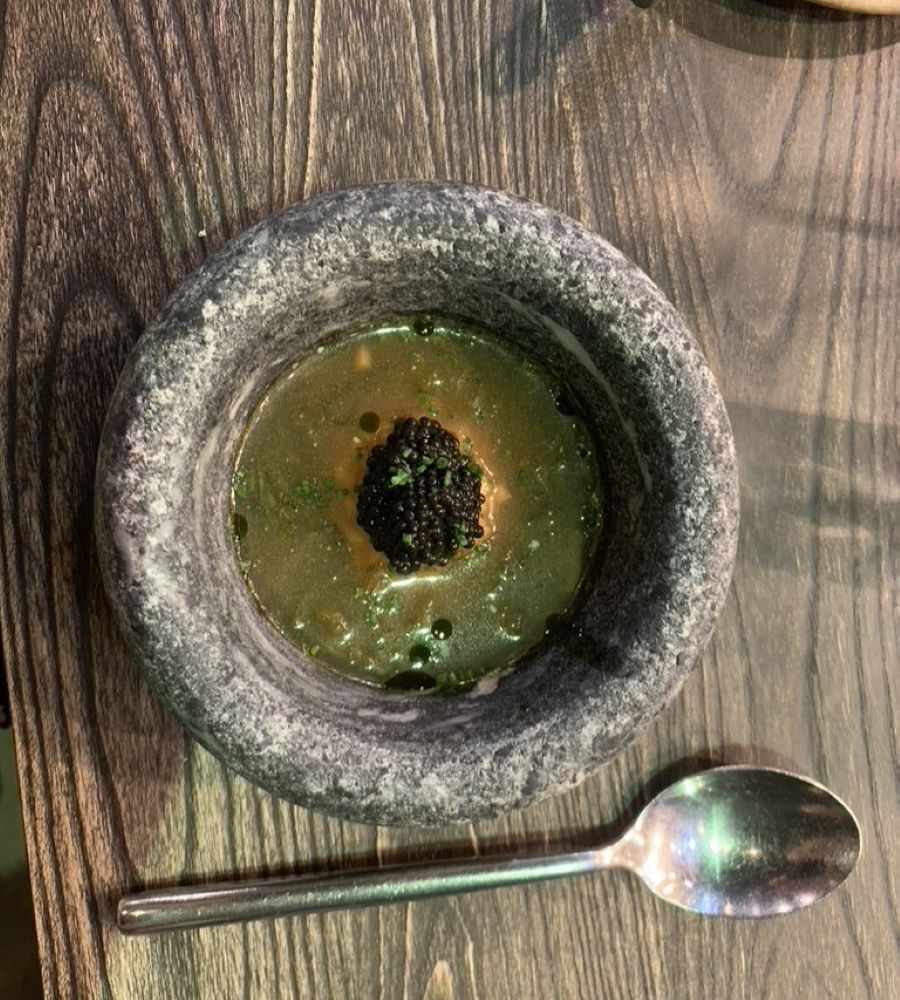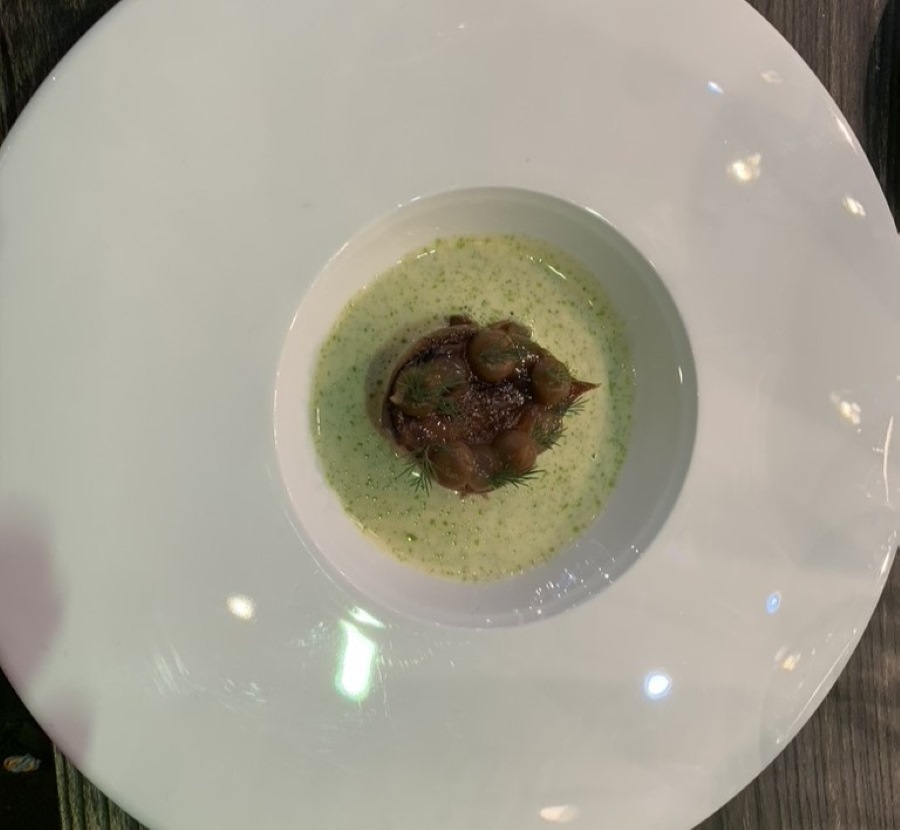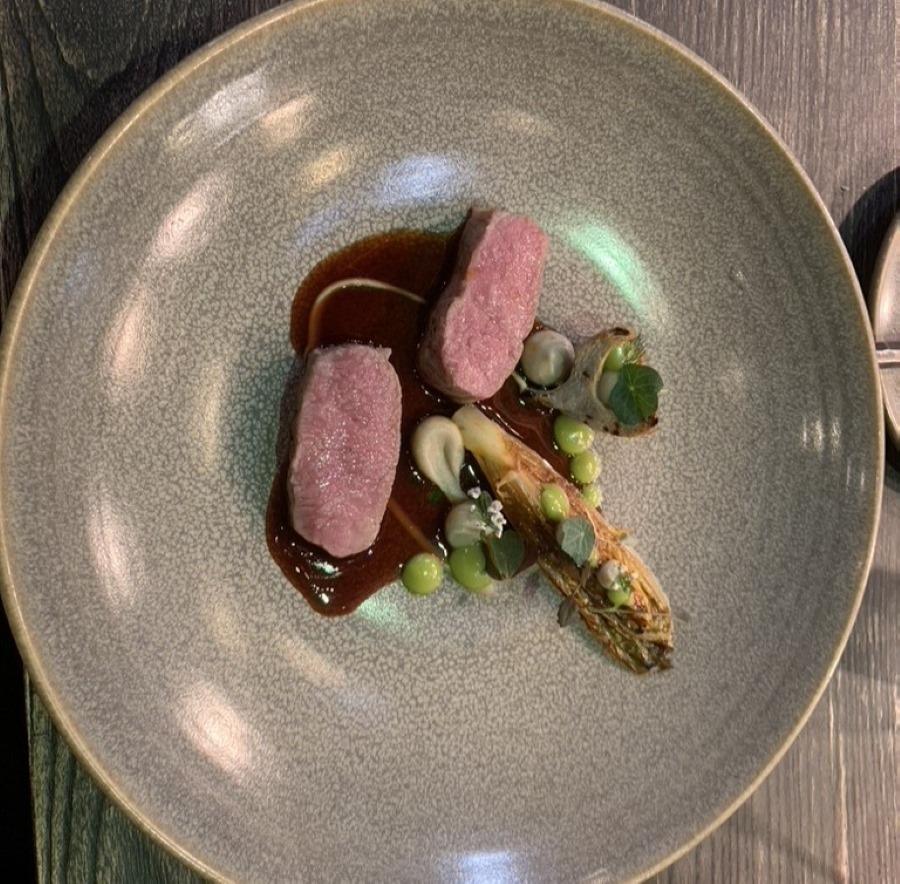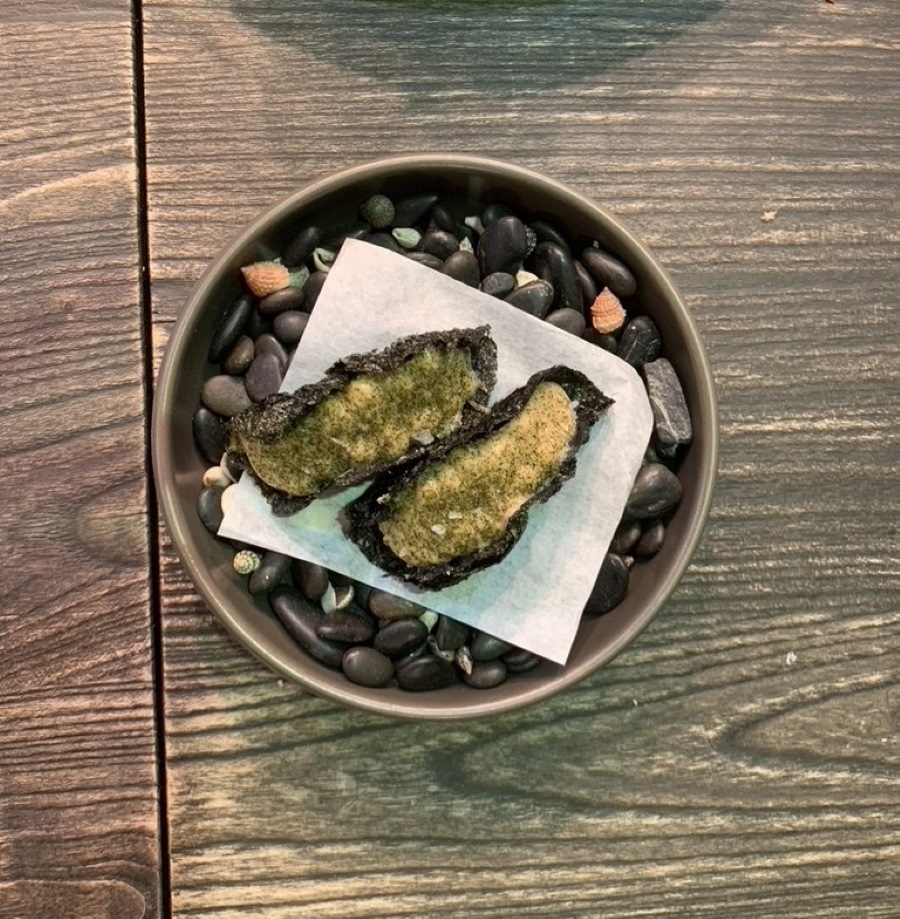 © Monty Dean for Art de Vivre
Watching the chefs prepare the food in front of your own eyes adds spectacle to the experience. It also protests confidence in their craft and an act of quality assurance to the diners by displaying the careful tendencies involved in the platings by the chefs, including Lidakevicius himself. Whilst this show of transparency goes on, house-baked sourdough is brought forth to wet the palate. This beautifully fermented and practically-sliced bread is served with a wonderful miso and black garlic butter topped with burnt onion powder. Umami, fermented sourness and sweetness from the black garlic combine to give a flavour spectrum that slowly changes with the mechanical maceration of chewing. Pair this with the first of their wine pairing, a light champagne from Oxfordshire, and you have a winner.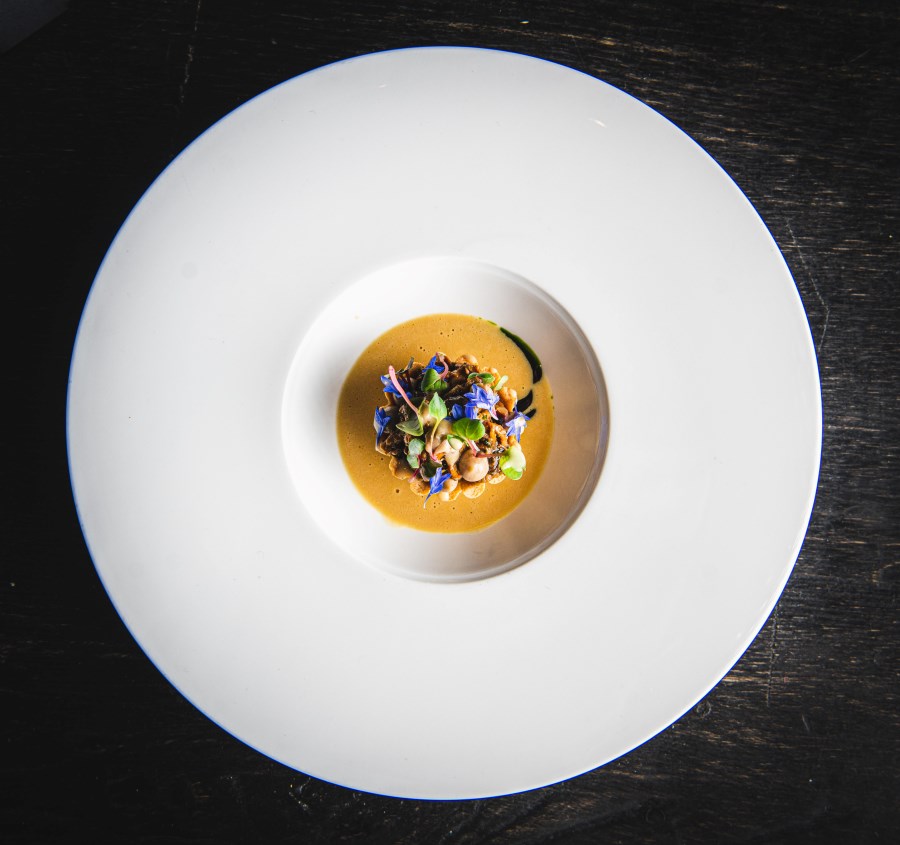 The next course was a two-for-one. One component was a riff on a taco. A taco shell formed of deep-fried seaweed filled with both white Devonshire crab flesh and a decadent mousse of the same composition. This dish provided an oceanic essence overtoned by the savouriness of the crab and a variety of crunchy and soft textures. This dish was complimented by another. The brown crab flesh and its shell were simmered down into a clear stock - here we really see the focus on sustainability. Within the stock presented beautifully was zerbinati melon from Italy, pickled seaweed and herring roe. An unlikely combination of seafood and fruit worked incredibly well to refresh the palate, and the tapioca-like softness of roe and melon contrasted that of the crisp taco.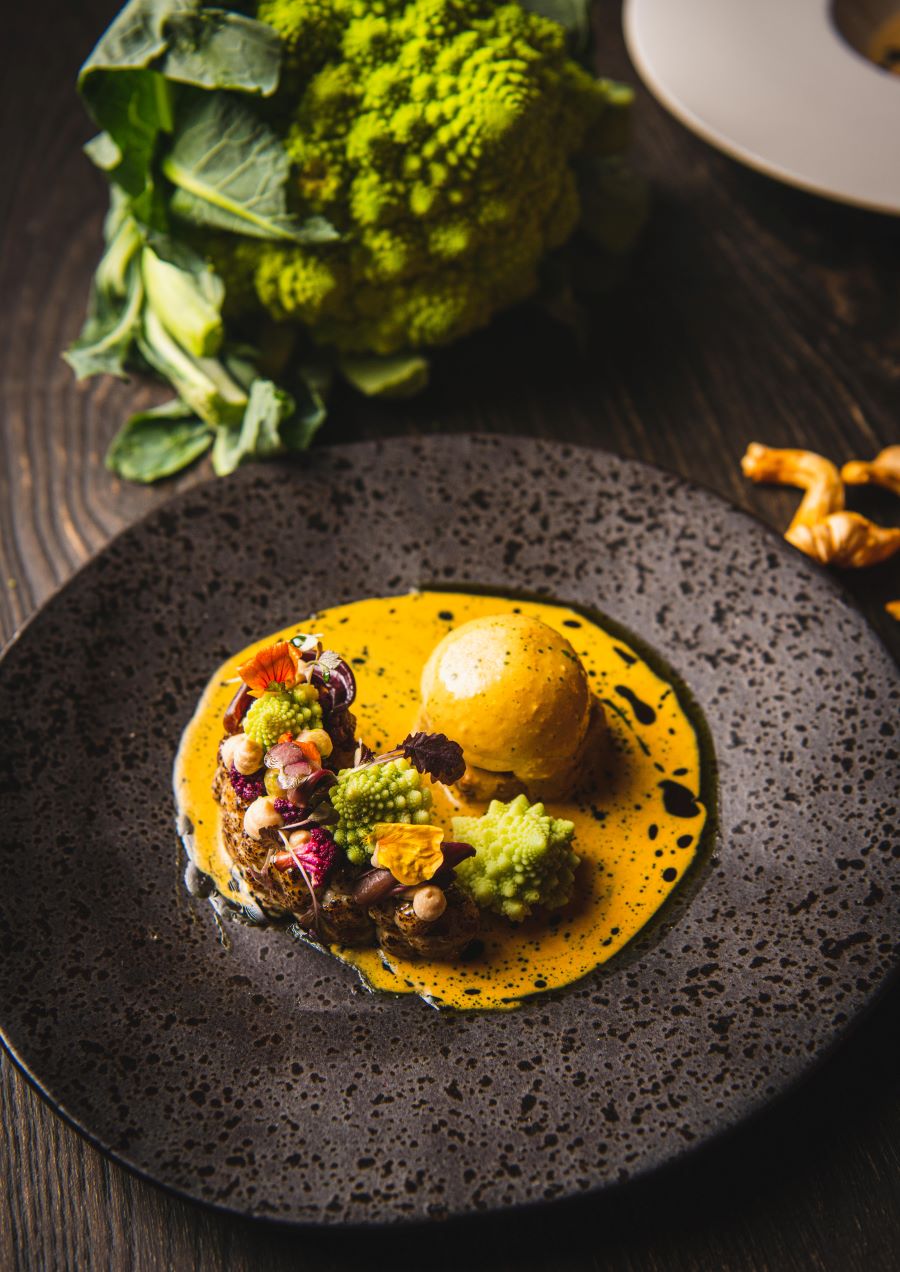 Something light and refreshing must be then balanced by decadence. A mainstay on their menu is the roasted and caramelised onion with parmesan sauce and caramelised onion waffle. It is a mainstay for a reason and is perhaps the dish that epitomises Turnips. The onion was elegantly sweet with its natural sugars being coaxed out in the caramelisation process. The flavours of the honeyed allium were synergised with a velvety and umami sauce made of a fine parmesan specimen. However, the caramelised onion waffle was rather dry. It did make for the perfect vessel to absorb and scoop the parmesan liquid into one's mouth.

Perfectly cooked medium-rare lamb saddle blushes at you from the plate. It is accessorised with artichoke puree, grilled purple artichoke and baby gem lettuce, and microflowers. A combination of all the elements doused in red wine jus and washed down with the paired red makes for a particularly delectable bite. If I had not eaten all of the sourdough at the beginning, it would have made it perfect to wipe any leftover juices. Following this was a cheese board sourced from purveyors within the market, and accompanied by the sweetest figs and peaches I have tried. A particularly strong penchant for dairy (which I possess) is needed to finish this after the preluding courses.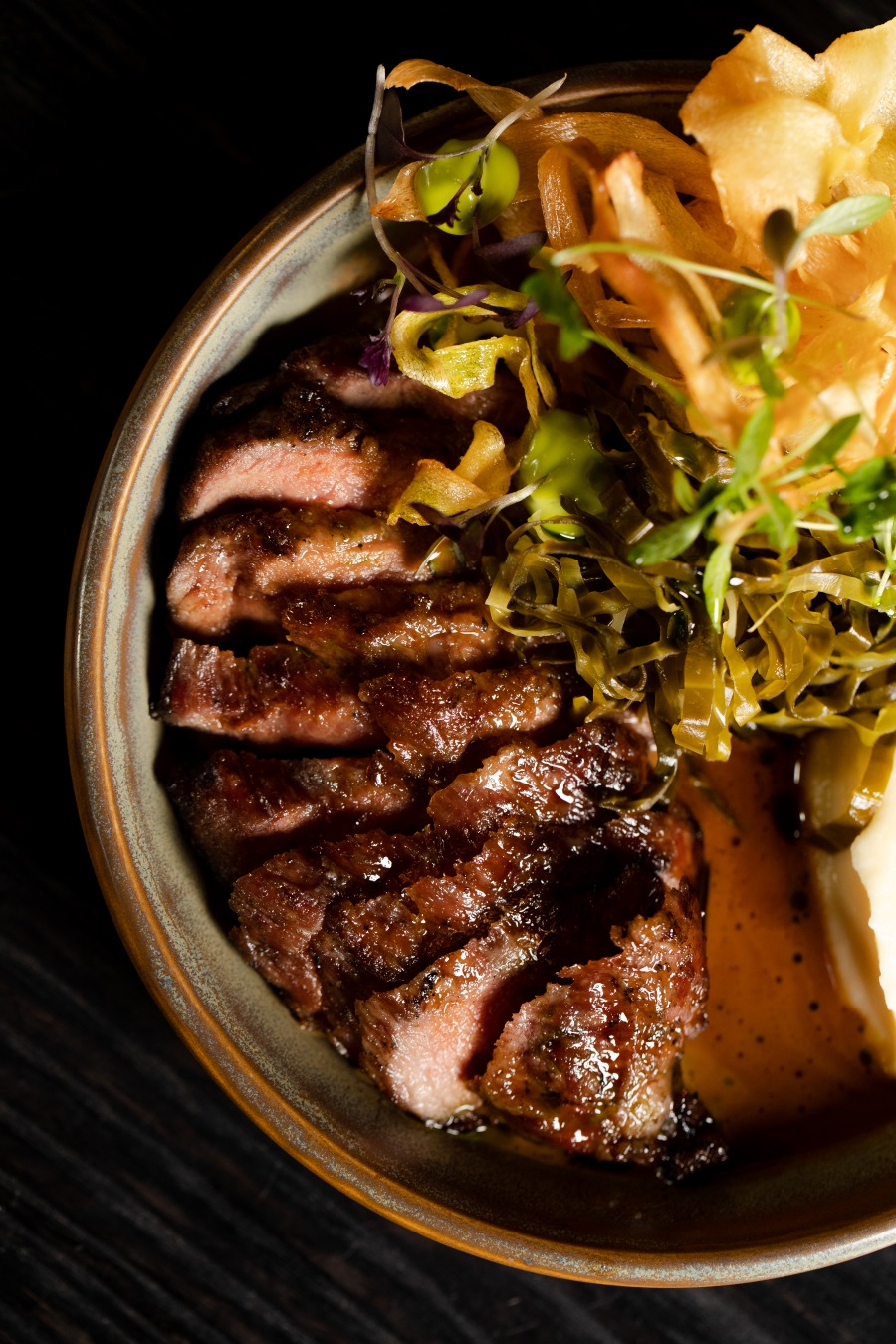 The pièce de résistance; the triumphant bugle after a hard-fought battle; the crowning glory of this dining experience was the desert. As someone who does not like the usual monotony of sweet dishes, this defies perceptions of what a desert should actually be. A delicate honeycomb shortbread lays upon a multiplicity of harmonious elements: sour panache raspberries; creamy vanilla parfait; tangy balsamic vinegar ice cream; tart champagne jelly; buttery white chocolate crumb. The chefs know what 'balance' truly means with this dish. To finish, in graceful fashion, petit fois and a strong double espresso. The miso fudge was particularly palate-intriguing.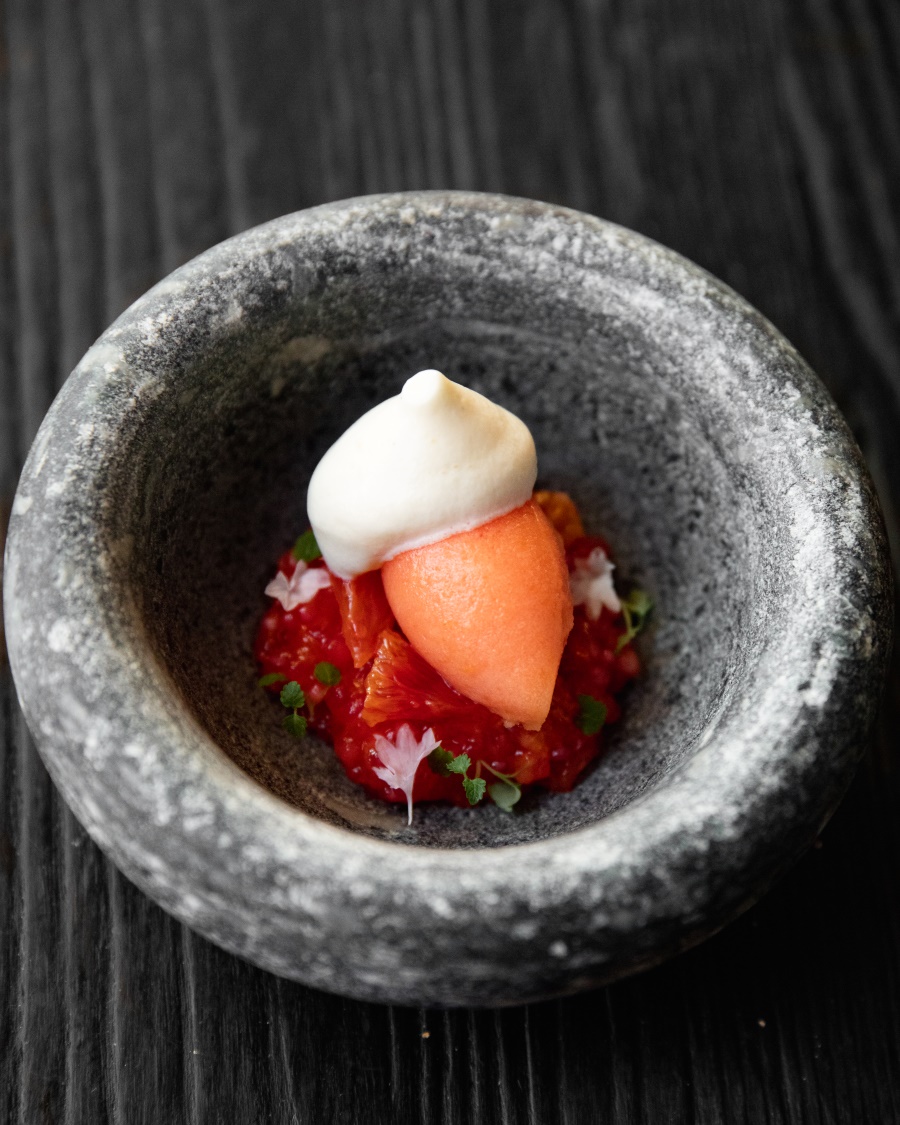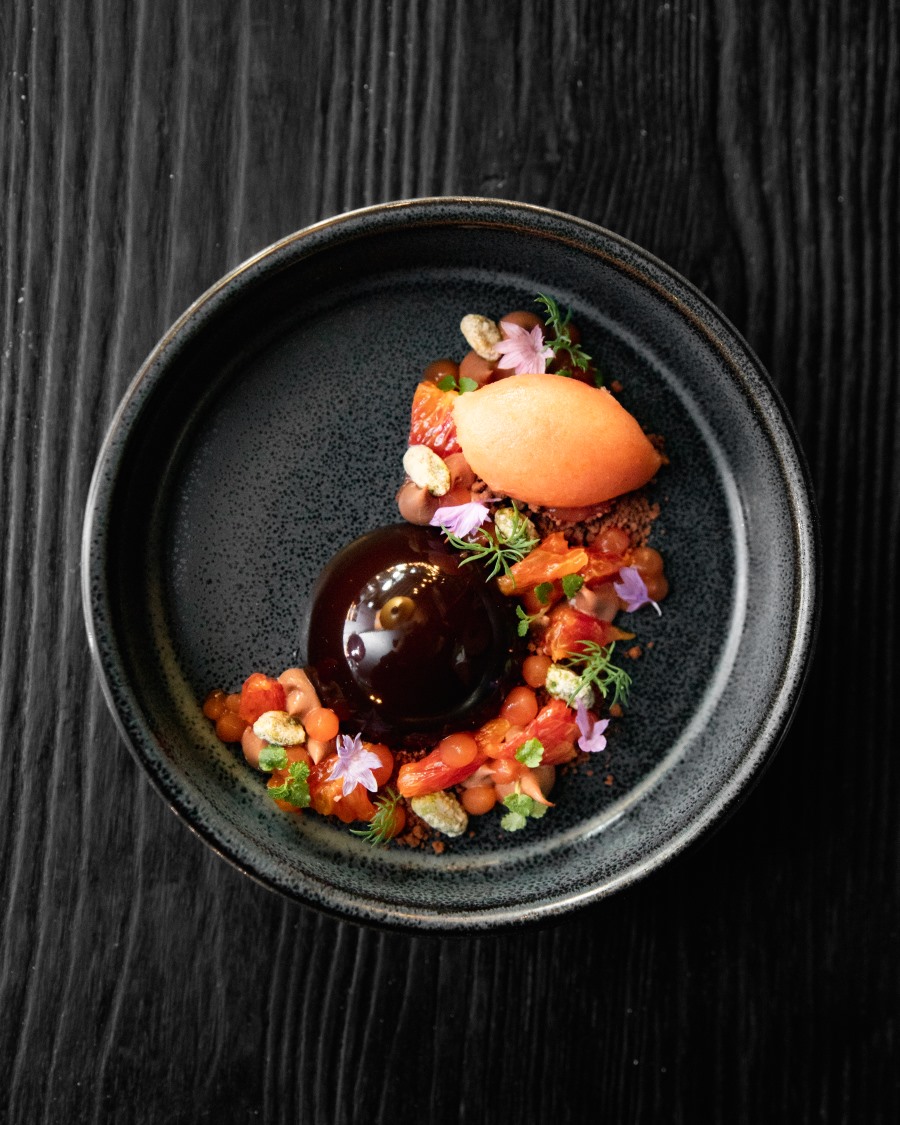 Final thoughts
Turnips was conceptualised during a global pandemic between a chef and a greengrocer. The outcome of such is a beautifully strategised and disruptive modern European menu, focused on sustainability and the intricate and oft-underlooked flavours of vegetables and fruits, whilst still using quality animal-derived products. A wine pairing of £50 seems reasonable given the number of courses and helped to elevate each dish. The customer service was also exceptional. The overall experience was one to remember and one I shall be going back given its seasonal, changing nature.
Address: Turnips, 43 Borough Market, London SE1 9AH
Pricing: Lunch tasting menu £65 (wine pairing £50); Dinner tasting menu £95 (wine pairing £65)
Looking for more restaurant reviews? Check out Loco in Lisbon.
Credits for the Main photo: Cucumber, king fish, mackerel garum © Susan Pun
Inspire our community
A global community of enthusiastic and curious ones. Diverse voices. Subscribe for free to share your vision and enhance our art-filled world.


To leave a comment you must
sign in