Art
Cinderella meets Geordie Shore - Barefoot Opera's La Cenerentola
Barefoot Opera is on a mission to deliver opera to a wider UK palette.
Directors, Michael Spenceley and Jenny Miller reimagine Rossini's 'La Cenerentola' in a present-day pop culture setting, alluding to Cinderella being left to survive in a family from Geordie Shore, the notorious MTV British reality show. Whilst the Grimeborn Festival audience are largely a demographic for which this context seemed slightly unsettling, the comedy and romance went down a treat.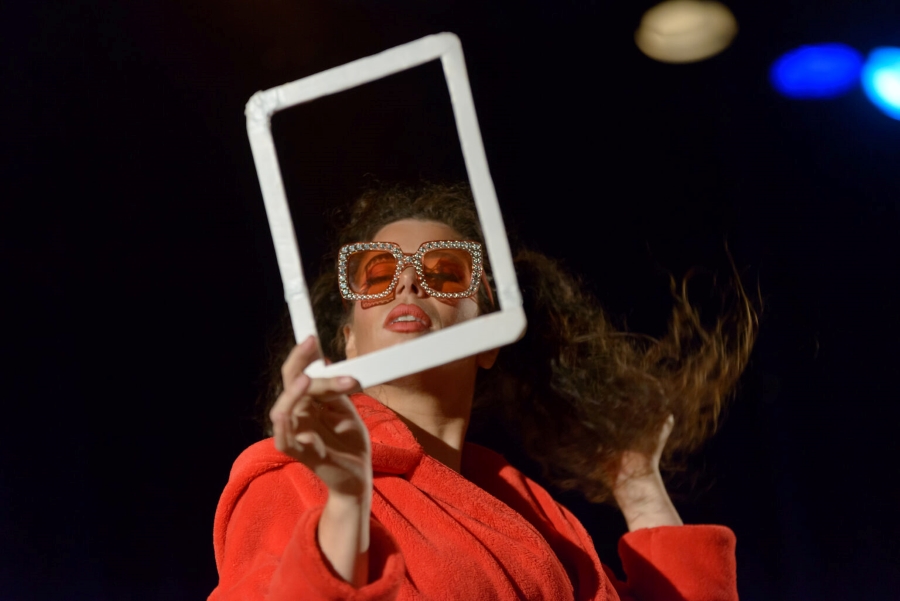 A touring night club set
A tourable opera production, which isn't prohibitively expensive, is no small feat. Jane Bruce's set design parodied a typical Camden nightclub: a neon colour palette, which glowed in the dark. Taking Rossini on the road is an even greater challenge, in particular when it comes to rearranging the instrumentation for a chamber ensemble. Music Director, Laurence Panter took the piano, accompanied by double bassist Lucy Mulgan, Iñigo Mikeleiz Berrade on accordion and Andrew Sparling on clarinet. At first, the adjustment to what seemed to be a French cabaret sound in place of a 18th Century Orchestra was unexpected, however, once the cast was in full swing, it became a powerfully cohesive chamber opera.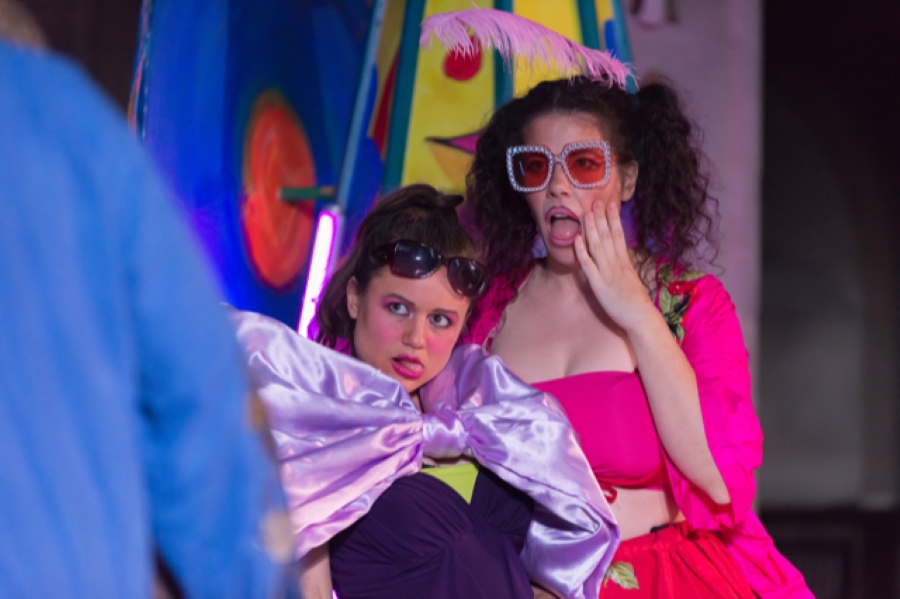 The Stepsisters from Essex
Bright fake tan, over-the-top Botox, excessive make-up and scantily clad costuming - the Essex-esque 'ugly' sisters set the scene for Camden Town clubbing meets Geordie Shore. Tisbe (Elora Ledger) and Clorinda (Jessica Wise) made a dream duo of comic relief - from the moment they appeared from each side of the stage until the final bow, they were the glue that held the show together. Bold and brave, they went to extremes to sell the idea of the modern-day British Cinderella plot. The two actresses went above and beyond, rolling around on the floor, stuffing bras and buttocks, and changing costumes in full view. Their father figure, Don Magnifico, was simply, 'The Don', for this production, being more of a pimp-like figure. Played by Denver Smith, 'Don' was decked out with chains, gold-trimmed tracksuit, and glimmering bling. Smith was well cast, pulling off the reworked role convincingly.
Prince William and his Security Guard
A challenging role, Prince Ramiro was confidently assumed by James Beddoe who has a gift for performing Rossini runs with ease, extreme precision and poise. In fitting with the contemporary British setting, Beddoe portrayed the idea that Prince William had been stranded like a fish out of water, on the hunt for his diamond in the rough. His security guard, otherwise known as Dandini, was played by Toki Hamano, whose exquisite rich round instrument, along with excellent comedic timing, was a superb fit for the role.
An endearing Cinderella
A warm unassuming presence, but a powerful voice, Rachel Deatherage was a perfect fit as Cinderella (known in the score as Angelina). Deatherage has a dark warm colour in the bottom of her voice, but effortlessly navigates the middle and upper registers, seamlessly sewing the wide range together. Courageously, Deatherage used her lightest pianissimo for the most sentimental moments and then moved to full-throttle forte fireworks for the challenging finale. Alindoro, otherwise known as the fairy-godfather character, was played by noneother than the clarinettist for the evening, Andrew Sparling. Sparling jumped between the instrumentalists to centre stage, delivering Alindoro's magical wisdom and guidance throughout the show.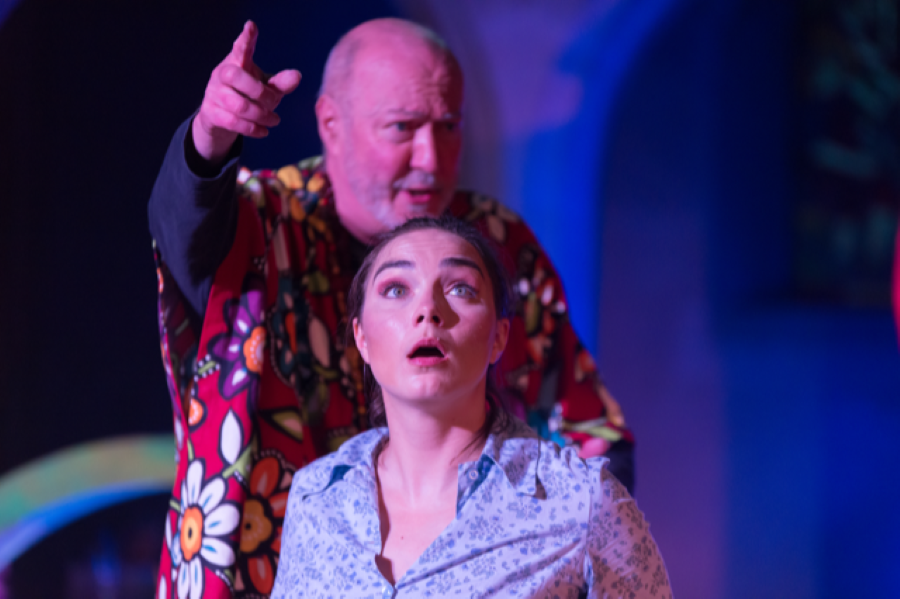 The timeless moral of the story
Cinderella's first encounter with the Prince (disguised as his security guard at this point) is interrupted by her Instagram-obsessed sisters barging into the room on their cardboard Ipads - she remarks "There go my chances". This was beautifully set up to allude to the idea that Cinderella could not see her own value, believing her heartless step sisters were more desirable. To the observer, it was visible that doing what is required for five seconds of internet fame can be far less attractive than being focused on serving others, even if that means feeling invisible.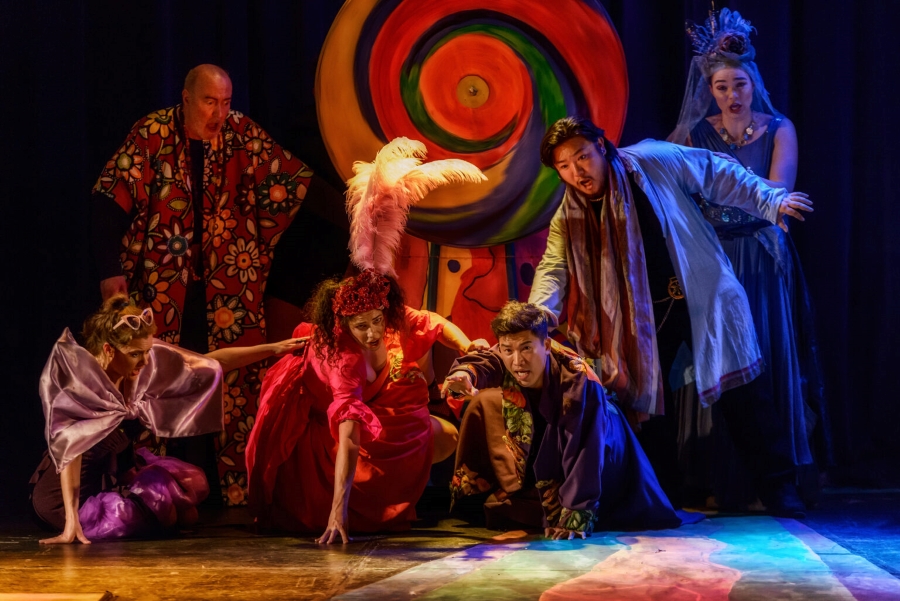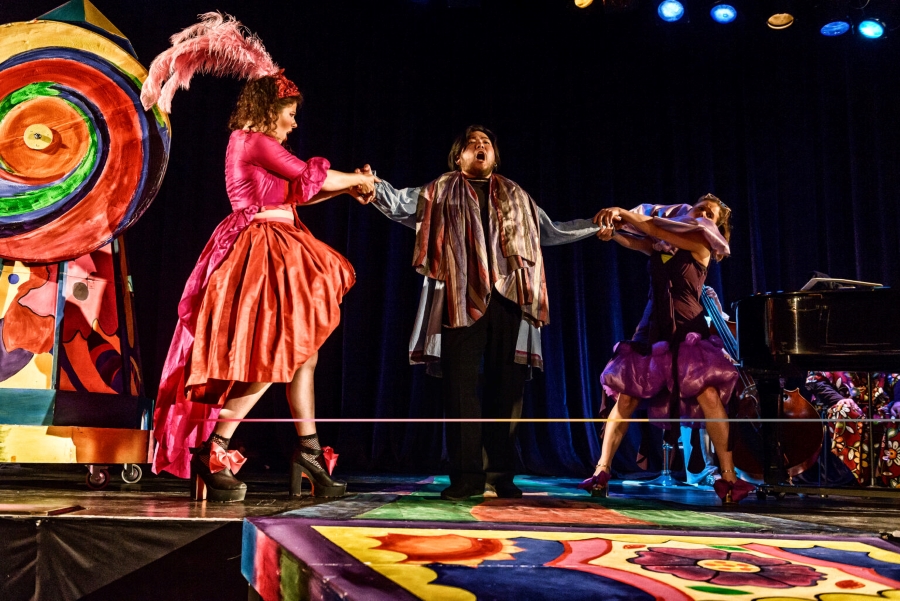 A forward-thinking company
Barefoot Opera certainly met its mandate of creating a production which focused on an ensemble of body, breath, movement and sound. With a nod to being a climate-conscious and ground-roots company, the costume design by Natascha Stolle cleverly incorporated recycled plastics and materials. Led by producer, Anthony Flaum, taking this portable production with a re-envisioned approach to opera across the UK will surely give many an encounter with the art form they may not otherwise experience.
La Cenerentola will be performed at the Rye Creative Centre on 19 August and again at Crowhurst Place, Lingfield on 3 September, tickets can be purchased here.
Looking for more reviews? Check out our editors' picks for the most inspirational summer reading books.
Inspire our community
A global community of enthusiastic and curious ones. Diverse voices. Subscribe for free to share your vision and enhance our art-filled world.


To leave a comment you must
sign in