Art
Up-and-coming artists at Art Basel 2023
With Art Basel landing one of its strongest shows to date, we have an insider's guide to some of the must-see emerging artists that are pushing the boundaries more than ever. Whether they're making a political, social, or environmental statement, these artists certainly have a lot to say. The Statements sector at Art Basel 2023 in Basel is pushing its audience to question our place in the world, the power dynamics of our current society, and how far we are from connecting back to ourselves.
Gordon Hall (Hua International, Berlin, Beijing)
Gordon Hall (Hua International, Berlin, Beijing) Gordon Hall is an American sculptor and performer based in New York, who works with objects that extends into performance, writing, and public events. Originally trained as a ballet and modern dancer, today Hall explores the relationship between sculptural objects and our bodies.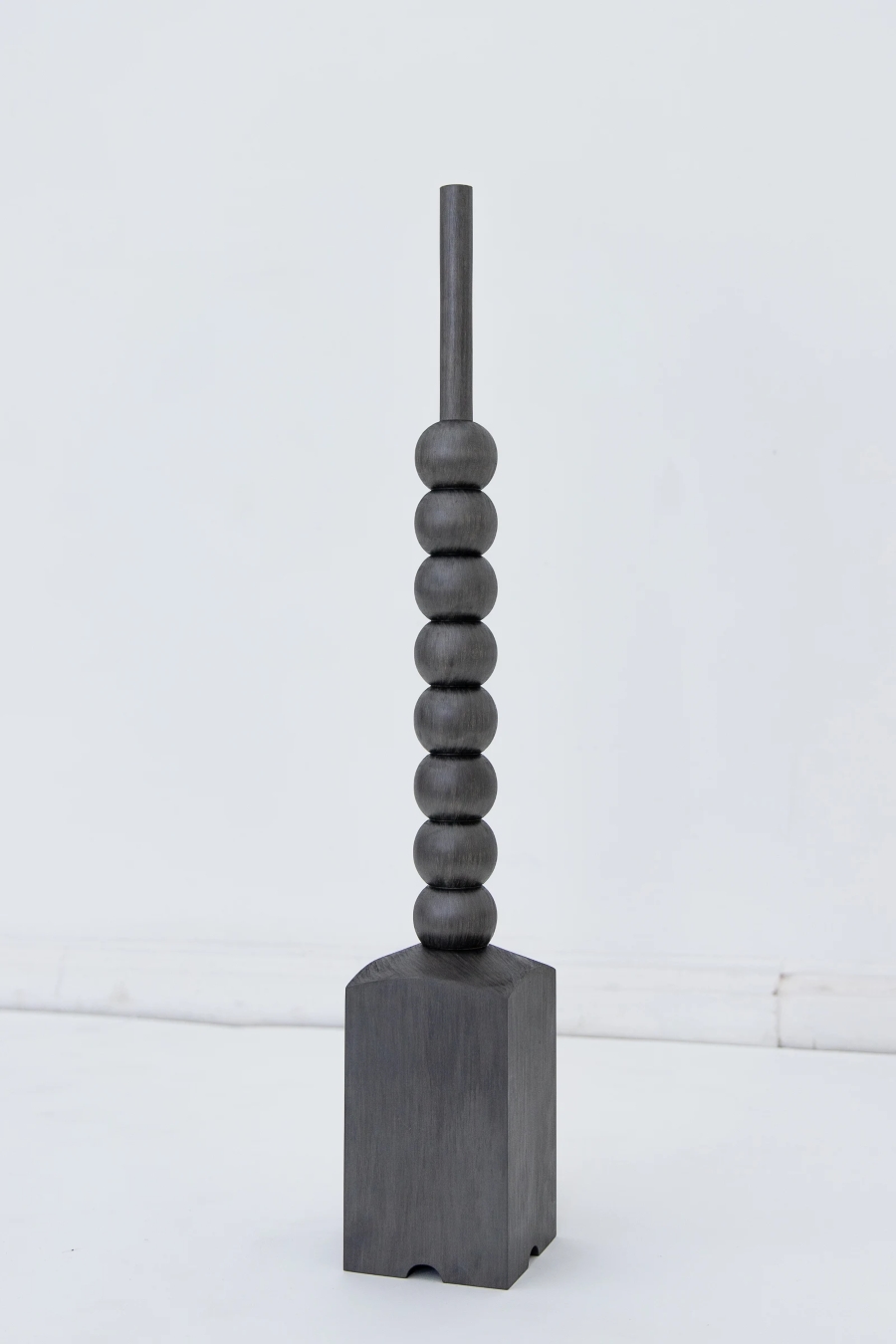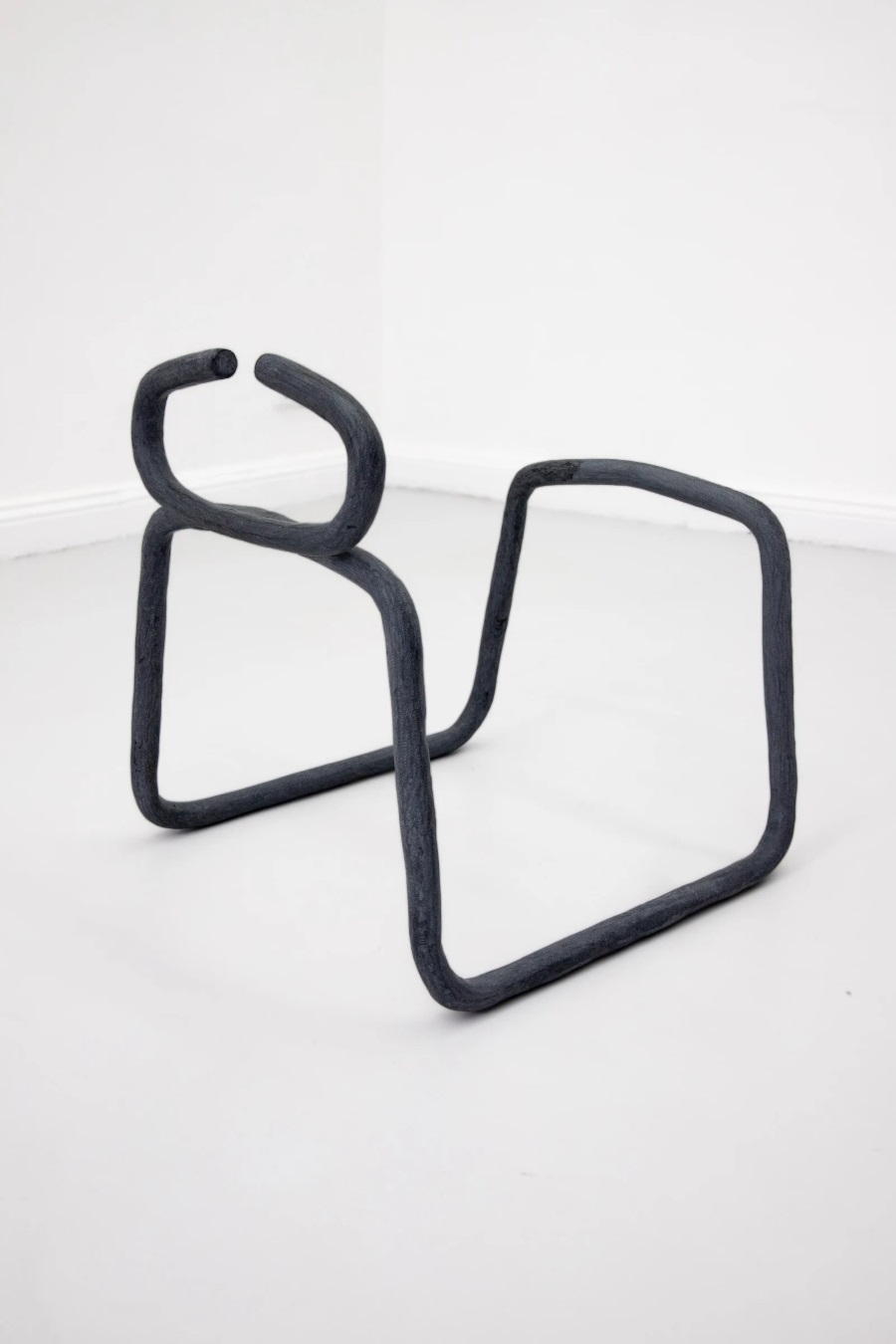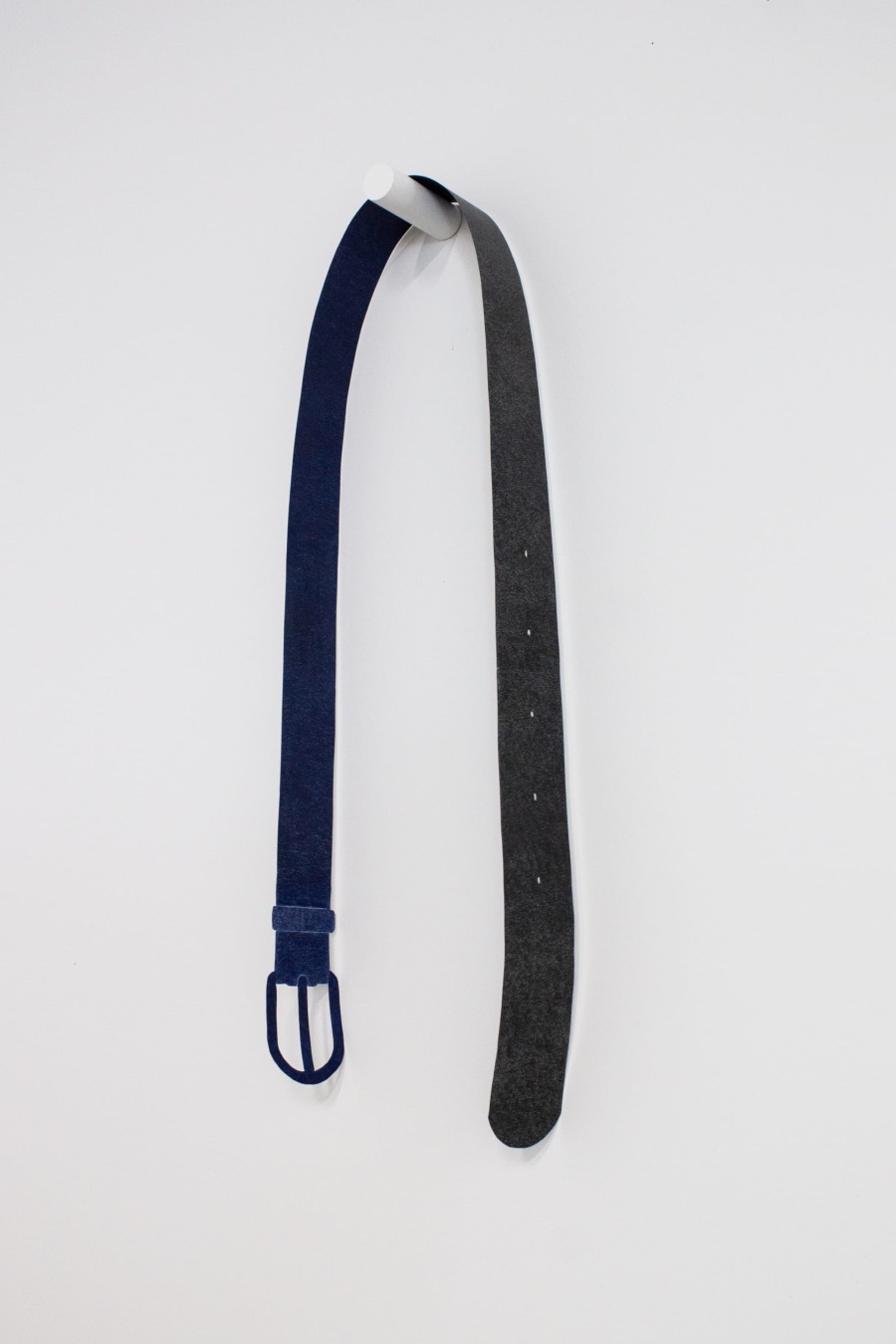 Photo 1 - Turned Leg (Four Fold), 2023. Graphite on turned poplar, gouache painting on paper for linen textile design, circa 1892, Alsace Region, France; Photo 2 - Companion Stool (Handles), 2023. Steel, modelling compound; Photo 3 - Belt (Black and Navy), 2023. Coloured pencil on paper, painted wood peg. © Gordon Hall, Hua International
Hall is taking a brave step with the new works presented in Art Basel 2023 Statements to
elicit a sense of closeness, evoking items entangled with everyday actions, needs, and desires
and using them for different uses. Hall's sculptures in Basel include
altered recreations of a table leg, a step tool, a bench for trying on shoes, and a belt, recalling things that have once carried our weight, pressed clothing against our bodies, or brushed against our skin.
In Hall's solo presentation with Hua International, the artist is asking the audience an important question: what do we do when we encounter bodies that are difficult to identify or recognise?
Performances by Ivan Yaher, Josh Barney, Kiki Pavlovic, and Maria Sabato took place on June 13 and 14.
Brilant Milazimi (LambdaLambdaLambda, Prishtina, Kosovo)
The spotlight is on Kosovan artist Brilant Milazimi, he was born in Gjilan (Kosovo) and studied visual arts at the University of Prishtina, Kosovo. A real talent that translates his perception of the world that surrounds him into
images that are bitter, funny, tender and weird all at the same time.
Driven by the unconscious, and inspired by the imaginaries of fictional universes, he expresses himself in a sad yet poetic way and creates pieces full of symbolism.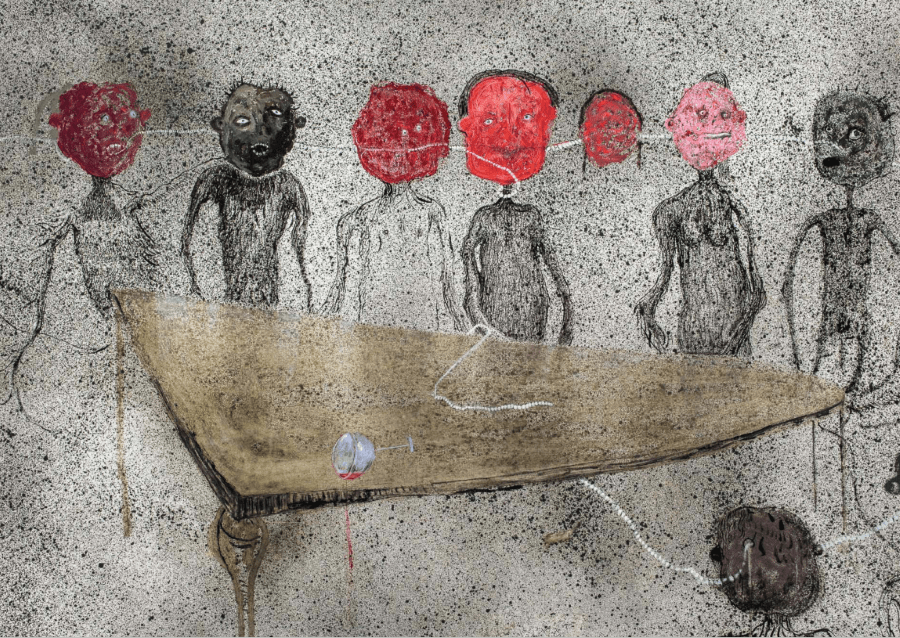 Presented at Art Basel Statements with LLL gallery are two paintings and one drawing along with a metal sculpture entangling the aforementioned pieces. The painting 'Curious to see their hands' (2023) echoes da Vinci's 'Last Supper': it depicts fifteen human figures, all connected by Milazimi's signature rows of teeth, and assembled around a table with a split glass of wine on it.
The other piece 'Dividing Curtain' (2023) displays human heads stacked next to each other and we see a stark resemblance with Milazimi's signature teeth in his other piece.
Tolia Astakhishvili (LC Queisser, Tbilisi, Georgia)
Tolia Astakhishvili is a Georgian-born artist based today in Berlin, Germany. Through a wide variety of media: drawings, text-based works, and large-scale installations, her work constantly questions space and redefines the conventional construction of a gallery booth.
Photo 1 - Tolia Astakhishvili. Installation view, Tenant (with James Richards) in Holding Environment, curated by Fatima Hellberg, 2021 © Mareike Tocha. Bonner Kunstverein, Bonn; Photo 2 - Tolia Astakhisvili. This is like loving something between. Something in between Board, inc, paper, marker, photographs, 120X160 cm. Ganymede in Ache, curated by James Richards, Cabinet Gallery, London, 2019
For this year's Art Basel show, Astakhishvili created a multilayered installation 'Simple judgements and polite answers' (2023) which forms
a labyrinthine set of niches and doorways.
The work is composed of
stitched stained drywalls, pilled-up parquet flooring, piping, and various waste materials, reminiscent of the culturally hybrid sights of Georgian Bazaars, public spaces, and industrial workshops.
Here the artist collects and collages the arrangement of drawings and wall writings, as well as found objects and scrap materials, touching on many important subjects such as consumerism, notions of luxury, exploitation and waste.
Jaime Welsh (MADRAGOA, Lisboa, Portugal)
London-based artist Jaime Welsh originally trained as a painter. Today he focuses in his tableaux-vivants-like photographs on the relationship between humans and architectural space which is often described as
anxious, foreboding, at times even hostile.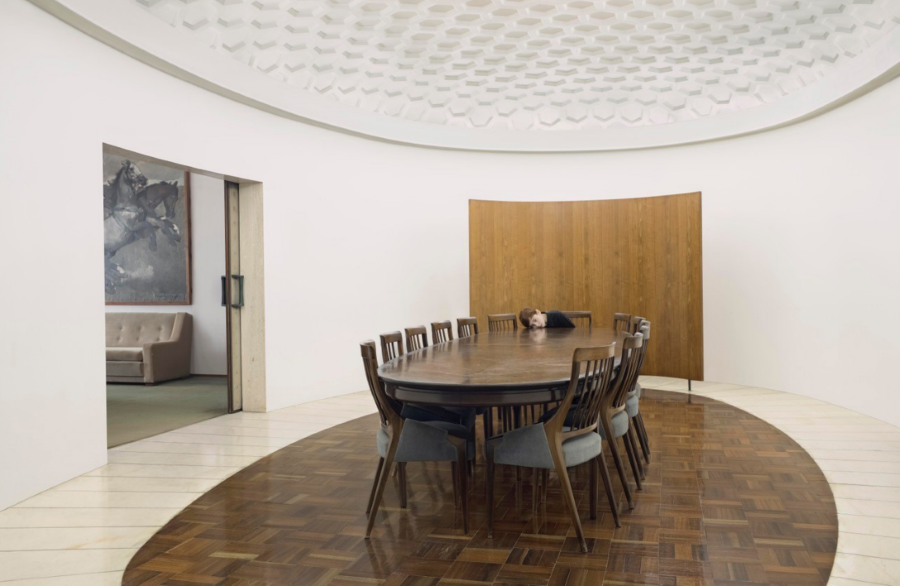 Photo 1 - Jaime Welsh, Tullia (diptych), 2023. Giclée print on baryta paper, AR UV70 glass, cherry wood artist frame, stainless steel cables.145 × 254 × 12.6 cm. edition of 1 of 3 + 2 AP; Photo 2 - Jaime Welsh, Tullia (diptych) (detail), The Oval Room, 2023. Giclée print on baryta paper, AR UV70 glass, cherry wood artist frame, stainless steel cables. 145 × 254 × 12.6 cm. edition of 1 of 3 + 2 A
This year, Welsh presents in Madragoa's booth a new site-specific installation 'Tullia (diptych)' (2023) which
centres on a thirteen-year-old boy who rests absorbed within a reinvented proxy of the interiors of the University of Lisbon, designed in 1952 by renowned Portuguese architects Porfírio Pardal Monteiro and Daciano da Costa, under the dictatorship of António de Oliveira Salazar.
'The Oval Room' is the first image the audience will see with an oval table as a centrepiece, a place where decision-making powerful men most likely happened, even though they are nowhere to be seen in this picture. Beyond this is just a lonely boy sitting at the table, exhausted and worn out - as though he has nothing left to share.
In the second picture, 'Tullia', the same boy lies on a carpet in the chancellor's lounge. There is a 19th-century painting by Columbano Bordalo Pinheiro that depicts the mythical murder of King Servius Tullius by his daughter Tullia Minor, who drove over her father's corpse as it lay unhurried on the street.
Raed Yassin (Marfa' gallery, Beirut, Lebanon)
'Death Investment' (2023) is a new project by Beirut-based artist and musician Raed Yassin that he presents in Marfa' gallery's booth where he is exploring skulls and teeth and their position in society, for both animals and humans.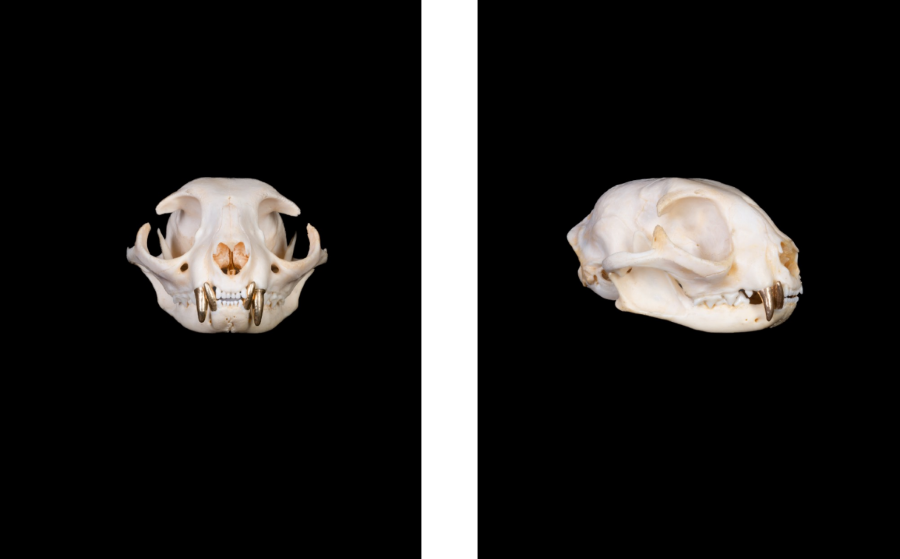 For this installation, Yassin worked with his childhood dentist, and
carefully repaired the teeth of these animal skulls in the exact same way a living human would be treated.
The idea of death being repaired is almost humorous. Using animals is also ironic because they have so rarely been approached as representation of good lives or wealth.
So many animals have broken teeth from the wildlife they live in. What about giving them gold and silver teeth even after their death? Yassin here reimagines these animals, whether they're monkeys, cats, beavers and foxes and lets them be the real truth-tellers of societies, with minds full of wisdom and skulls worthy of veneration.
Agnes Scherer (Sans titre, Paris, France)
Sans titre gallery presents the work of German-born artist Agnes Scherer. Based in Salzburg and Berlin, she creates large-scale installations where she brings together paintings and handmade artefacts.
Agnes Scherer, Pour la récompense et pour la peine (B), 2023. Wood sculpture, painting on canvas. 214 x 330 cm (screen) & 214 x 330 cm (keyboard), unique
For this year's Statements sector, Scherer elaborated 'Pour la récompense et pour la peine' (2023) - a site-specific monumental painted sculpture representing a giant laptop computer where the elements of "contemporary folklore", which often emerges in a digital space, are combined with historical myths. The presented work is a continuation of a series Scherer created for her solo exhibition 'The Notebook Simulations' (The Kunstverein für die Rheinlande und Westfalen, Düsseldorf, 2021).
The flat screen of Scherer's laptop sculpture
becomes a theatre stage, on which computer windows resembling paintings are pushed around by angels.
Are our computers and the technology we use taking over our lives? Yes, probably, but are the computers also the locus of hope and act as our desire for redemption? That is what we need to be asking.
Overall, the themes of this year's Statements sector work from the artists above are deeply psychological, they want us to question our place in the world as it is now. Who is in control? As we move towards a bigger technological revolution, how can we try and connect back to ourselves amidst these deeply political pieces of art?
Discover more inspiring exhibitions as an Art de Vivre subscriber, including Best Exhibitions to see in June.
Credits for the Main photo: © Art de Vivre, Uliana Tschan
Inspire our community
A global community of enthusiastic and curious ones. Diverse voices. Subscribe for free to share your vision and enhance our art-filled world.


To leave a comment you must
sign in